Applesauce Muffins
Breads and Muffins | Published Feb 20, 2023 | Updated Feb 19, 2023 | By Tawnie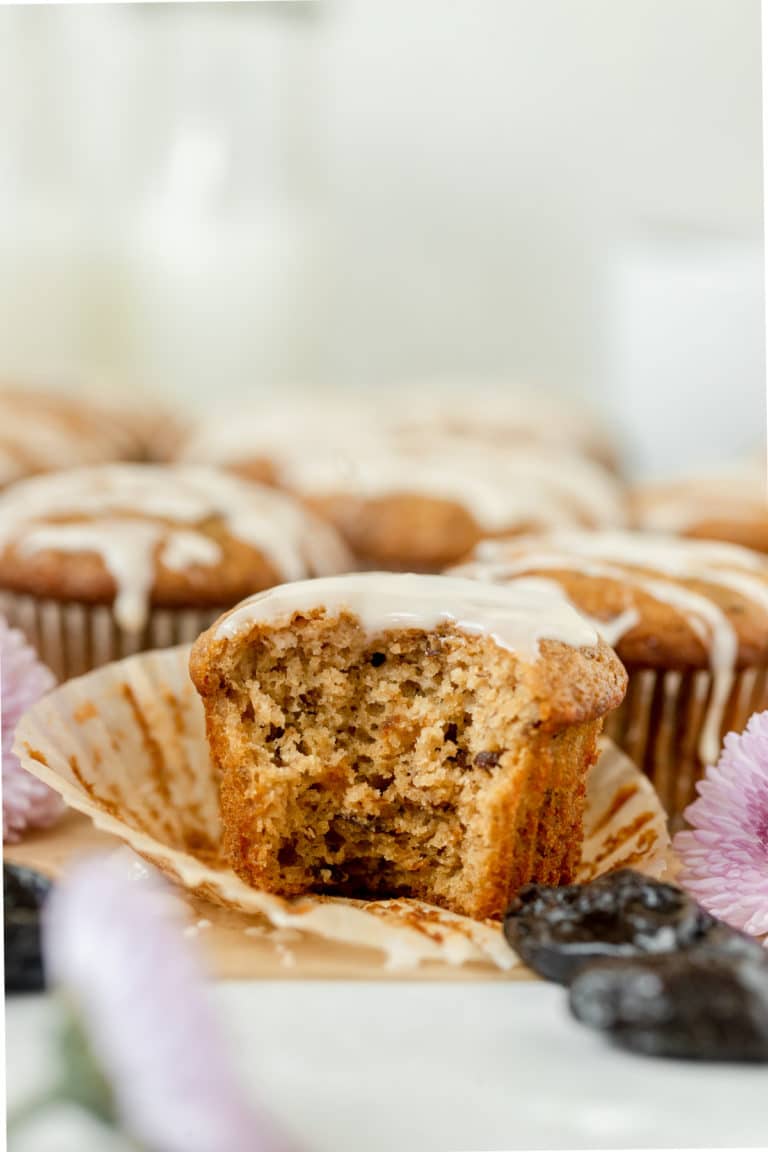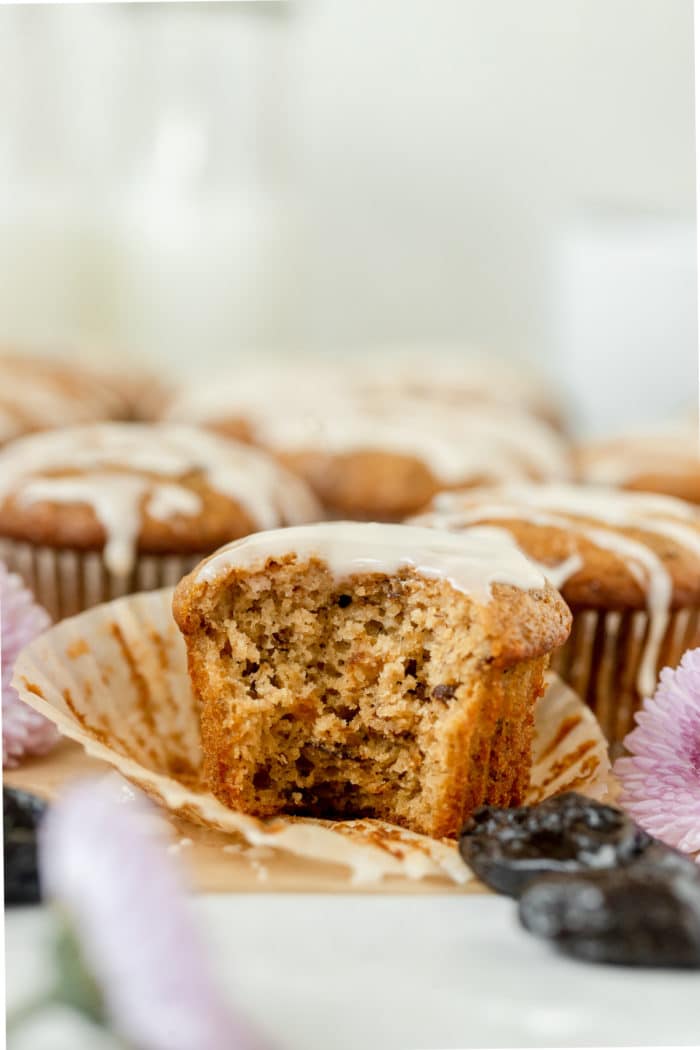 My Applesauce Muffins are packed full of applesauce, cinnamon, and the sweet, delectable taste of California Prunes.
This post has been sponsored by The California Prune Board. All thoughts and opinions are my own. Thank you for supporting the brands that keep Kroll's Korner running!
They are super moist, flavorful, satisfying and packed with wholesome ingredients. The prune puree enhances the flavor of the applesauce, and that is why you will see that I don't add much more to this Applesauce Muffin recipe. The puree adds so much natural sweetness, a caramel-like flavor, and of course, nutrition.
I love that I grew up, and continue to live, in middle of the fruit basket of the world – Fresno. The abundance of fresh fruits and vegetables is unparalleled and because I am so very thankful to the hardworking farmers and their dedication to delivering the best of California grown to the world, I look for ways to incorporate this healthy goodness into my recipes.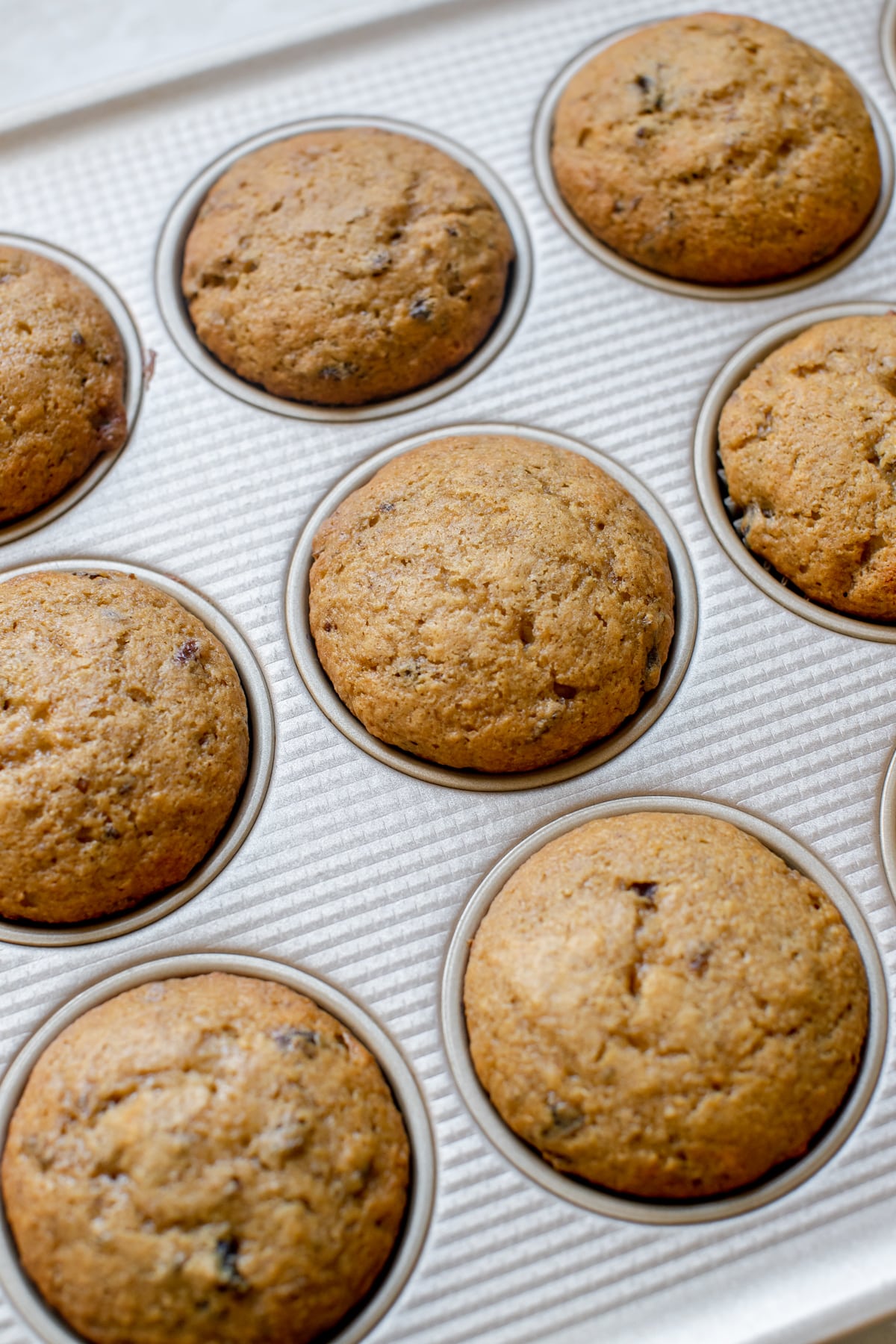 Prunes can be featured in so many recipes (like my vegan chocolate chip cookies and creamy chocolate smoothie) because they pair so easily with both sweet and savory. The powerful punch of nutrients that support our overall health makes them such a valuable ingredient.
Did You Know…
Prunes contain the nutrients that influence bone health, including boron, potassium, and Vitamin K .
Prunes contain polyphenols, which include antioxidants that protect DNA against damage, decrease inflammation and may help prevent cancer.
Prunes are a low-glycemic food and may help maintain healthy blood sugar levels.
Prunes contain 3 g of fiber. About 1 ½ g of fiber is insoluble which helps speed food through the digestive tract.
What prunes don't have is added sugar, sodium, fat, or cholesterol.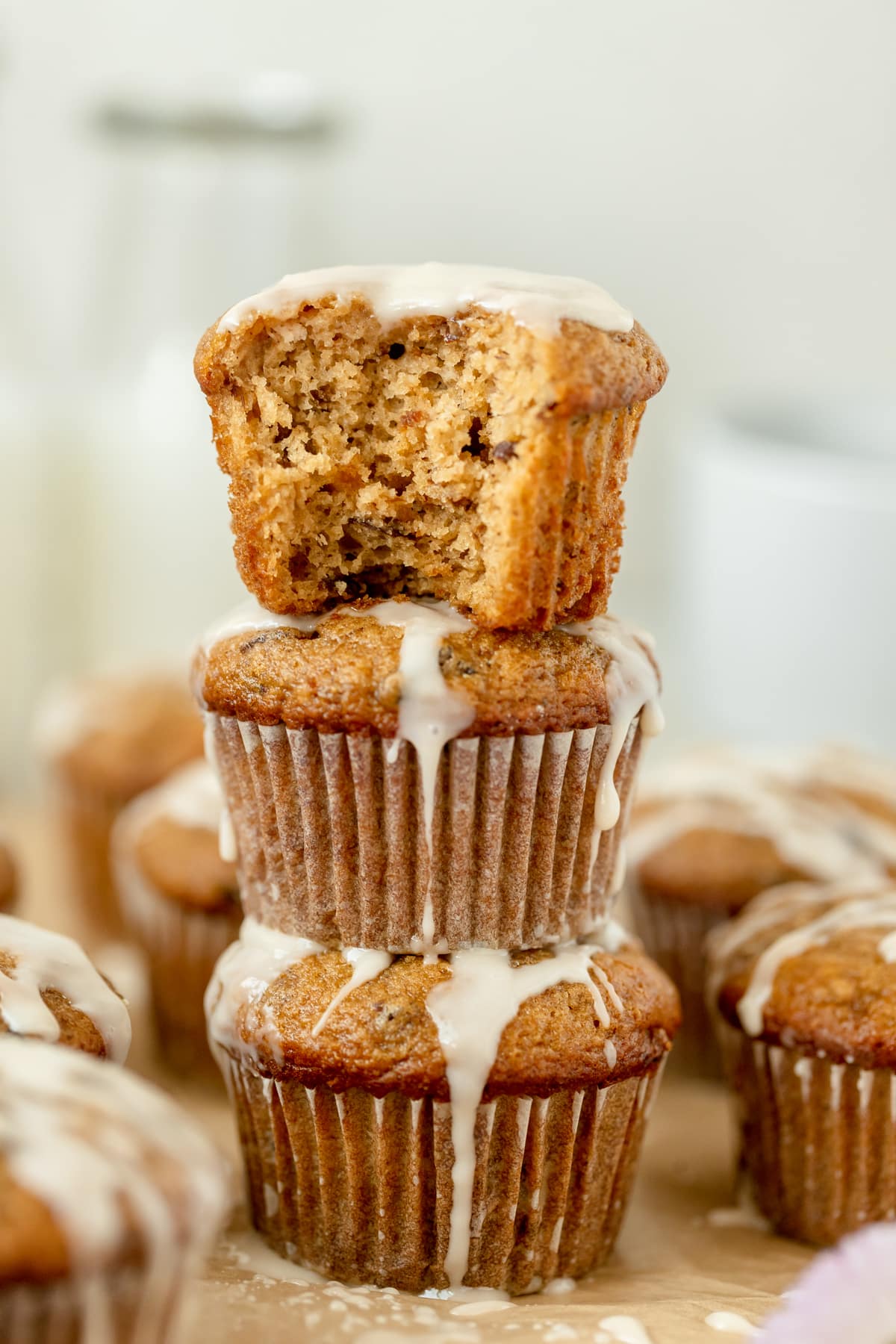 Reasons Why You Will Love My Applesauce Muffins
Filled with the natural goodness of California Prunes.
They are easy to make!
This is a 2-bowl recipe for quick and easy clean up!
Fiber packed and super moist!
A great grab and go breakfast or snack.

Ingredient Notes
Flour: I use all-purpose flour, but if you are looking for another option, you can substitute all-purpose flour with almond flour at a 1:1 ratio. You may need to add more applesauce or oil to help bind the batter.
White sugar: Sugar helps keep the muffins moist
Brown sugar: Brown sugar adds a deeper, richer flavor to the muffins and the molasses flavor compliments the prune puree.
Cinnamon: Cinnamon adds a warming flavor to the muffins.
Large eggs: For precision of baking always use the recommended egg size in the recipe.
Applesauce: Unsweetened applesauce has natural occurring sugars which help reduce added sugars in this recipe.
Prune puree: California Prunes are rich in fiber and texture and have a bright acidity that lends to the tangy caramel flavor they add to the muffins.
Milk: Milk is not just added to make sure all ingredients mix together, it also adds a creamy texture to your muffins.
Oil: Oil interacts with the baking soda and baking powder by capturing the gasses created by their interaction, slowing down the formation of gluten to keep the muffin texture tender and fluffy.
Vanilla: Vanilla Extract is a wonderful flavor enhancer, and adds to the flavor of the muffins. I always recommend using real vanilla.
Step by Step Directions
Whisk together the dry ingredients in one bowl.
Whisk together the wet ingredients in another bowl.
Fold wet ingredients into the dry ingredients.
Divide batter into muffin tin and bake!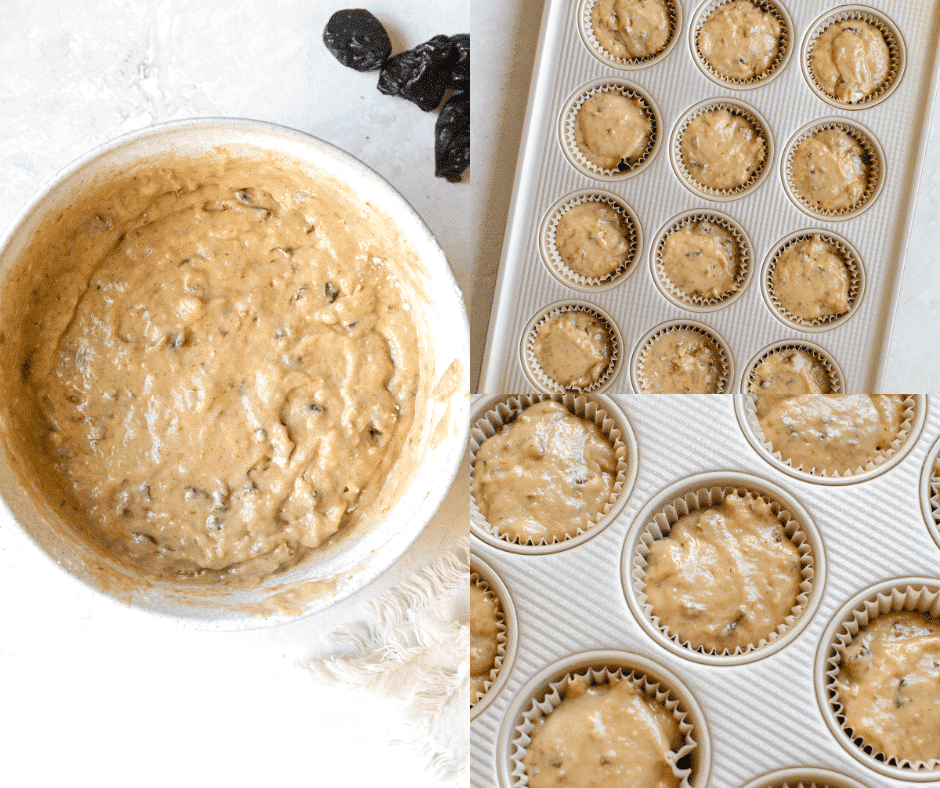 Tips and Variations
For more prune power, toss diced prunes into the batter before baking.
The most important tip in making great muffins is to not over mix the ingredients. The final batter should be thick and lumpy.
Don't over fill the muffin tin. Just remember to fill the tin about ¾ full. This recipe will make 12 muffins.
Once the muffins are out of the oven, just give them 1 or 2 minutes to slightly cool, and then remove the muffins to a cooling rack. If you leave the muffins in the tin, they will continue to cook and become dry.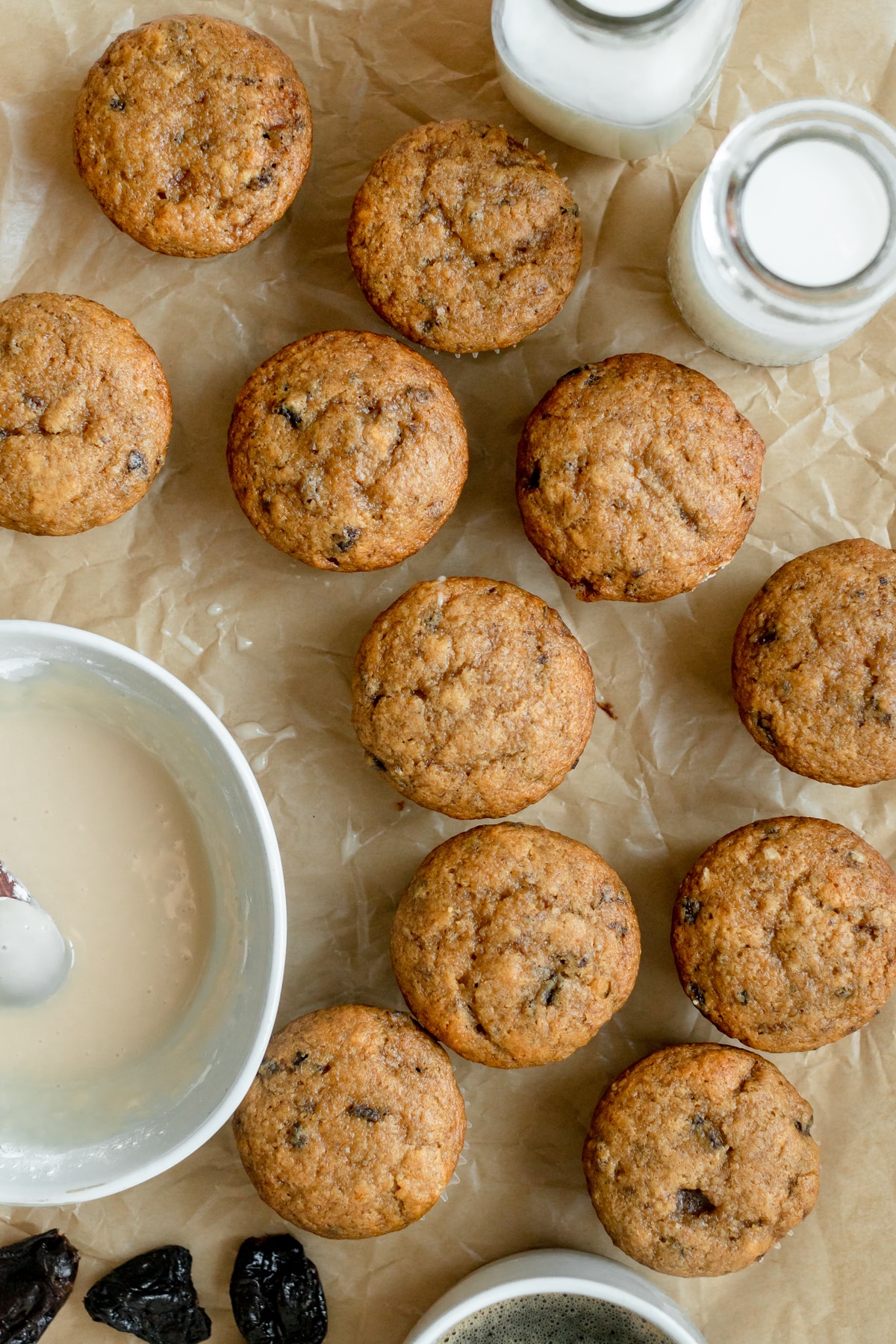 FAQ
How long can I store the muffins?
Store in an airtight container in the refrigerator for 3 to 5 days.
Can I freeze the applesauce muffins?
Muffins are a great food to freeze. Just cool completely, wrap in an airtight container and freeze for up to 3 months.
Can I substitute prune puree for an egg in the recipe?
Yes you can. Use ¼ cup prune puree for 1 large egg. Prunes add color, lift and texture to the recipe, so by adding more puree you may see changes to the muffins from the original recipe.
How do you make prune puree?
Prune Puree is so easy to make. You just need a blender or food processor, pitted prunes, and hot water. Add 4 oz. prunes (about 2/3 cup) and ¼ cup hot water to the blender and blend until smooth. Adjust water as needed to get a smooth, thick consistency. That's it!
How long does prune puree last?
Sealed in an airtight container the puree will last up to 3 days in the refrigerator or 3 months in the freezer.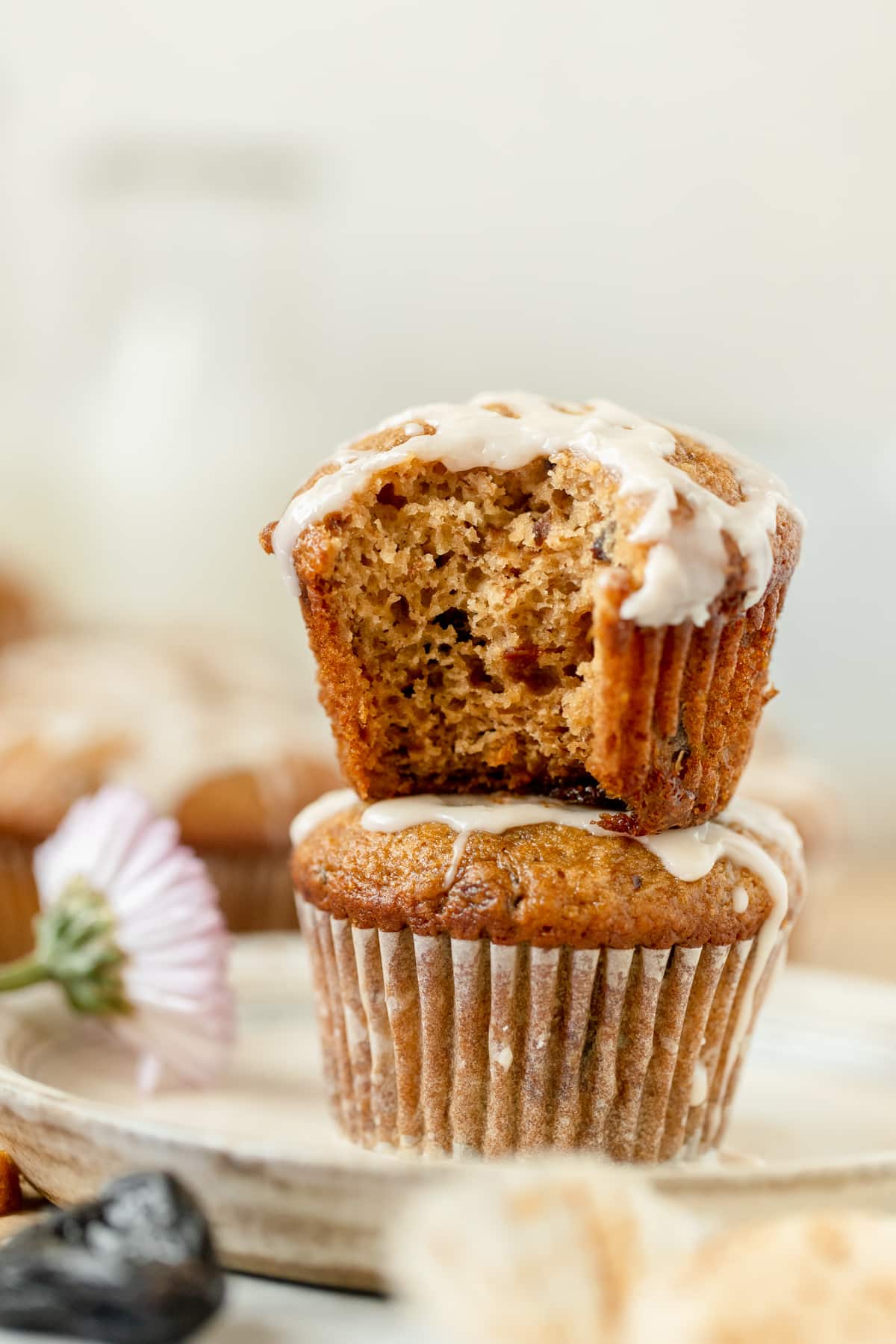 HUNGRY FOR MORE? If you try this recipe, why not leave a star rating in the recipe card right below and/or a review in the comment section further down the page? I always appreciate your feedback! You can also follow me on Pinterest or Instagram. Sign up for my email list, too!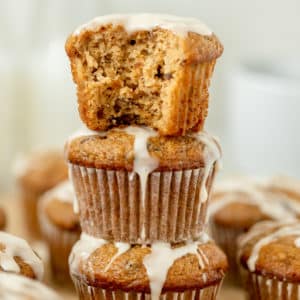 Applesauce Muffins
These muffins are packed full of applesauce, cinnamon, and prunes. They are toddler approved and freezer friendly!
Ingredients
1 1/2

cups

all-purpose flour

1/3

cup

sugar

1/3

cup

brown sugar, packed

1 1/2

tsp.

baking soda

1/2

tsp.

baking powder

1/2

tsp.

salt

1/4

tsp.

cinnamon

1/2

heaping cup

unsweetened applesauce

2

large

eggs

1/3

cup

prune puree

1/4

cup

milk

1/4

cup

canola oil

1

tsp.

vanilla extract
Vanilla glaze (optional)
1/2

cup

powdered sugar

1

Tbsp.

milk

1

tsp.

vanilla extract
Instructions
Preheat the oven to 350°F.

Line a 12-cup muffin tin with muffin liners.

Make the prune puree: Add 4 oz. pitted prunes (about 2/3 cup) and ¼ cup hot water to a blender or food processor and blend until smooth. Adjust water as needed to get a smooth, thick consistency. Set aside.

Whisk together the flour, sugars, baking soda, baking powder, cinnamon and salt together in a medium sized mixing bowl.

In another bowl, whisk together the prune puree, applesauce, eggs, milk, oil and vanilla.

Fold the wet ingredients into the dry ingredients just until no more flour pockets remain. The batter will be thick.

Evenly divide the batter into the prepared muffin tin.

Bake for ~16-18 minutes or until a toothpick inserted in the center comes out clean. Transfer muffins to a wire rack to cool.

Stir together the ingredients for the glaze in a small bowl and drizzle over the tops of the cooled muffins and enjoy!
Notes
Storage: Store in an airtight container in the refrigerator for 3 to 5 days. To freeze, place in ziplock bag or airtight container and freeze up to 3 months. When ready to eat, microwave for 30-45 seconds or thaw out.
Nutrition
Serving:
1
muffin
|
Calories:
181
kcal
|
Carbohydrates:
29
g
|
Protein:
3
g
|
Fat:
6
g
|
Saturated Fat:
1
g
|
Polyunsaturated Fat:
2
g
|
Monounsaturated Fat:
3
g
|
Trans Fat:
0.02
g
|
Cholesterol:
32
mg
|
Sodium:
206
mg
|
Potassium:
81
mg
|
Fiber:
1
g
|
Sugar:
16
g
|
Vitamin A:
93
IU
|
Vitamin C:
0.03
mg
|
Calcium:
34
mg
|
Iron:
1
mg
Hi, I'm 
Tawnie

!

Welcome to my tiny "korner" on the Internet! I am a Registered Dietitian Nutritionist who loves cookies as much as kale. (OK, maybe I like cookies a little bit more but shh, don't tell anyone). I am so glad you're here! Follow along for hassle free, realistic and approachable recipes.

More about Tawnie

I'd love to see what you made!!
Share it with me on Instagram or Facebook and tag me @krolls_korner or use the hashtag #KrollsKorner!