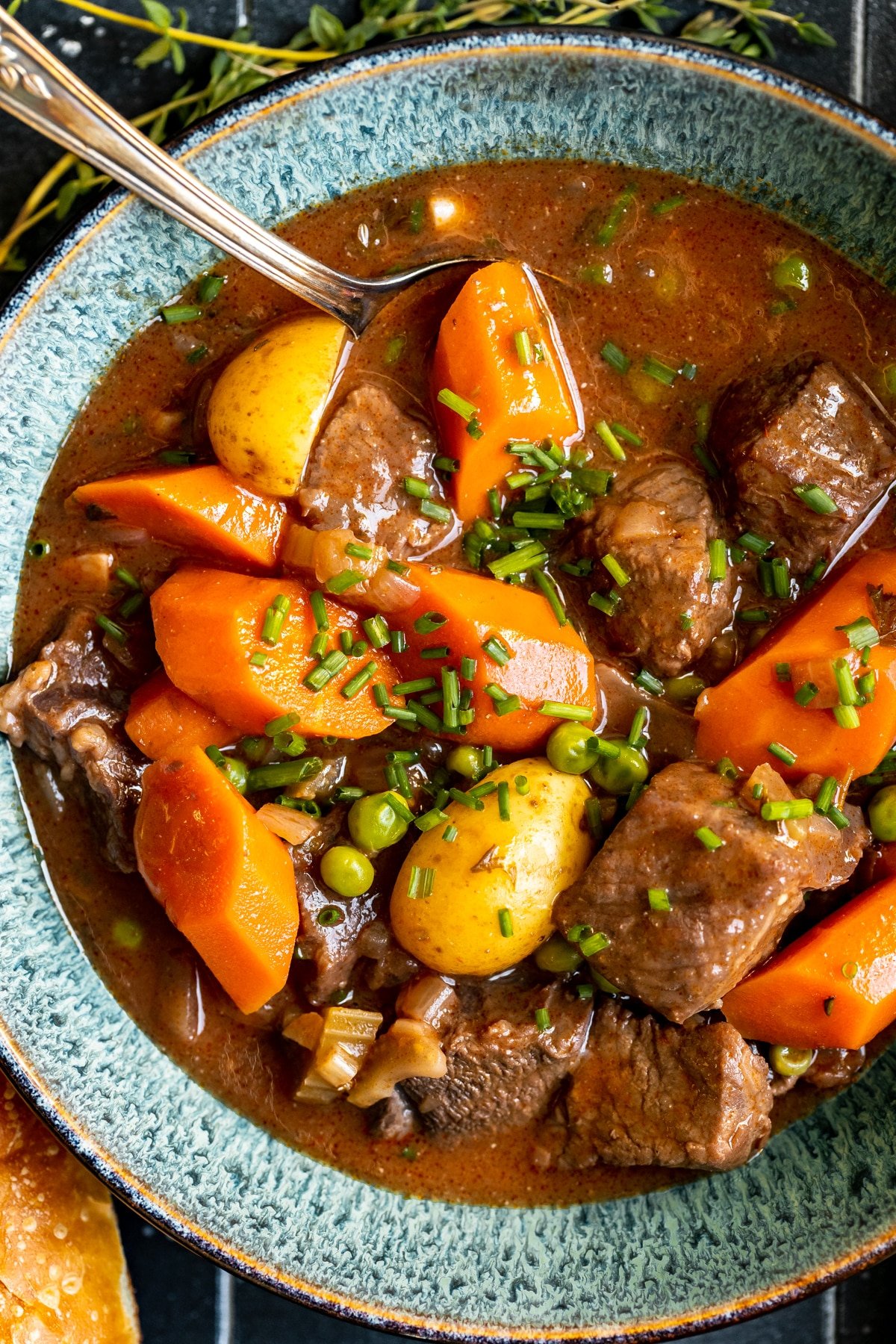 Trust me when I say this Dutch Oven Beef Stew is the only beef stew you will ever need to make.
With it's layers of complex flavors, and succulent, juicy, tender beef that is simmered low and slow for 2 hours, you will find comfort in this rich and tender beef stew that contains the essence of deliciousness.
It goes without saying I love food! I absolutely love cooking and I love finding comfort in food, especially during the chilly winter months.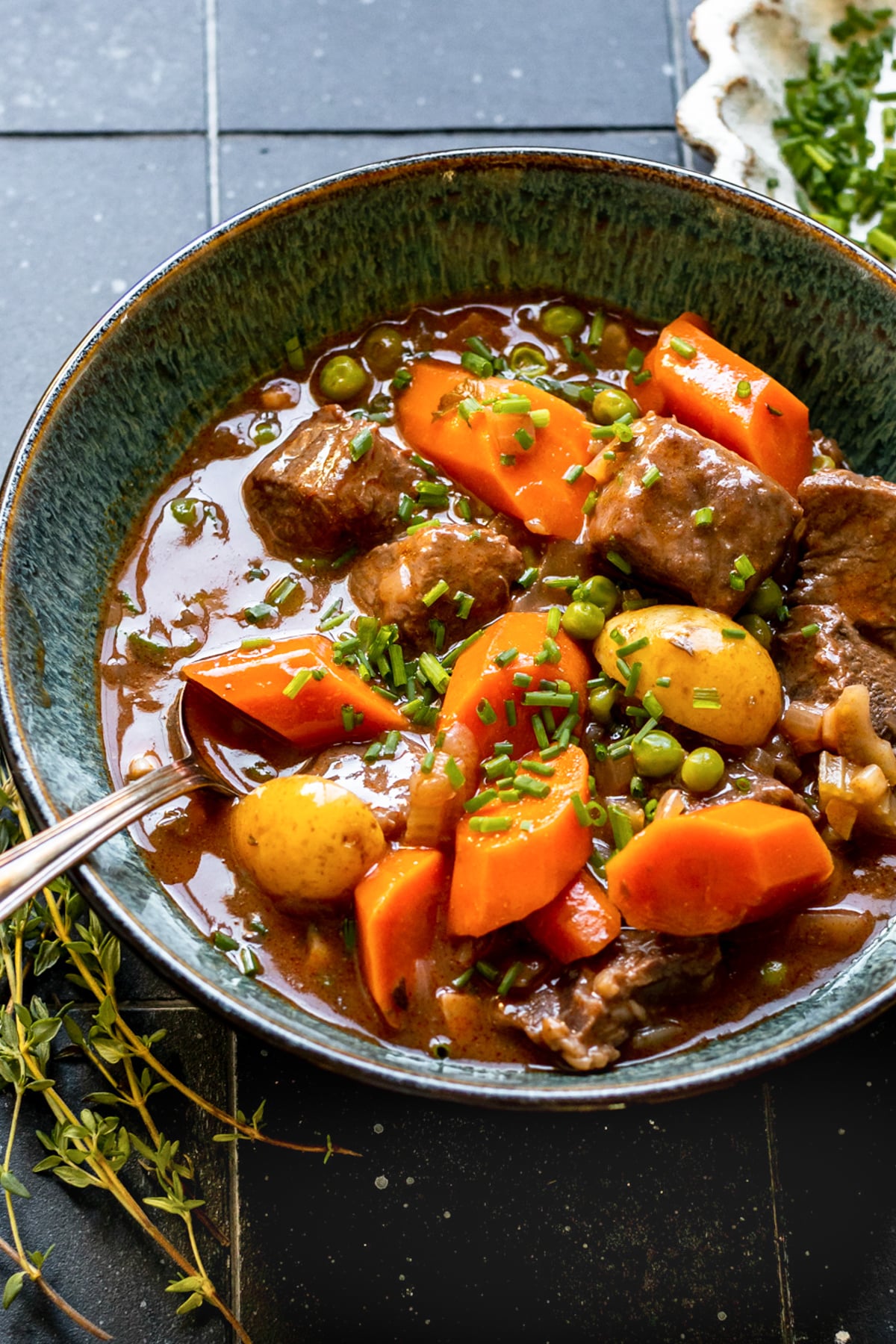 Flavorful meat is key to this recipe, so the key is to start by browning the meat in your dutch oven. Aromatics and fresh vegetables blend well with a full bodied red wine, and a touch of balsamic adds a sweet flavor while tenderizing the stew meat for a straightforward, juicy Dutch Oven Beef Stew that you will find irresistible.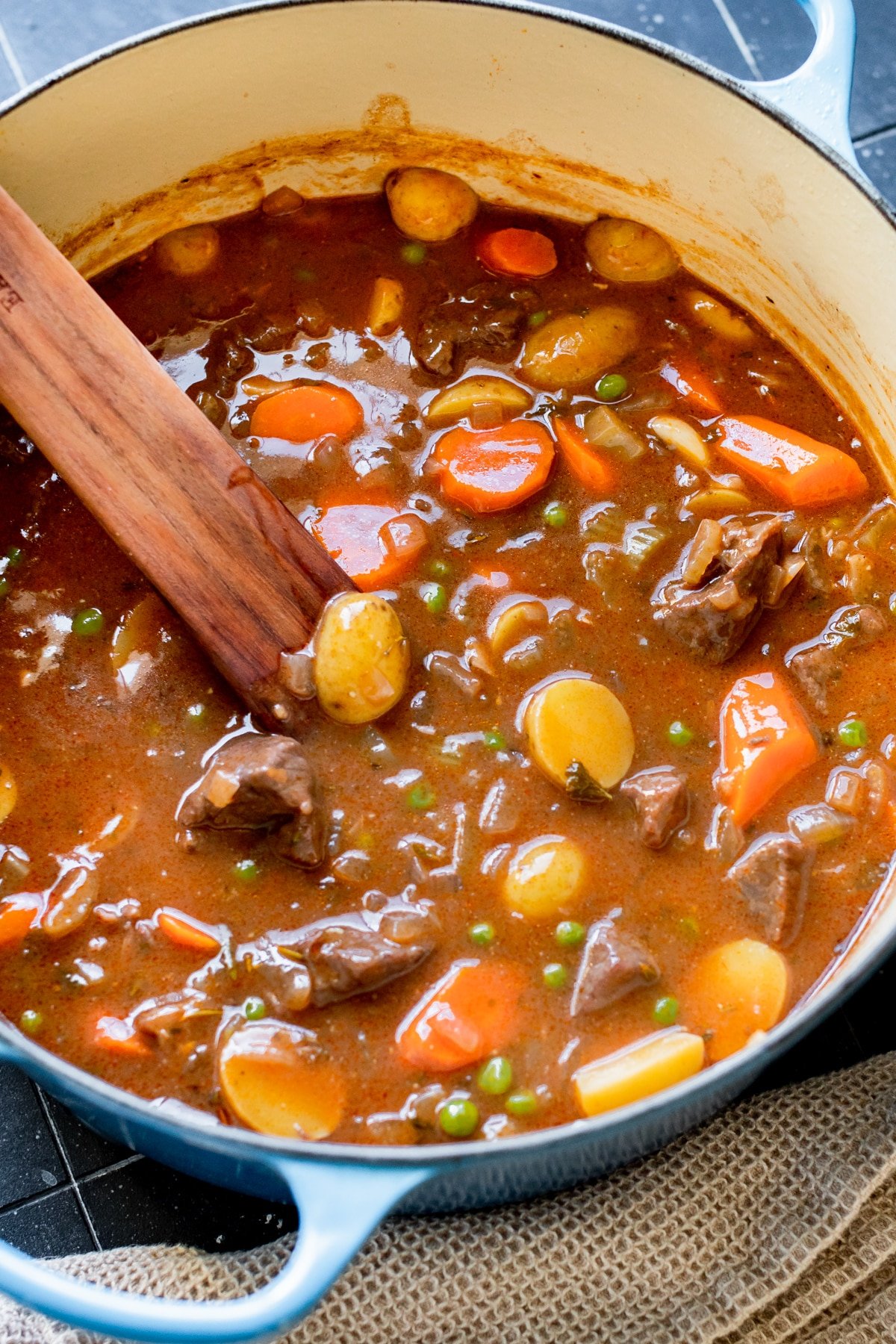 Reasons to Love This Dutch Oven

Beef Stew:
It's hearty, cozy and pure comfort.
It's worth the wait, trust me! This soup is kind of like the phrase "slow and steady wins the race." Invest a little more time in preparing this beef stew and you will reap the rewards in compliments.
All you need is one pot!
No need to buy an expensive cut of meat. Use pre cut stew meat (I love the one from Trader Joe's) or choose a chuck or shoulder cut which have high concentrations of collagen-rich connective tissues and also have some fat marbling for great flavor and cut them into your own 1-inch cubes.
A hearty bowl full of comfort that is a must for your monthly meal rotation.
You can get other things done on your to-do list while this slowly simmers on the stove.
Ingredient Notes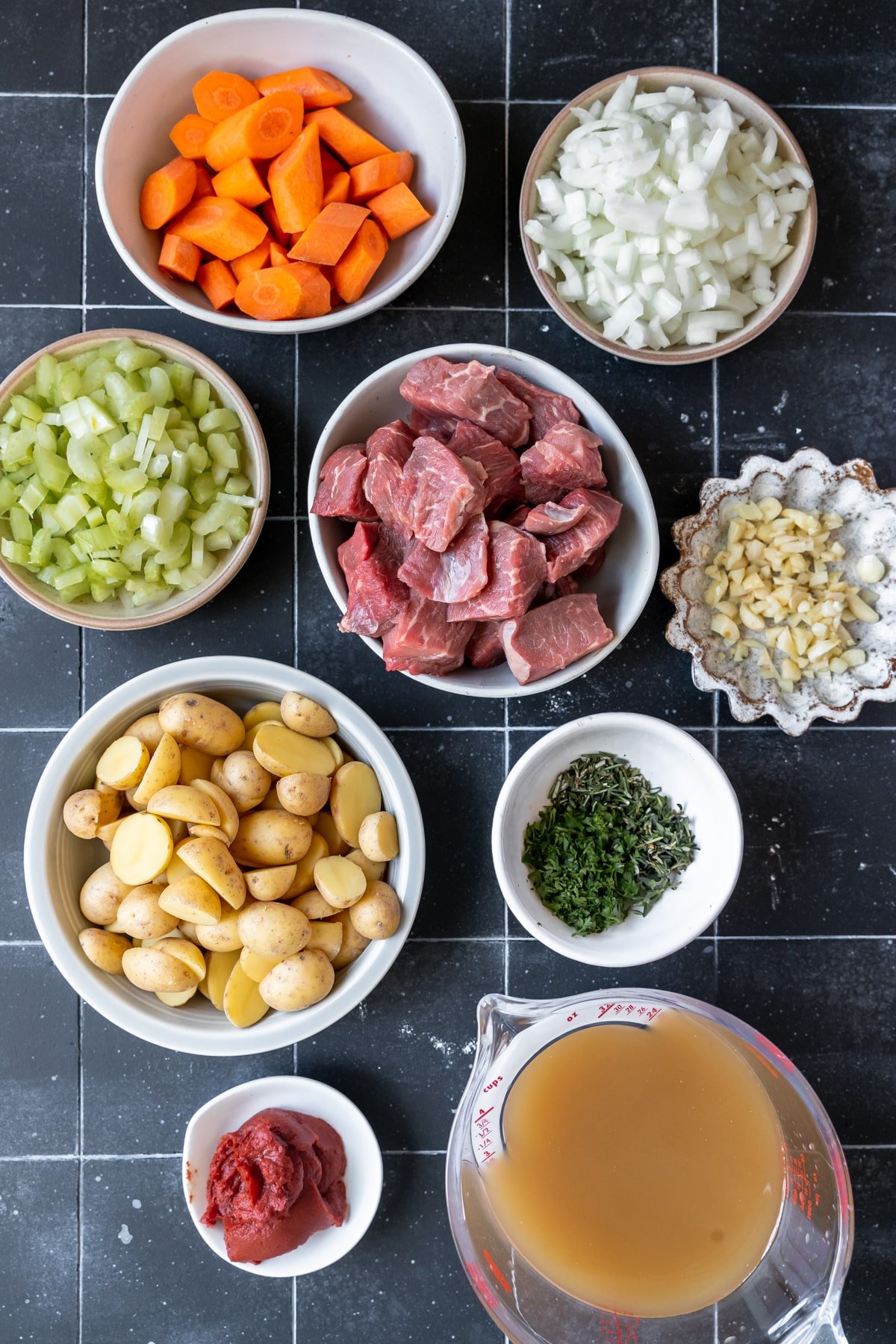 Vegetable oil: Browning the stew meat in vegetable oil adds flavor throughout the stew as the meat and vegetables simmer.
Kosher salt: you'll notice I almost exclusively cook with kosher salt. It's easy to over salt with table salt, and Kosher salt has larger grains which help to distribute the flavor more evenly in your soup.
Stew meat: You can use the pre-cut stew beef at the store, or purchase a beef chuck/chuck roast, brisket or round and cut it into chunks. You'll want to allow the stew meat to simmer for at least 2 hours makes it fork tender and so flavorful.
Yellow onion: Yellow onions are the most popular to add to soups and stews since the add such a wonderful flavor. You can also use white if you don't have yellow.
Garlic: Adding minced garlic to the stew adds a stronger garlic flavor. I always like to use fresh garlic and not the jarred garlic.
Carrots: A stew wouldn't be a classic stew without some carrots! These add sweetness and color to your stew. Also, be sure to slice them in a diagonal cut for a gorgeous presentation. If that doesn't appeal to you, you can slice them into round coins.
Celery: Celery adds a mild bitterness which plays well with the sweetness from the carrots and onion.
Tomato paste: the tomato paste holds the sauce together and helps meld the fat, aromatics and spices for a harmonious taste.
Red wine: Red wine compliments the broth and can temper the richer flavors in the stew.
Broth: Beef broth adds lots of flavor to the stew, but you can use chicken or vegetable broth as well.
Worcestershire: Use Worcestershire to enhance, brighten and balance out the meaty flavors in the stew.
Mustard: Mustard helps balance the flavors in the stew, very much like vinegars.
Balsamic: Just a tablespoon to add a hint of sweetness to the Dutch Oven Beef Stew.
Flour: All-Purpose flour to thicken the stew.
Gold Baby Potatoes: Yukon gold potatoes added starchiness helps thicken and add to the bulk of the stew.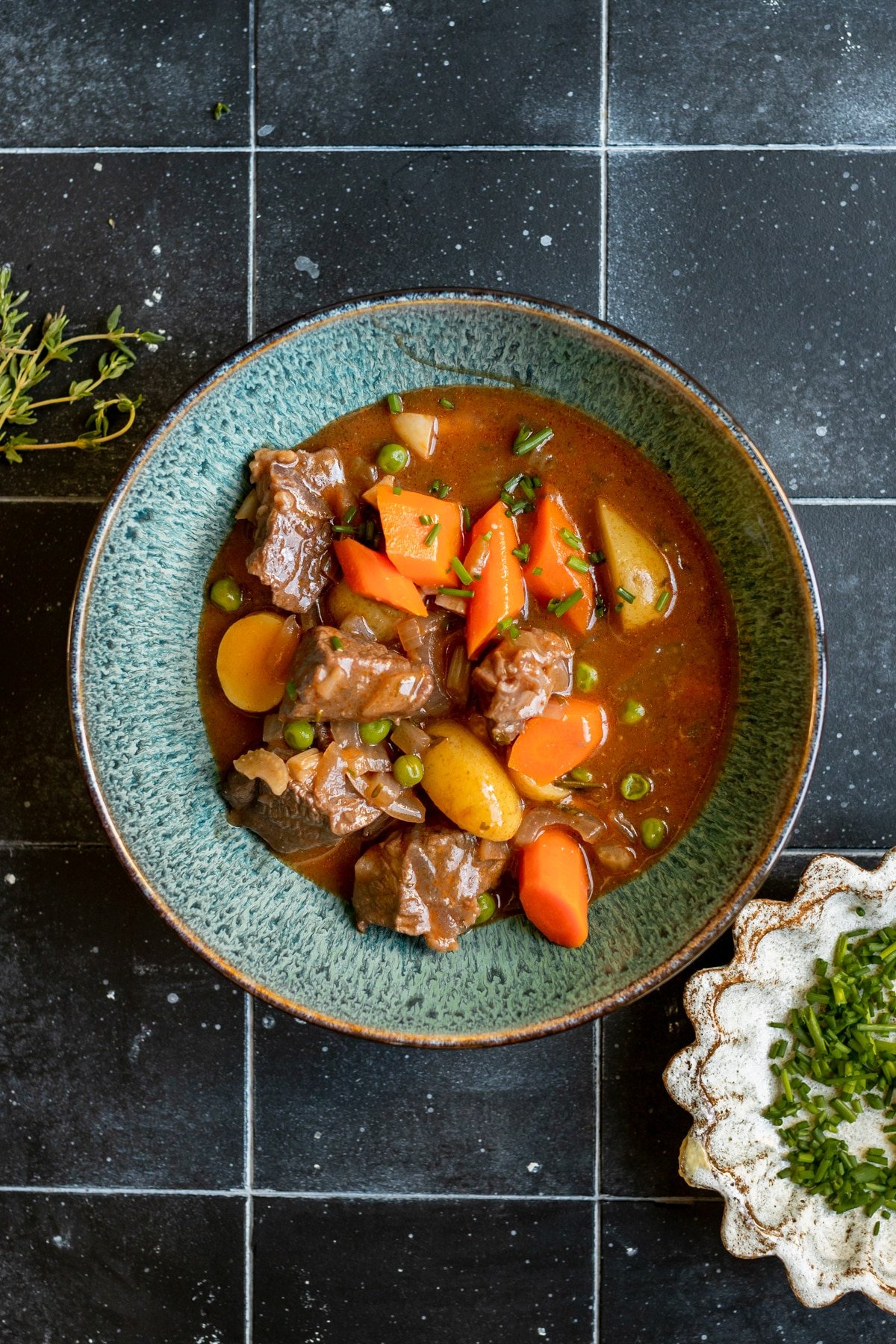 Step by Step Directions
Brown the stew meat and then set aside on a plate.
Cook the onion and garlic in butter and soften aromatics for 3-4 min.
Then sauté the carrots and celery.
Add tomato paste and stir together.
Add red wine and simmer.
Whisk flour with 1 cup beef broth & whisk into stew.
Add beef back in and then add in the remaining broth beef, Worcestershire, and herbs. Boil then simmer, covered, until beef is tender, for 2 hours, or at least 1 1/2 hours.
Add potatoes and simmer, covered for 20-25 min or until tender.
Stir in the peas. Remove bay leaves. Stir in 1 tbsp. Dijon and 1 tbsp. Balsamic vinegar. S
Season to taste with salt and pepper. Serve with chives.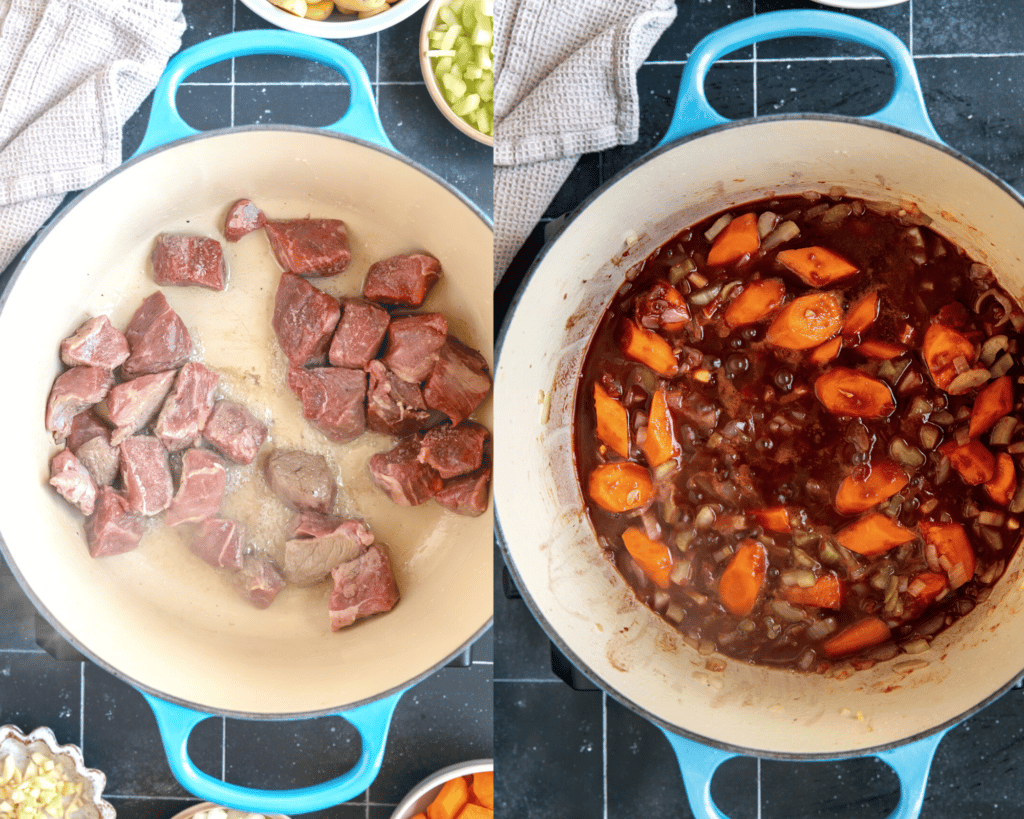 Tips and Variations
Simmer low and slow: One of the most important secrets to a great stew is simmering it low and slow to break down the connective tissue in the meat.The end result? Rich, tender, melt in your mouth beef stew.
Brown meat in batches, if needed: Do not over crowd the pot when browning the meat, as it can lower the cooking temperature and cause the meat to release its juices, which will affect the full flavor of the stew.
For a gluten free stew, you can thicken the stew with cornstarch or arrowroot.
Serve beef stew with homemade rolls or even mashed potatoes at the bottom of the bowl.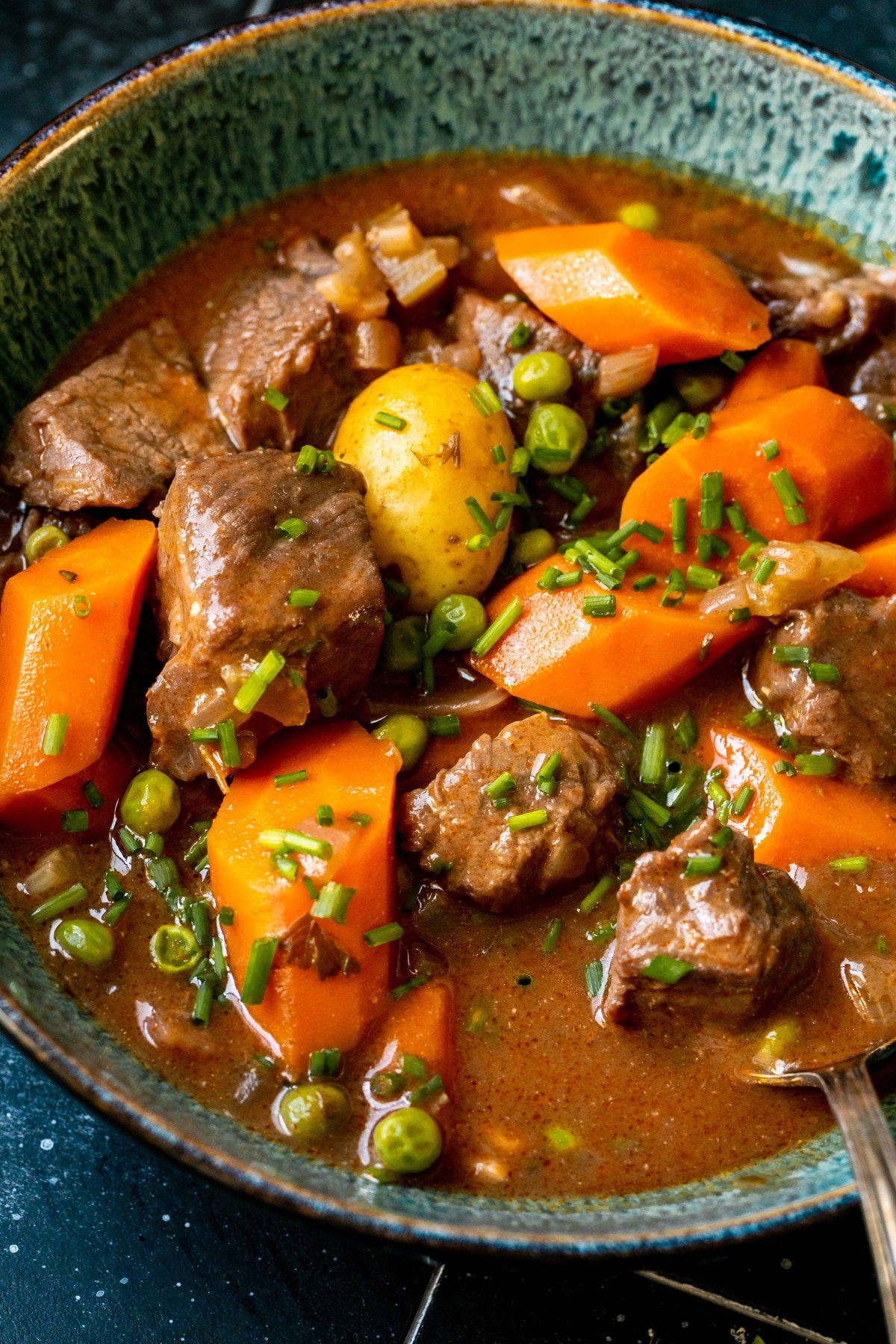 FAQ
What type of red wine should I use?

Cabernet, Merlot or Pinot Noir are my favorites since they blend well with the ingredients of a hearty stew. Use whatever wine you love drinking since there will be some leftover in the bottle!
What if I don't have a dutch oven?

You can still make an amazing stew, just make sure that the lid on the pot seals tightly to trap in all of the moisture in the pan.
Can I use water instead of broth or stock?

For a full flavor stew I would recommend using a store bought broth or a homemade broth over water. But in a pinch, water will work. I loving using beef broth but chicken broth is also a common choice. You can also use 2 cups beef broth, 2 cups chicken broth.
Can you over cook stew meat?

Yes, too much time simmering may dry out the meat and make the veggies mushy. The perfect time range is between 2 and 3 hours.
Should beef stew be covered in liquid?

Yes, the meat and veggies should be mostly all covered. You can add more broth or water to cover if needed.
Before You Begin! If you make this, please leave a review and rating letting us know how you liked this recipe! This helps our business thrive & continue providing free recipes.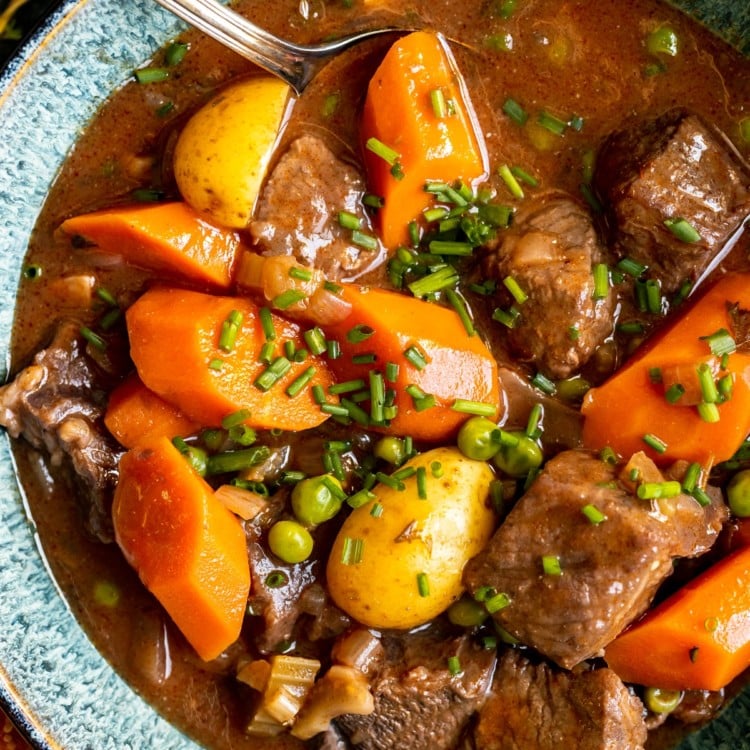 This Dutch Oven Beef Stew features meltingly tender beef simmered in a velvety red wine beef broth with potatoes, celery, carrots and peas. It's a classic, rich, long-simmered stew that screams comfort and you'll want this on repeat all Winter long!
Ingredients
1

Tbsp.

vegetable oil

1 1/2

lb.

stew meat (beef chuck) cut into 1 1/2 inch pieces

1 1/2

tsp.

Kosher salt, plus more to taste

1/2

tsp.

black pepper

1

Tbsp.

unsalted butter

1

medium

yellow onion, diced

4

cloves

garlic, minced

3

large

carrots, peeled and cut diagonally into 1/2 inch pieces

3

stalks

celery, diced

3

Tbsp.

tomato paste

1

cup

red wine (Cabernet, Pinot Noir, Merlot, etc.)

3

cups

beef broth (or chicken broth), divided

1/4

cup

all-purpose flour

2

Tbsp.

Worcestershire

1

Tbsp.

fresh thyme

1

Tbsp.

fresh rosemary

1

Tbsp.

fresh parlsey

2

bay leaves

1

Tbsp.

Dijon mustard

1

Tbsp.

balsamic vinegar

1

lb.

Baby gold potatoes, cut in half

1

cup

peas (frozen or canned)

chives for garnish
Last step! If you make this, please leave a review and rating letting us know how you liked this recipe! This helps our business thrive & continue providing free recipes.
Instructions
Add the vegetable oil to a Dutch oven (or heavy soup pot) over medium-high heat and heat until it's hot and shimmering. Pat the beef dry and add to the pot. Season with salt and pepper. Brown the stew meat for about 3 minutes on each side. Transfer the meat to a plate and set aside. (If you have a smaller pot, be sure to brown the meat in batches to avoid over crowding the pot and add more oil as necessary between batches).

Add the butter and melt. Add the onion and garlic and soften aromatics for 3-4 minutes. Season with more kosher salt, to taste, ~½ tsp.

Then add in the carrots and celery and sauté for 5 minutes, stirring occasionally.

Add the tomato paste and stir together to combine.

Deglaze with red wine, scraping up any browned bits at the bottom of the pan, and cook for 6 minutes, simmering on low. Stirring occasionally.

Whisk the flour with 1 cup of the beef broth in a measuring cup. Pour into the stew and whisk to combine.

Add the browned beef pieces back in and then add in the remaining broth beef, Worcestershire, and all the fresh herbs. Bring to a boil then turn the heat down to low. Cover with a tight fitted lid and simmer until the beef is very tender, at least 1 ½ hours but I always simmer for 2 hours.

Then remove the lid, add the potatoes and simmer again, covered, for 20-25 minutes or until the potatoes are fork tender.

Lastly stir in the peas. Remove the bay leaves and discard. Stir in the Dijon and balsamic vinegar and season to taste with salt and pepper. Serve with chives on top and enjoy this soul-satisfying, classic comfort!
Notes
Storage: Beef stew will keep well properly stored in the fridge for up to 4 days.
Freeze for up to 3 months and defrost in the fridge for 24 hours before heating and enjoying.
Nutrition Information
Serving:
1
bowl
,
Calories:
296
kcal
(15%)
,
Carbohydrates:
24
g
(8%)
,
Protein:
24
g
(48%)
,
Fat:
6
g
(9%)
,
Saturated Fat:
3
g
(19%)
,
Polyunsaturated Fat:
0.4
g
,
Monounsaturated Fat:
2
g
,
Trans Fat:
0.1
g
,
Cholesterol:
57
mg
(19%)
,
Sodium:
877
mg
(38%)
,
Potassium:
916
mg
(26%)
,
Fiber:
4
g
(17%)
,
Sugar:
5
g
(6%)
,
Vitamin A:
4971
IU
(99%)
,
Vitamin C:
27
mg
(33%)
,
Calcium:
79
mg
(8%)
,
Iron:
4
mg
(22%)