Siggis Yogurt Banana Pancakes
Breakfast | Published Feb 25, 2017 | Updated Aug 20, 2019 | By Tawnie
Siggis yogurt banana pancakes hit the spot every time! Fluffy, light, and nutrition packed in each bite. There's no better way to enjoy a weekend breakfast!
Bananas…siggis…pancakes…what's not to love?! Soooo a couple blog posts back I mentioned (in the Berry Balsamic Chia Jam post) I will be a part of Whole Foods Market Fresno's first ever INSTA MEET!! I feel SO honored to part of such an exciting event in my hometown. Myself and 3 other beauty/health influencers here in the Clovis/Fresno area will be gathering at WHM Fresno March 4th to discuss our favorite products – some of the beauty bloggers will be sharing their favorite makeup tips and products while I will be discussing a few of my favorite foods! Siggis yogurt being one of them. This is honestly a staple in my fridge and my go-to source of calcium and protein.
Make sure if you live in the Clovis/Fresno area to mark your calendars! 1 week from today, March 4th at 5-9PM!
[Tweet "Whole Foods Market Fresno InstaMeet 2017! See you there! #wfmim17"]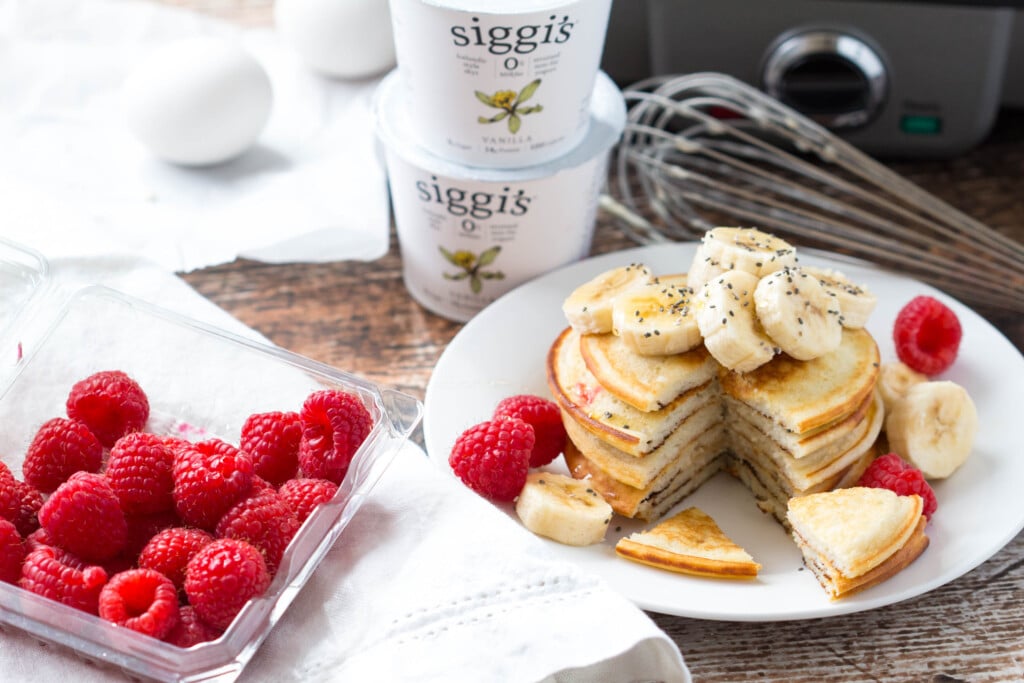 Siggis Yogurt Banana Pancakes
Author:
Prep time:
Cook time:
Total time:
Ingredients
1 cup all purpose flour
1-2 medium sized bananas, sliced
1 tsp. baking powder
1 tsp. baking soda
dash of salt
dash of cinnamon
1/2 tsp. chia seeds
~12 oz. siggi's vanilla yogurt
2 eggs
Instructions
Whisk yogurt and eggs in a medium bowl until smooth. Add the flour, baking soda, baking powder, salt, cinnamon and stir until dry ingredients are mixed in. Note: Batter will be thick.
Preheat your griddle and spray with non-stick spray. Scoop batter onto griddle into sized pancakes you desire, forming a circle.
Place sliced bananas on top of pancakes and gently press into batter while they cook. Cook on one side until golden brown and then flip. Repeat until batter is gone.
Serve with chia seeds and more bananas on top!
You can also make this with Siggis mixed berry yogurt and use blueberries instead of bananas!
Hi, I'm 
Tawnie

!

Welcome to my tiny "korner" on the Internet! I am a Registered Dietitian Nutritionist who loves cookies as much as kale. (OK, maybe I like cookies a little bit more but shh, don't tell anyone). I am so glad you're here! Follow along for hassle free, realistic and approachable recipes.

More about Tawnie

I'd love to see what you made!!
Share it with me on Instagram or Facebook and tag me @krolls_korner or use the hashtag #KrollsKorner!