Easy Mushroom Risotto with Rosemary & Parmesan
Sides | Published Oct 26, 2020 | Updated Oct 26, 2020 | By Tawnie
This easy mushroom risotto is the best risotto you will ever make!
Umami flavored mushrooms, garlic, piney rosemary, shallots and parmesan cheese – this will be the most wanted side dish at the table.
Just add the wine and you have yourself a classy and amazing meal.
When you think about making risotto you may think it's a complicated or intimidating dish to make. Think again! 🙂
Risotto is actually very simple and easy to make. Follow my super simple and hassle-free easy mushroom recipe and you will have delicious, warm and comforting risotto in no time.
Each time you make it, you'll get better and gain more confidence too!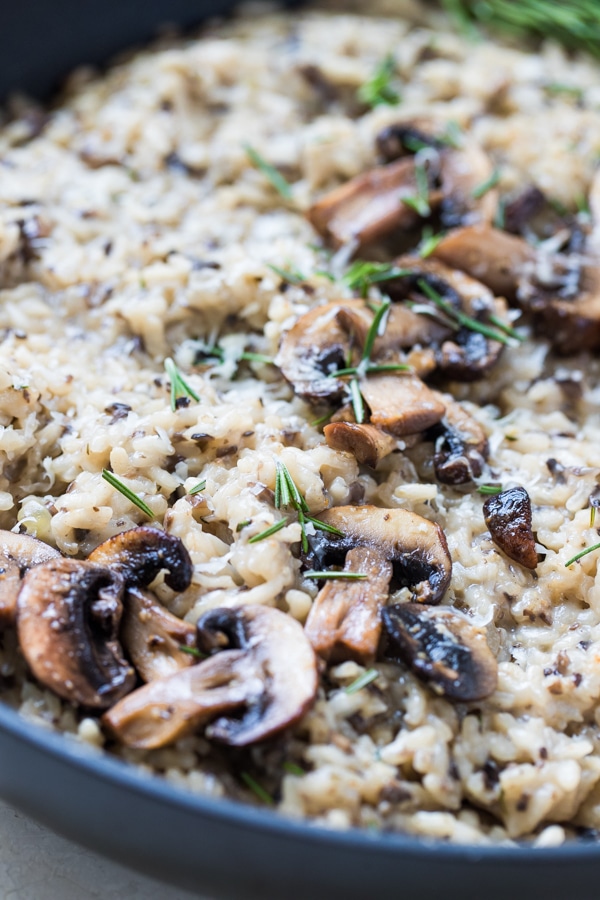 Risotto is a creamy northern Italian classic that tastes a lot like the rice version of creamy mac and cheese.
The risotto making process allows the rice to release its starches, creating a velvety sauce with soft but slightly al dente grains.
The dish is cooked until the broth reaches a creamy consistency (without the cream).
Mushrooms are so versatile and are magical in risotto. Plus, they are packed with antioxidants, B vitamins and contain a good amount of protein.
Besides the tasty mushrooms, I love making this risotto recipe because it incorporates the delicious flavors of delicate shallots, onions, garlic and balanced with a relaxing taste and smell of rosemary.
Lastly, this easy mushroom risotto gets christened with a blanket of parmesan cheese. YUM.
This Easy Mushroom Risotto Is:
Creamy and velvety
Easy and simple to make
Rich without being heavy
Full of flavor and pleasant aromatics
Nutrient rich meal
Universally appealing!
Ingredients to Make Easy Mushroom Risotto
Arborio rice (crucial to use arborio and not a long-grain rice such as basmati or jasmine. These varieties do not contain enough starch to achieve the creaminess we all adore about risotto).
Carnaroli and Vialone nano rice are two other rice varieties worth mentioning that work for making risotto. Although, they may be more difficult to find in stores.
Chicken broth: vegetable broth may be used as well.
Olive oil: I like to use a combination of olive oil and butter when cooking risotto. Some people prefer using one over the other. (I.e. oil only for seafood based risottos).
Butter: Butter is a better choice for vegetable based risotto's.
Shallot: I also like to use a combination of shallot and onion in this risotto but you can choose to use one or the other.
Onion: White or yellow onions work best.
Mushrooms (baby bella , white, or whatever you prefer)
Garlic: fresh or jarred garlic
Rosemary: the fragrant rosemary brightens up this easy mushroom risotto.
Parmesan cheese: It's important to take the pot off of the heat before adding in the Parmesan. This gives the easy mushroom risotto a silky texture and it's the perfect finishing touch!
How to Make Mushroom Risotto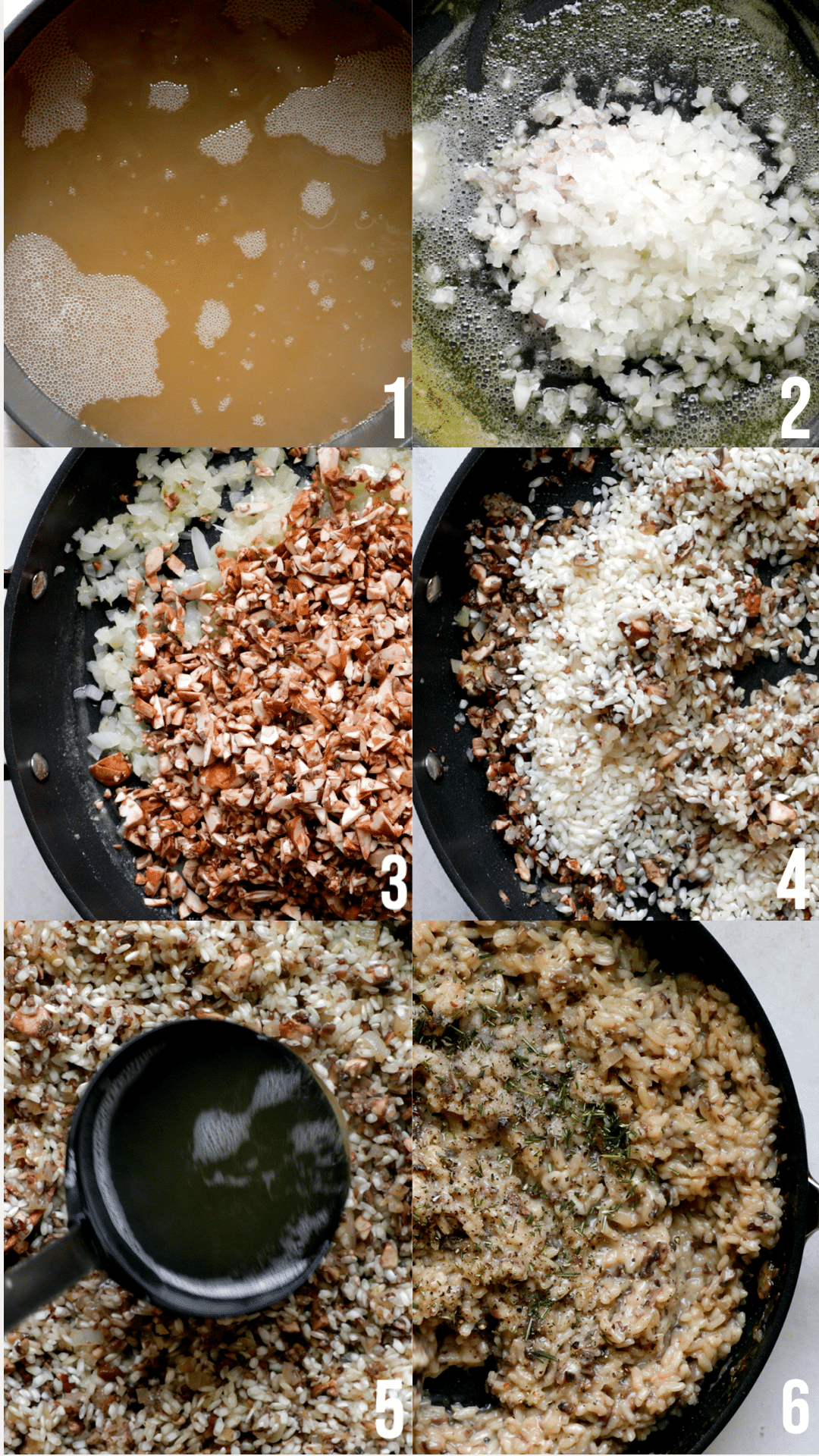 Warm your broth and keep it warm in a saucepan on low heat.
Sauté shallot and onion in the olive oil and butter.
Add in diced mushrooms and garlic.
Add in arborio and remaining butter and toast the rice (stir for 2 minutes).
Slowly add the warm broth in increments, ~ 1/3 cup at a time. Stir regularly between additions, and allow the broth to absorb before adding the next ladle of broth.
Remove pan from heat, stir in rosemary, Parmesan and salt and pepper.
Pro tip! Because the rice starch is so valuable when making risotto, never rinse the rice before cooking it.
Do I have to use Arborio rice to make risotto?
Arborio rice (risotto rice) is a preferred rice to use when making risotto. You can also use Carnaroli and Vialone nano rice if you can find it in stores, or order online.
Arborio rice is a short-grain Italian rice that has a high starch content that imparts a creamy texture, and the thickness of the grain helps it stay intact during the cooking time. If you use a long grain rice such as basmati or jasmine, you'll end up with a pilaf style dish instead.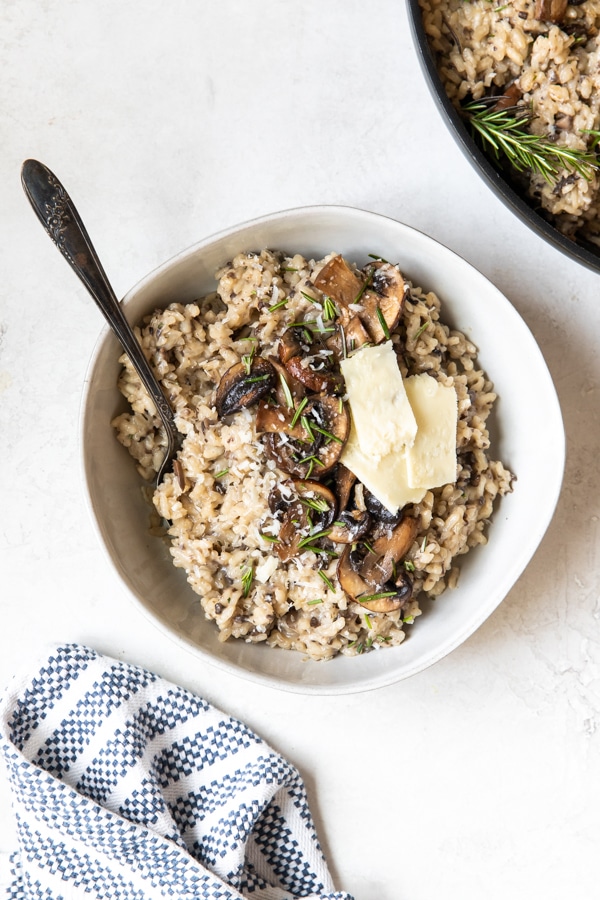 What to eat with risotto?
Risotto can be used as a side dish with baked fish or chicken, roast beef, or garlic prawns. When served as a main, I like to serve it with a simple salad.
Pro tips to making perfect risotto
Use warm broth. Keep broth at a simmer in a saucepan. This will keep the temperature from dropping each time you add it to the rice. This process will help the rice absorb the liquid faster resulting in a better texture.
Stirring the rice frequently is key. Not constantly, but frequently. You can take 30 second breaks! 😉 Stirring the rice constantly will add air into the risotto, cooling it down and making it gluey. Yet if you don't stir enough, the rice will stick to the bottom and burn.
It's important to stir frequently because risotto's creaminess comes from the starch generated when grains of rice rub against each other. So do stir often, but feel free to give your arms (and the rice) a break.
The rice should be cooked at a medium high heat throughout the cooking because if you cook the rice on a low heat, it will never cook. But you also want to avoid extremely high flames and rapid boils.
Make sure the pot you are using isn't too wide of a pot. If your pot is too wide, the rice will cook in a thin layer and won't be able to bump and grind enough to generate starch. Another problem: you will have hot and cold spots in your pot.
Don't rinse the rice. Doing so will remove its sticky consistency. Washing the rice, strips off the starch that is the key element to maintaining that classic creamy texture. And we want creaminess!
Toast the rice in the pan for only about a minute or two. We don't want the rice to get burned and we don't want hard rice either.
PS If you try this recipe, why not leave a star rating in the recipe card right below and/or a review in the comment section further down the page? I always appreciate your feedback! You can also follow me on Pinterest or Instagram. Sign up for my email list, too!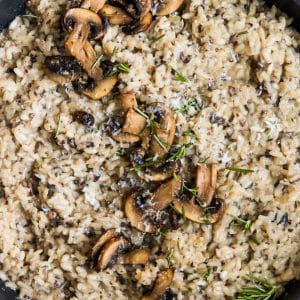 Easy Mushroom Risotto
This Easy Mushroom risotto is rich, creamy and loaded Parmesan, mushrooms, garlic and rosemary. Yes please!
Ingredients
6-7

cups

chicken broth

4

Tbsp.

butter, divided

1

Tbsp.

olive oil

1/2

medium

white onion, finely chopped (~3/4 cup)

1

shallot, finely chopped (~ 2 1/2 Tbsp.)

8

oz.

baby bella mushrooms, small dice

1

tsp.

garlic, minced

2

cups

arborio rice

1

cup

freshly shredded Parmesan cheese

2

Tbsp.

minced fresh rosemary leaves

salt and pepper, to taste
Instructions
Warm your broth. In a medium sized saucepan, bring broth to a simmer. Lower heat and keep stock heated on low.

In a large saucepan over medium heat, add in 2 Tbsp. butter and the oil. Sauté the shallot and onion (stirring often) and cook until softened, about 4-5 minutes.

Add in diced mushrooms and garlic. Cook for 6-7 minutes, or until mushrooms cook down and begin to release their moisture. Stir occasionally.

Add in arborio and remaining butter and stir rice until well-coated, about 2 minutes. You will notice the rice becoming translucent but the center is still opaque.

Slowly add the warm broth in increments, ~ 1/3 cup at a time. Stir regularly between additions, and allow the broth to fully absorb before adding the next ladle of broth. Repeat until the rice is al dente and the broth is creamy, about 20 minutes. You'll know when the risotto is ready when you run your spatula through the risotto and the risotto flows slowly back to fill in the space. Also be sure to taste it! Should be al dente (a little bit of chew).

Remove pan from heat, stir in rosemary, Parmesan and salt and pepper. Serve warm.
Notes
Use a freshly grated block of Parmesan, it is much better than the pre-grated stuff.
If you don't have a shallot, use 1 medium onion. We love the flavor of shallots add so we use both, but they can be used interchangeably.
Be sure to use Arborio rice, Carnoroli, or Vialone nano rice. These types of rice hold up well to the constant stirring creating the perfect risotto.
Nutrition
Serving:
1
serving
|
Calories:
406
kcal
|
Carbohydrates:
58
g
|
Protein:
13
g
|
Fat:
14
g
|
Saturated Fat:
8
g
|
Cholesterol:
33
mg
|
Sodium:
1240
mg
|
Potassium:
451
mg
|
Fiber:
2
g
|
Sugar:
2
g
|
Vitamin A:
386
IU
|
Vitamin C:
18
mg
|
Calcium:
225
mg
|
Iron:
4
mg
Hi, I'm 
Tawnie

!

Welcome to my tiny "korner" on the Internet! I am a Registered Dietitian Nutritionist who loves cookies as much as kale. (OK, maybe I like cookies a little bit more but shh, don't tell anyone). I am so glad you're here! Follow along for hassle free, realistic and approachable recipes.

More about Tawnie

I'd love to see what you made!!
Share it with me on Instagram or Facebook and tag me @krolls_korner or use the hashtag #KrollsKorner!