"Nooch" Corn on the Cob {Eat This Not That}
Sides | Published Aug 10, 2016 | Updated Aug 20, 2019 | By Tawnie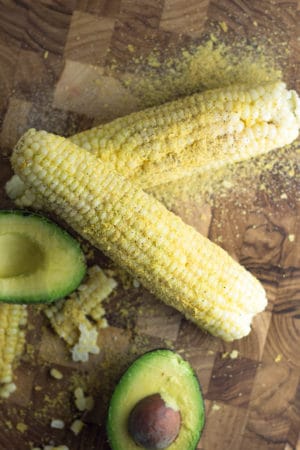 Happy Wellness Wednesday my friends! "Nooch" is slang for nutritional yeast. I honestly have only known about nooch for a few months and I am low key upset I have not had it before! It is one of my new favorite ingredients. You can put it on your pasta (mac and cheese is yummy), salads, CORN, kale chips, gravy, mashed potatoes, french fries, bean dip, and even on your pizza. It is a great vegan/vegetarian option and is a nutrient powerhouse in my eyes. Low in sodium, 3g protein per serving, 20 kcal/serving and GF…it makes for a perfect cheese alternative.


For the 'Eat this not that' portion of the blog post…I want to compare this recipe to some of the crazy corn on the cob recipes I have seen lately. For example, bacon wrapped corn with honey glaze or slathered with tons of butter and different cheeses or sauces. Some of these recipes turn a simple corn on the cob into a high calorie delicacy. I swapped the butter with avocado and the cheese with nutritional yeast! Instead of salt I chose garlic powder and a dash of pepper. Such an easy and simple recipe – I hope you all enjoy this recipe! 🙂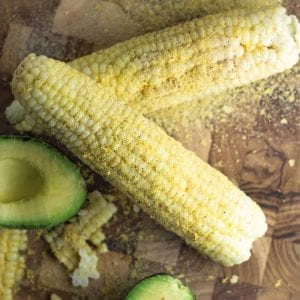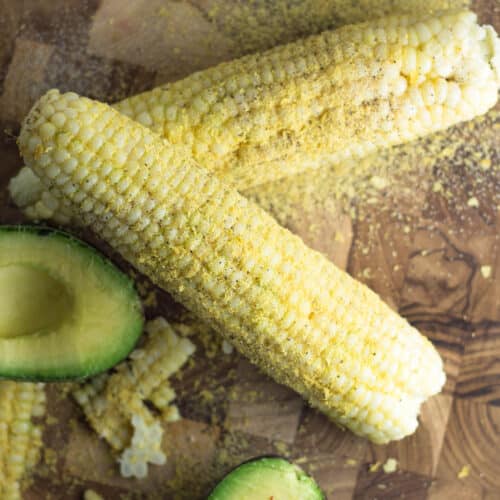 "Nooch" Corn On The Cob
Have you tried Nutritional yeast yet? It is a nutritional powerhouse and fun to use as "cheese" for a vegan option!
Ingredients
2

corn on the cobs

1

avocado

cut in half

2

Tbsp.

Nutritional Yeast

2

Tsp.

garlic powder

pepper - as needed
Instructions
Bring a large pot of water to a rolling boil. Remove corn husk and drop corn in boiling water for 8 minutes. Drain and let cool down for a few minutes before adding toppings.

Rub the avocado on the corn. The avocado is acting as the butter agent. Then sprinkle the garlic powder, nutritional yeast and then the pepper. Enjoy!
[Tweet ""Nooch" is the NEW food trend! #NutritionalYeast |Krollskorner.com"]
Hi, I'm 
Tawnie

!

Welcome to my tiny "korner" on the Internet! I am a Registered Dietitian Nutritionist who loves cookies as much as kale. (OK, maybe I like cookies a little bit more but shh, don't tell anyone). I am so glad you're here! Follow along for hassle free, realistic and approachable recipes.

More about Tawnie

I'd love to see what you made!!
Share it with me on Instagram or Facebook and tag me @krolls_korner or use the hashtag #KrollsKorner!