Easy Eggplant Parmesan Bake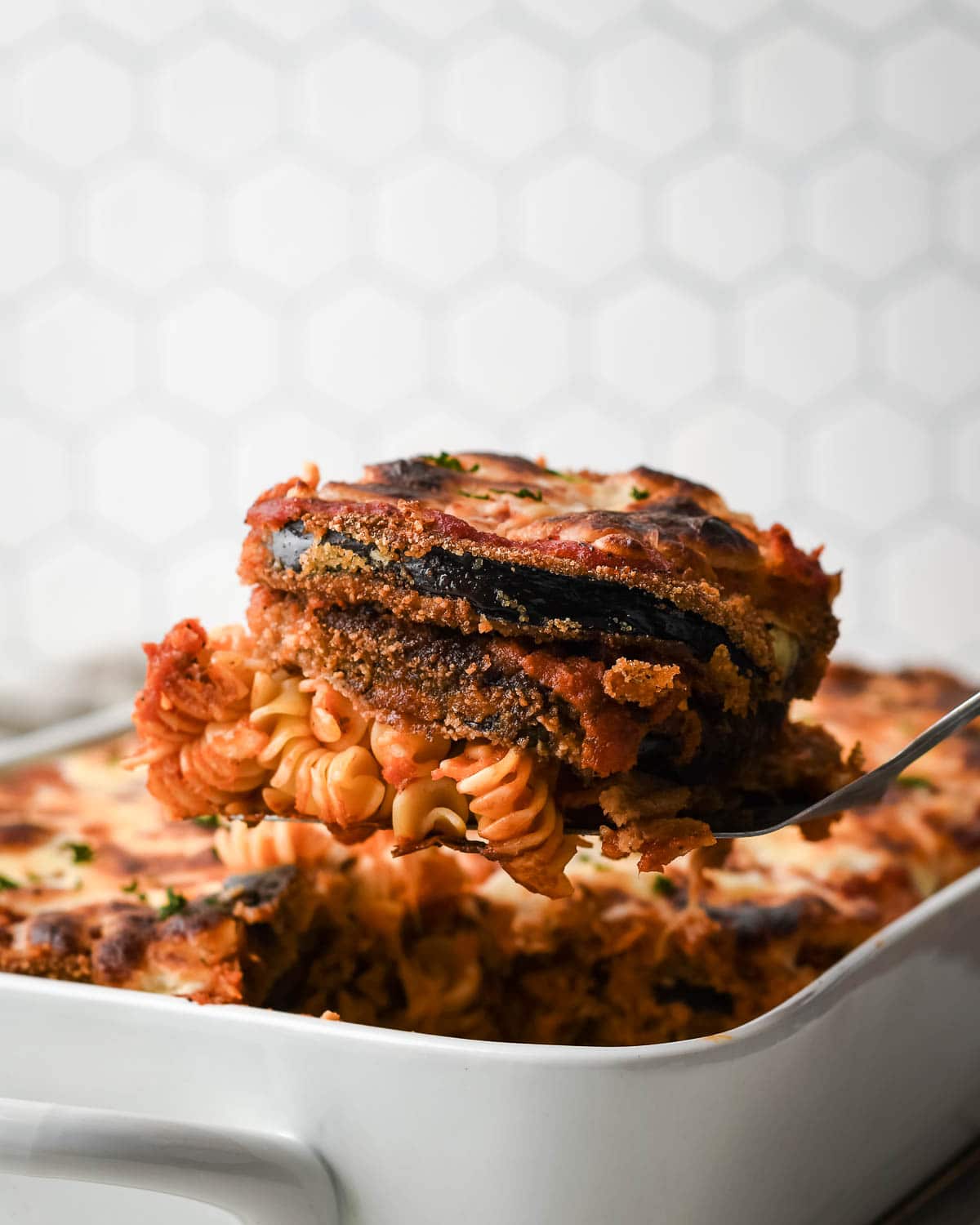 Honestly, I am so pumped to share this Easy Eggplant Parmesan with you guys today!
You might not want to make eggplant parmesan any other way now.
I'm calling this the best eggplant parmesan because:
It's smothered in gooey, fresh mozzarella cheese
Has 2 layers of perfectly crisp eggplant slices
The eggplant has a wonderfully meaty interior
Baked to perfection in your favorite marinara sauce
The noodles are part of the baked dish so it's an all-in-one type meal
One thousand times better than your average eggplant parmesan recipe!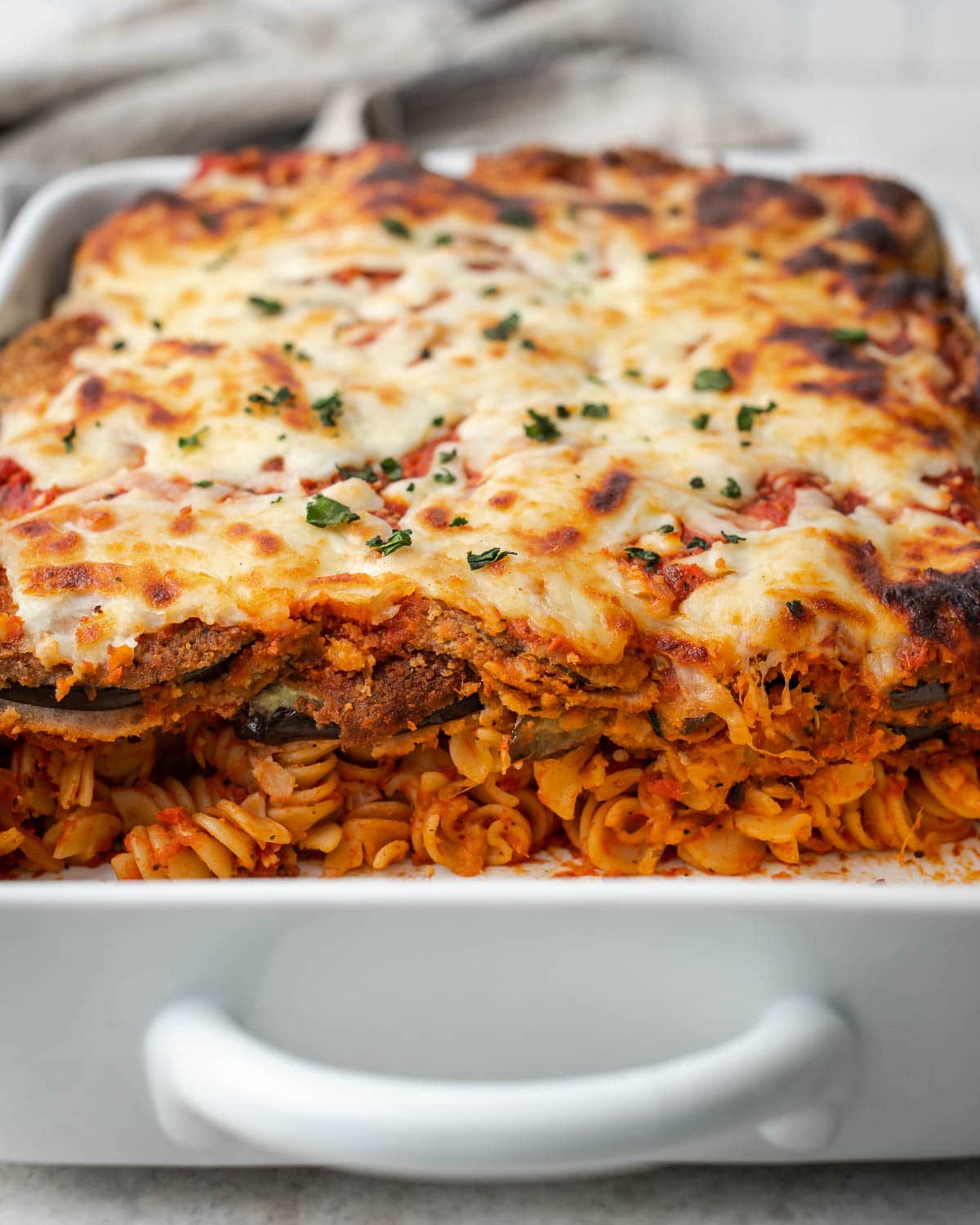 Easy Eggplant Parmesan Ingredients you'll need
Eggplant: You'll need 2 eggplant for this recipe. Select eggplants with a firm, glossy skin. (There is no need to peel the eggplant prior to baking, it's totally edible!)
Breadcrumbs: Breadcrumbs are ground more fine than Panko making it ideal for breading. You can use Panko, but be sure to run them through a food processor first before breading.

The fine powder from the breadcrumbs is nice because it covers the entire eggplant slice which helps create a seal so that the eggplant doesn't absorb too much oil in the frying process.

Italian Seasoning/Salt/Pepper: Seasonings to add to the breadcrumbs, or you can purchase Italian breadcrumbs and add salt and pepper to it!
Parmesan Cheese: I like to use freshly/finely grated Parmesan cheese. Add this to the breadcrumb mixture to make the most delicious Parmesan coated eggplant slices!
Oil: Vegetable oil or canola oil work best here for frying the eggplant.
Eggs: The eggs help adhere the breadcrumbs to the eggplant.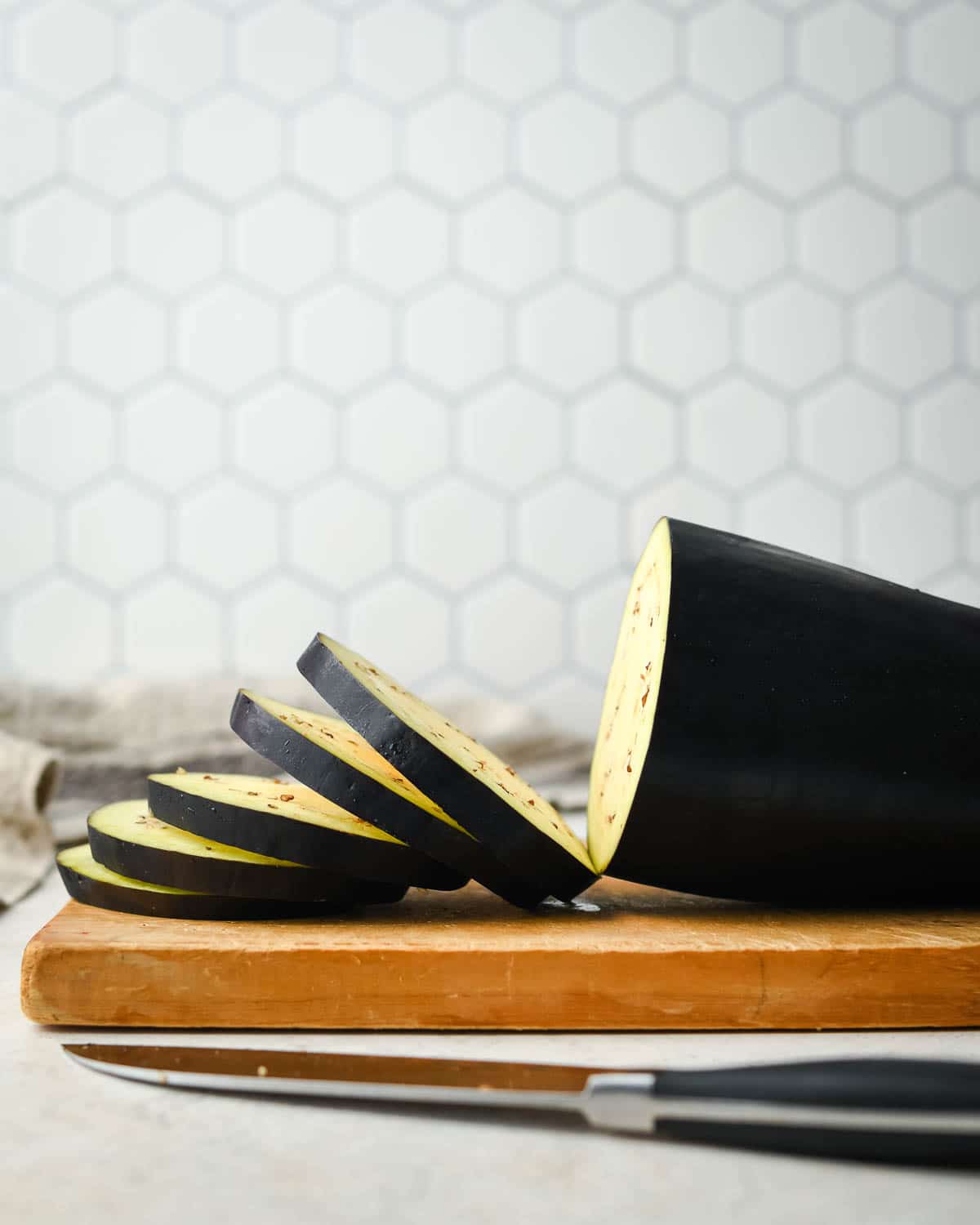 Pro Tip!
Add a pinch of salt into the eggs! This can help the egg stick to the eggplant a bit better.
Flour: Dusting the eggplant is the first step in the dredging of the eggplant. Your dredging station will go as follows: flour, eggs, breadcrumb mixture.
Marinara Sauce: Use your favorite jarred tomato sauce (you'll need 2, 24oz. jars) or you can use homemade if you have a favorite recipe.
Fresh Mozzarella Cheese: Don't buy the pre-shredded stuff. Use the fresh block and shred it yourself! You'll need ~8 oz to sprinkle on top of the Eggplant Parmesan.
How Do You Make Eggplant Parmesan In the Oven?
If you don't want to fry the eggplant slices, after you bread them, place them in the oven at 425°F and bake them on a baking sheet for ~25 minutes.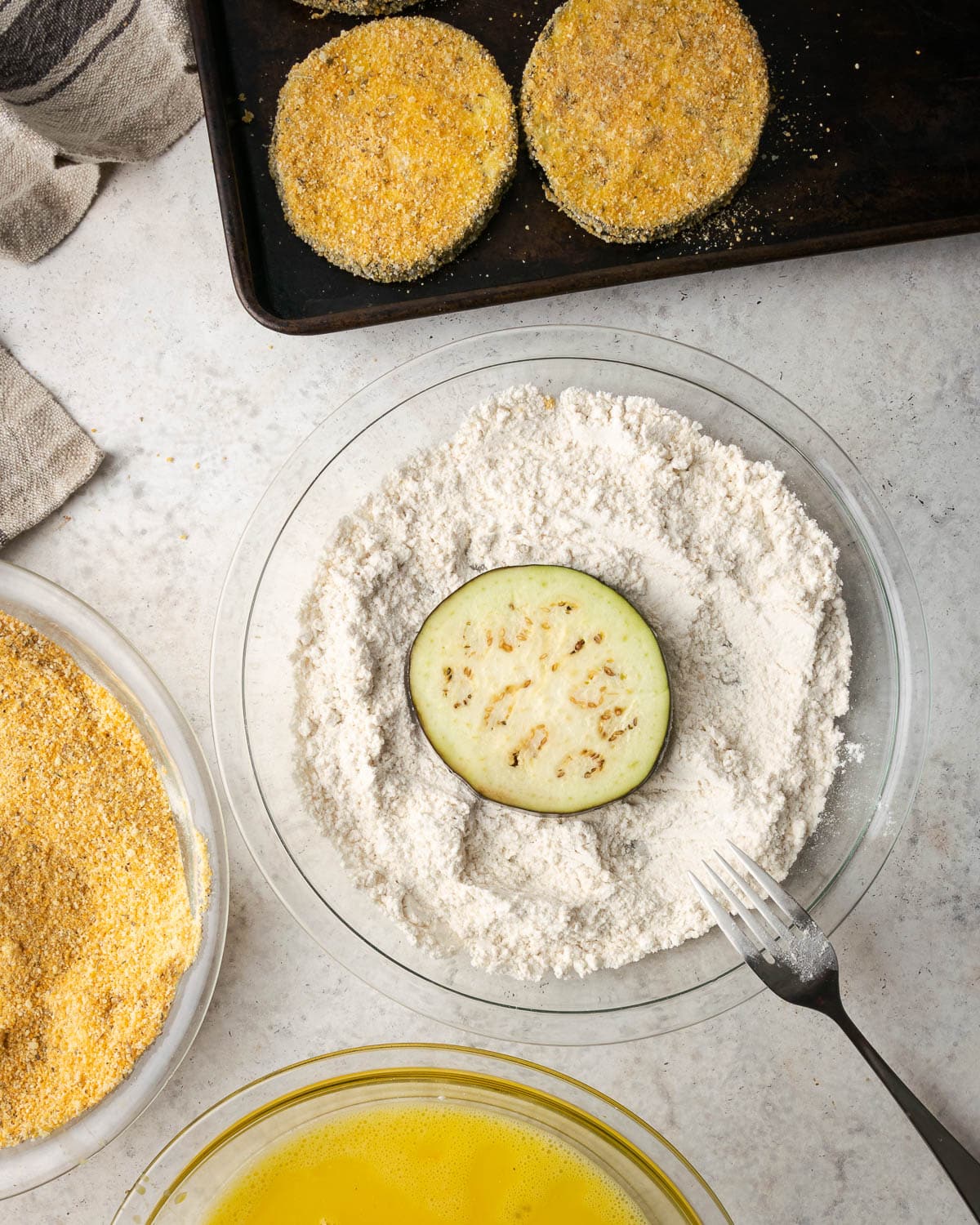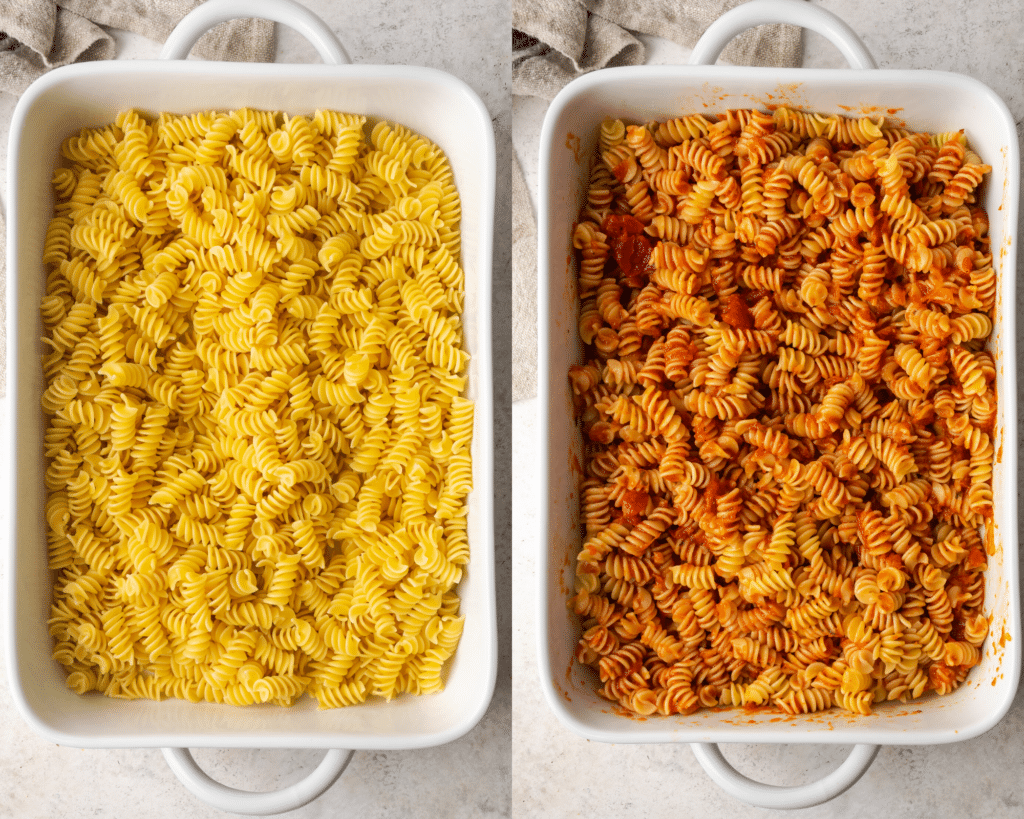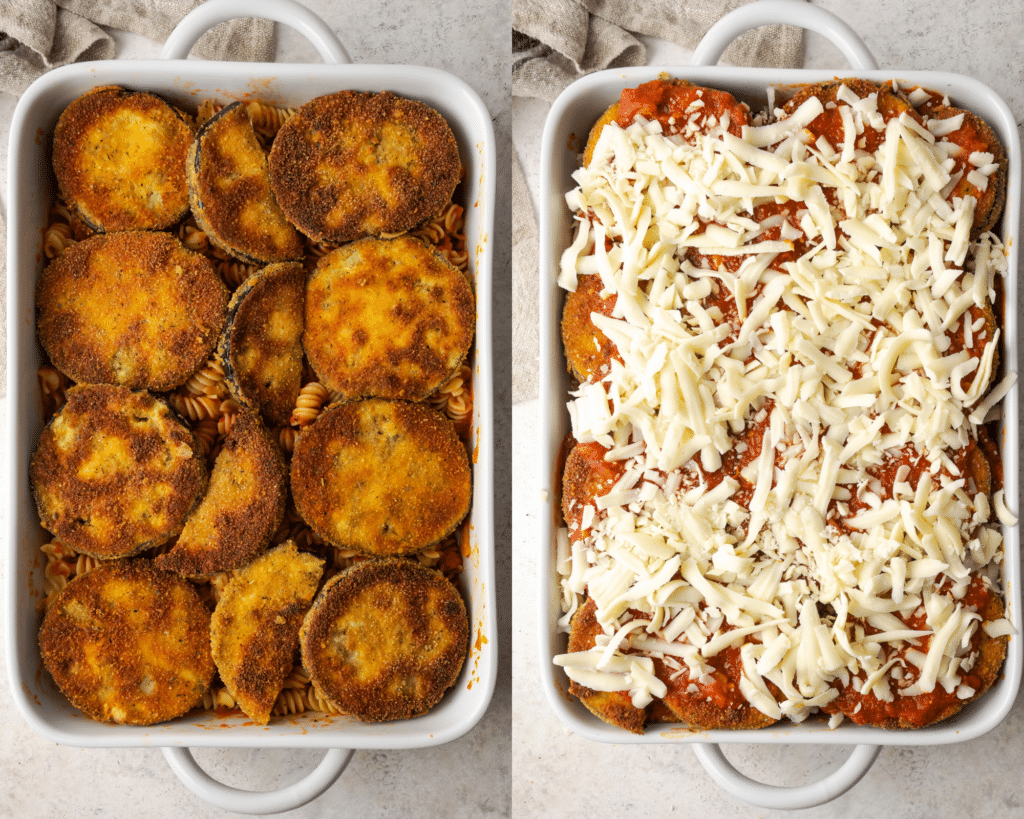 To make this Easy Eggplant Parmesan you will…
Slice the eggplant
Arrange on baking sheets and salt eggplant to sweat (60 minutes)
Prepare the dredging station: flour, eggs & breadcrumb mixture in shallow bowls.
Bread the eggplant
Pan-fry the eggplant slices
Layer the casserole
Bake and enjoy!
Only use a small amount of oil when frying the eggplant instead of the eggplant swimming in a pool of oil.
Frying the eggplant gives the dish an overall delicious flavor so I recommend it over baking, especially if you are mindful of the amount of oil being used.
How long to Bake Eggplant Parmesan?
This easy eggplant Parmesan takes ~20-25 minutes in the oven, and 2-3 minutes broil time.
What to Serve with Eggplant Parmesan?
Since this meal is pretty hearty, light sides are typically best. A salad, roasted veggies or dinner rolls.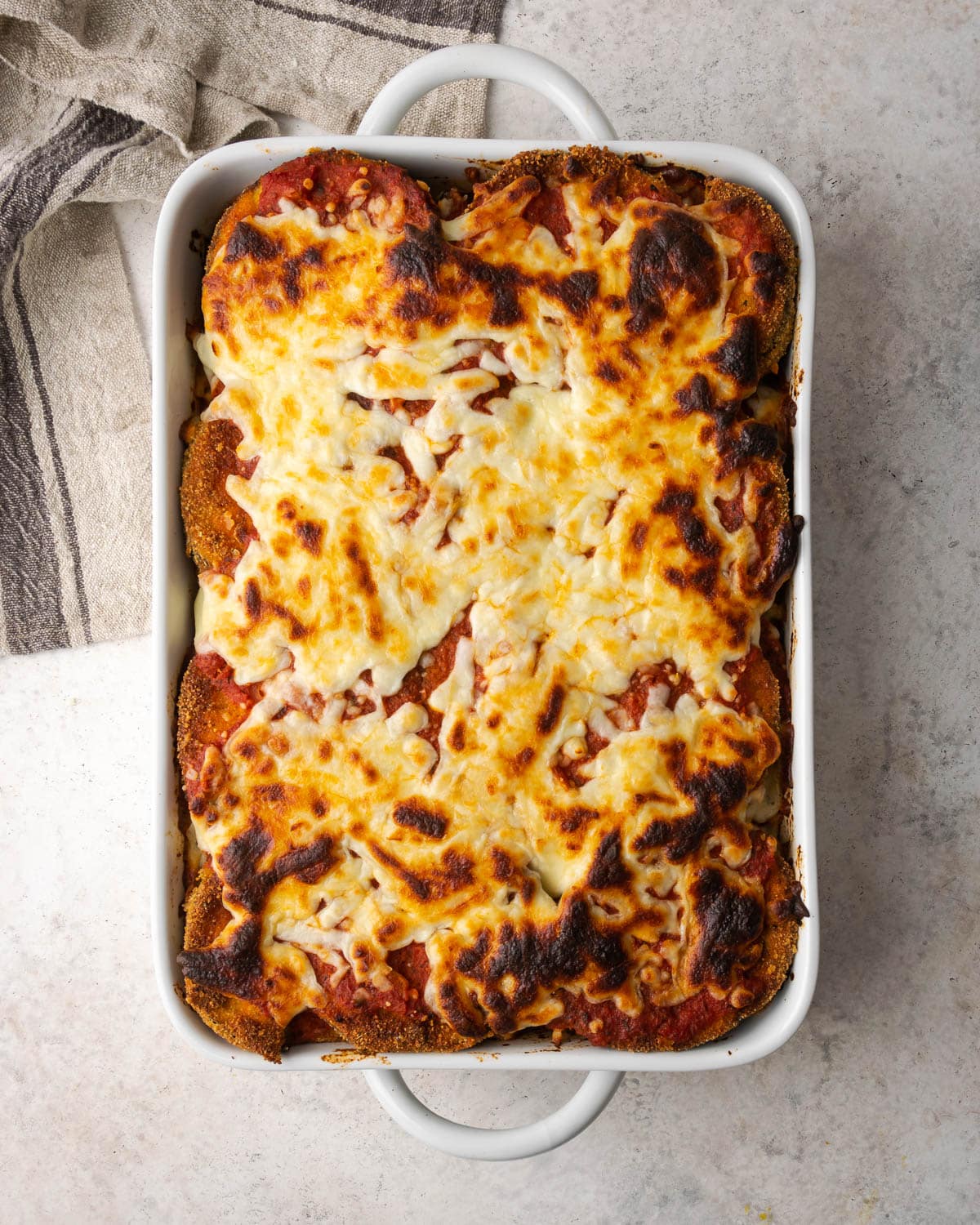 How do you fry eggplant without it getting soggy?
Sweat the eggplant!
This may seem like a tedious step, but it is one that cannot be skipped since it helps prevent the eggplant from absorbing excess oil.
After you slice the eggplant, arrange the slices in an even layer on a baking sheet and sprinkle salt over the eggplant.
Let the eggplant "sweat" for 60 minutes. You'll begin to see water pooling on top of the slices. This is the salt drawing moisture out of the eggplant!
After the hour is up, rinse the eggplant slices in a colander. Set them on paper towels and pat dry. (Watch the video for reference on sweating eggplant).
Tips for making the Best Eggplant Parmesan
Freshly grated cheese: Use fresh mozzarella and fresh Parmesan cheese, not the pre-shredded stuff! Also, add some fresh basil to the cheese, because why not?
Prep your eggplant slices in advance: Sweat and rinse the eggplant the night before. Store in the fridge in an air-tight container and they'll be perfect for use the next day!
Arrange the eggplant slices neatly: try to overlap the slices of eggplant similar in size and and cut any eggplant pieces to fit any gaps. This helps to create defined layers when serving the eggplant.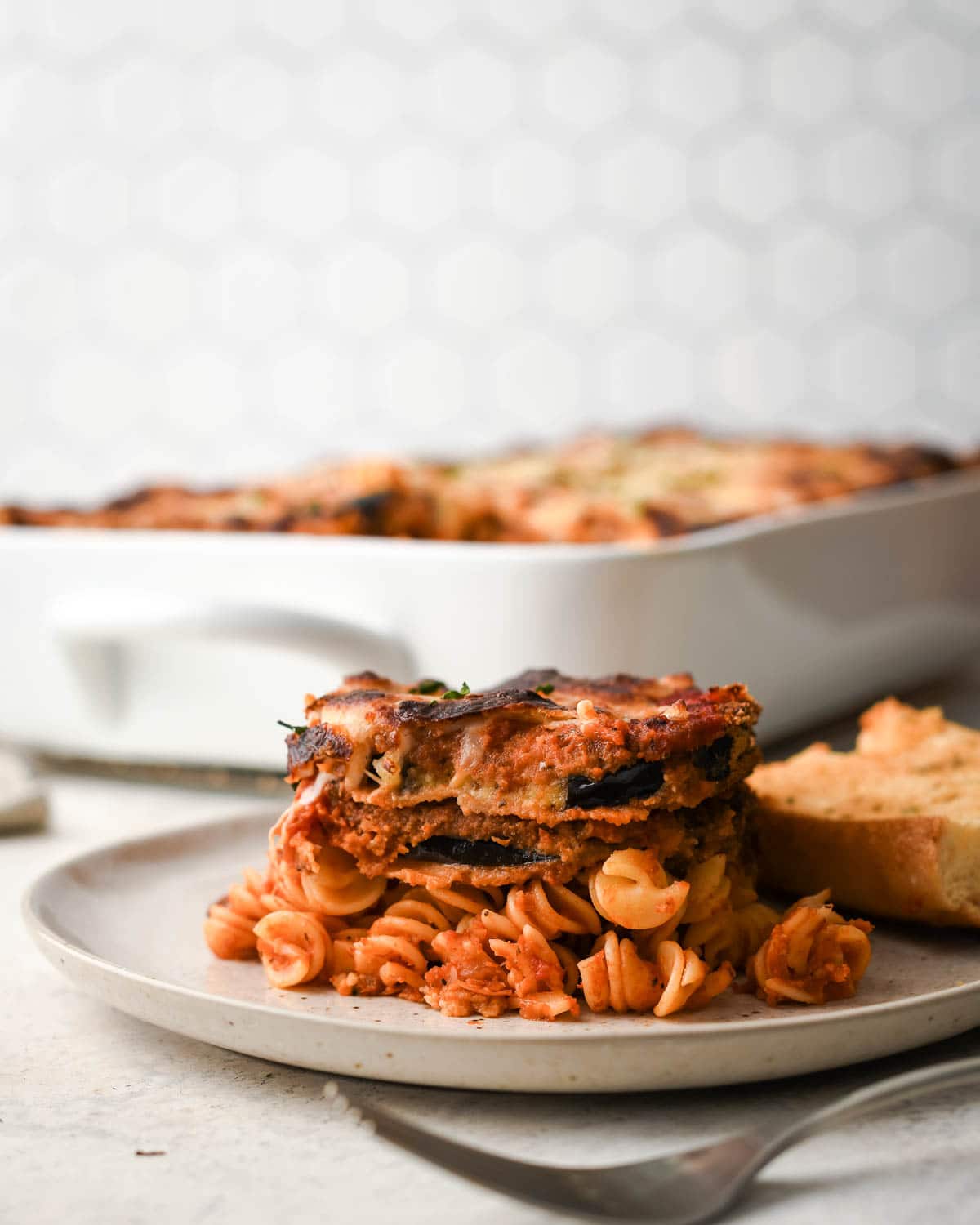 Before You Begin! If you make this, please leave a review and rating letting us know how you liked this recipe! This helps our business thrive & continue providing free recipes.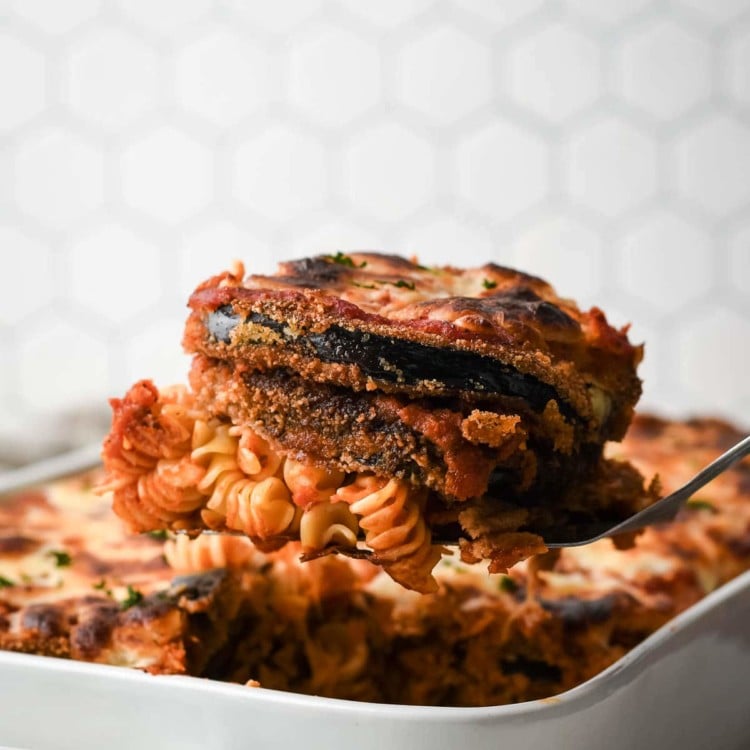 This Easy Eggplant Parmesan recipe is made into a convenient bake with pasta on the bottom, and layered up with slices of eggplant, red sauce and cheese on top! It's a family loved recipe and perfect for a weeknight meal!
Ingredients
2

med./large

eggplant

1

Tbsp.

salt

1 1/2

cups

breadcrumbs

1/4

cup

Parmesan cheese, grated

2

tsp.

Italian seasoning

1

tsp.

salt

1/2

tsp.

pepper

1

cup

All Purpose Flour

2

large

eggs

1

Tbsp.

milk

1/4

cup

Canola oil, plus more as needed

1

lb.

rotini pasta

2

(24 oz.)

jars marinara sauce

8

oz.

Mozzarella cheese, freshly grated
Last step! If you make this, please leave a review and rating letting us know how you liked this recipe! This helps our business thrive & continue providing free recipes.
Instructions
Slice the eggplant into 1/4 inch thick slices and place on baking sheet(s) in an even layer. Sprinkle salt all over eggplant slices and let rest for 60 minutes. (This will draw out water from the eggplant AKA sweat eggplant).

Meanwhile, prepare the dredging station. In a shallow bowl, mix together the breadcrumbs, Parmesan cheese and seasonings. Place flour in another bowl, and whisk eggs and milk in a third bowl. Align the station as follows: flour, eggs & breadcrumb mixture in shallow bowls.

Cook the pasta, until al dente, and set aside.

Once the eggplant is done sweating, rinse the slices in a colander and then pat dry with paper towels.

Bread the eggplant: dip in the flour first, then in the egg, and lastly in the breadcrumb mixture. Place eggplant slices on a clean baking sheet.

Pan-Fry the eggplant: Heat 2-3 Tbsp. canola oil in a large non-stick frying pan over medium-high heat. Once hot and shimmering, add in the eggplant slices using tongs. Don't overcrowd the pan, only fit as many as you can in an even layer.

Fry until golden brown, ~4-5 minutes each side. Add more oil to the pan as needed in between batches. Place fried eggplant on paper-towel lined baking sheets.

Arrange the casserole: place the cooked pasta down in a 9×13 inch pan. Pour 24 ounces of red sauce over and toss to coat. Then layer the eggplant slices in an even layer. Pour 12 oz. red sauce over the eggplant. Then another layer of eggplant slices over that, followed by the remaining 12 oz. red sauce. Top with shredded mozzarella cheese and bake for 20-25 minutes. Broil for 2-3 minutes (optional).

Let rest for at least 15 minutes, garnish with basil. Enjoy with more red sauce, as desired.
Notes
Add more breadcrumbs if needed to the dredging station. Depending on size of eggplants you may need 1 more egg as well. Start with less to prevent waste.
Recipe inspired by Food Network.
Nutrition Information
Serving:
1
serving
,
Calories:
607
kcal
(30%)
,
Carbohydrates:
94
g
(31%)
,
Protein:
26
g
(52%)
,
Fat:
13
g
(20%)
,
Saturated Fat:
6
g
(38%)
,
Polyunsaturated Fat:
2
g
,
Monounsaturated Fat:
4
g
,
Trans Fat:
1
g
,
Cholesterol:
92
mg
(31%)
,
Sodium:
800
mg
(35%)
,
Potassium:
327
mg
(9%)
,
Fiber:
5
g
(21%)
,
Sugar:
4
g
(4%)
,
Vitamin A:
381
IU
(8%)
,
Vitamin C:
1
mg
(1%)
,
Calcium:
300
mg
(30%)
,
Iron:
4
mg
(22%)