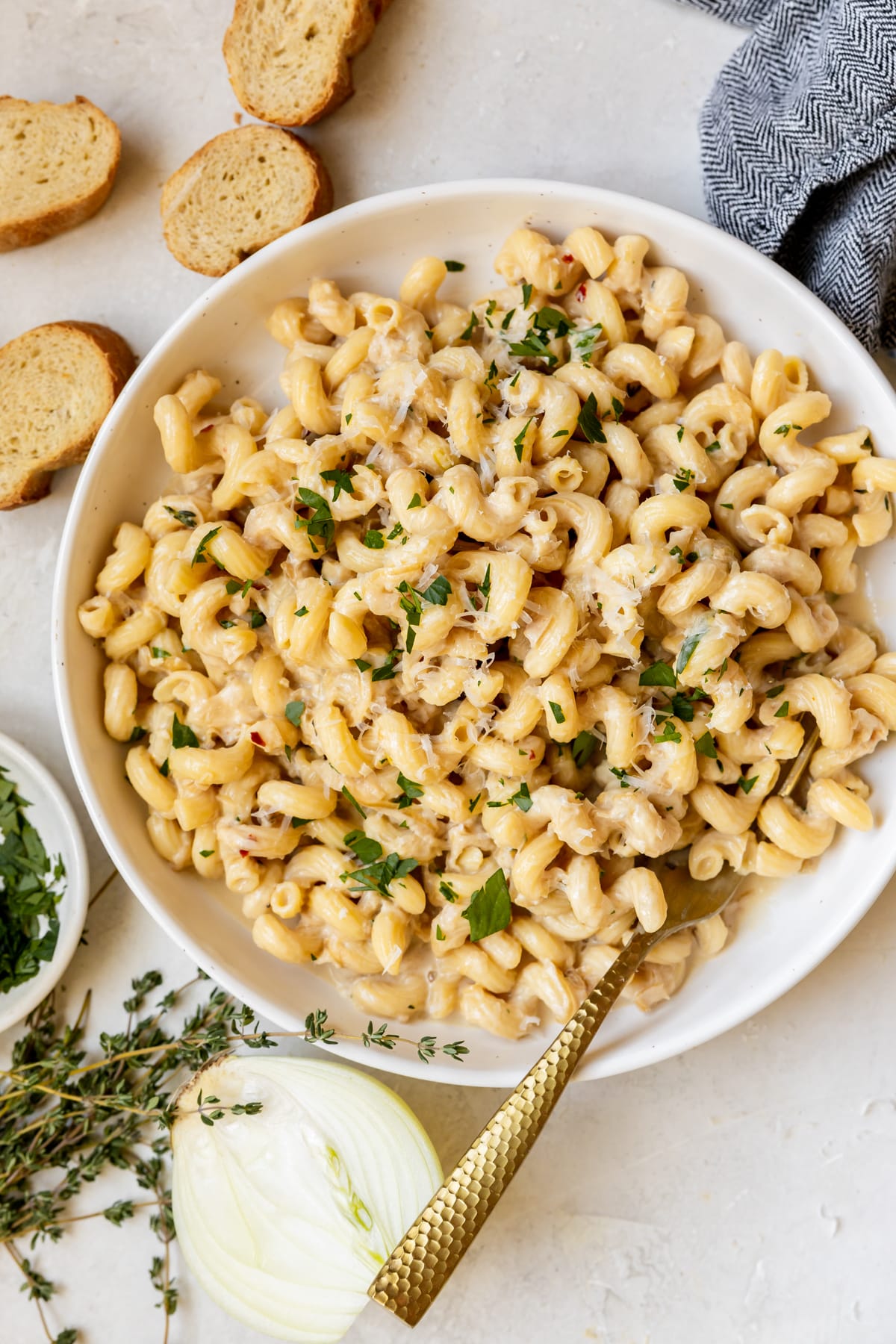 French onion pasta has been trending and I knew I had to make my own version!
The key to making this French Onion Pasta is to take time to slowly caramelize the yellow onions in butter until they are very sweet with a deep savory flavor. The flavor of these sweet caramelized onions is then enhanced with fresh garlic, thyme and a spicy kick from chili flakes.
What makes my recipe special and different from the rest is that I pull it together with cream cheese and reserved pasta water to create a creamy, intensely flavored, rich and thick sauce that lovingly clings to each Cavatappi noodle.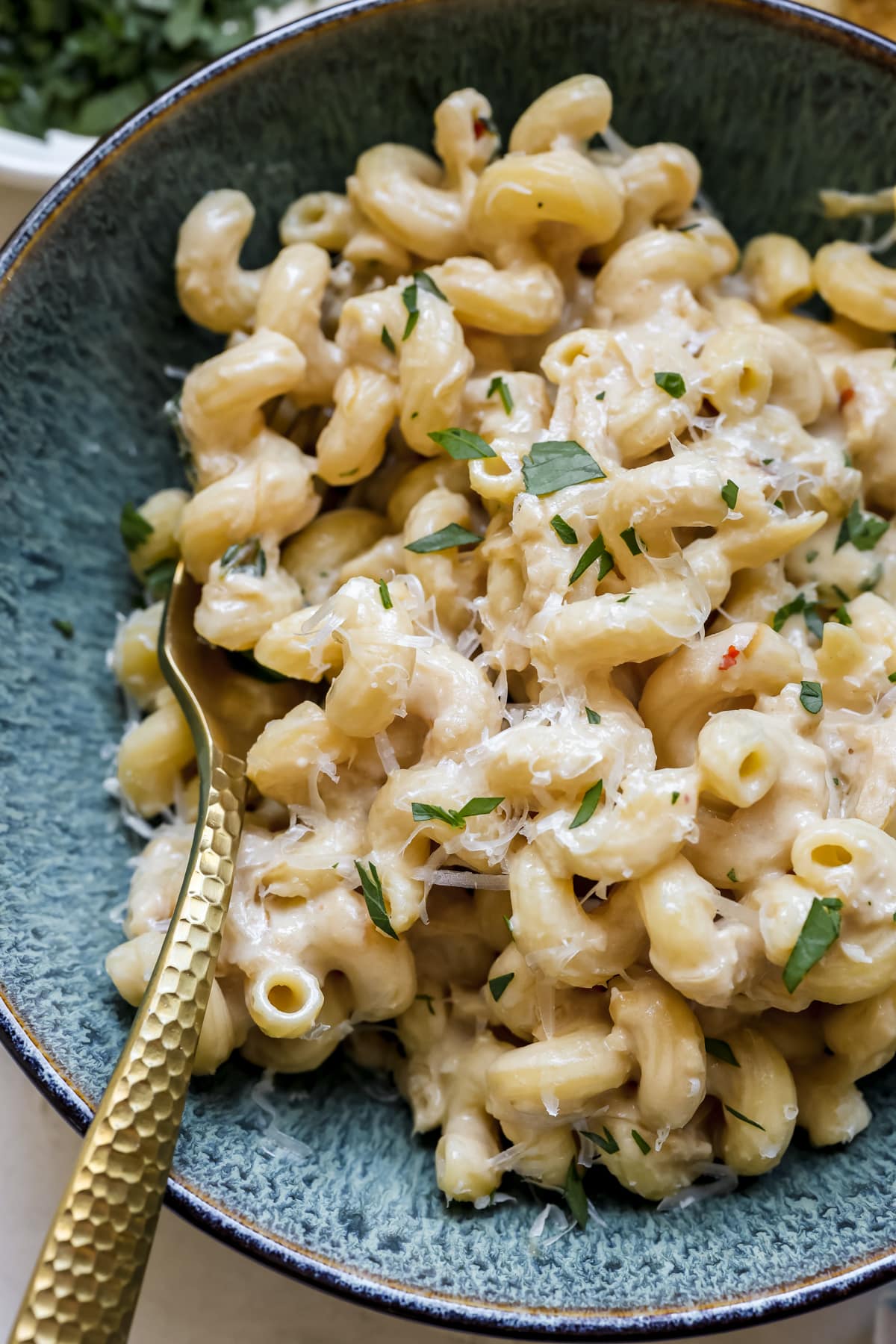 So if you love French Onion Soup, you'll love the depth and complexity of flavors from the caramelized onions, seasonings and creamy sauce in my French Onion Pasta. It's a totally comforting and satisfying meal for a casual night with your family or for an elegant night with friends.
Reasons Why You Will Love My French Onion Pasta
Classic comfort food
If you like French Onion Soup you will love my French Onion Pasta!
Enjoy as is or with chicken, fish or steak.
Big flavor profile
This meal works for a casual night or elegant meal.
Ingredient notes
For the ingredient measurements and entire recipe, be sure to scroll down to the bottom of the blog post where the recipe card is located.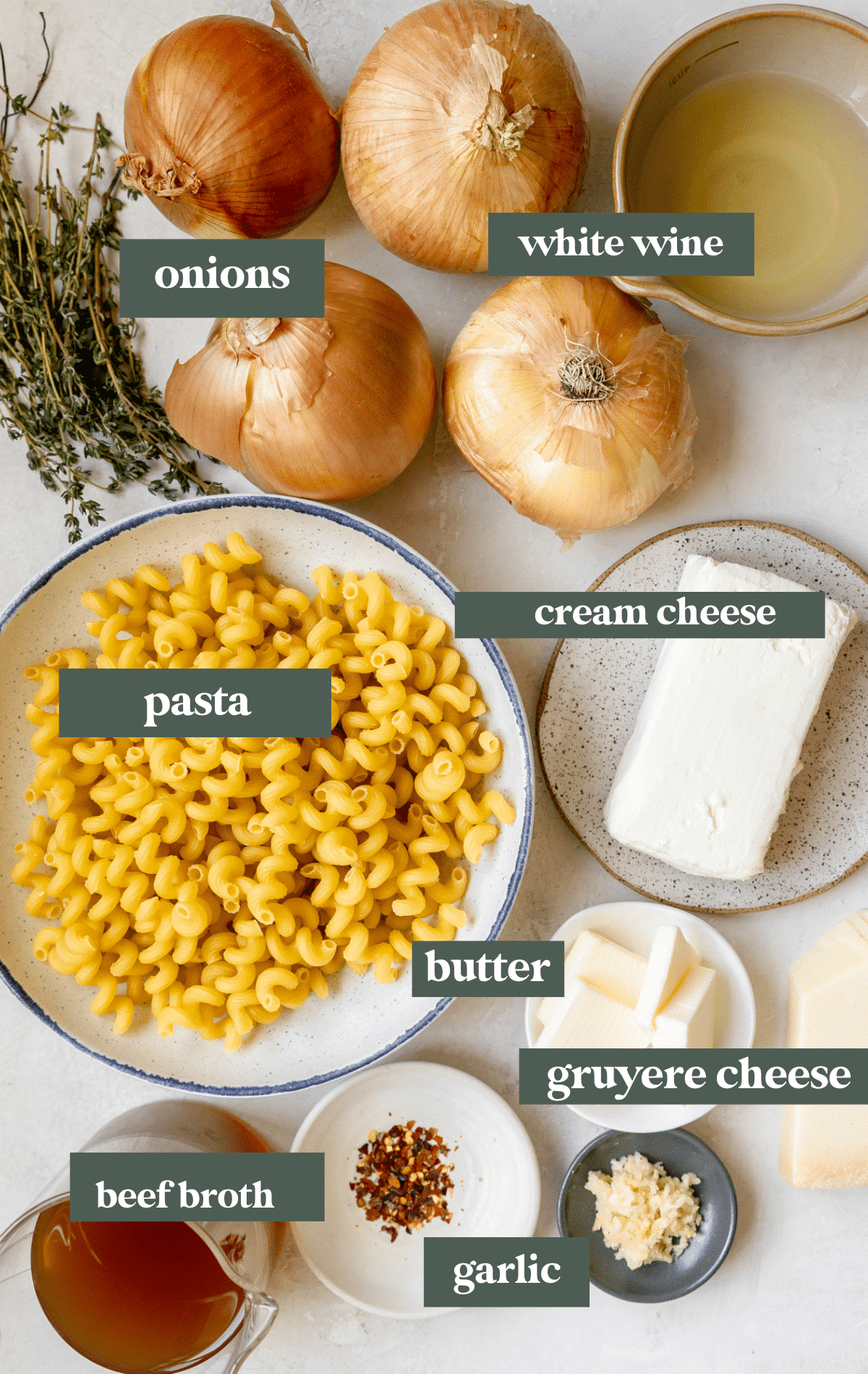 Yellow onions: We're using yellow onions for this recipe, they are a sweeter onion, have lots of bright flavor and the caramelize very nicely. You'll need 3-4 onions for this recipe, ~6 cups once sliced.
Unsalted Butter: Using the right amount of butter is key to getting the perfectly caramelized onions. Ideally you need any type of fat to start the caramelization process, but i find the butter glazes the onions more beautifully and has more flavor compared to something like a vegetable oil.
Flour: Adding flour to the onions helps absorb some of the water from the onions and may prevent the onions from shriveling up too much.
Chili flakes: optional, but I love the spicy kick.
Salt: for this recipe, salt the onions before you start cooking them. This helps draw out the water in the onions to help with caramelizing.
Fresh Thyme: The flavor of fresh thyme is more delicate and is not as concentrated as dried. If you opt to use dried thyme, reduce the amount to about 1 ½ teaspoons.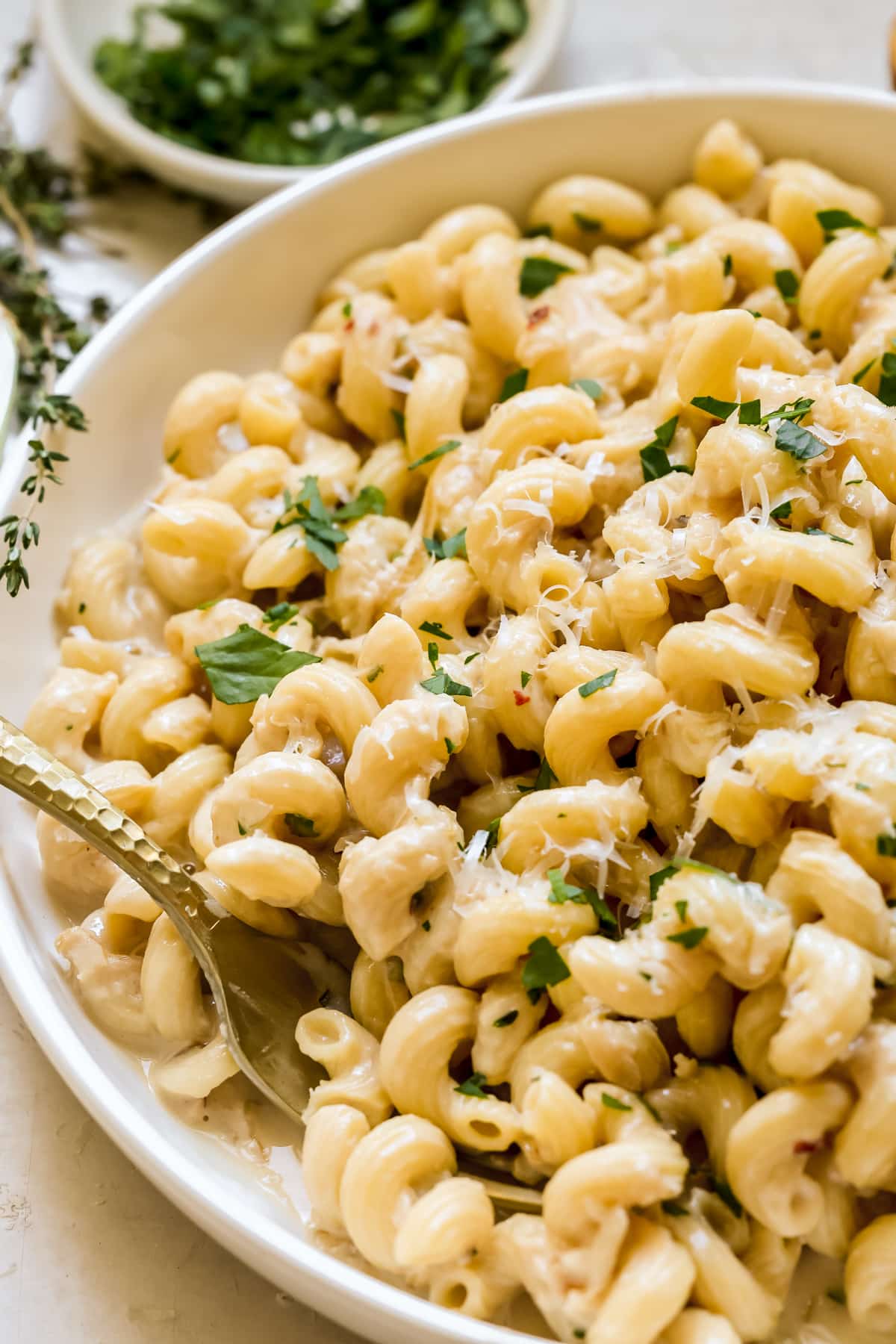 Dry white wine: I use the dry white wine to help deglaze the pan when caramalizing the onions. Make sure it is a dry wine, you will change the flavor profile if you use a sweet wine.
Reserved pasta water: be sure to save some pasta water!
Beef broth: This is my favorite broth to use when making French Onion Pasta and French Onion Soup. The flavor is bold, and richer than the other broth flavors. You can use vegetable broth, if needed.
Cream cheese: I used a full fat cream cheese for this recipe but you can easily use a low fat or reduced fat cream cheese without affecting the flavor of the pasta that much. Most recipes don't call for this ingredient, but I love the richness and creamy flavor it adds.
Gruyere or Parmesan: Both cheeses are excellent with this pasta recipe, gruyere is the more traditional cheese for french onion soup. Parmesan tends to be a bit stronger and nuttier in flavor compared to gruyere. Whatever cheese you choose, don't skimp out on it!
Parsley for garnish: I always recommend the finish the dish by dusting it with fresh parsley. Parsley brightens the flavors, and adds color to your dish.
Cavatappi Pasta : The ridges on this s-shaped pasta noodle make it perfect for holding onto the creamy sauce in this French Onion Pasta. You can use other small pasta shapes too, like penne, bow tie, orecchiette, or even a rigatoni.
Step by Step Directions
For the full recipe instructions, scroll down to the bottom of the blog post to the recipe card.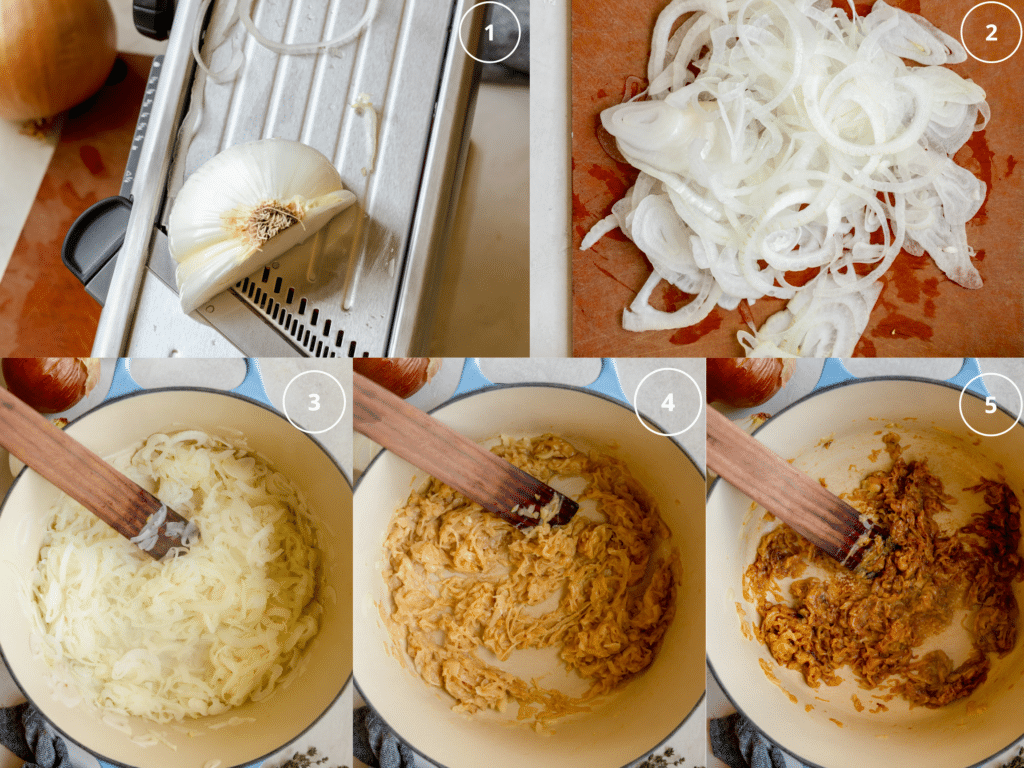 Caramelize the onions.
Cook the pasta and reserve 2 cups pasta water.
Add the garlic and seasonings to the onions, then stir in the flour to coat.
Pour in the beef broth.
Add in the cooked pasta with some of the pasta water.
Stir in the cream cheese. Add more pasta water as needed.
Garnish with gruyere or parmesan cheese and fresh parsley.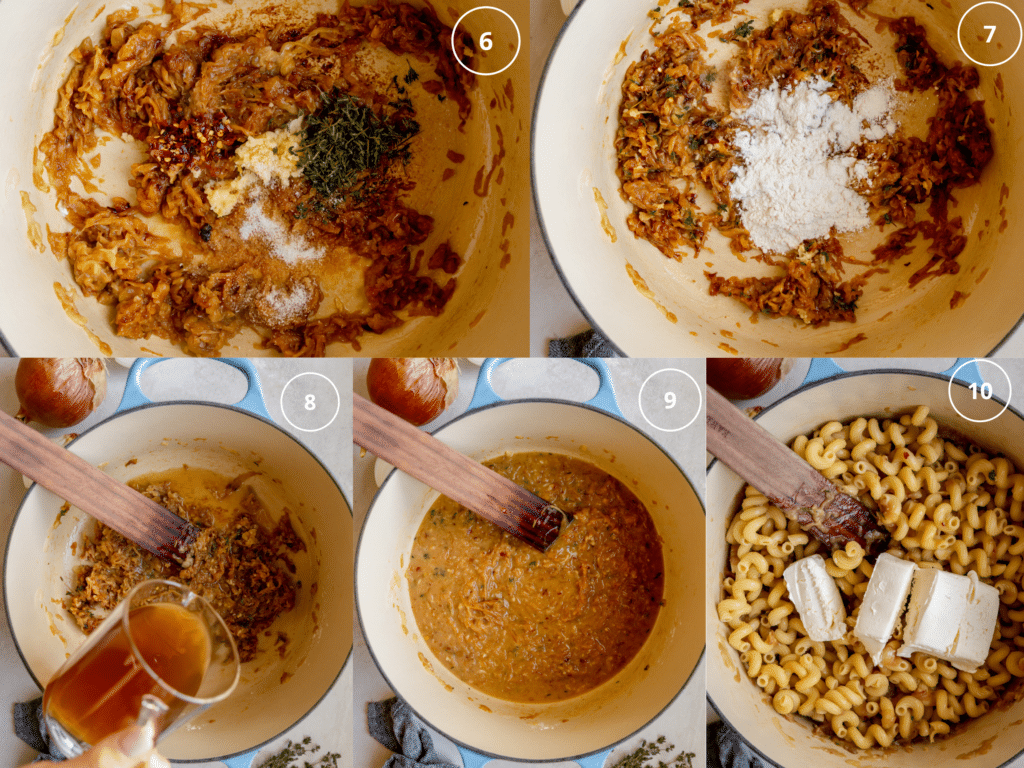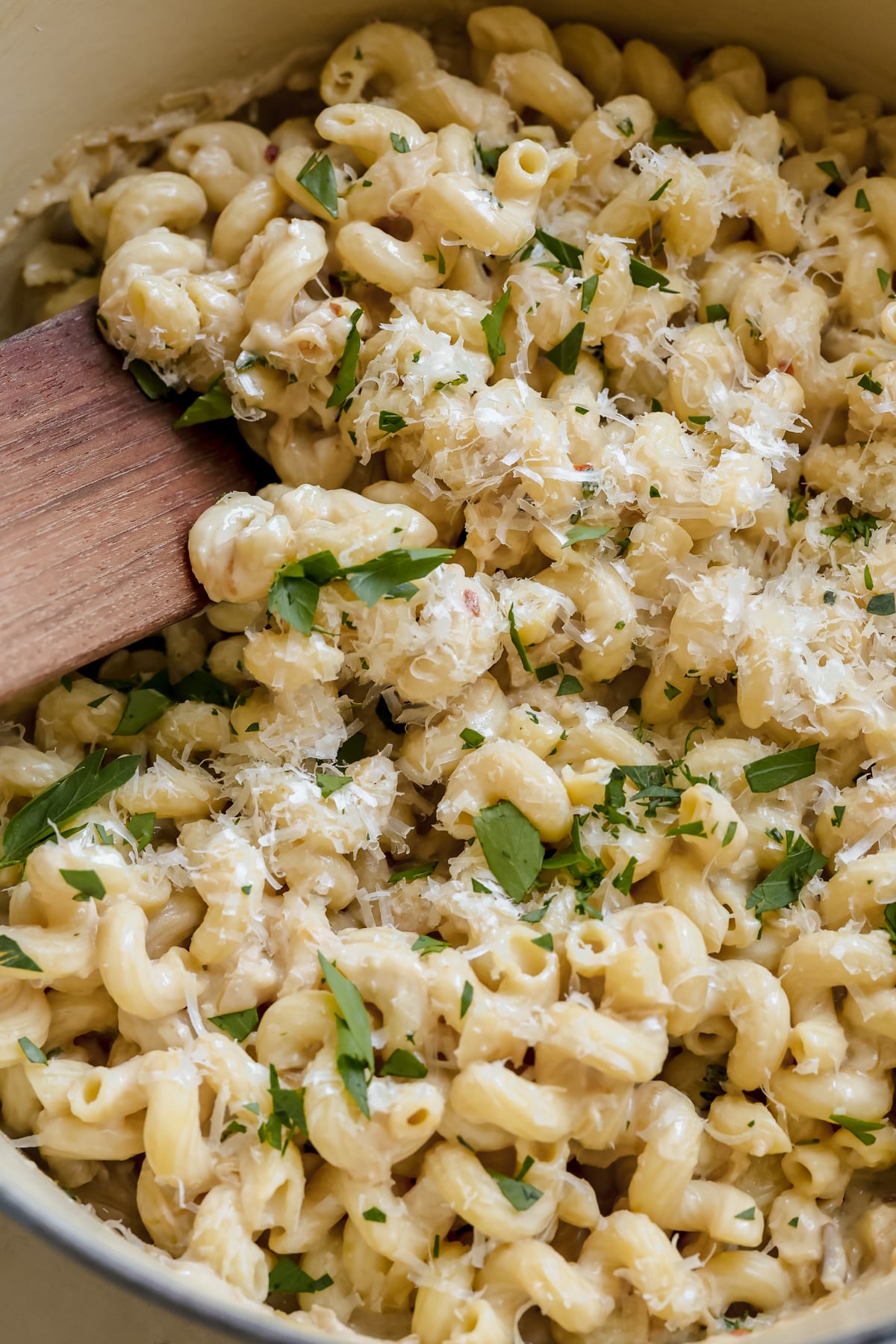 Expert Tips and Variations
Use a cast iron or stainless steel pan to produce the best caramelized onions. Nonstick pans and enameled cast iron work well too, it just will slow down the caramelization process. Note: I used a dutch oven, and feel the process took much longer compared to when I used a cast iron pan.
Use a mandolin to slice the onions 1/8th inch thick. It will look like you have A LOT of onions at first, but they will cook down significantly.
Keep the heat low and caramelize the onions slowly. I know it can be tempting to crank up the heat to get them to brown faster, but trust me the slow cooking is what slowly brings out the sweetness of the onions and allows them to caramelize and soften.
Deglaze the pan just a little at a time with white wine or water as often as necessary if the browned bits at the bottom are too stubborn to scrape up. Careful not to scorch or burn the onions.
Having perfectly caramelized onions is critical to making this a great pasta dish. Take your time to caramelize the onions for that sweet flavor and rich, brown color. It will take up to 45 minutes. When cooking the onions, be sure to stir the onions every 2 to 3 minutes. If you stir them too much the onions won't brown, and you don't stir enough, they will stick to the pan.
Feel free to use other types of pasta. Penne, bow tie, rigatoni, orecchiette, elbows, etc.
Add in ground beef or serve with chicken, shrimp, steak, etc. to make it a full meal!
Feel free to omit the cream cheese, if needed. If you want it a little creamy you can add in half and half or heavy cream and lots of cheese!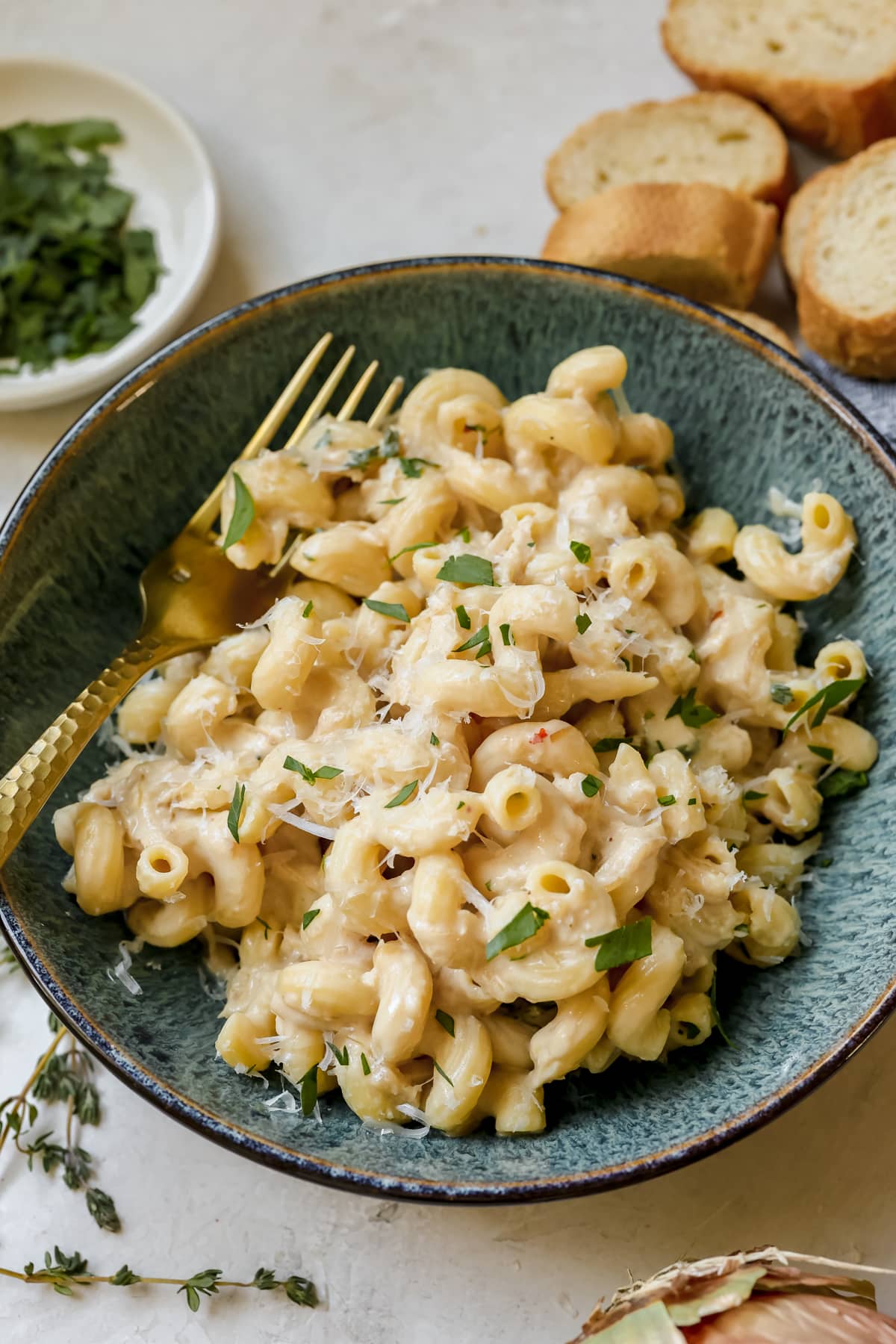 FAQ
Can I substitute vegetable broth or chicken broth for beef broth?

Yes you can, just note the beef broth adds a richness to the sauce, and because of it's bolder flavor I like to recommend using beef broth.
What can I substitute for cream cheese?

Most french onion pasta recipes don't even call for the cream cheese so you can leave it out if preferred. Or if you still want it creamy, you can add in a little sour cream or heavy cream.
Why are my onions mushy?

You have to get the right thickness to your sliced onions. If they are too thick, the outsides may cook before the inside of the onion and become mushy. If you slice the onion too thin it may burn easily and cook too quickly before attaining the sweetness you are looking for. I like to look for a thickness that is ⅛ inch thick.
Why are my onions not browning?

It's important to note they aren't going to brown in just 10-15 minutes. They take more towards 45 minutes – 1 hour. Sometimes even longer! But if they aren't browning, here are some possible reasons. #1: The onions are cut too thick. #2: You have too many onions in the pan #3: You need the right amount of heat. Make sure that you keep the temperature between medium and medium low. #4: You aren't cooking them in the right pan. Use a cast iron or stainless steel pan to produce the best caramelized onions. Nonstick pans and enameled cast iron work well too, it just will slow down the caramelization process and take longer for the onions to caramelize.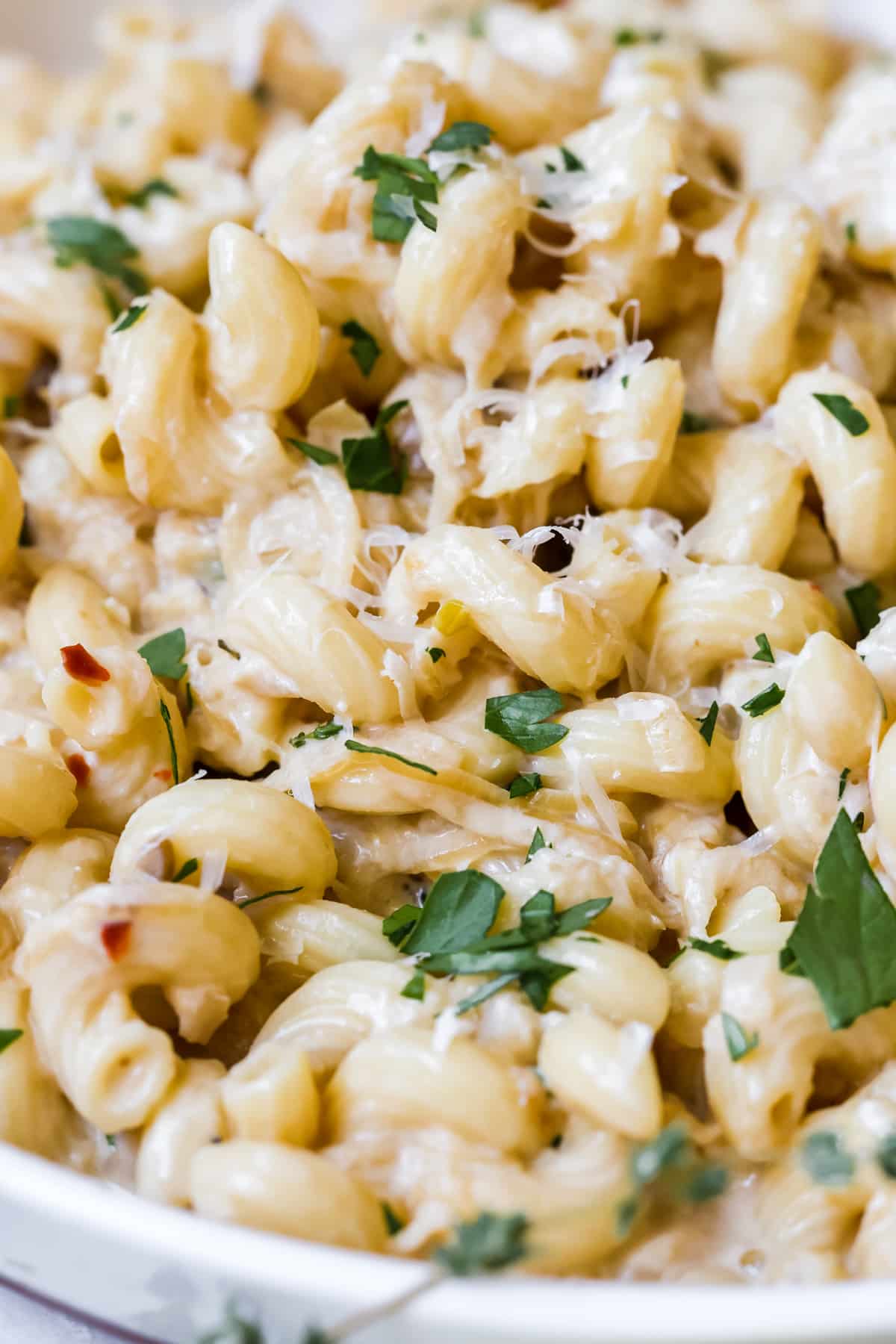 Before You Begin! If you make this, please leave a review and rating letting us know how you liked this recipe! This helps our business thrive & continue providing free recipes.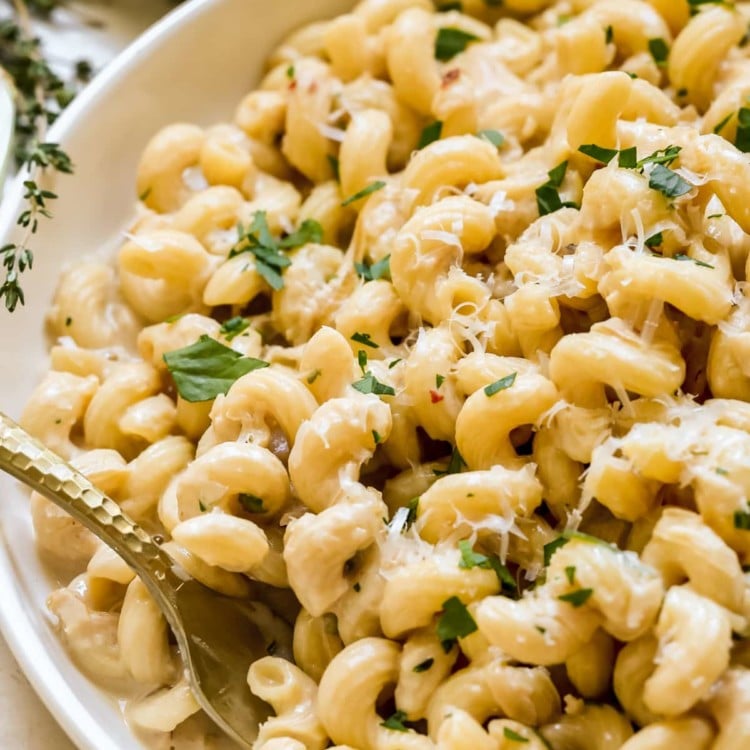 This ultra-creamy French Onion Pasta features plenty of caramelized sweet onions, fresh thyme, al dente pasta and lots of cheesy goodness. It's a fun twist on french onion soup; delicious served as is or with chicken, steak, fish or ground beef.
Ingredients
4

yellow onions, sliced 1/8th inch thick

4

Tbsp.

unsalted butter

1/2

cup

dry white wine

4

cloves

garlic, minced

1

Tbsp.

fresh thyme, chopped

1/2

tsp.

salt

1/4

tsp.

chili flakes

2

Tbsp.

flour

1

cup

beef broth

8

oz.

cream cheese, softened

2

cups

reserved pasta water

1/3

cup

Gruyere or Parmesan cheese, shredded

16

oz.

cavatappi pasta

parsley for garnish
Last step! If you make this, please leave a review and rating letting us know how you liked this recipe! This helps our business thrive & continue providing free recipes.
Instructions
Melt the butter in a large stainless steel saucepan, cast iron skillet or pot over medium-high heat.

Add 1-2 large handfuls of the onions at a time. Stir for a few minutes, and then add more onions in, a few handfuls at a time, until they are all added. Season with a small pinch of salt.

Stir until the onions have softened, about 5 minutes. Then turn the heat down to medium-low and cook until the onions are sweet and have a deep golden brown color. This will take about 45 minutes to an hour. Stir the onions every 3 minutes or so to prevent them from sticking or burning. Add a splash of white wine as needed to deglaze the pan if brown residue on the bottom of the pan begins to form, and continue to deglaze as necessary.

Meanwhile, cook the pasta al dente according to package directions. Reserve 2 cups of the pasta water. Drain and set aside.

Once the onions are browned and sweet, add the garlic, thyme, salt and chili flakes. Stir to combine.

Add the flour and stir to coat the onions. Then add in the beef broth. Simmer for 2-3 minutes.

Add the cooked pasta to the onions, with 1/2 cup of the reserved pasta water. Stir to combine.

Add the cream cheese with another 1/2 cup of pasta water and stir until the cheese has melted and coated the pasta.

Taste and adjust seasonings as desired and add more pasta water to create a creamier sauce. Serve with cheese and parsley on top and enjoy.
Notes
Storage: keep in an air-tight container in the fridge for 3-4 days.
How to slice the onions: peel the onions and half the onions through the root end. Cut off the root to ensure the slices separate when you begin to cut. Then, with the onion cut side down, use a mandolin or sharp knife to make thin 1/8th inch slices in the onion. Be sure onions are evenly sliced.
Feel free to use other types of pasta. Penne, bow tie, rigatoni, orecchiette, elbows, etc.
Nutrition Information
Serving:
1
serving
,
Calories:
438
kcal
(22%)
,
Carbohydrates:
53
g
(18%)
,
Protein:
12
g
(24%)
,
Fat:
19
g
(29%)
,
Saturated Fat:
11
g
(69%)
,
Polyunsaturated Fat:
1
g
,
Monounsaturated Fat:
5
g
,
Trans Fat:
0.2
g
,
Cholesterol:
51
mg
(17%)
,
Sodium:
369
mg
(16%)
,
Potassium:
290
mg
(8%)
,
Fiber:
3
g
(13%)
,
Sugar:
5
g
(6%)
,
Vitamin A:
664
IU
(13%)
,
Vitamin C:
5
mg
(6%)
,
Calcium:
116
mg
(12%)
,
Iron:
1
mg
(6%)