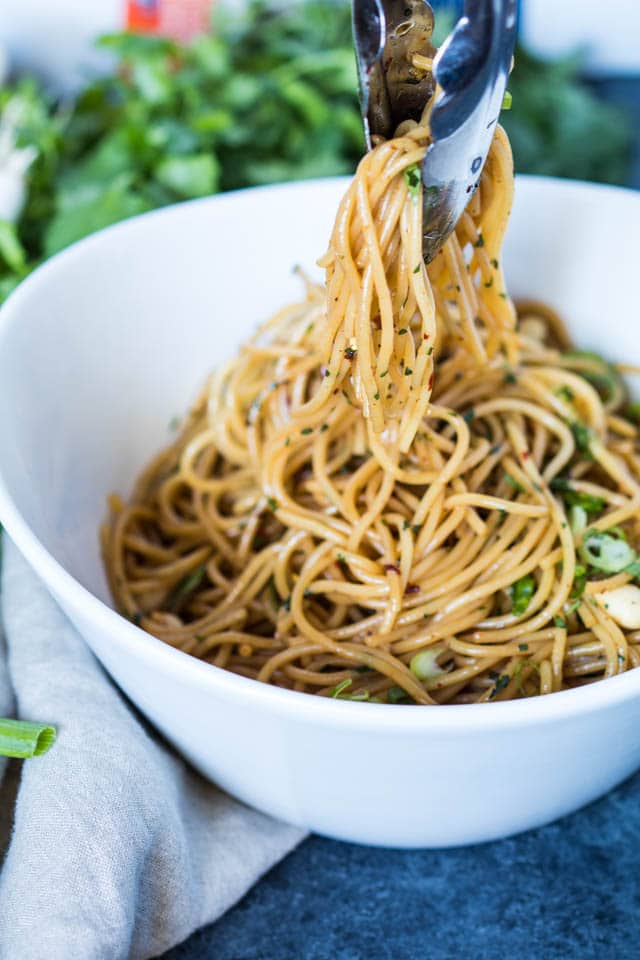 Kung Pao Pasta AKA the best pasta EVER! If you like spicy, this Kung Pao Pasta is for you! Enjoy with chicken, tofu, steak – or enjoy as is!
This is an all time favorite in my family! This recipe was given me to when I was camping a few years back and it was too good not to share with you all. The recipe page passed on to me says it was passed down from Beth Kurzava. So Beth, if you ever read this, thank you! If you are a fan of spicy foods you will LOVE this dish. You can accompany it with teriyaki chicken and steamed veggies for a perfect oriental dinner. Be aware this pasta is fairly high in sodium due to the sauces added, so be sure to watch your portions. According to the 2015 Dietary Guidelines, every one age 2 and up should consume no more than 2,300mg of sodium per day…and for people with existing health conditions such as high blood pressure or diabetes to consume 1,500mg sodium or less per day.
[Tweet "Kung Pao Pasta AKA the best pasta EVER! If you like spicy, this Kung Pao Pasta is for you! |Krollskorner.com"]
This pasta is delicious hot or cold. Remember to do your best in limiting your portions to not exceed your daily sodium intake. You can even add grilled chicken, snow peas, steamed broccoli, or any other veggies you like for additional nutrients. Enjoy!
Pin this recipe for later!

Mmm..
And how cute is this pineapple fork?? The Sarcastic Nutritionist has the best stuff!
I hope you enjoy!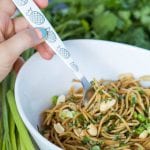 Kung Pao Pasta
Hands down my favorite go to pasta recipe. My family asks me to make this every year on our family trip!
Print
Ingredients
1

pound

spaghetti

2

tsp.

red pepper chili flakes

1/4

cup

corn oil

1/2

cup

sesame oil

6

Tbsp.

honey

1/4

cup

low sodium soy sauce

1/2

cup

chopped cilantro

3/4

cup

chopped unsalted roasted peanuts

1/2

cup

chopped green onions

2

Tbsp.

toasted sesame seeds
Instructions
Cook spaghetti and drain well.

In a saucepan stir in red pepper chili flakes, corn oil, and sesame oil over medium heat for ~2 minutes or until the peppers begin to pop. If you let the chili flakes pop longer, the more spicy the pasta will be.

Add the honey and soy sauce and mix well.

Stir the mixture into the cooked spaghetti noodles.

You can cover and refrigerate over night and then add in the cilantro, nuts, green onions, and sesame seeds. Or you can add in all the remaining ingredients and eat warm.
Recipe Notes
May sub Vegetable oil for corn oil, and Liquid Aminos for soy sauce!