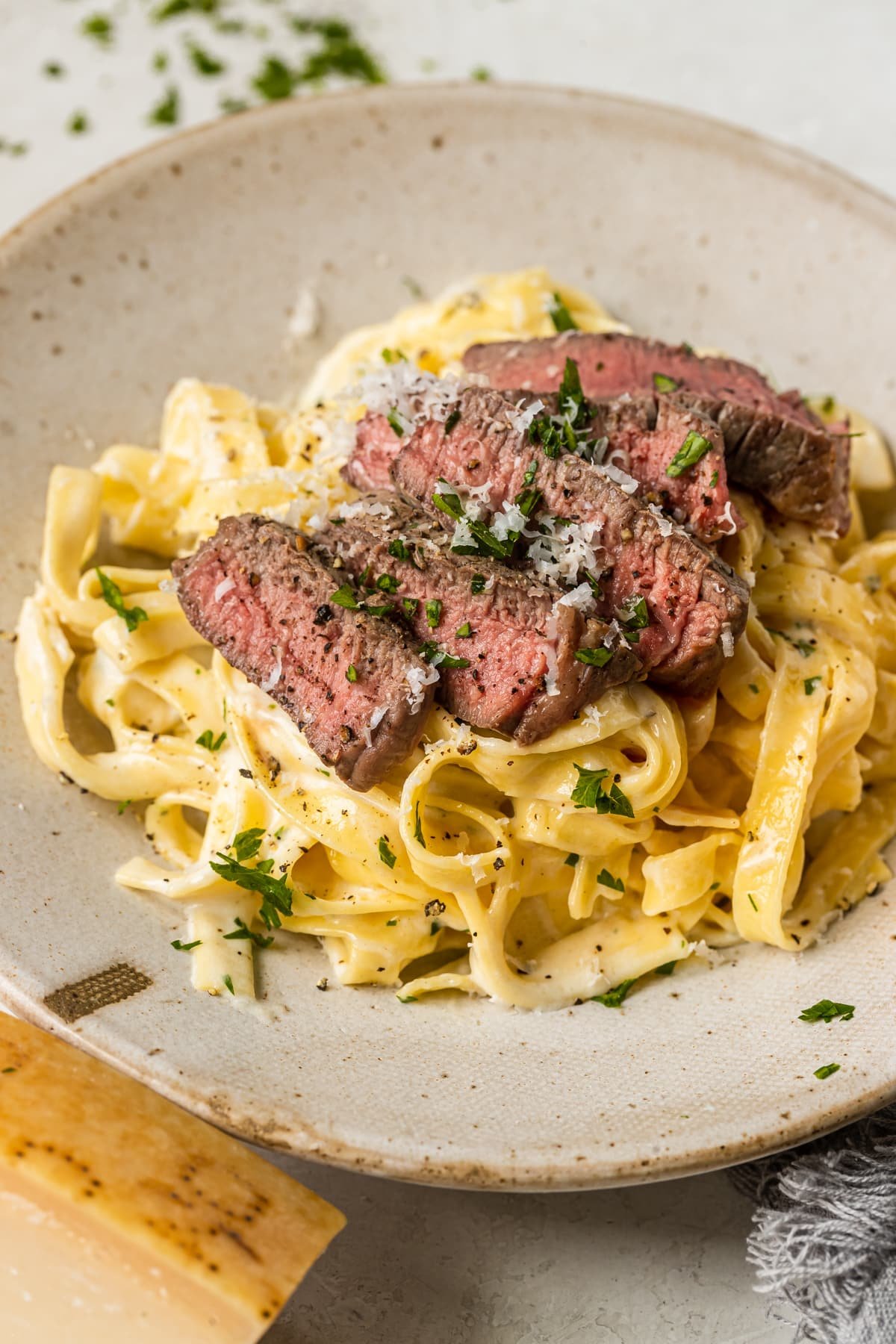 The savory, cheesy, and oh-so-creamy Alfredo sauce hugs each ribbon-shaped fettuccine noodle that is topped with the most perfectly cooked filet mignon for this delightful Steak Alfredo. It's your must-cook-meal for your next date night or special occasion.
Just like you and your date, it is the perfect pairing and there is nothing better for a special meal than a juicy, melt-in-your mouth steak, paired with al dente pasta that is smothered in a creamy, cheesy homemade Alfredo sauce.
My homemade sauce is easy to cook and with minimal ingredients it will elegantly coat the pasta noodles. I choose the long and wide fettuccine noodle, but there are so many tasty choices: Tagliatelle, linguini, or tubular pastas like penne, cavatappi, or bucatini work nicely too. Your special meal will come together easily, and the presentation is exquisite when you top off your creamy pasta with slices of your favorite steak.
Some other date night pasta favorites you'll love are: Pappardelle Bolognese, Italian Sausage and Peppers, and this Creamy Gnocchi.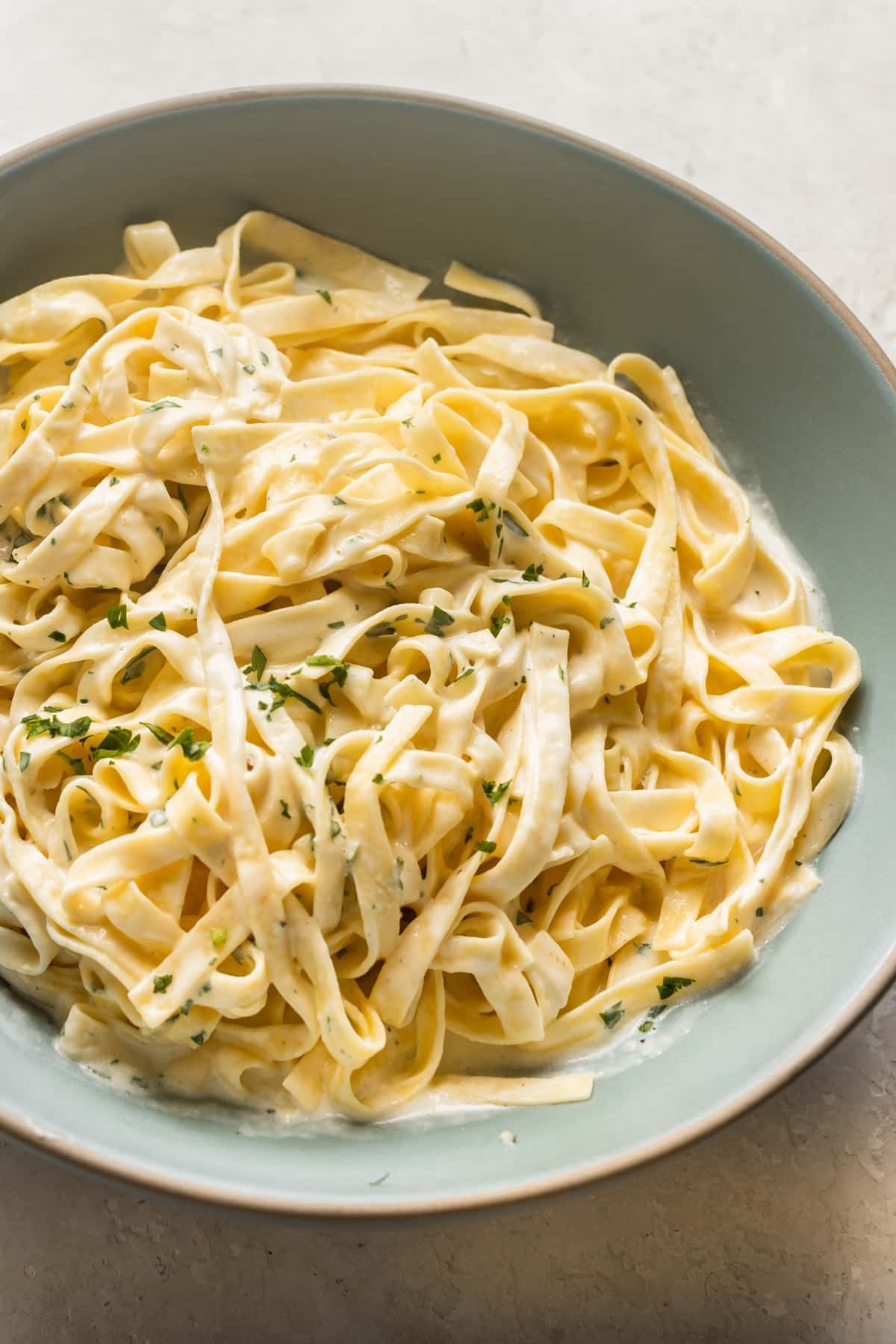 Why You'll Love This Steak Alfredo
This romantic meal is easy to make.
Steak and pasta pair perfectly with a creamy Alfredo sauce.
This is an elegant meal but takes 30 minutes or less to impress!
It is protein packed and full of flavor.
Ingredient Notes
It doesn't take much to make a great Alfredo sauce, just some simple, high quality ingredients.
Steak: You could use a New York strip steak, filet, ribeye, porterhouse, or even a skirt steak. Any cut of beef that works for your personal preference and your budget.
Pasta: I used Fettuccine pasta and like to buy the fresh refrigerated kind but any type goes
Parmesan:

It's important to use freshly and finely grated cheese. Parmigiano Reggiano or Parmesan will work well.
Pre-grated cheese contains preservatives that keep the cheese shreds from clumping together, because of these preservatives the cheese also does not melt together as well when cooking.
Freshly grated parmesan also tastes a lot because it is fresher and creamier.
Especially with today's grocery prices, you get more for your money. An 8oz block shreds more than what is in an 8oz bag.

Butter: Unsalted butter is what I prefer. Especially with the saltiness of the fresh Parmesan you do not need a lot of additional salt in general.
Heavy cream: Heavy cream is thicker and fattier than regular milk and mixing with the Parmesan cheese creates the creamiest of sauces.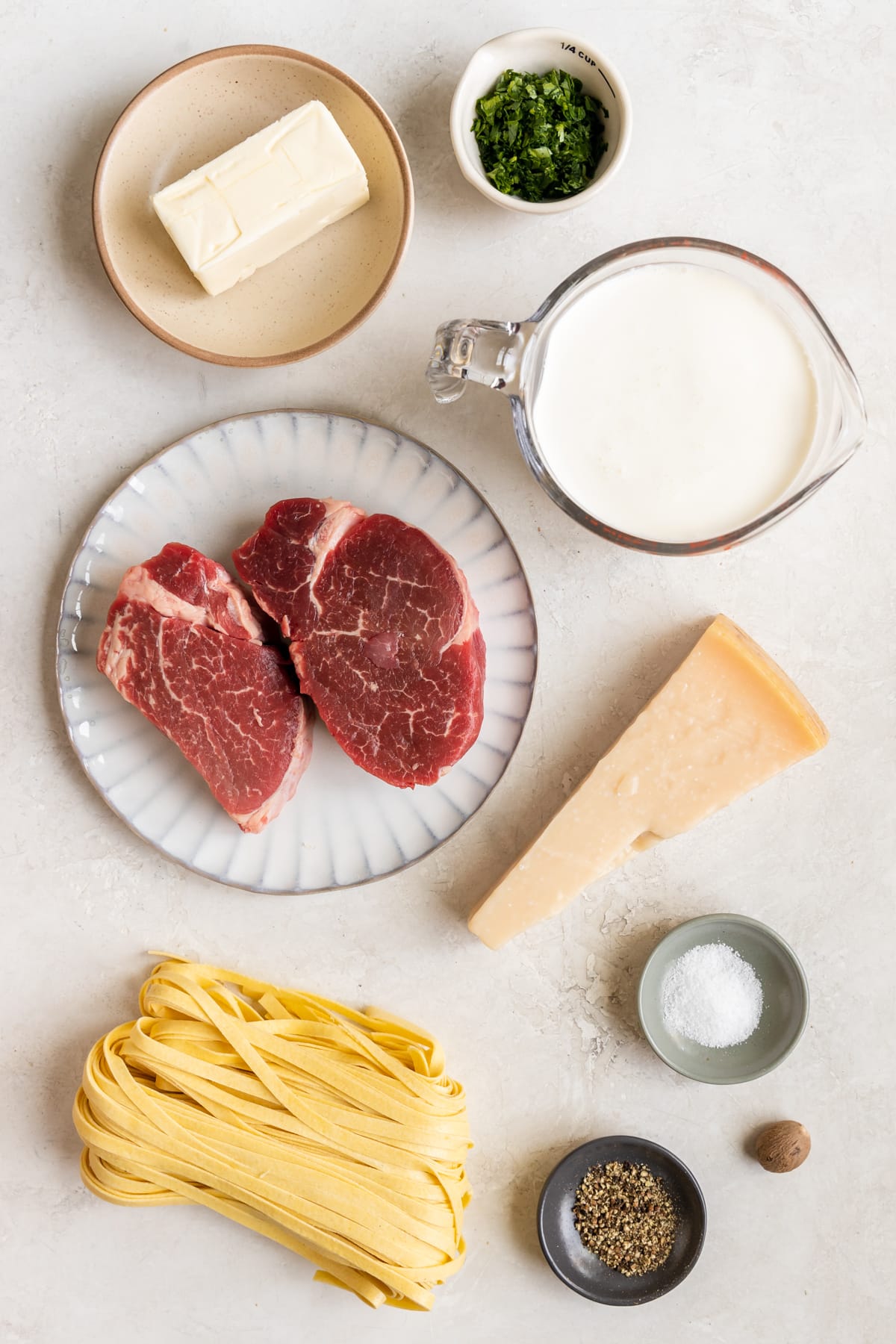 Step by Step Directions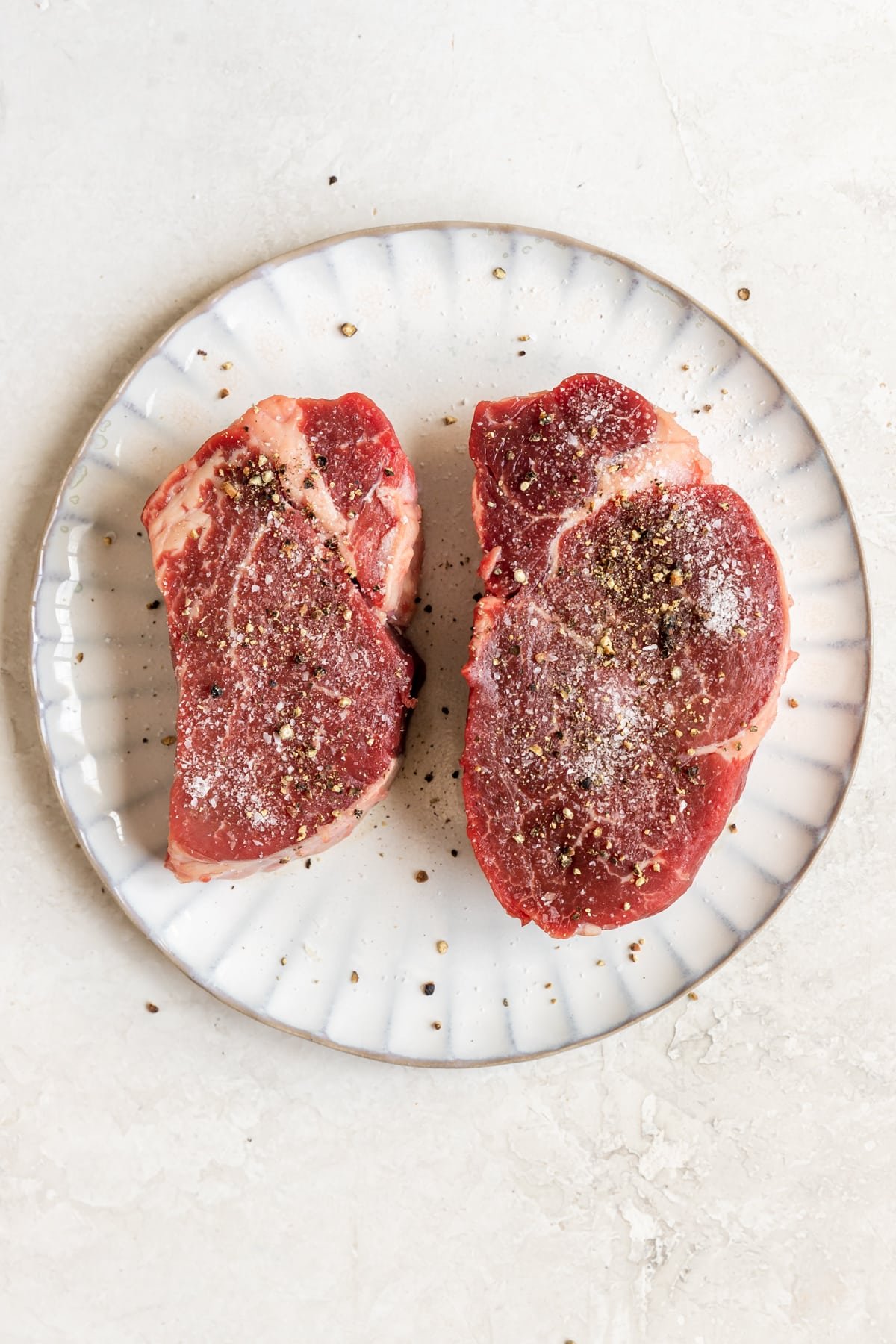 Make the sauce first. Heat the butter and cream
Simmer for 15 minutes.
Remove from heat & stir in Parmesan, seasonings and fresh parsley.
Boiled salted water for the pasta.
Meanwhile, make the steak. Season with salt and pepper.
Heat olive oil in a pan or cast iron.
Sear on each side for 3-4 minutes.
Transfer to the oven for another 3-5 minutes
Add pasta and cook until al dente. Toss pasta in the Alfredo sauce.
Remove the steak from the oven and let it rest for 5 minutes before slicing.
Serve steak over pasta and enjoy!
What is the best steak to use?
I used to be intimidated by cooking meat, but once I invested in a quality meat thermometer I was confident to tackle anything! If you are cooking to a medium temperature than you want to be looking for an internal temperature of 145°F. Meat cooked medium will be mostly pink with a small ring of gray around the outside and a strip of red will be in the center. If you are looking for a medium rare temperature, then look for 130 to 135°F
Picking the right cut of beef is always an adventure but there are several great cuts that are tender with plenty of marbling to choose from: Filet Mignon (which I love), Ribeye and T-Bone to just list a few.
Filet Mignon: This lean and delicious cut from the heart of the tenderloin is one of the most desirable cuts of steak. This is what I used in the photos in this post.
Ribeye: The ribeye is from the section of beef call the beef rib. It is between the chuck (shoulder) and the loin. This part of the animal collects more intramuscular fat, which creates fantastic marbling unique to the ribeye.
T-Bone: The T-Bone steak is easy to spot with the T-shaped bone running through it. This steak is cut from the short loin, and actually has two different steaks attached to the bone.
Sirloin: this is a leaner cut of meat, more affordable, but still has a lot of flavor.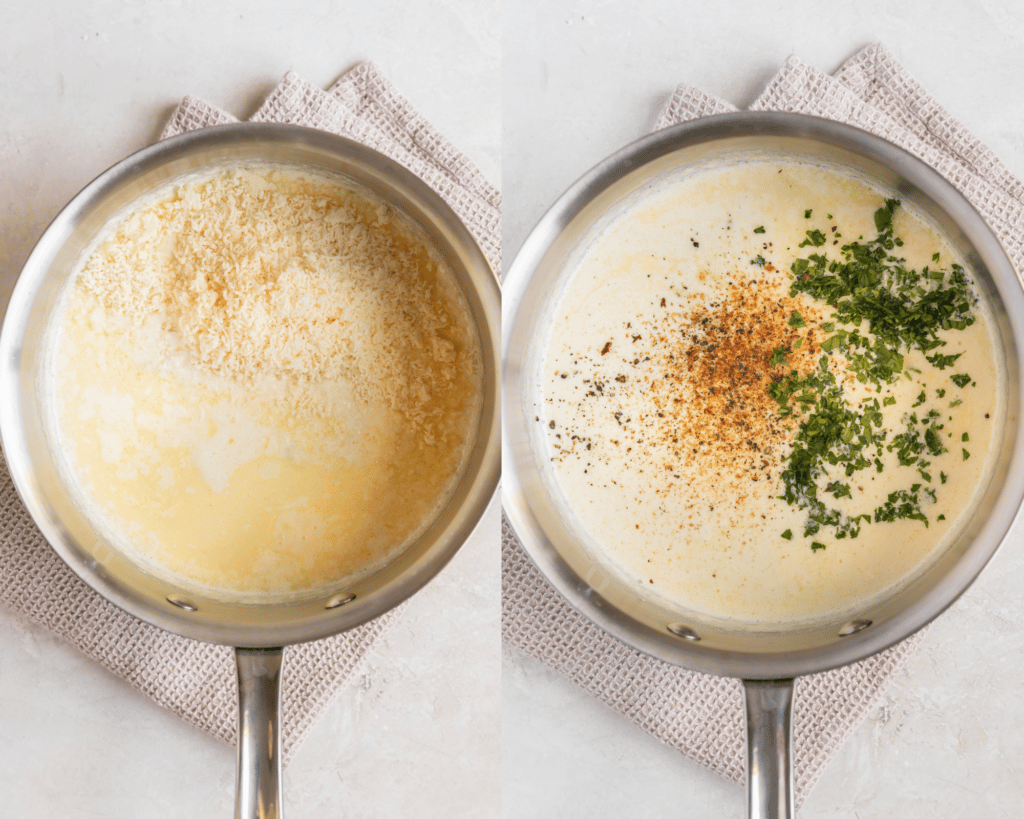 Tips and Variations
If you don't feel like steak, add salmon, chicken or shrimp!
Add in steamed broccoli or baby spinach for a pop of color and veggie
I love using Parmigiano Reggiano but feel free to use Parmesan. However, no matter which you choose it is important that the cheese is FRESHLY and FINELY grated. Otherwise it won't melt into the cream and you'll end up with grainy sauce.
Reserve some starchy pasta water in case you need it to thin out the Alfredo sauce.
Try out a different noodle shape! Short cut pastas work well too, I love bowties, penne or rotini.
Missing crunch? Add some toasted Panko breadcrumbs on top for a little crunch and flavor!
Garnish with gorgonzola cheese for a fun flavor!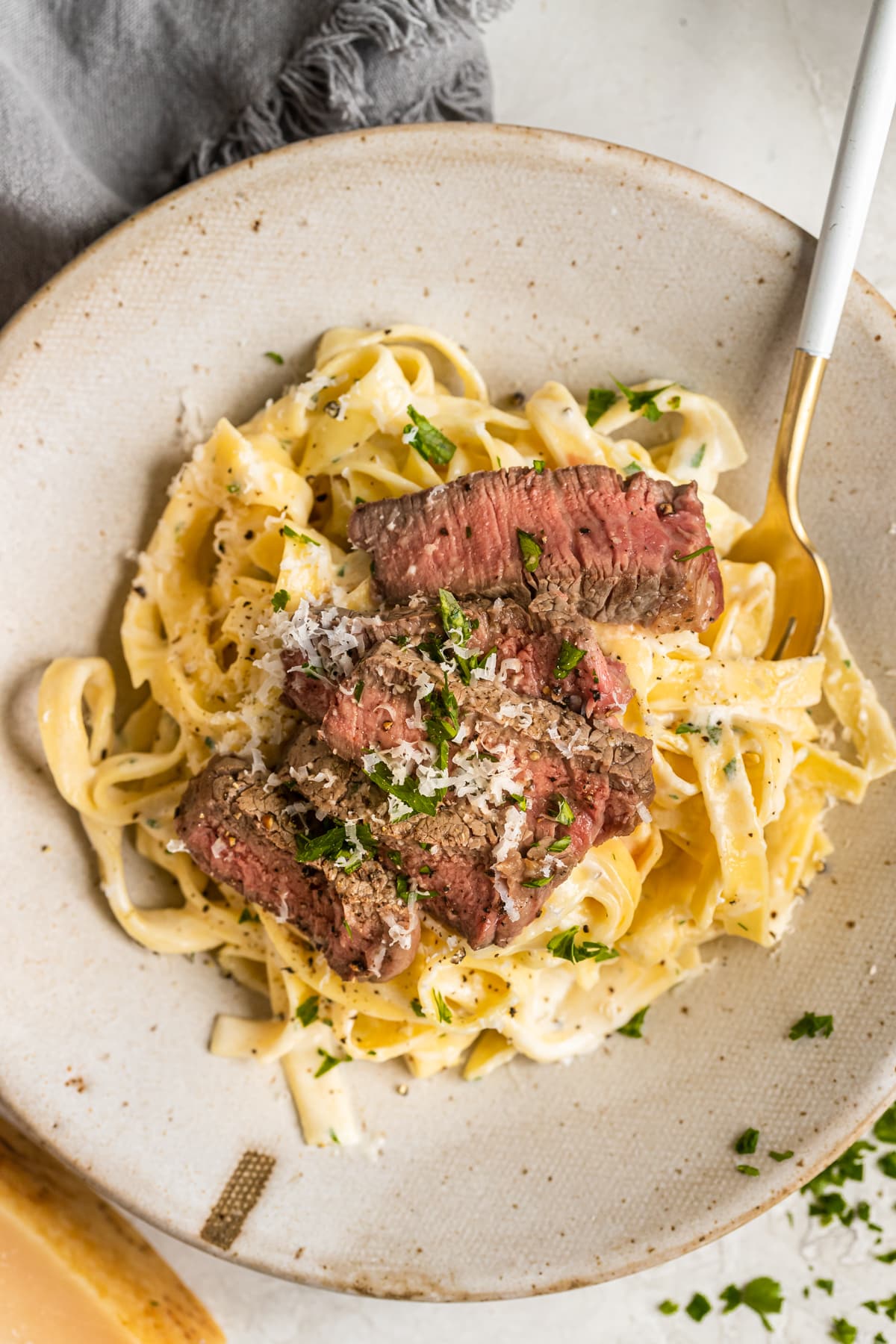 FAQ
How long do leftovers last?

Stored properly in an air-tight container for up to 3 days.
Can I use gluten free pasta?

Yes of course! This recipe will work with your favorite gluten free pasta brand.
How can I make this dairy free?

I have not tested a dairy free version, but using dairy free butter or coconut cream may work well.

What should I serve with steak alfredo?

Garlic bread, red wine, a good side salad, roasted veggies, and my small batch brownies for dessert!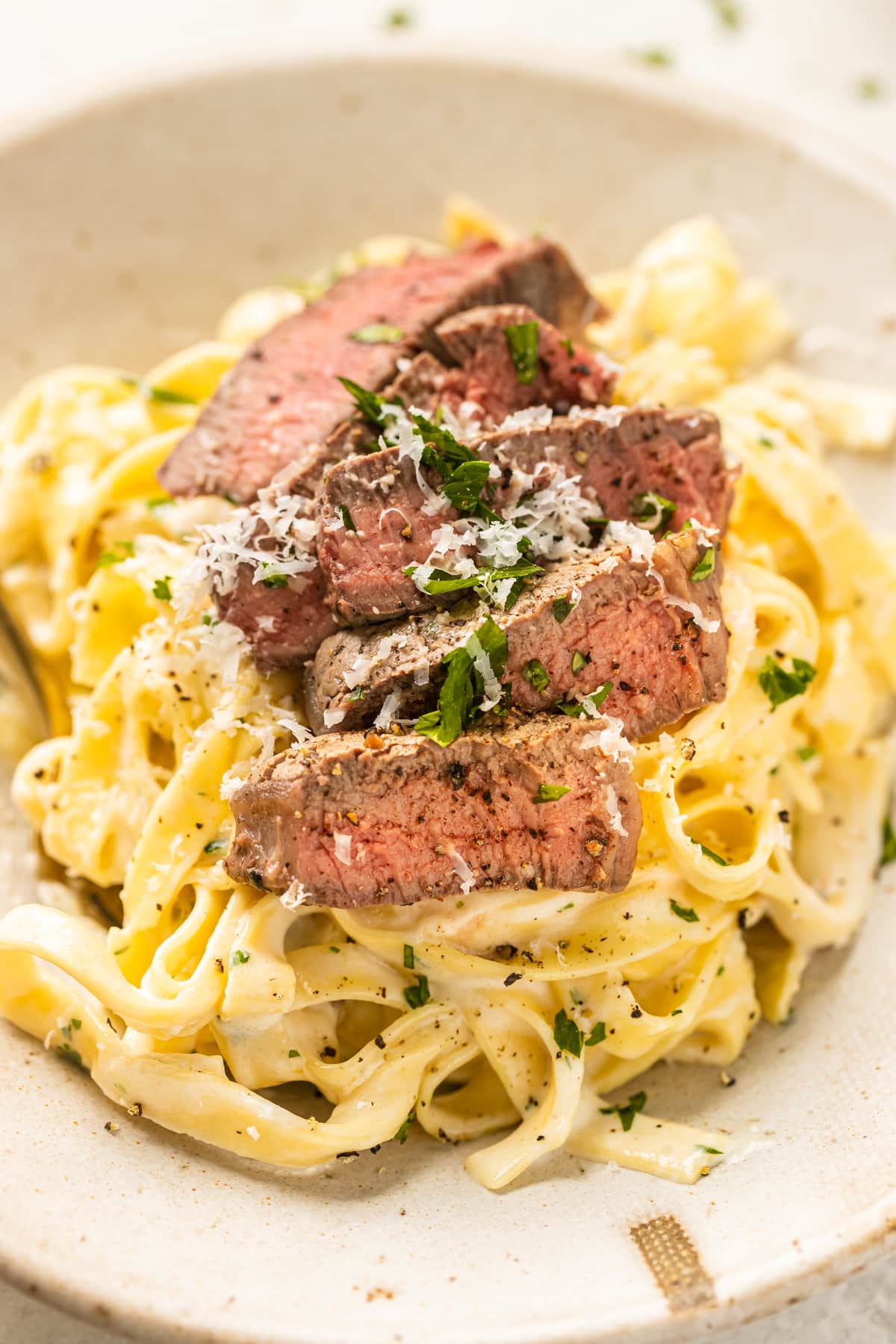 Before You Begin! If you make this, please leave a review and rating letting us know how you liked this recipe! This helps our business thrive & continue providing free recipes.
Steak Alfredo is made with a rich, ultra-creamy and comforting sauce made with simple ingredients. Topped with perfectly cooked slices of steak, heavy dustings of Parmesan cheese and fresh parsley.
Ingredients
For the sauce
1/2

cup

unsalted butter

2

cups

heavy cream

1 1/2

cups

Parmesan cheese, freshly and finely grated

salt and pepper to taste

pinch of fresh nutmeg

2

Tbsp.

fresh parsley, chopped

1

lb.

fettuccine pasta
For the steak
Sirloin, Filet, New York Strip, Ribeye, etc.

1

Tbsp.

olive oil

Kosher salt

Black pepper

2

Tbsp.

unsalted butter
Last step! If you make this, please leave a review and rating letting us know how you liked this recipe! This helps our business thrive & continue providing free recipes.
Instructions
Make the Alfredo sauce first. In a saucepan, heat the butter and cream over medium heat just until it begins to bubble. Then turn the heat down to low and simmer for 15 minutes.

Remove from heat. Stir in the Parmesan. Then add in salt, pepper, nutmeg and parsley. Set aside. The sauce will thicken a bit as it sits while you prepare the rest of the meal.

Make the steak. You can either cook it however you like best, or this is what I do for Filet: Preheat the oven to 400°.

Season the steaks with salt and pepper on both sides. In a large cast iron skillet over medium-high heat, heat the oil. Add the steaks when the oil is hot and sear for 2-3 minutes. Flip the steaks and add the butter. Baste for another 3-ish minutes. Check the temperature of your steak at this point so you know how long to keep it in the oven.

Transfer the steaks into the oven for 3-5 more minutes, depending on how you like your steak. You may need just a little more or less time depending on if you like it medium-rare, more medium or medium well. Remove the steak from the oven and transfer to a cutting board. Let rest a few minutes before slicing.

Cook the fettuccine according to package directions, drain and toss the cooked pasta in the Alfredo sauce.

Divide the pasta between plates or bowls and top with the sliced steak. Garnish with more parsley, cheese and black pepper. Enjoy!
Notes
Stored properly in an air-tight container for up to 3 days.
Nutrition Information
Serving:
1
serving
,
Calories:
789
kcal
(39%)
,
Carbohydrates:
46
g
(15%)
,
Protein:
49
g
(98%)
,
Fat:
69
g
(106%)
,
Saturated Fat:
61
g
(381%)
,
Polyunsaturated Fat:
6
g
,
Monounsaturated Fat:
33
g
,
Trans Fat:
1
g
,
Cholesterol:
292
mg
(97%)
,
Sodium:
407
mg
(18%)
,
Fiber:
4
g
(17%)
,
Sugar:
6
g
(7%)
,
Vitamin C:
11
mg
(13%)
,
Iron:
5
mg
(28%)