Low Carb Eggplant Parmesan with Zoodles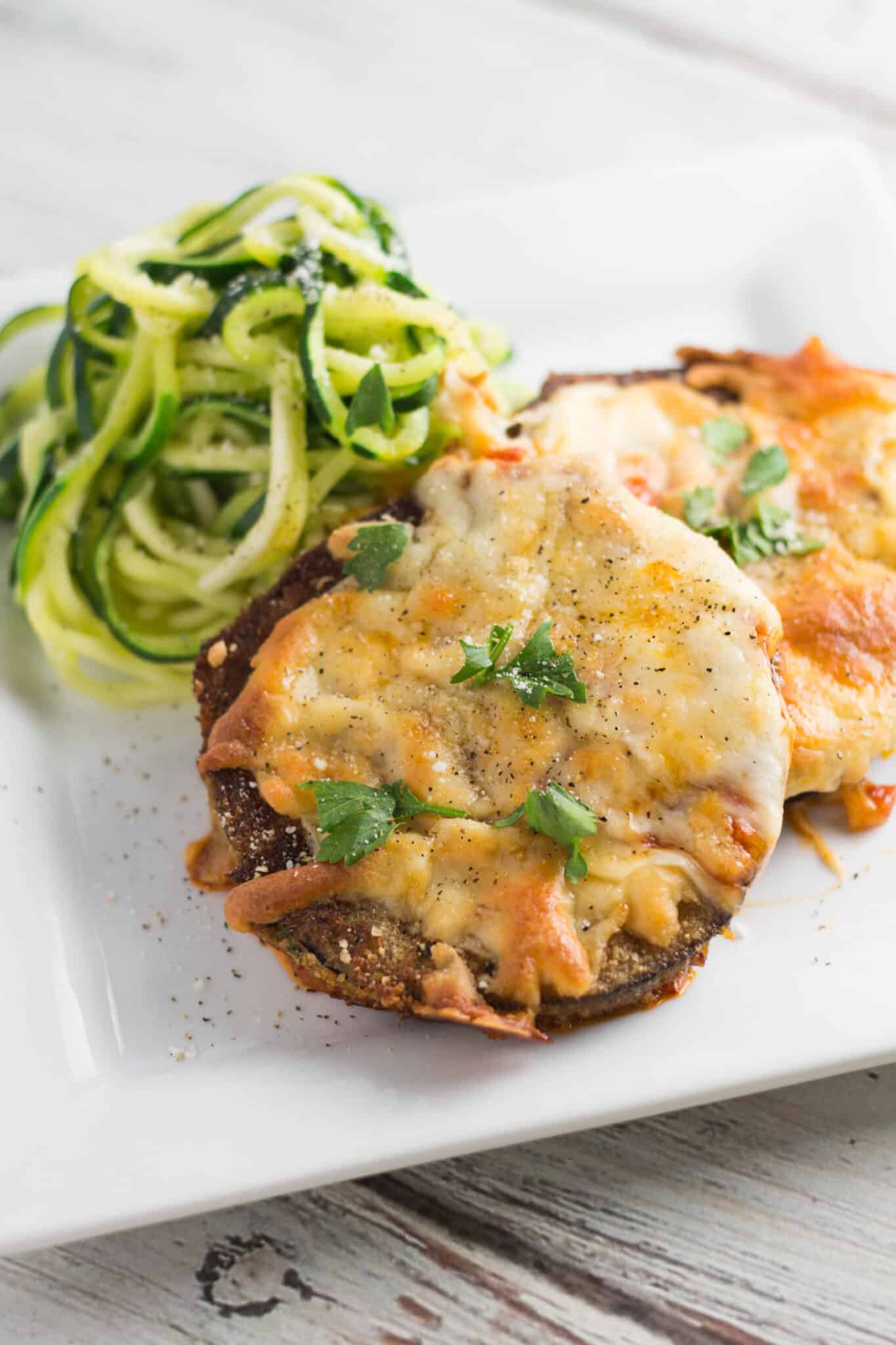 I am SO happy with a purchase I made this last weekend…I bought the spiralizer attachment for my Kitchen Aid!!! Best $100 I have spent in a long long time. Now I want to spiralize everything possible! The first thing I wanted to make was zoodles (zucchini noodles) so I made them with eggplant parmesan. It was a perfect low carb and meatless dish for a Saturday night spent in while listening to the rain. Oh – and I was also watching How I Met Your Mother, my current Netflix addiction! (I know the show came out about 10 years ago, I am a little late!).

Have you ever made zoodles? I love them because I just feel SO healthy eating them! They are packed with magnesium, fiber, and folate…magnesium is good for muscle contraction, fiber is great for keeping us regular, and the folate is beneficial in supporting our metabolism. Spiralizing your vegetables also makes it a fun and easy way to consume vegetables. You would never really think to eat a whole zucchini but when it is made into long spirally noodles its easy to consume! If you have kiddos it's another sneaky way to get them to eat their veggies!
I have a few other Recipes on my blog that I have made with zoodles:
Skinny Lemon Chicken Piccata with Zoodles
[Tweet "Low Carb Eggplant Parm with Zoodles…Easy Weeknight Dinner! Krollskorner.com"]
Before You Begin! If you make this, please leave a review and rating letting us know how you liked this recipe! This helps our business thrive & continue providing free recipes.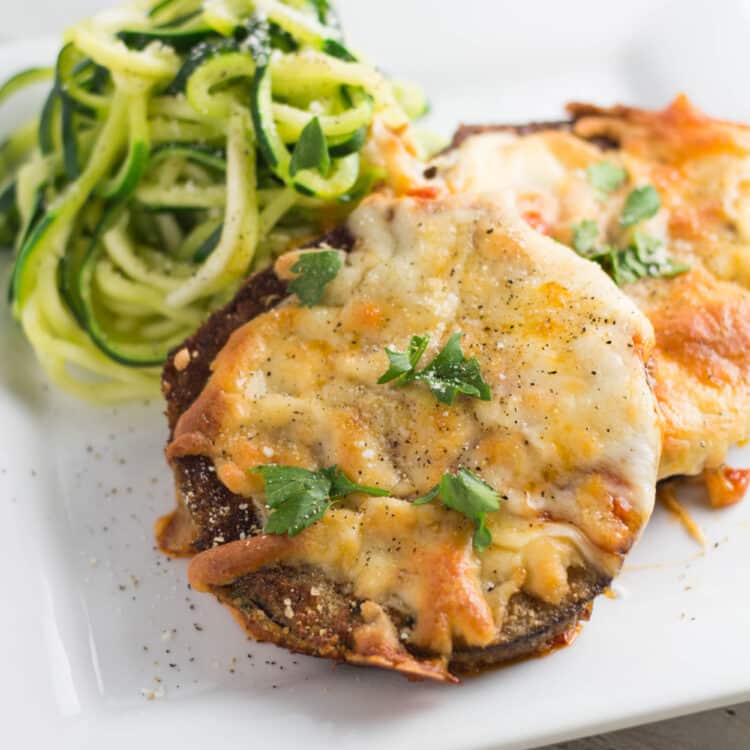 Low Carb Eggplant Parmesan with Zoodles
Ingredients
1

eggplant sliced into 1/2 inch thick slices

2

Tbsp.

salt

3

eggs

1/2

cup

2% milk

6

Tbsp.

vegetable oil

(for pan frying)

1.5

cups

breadcrumbs

(gluten free optional)

1

jar of marinara of your choice

1

cup

shredded mozzarella

3-4

zucchini for zoodles

(see recipe links above for directions)
Last step! If you make this, please leave a review and rating letting us know how you liked this recipe! This helps our business thrive & continue providing free recipes.
Instructions
Salt both sides of the eggplant and let drain in colander for about 30 minutes.

After the 30 minutes, brush off the excess salt.

Preheat over to 375 degrees F.

In 2 shallow plates or containers, add breadcrumbs to one and whisk the eggs and milk in another. Dip both sides of the eggplant into the milk/egg mixture and then coat the eggplant in the breadcrumbs. Place on a paper plate or wax paper until the rest of the eggplant slices are coated.

Heat a skillet over medium heat and add 1 Tbsp. vegetable oil. Once the skillet is warm, start to lightly pan fry the eggplant. You can fit in 2 at a time, flipping the eggplant over every 2 minutes, or until they become a golden brown color. Repeat with remaining eggplant, and add in vegetable oil each time.

In a large casserole dish add 1 cup of marinara on the bottom and spread evenly. Gently place the eggplant slices in the dish, you might have to layer a couple of them. Dollop each eggplant with more marinara and sprinkle the mozzarella cheese over the tops. Layer with more cheese if needed 🙂

Bake for 25 minutes, or until cheese is bubbly and brown. Serve with zoodles and topped with parmesan and parsley if desired. Enjoy!
Enjoy!