Avocado Pesto Zoodles
Dairy-Free | Published Feb 27, 2015 | Updated May 25, 2019 | By Tawnie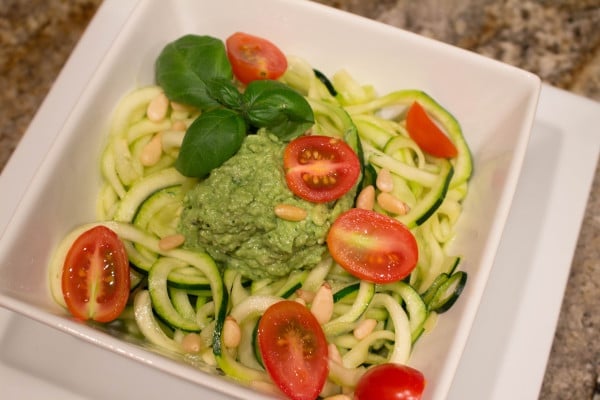 This was my first attempt at making zucchini pasta…or the more trendy & fun word to say is…zoodles! Betcha can't say that without cracking a smile haha 🙂 This might be my new favorite kitchen tool. Honestly. It is basically a vegetable spiralizer and mine came with 3 different blades – pretty neat. It was on sale at Sur La Table so I HAD to get it. You don't necessarily need the spiralizer machine to make these zoodles. You can use a veggie or julienne peeler as well to create this healthy dish. The fact I can make cool spiral-like vegetables I have a good feeling my vegetable lifestyle is about to change!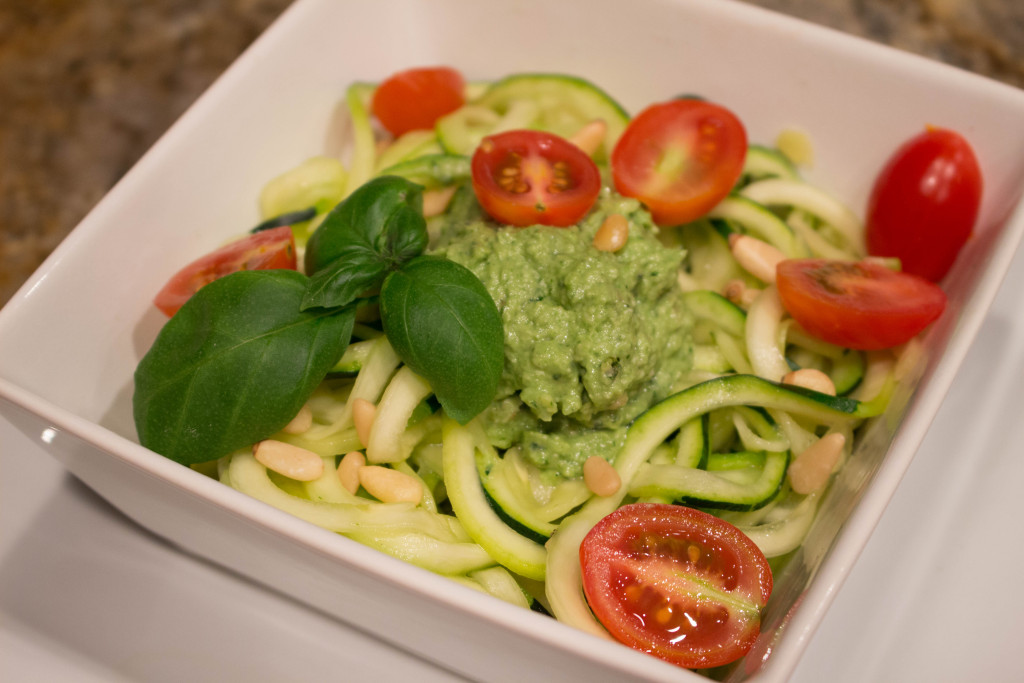 Now that I have little experience with the zucchini I am brainstorming all types of vegetables to spiral…beets, sweet potatoes, carrots, butternut squash, jicama, and potatoes. It is making me excited just thinking about all of the possibilities that come to mind! I will certainly be posting more and more recipes with different spiralized vegetables and even spiralized combos. Plus, I just purchased the Inspiralized Cookbook by Ali Maffucci and I am SO excited for it to come in the mail! 🙂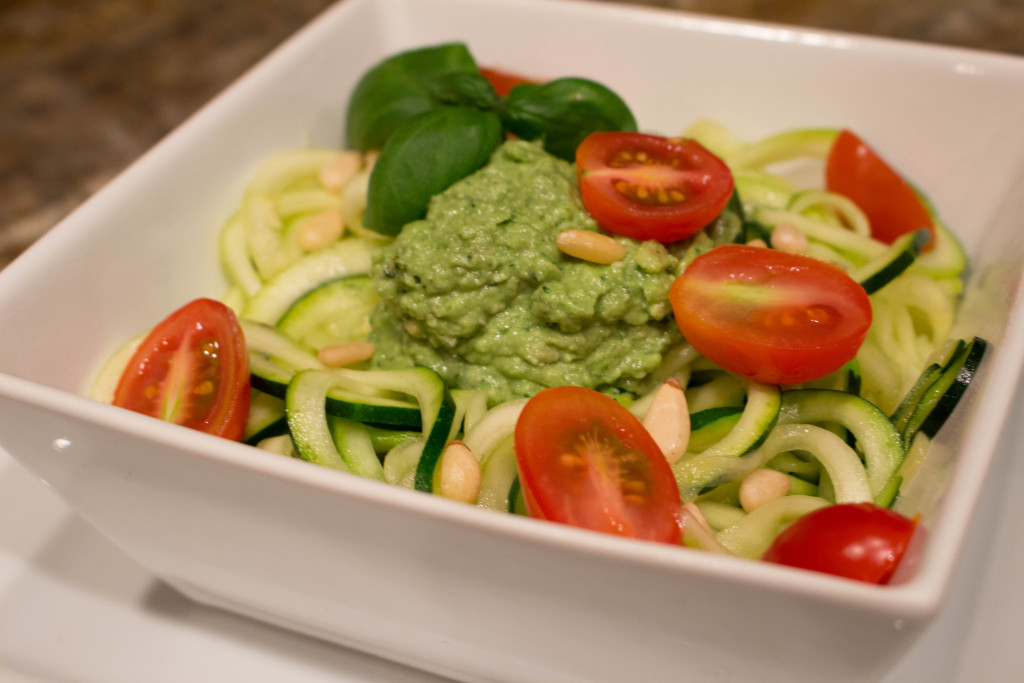 These zoodles are great for everyone too! It is fun for kids in the kitchen… and that is exactly what it takes for kids to eat healthier. Make it fun for them, and make it seem "cool" and it can increase the chances of them wanting to eat it. And it is great for the low-carb dieter, or just any individual who feels guilty all the time for eating pasta – this is such a great alternative. These zoodles are low-carb, packed with nutrients, and will leave you feeling satisfied. Hope you enjoy my recipe!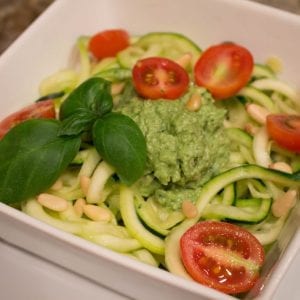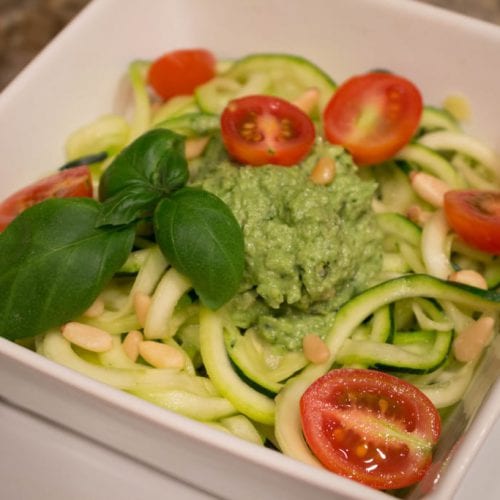 Avocado Pesto Zoodles
Ingredients
1

avocado

pitted

3

zucchini

2-4

Tbsp.

avocado oil or EVOO

1-2

bunches of fresh basil

1/2

cup

pine nuts

1

Tbsp.

hemp seeds

2

Tbsp.

lemon juice

Pinch

of sea salt or kosher salt and pepper

1

cup

halved cherry tomatoes
Instructions
For the pesto: In a food processor blend the avocado oil, avocado, basil, salt, pine nuts, salt, pepper, lemon juice, and hemp seeds until smooth. Set aside.

For the zoodles: Get your machine or other kitchen utensil to make spirals. Spiralize each zucchini until you have lovely zoodles. Place the zoodles in a colander and toss with salt. Let them drain from about 15-20 minutes to remove extra water.

Heat a little oil in a pan over medium heat. After zoodles are finished draining, place in pan and heat up the spirals for no longer than 5 minutes. You don't want your zoodles to become soggy!
Hi, I'm 
Tawnie

!

Welcome to my tiny "korner" on the Internet! I am a Registered Dietitian Nutritionist who loves cookies as much as kale. (OK, maybe I like cookies a little bit more but shh, don't tell anyone). I am so glad you're here! Follow along for hassle free, realistic and approachable recipes.

More about Tawnie

I'd love to see what you made!!
Share it with me on Instagram or Facebook and tag me @krolls_korner or use the hashtag #KrollsKorner!