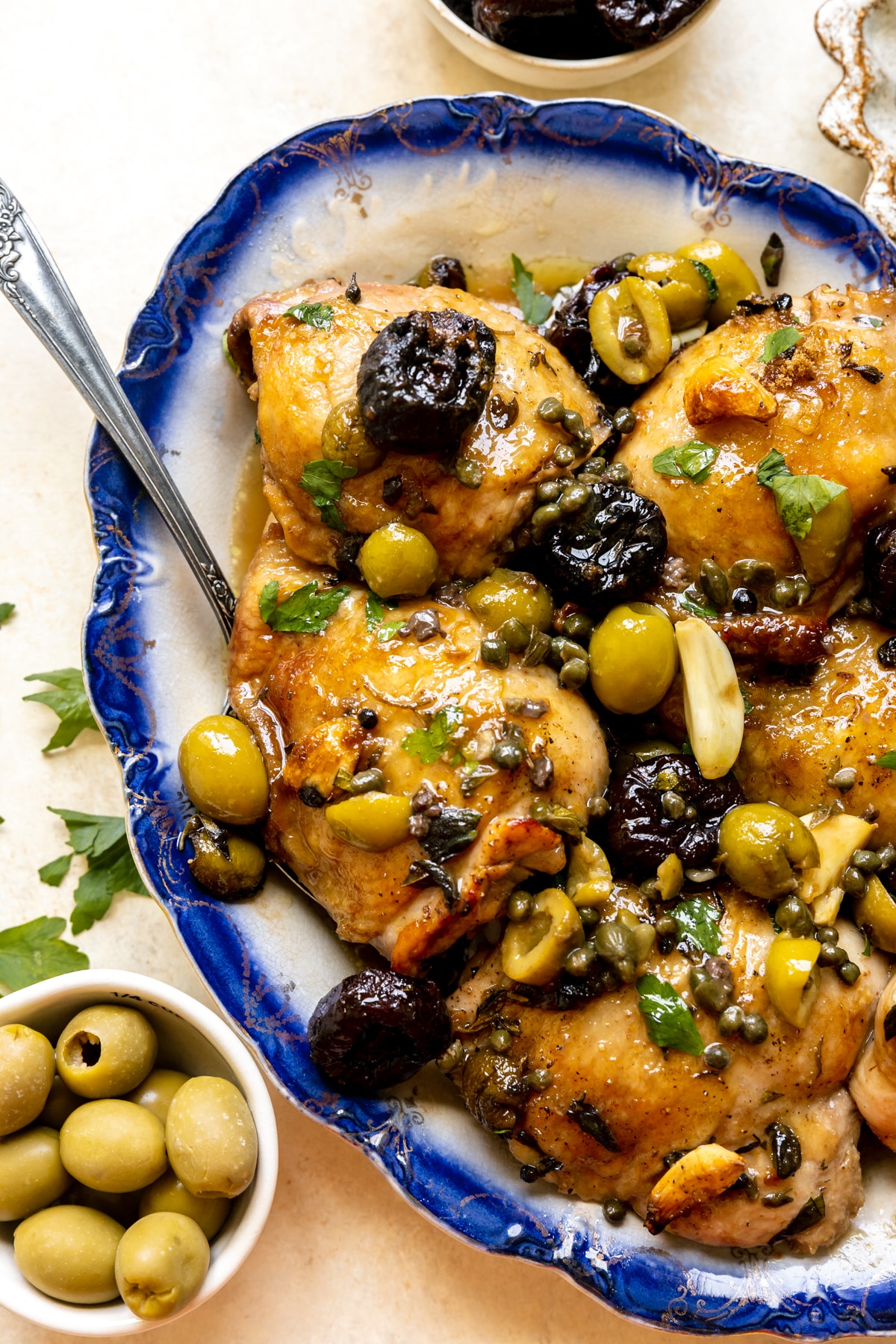 When I come across a classic recipe like Chicken Marbella, I really like to do my research to know the history of the dish. My first guess about the origins of the recipe was wrong, it's not from Marbella, Spain. It was actually created by the Silver Palate catering and take out shop on the Upper West Side of Manhattan, New York in the late 70's.
Chicken Marbella became a classic dish when the talented chefs, Julee Rosso and Sheila Lukins, published it in the Silver Palate Cookbook in 1982.
I think what was so revolutionary 40 years ago, and what continues to work so well today, is these women took recipes that at first glance might take all day to make, but made them easy weeknight meals that would work just as well for glamorous dinner parties.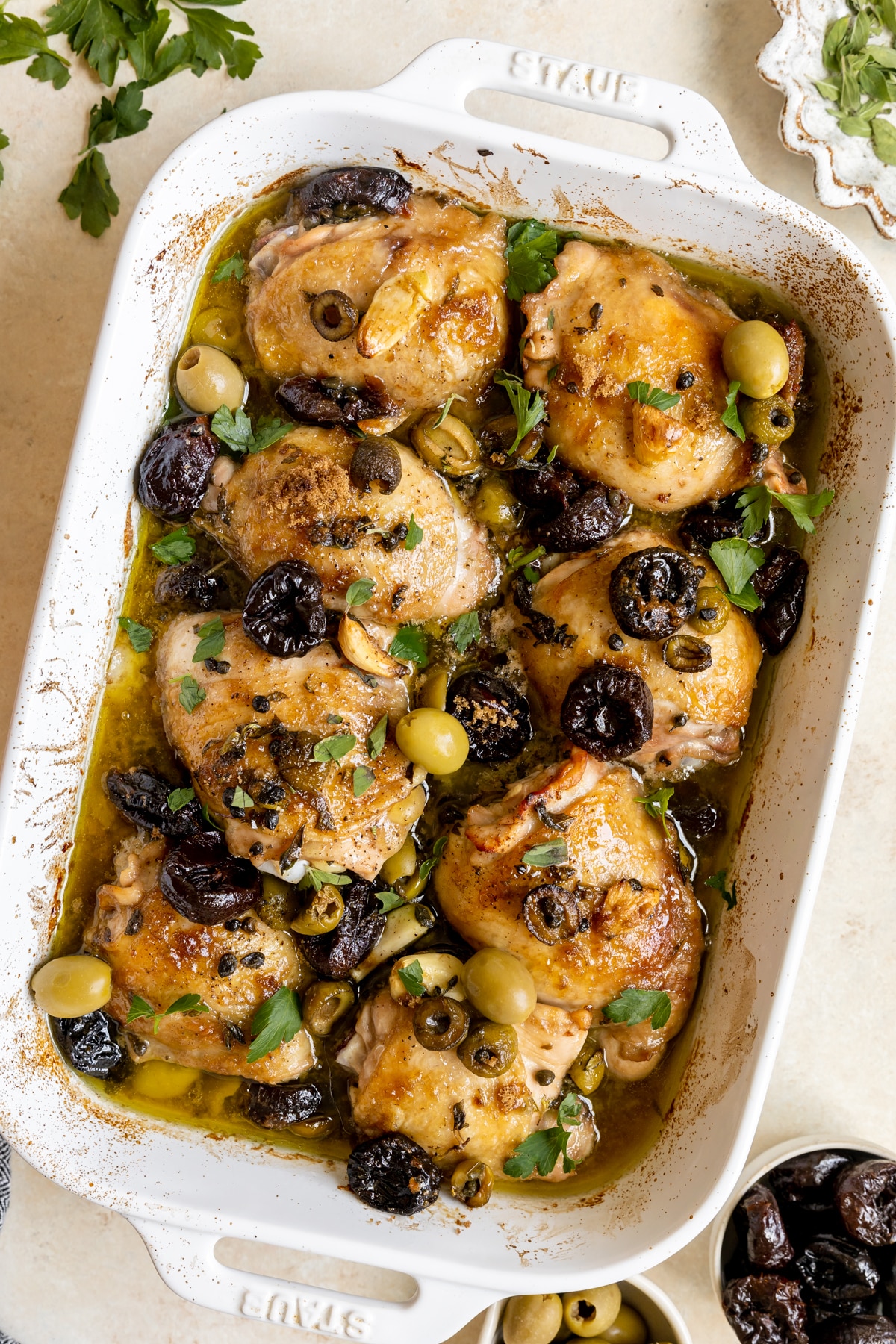 Plus, they worked with ingredients like prunes, olives and garlic that the average cook wouldn't think to blend together but the combination of ingredients in Chicken Marbella are purely magic.
Prunes are at the heart of the marinade that makes this classic dish so impressive. Their sticky sweetness mixes perfectly with aromatic garlic, bay leaves, meaty green olives, briney capers, red wine vinegar and fresh oregano to create a complex savory sauce that is perfectly balanced between sweet and sour.
The key is the amount of time you let the chicken soak up these amazingly bold flavors. Mix up the marinade, toss in the chicken thighs, and if left overnight, you will have the most tender, moist and flavorful chicken you have ever eaten.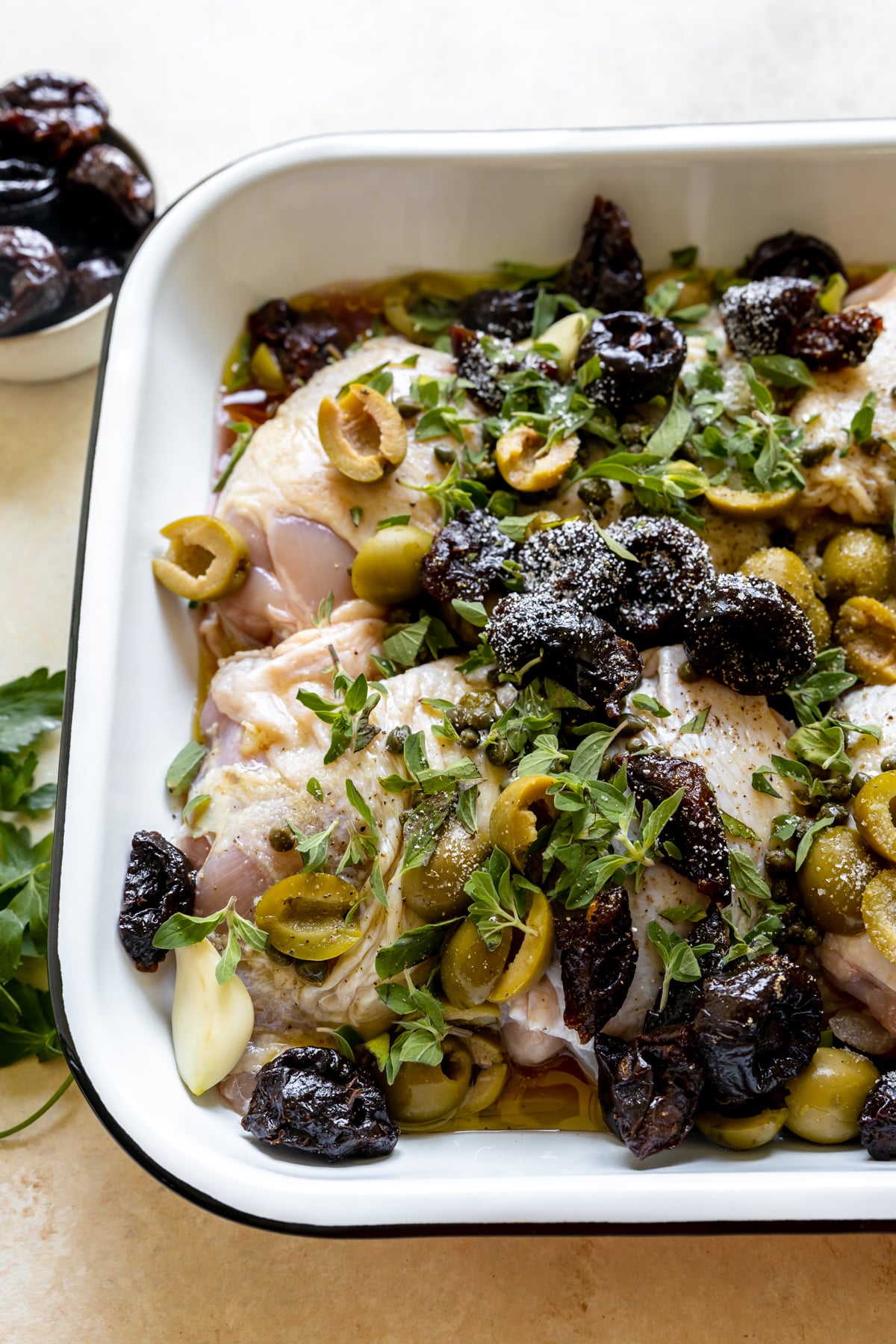 Why This Recipe Works
It's a great make ahead recipe since the chicken has to marinate.
It is overflowing with caramelized flavor!
The natural sweetness from the prunes mixed with the maple flavors from the brown sugar, the salty and tanginess of the green olives and the briney, lemony capers bake up the most delicious Mediterranean meal.
Because of the marinade, the chicken is incredibly tender and juicy!
If you love garlic, you will LOVE Chicken Marbella.
Did You Know…
Prunes contain the nutrients that influence bone health, including boron, potassium, and Vitamin K .
Prunes contain polyphenols, which include antioxidants that protect DNA against damage, decrease inflammation and may help prevent cancer.
Prunes are a low-glycemic food and may help maintain healthy blood sugar levels.
Prunes contain 3 g of fiber. About 1 ½ g of fiber is insoluble which helps speed food through the digestive tract.
What prunes don't have is added sugar, sodium, fat, or cholesterol.
Ingredients:
For the ingredient measurements and entire recipe, be sure to scroll down to the bottom of the blog post where the recipe card is located.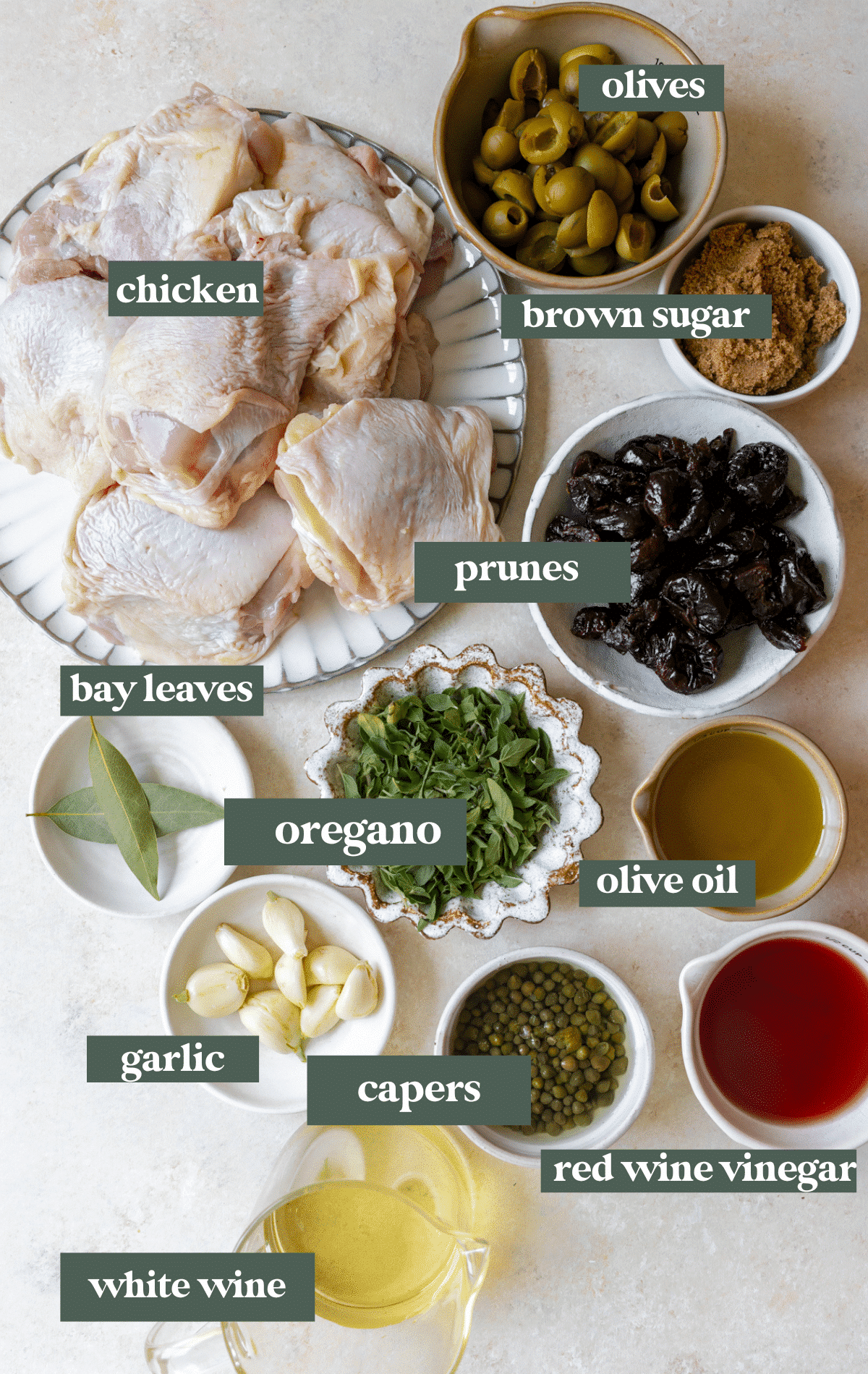 California prunes: thanks to their natural sweetness, prunes work really well in this chicken marinade. Their texture also provides a wonderful body and a delicious spin on a savory meal.
Chicken thighs: I like using skin on, bone in chicken thighs for ease and convenience but you can also use a whole chicken that has been cut up.
Garlic: Smashing or crushing the garlic clove makes the garlic flavor a little stronger since you are releasing the sulfur compounds by smashing the cloves.
Fresh oregano leaves: Fresh oregano has a sharper and more peppery flavor than dried oregano. If you don't have any fresh, use 2 Tbsp. dried.
Red wine vinegar: the vinegar plays an important role not only in imparting flavor to the chicken but the acid helps to tenderize the chicken as well.
Olive oil: be sure to use a good olive oil for the base of the marinade.
Pitted green olives and capers with their brine: these two ingredients contribute to the briny marinade. Trust me, the combination is unique but the results are drool-worthy!
Bay leaves: fresh or dried bay, both work well. Be sure to remove and discard the bay before plating and serving the chicken.
Step by Step Directions
For the full recipe instructions, scroll down to the bottom of the blog post to the recipe card.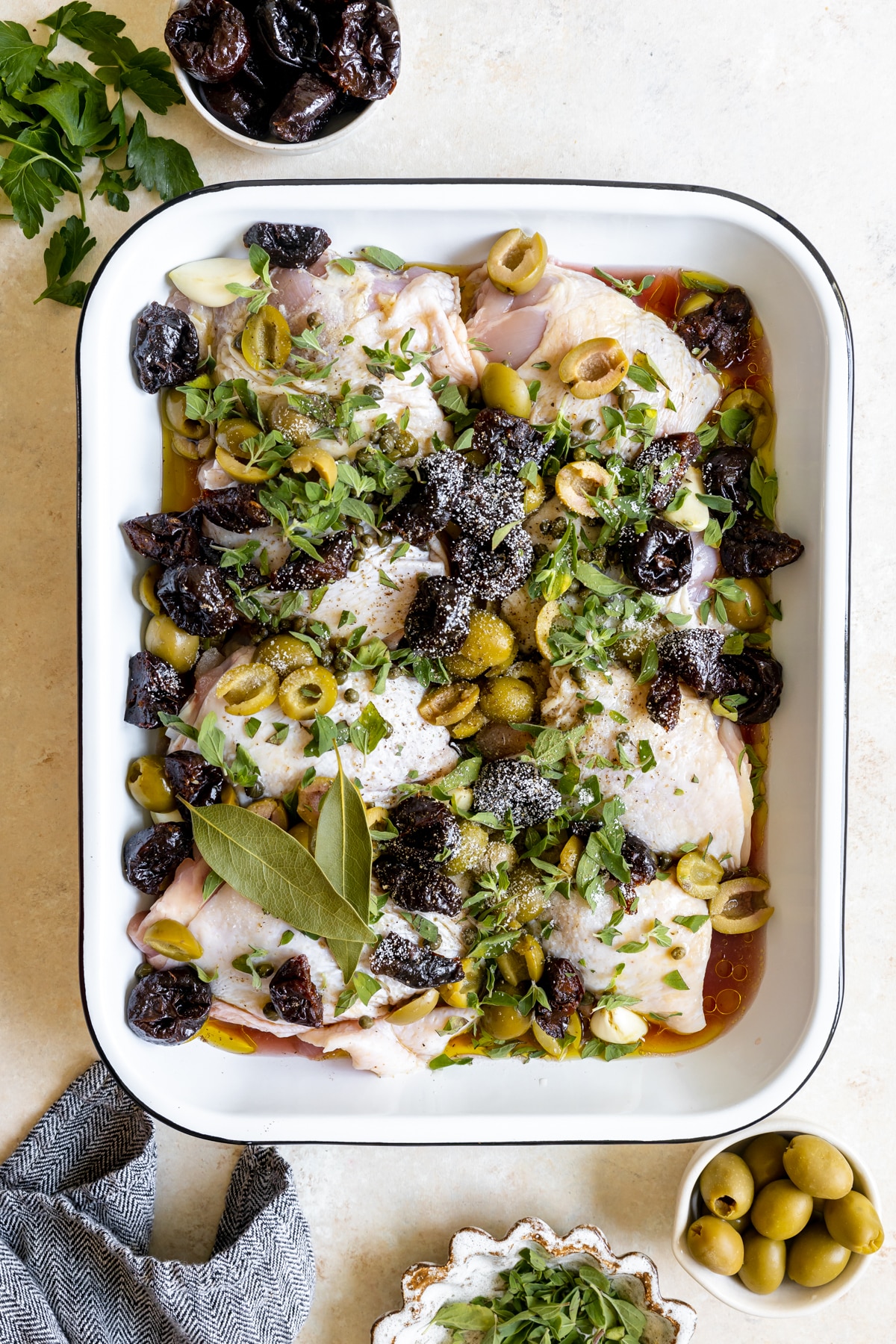 Toss the chicken thighs with all of the marinade ingredients. Marinate the chicken. Overnight is preferred, or at least 4-6 hours.
Arrange chicken and all marinade ingredients in a roasting pan or large oven safe baking dish.
Pour wine around the chicken and sprinkle tops of chicken with brown sugar.
Bake for 40-45 minutes.
Transfer the chicken and all the juices/prunes/olives to a serving platter and enjoy.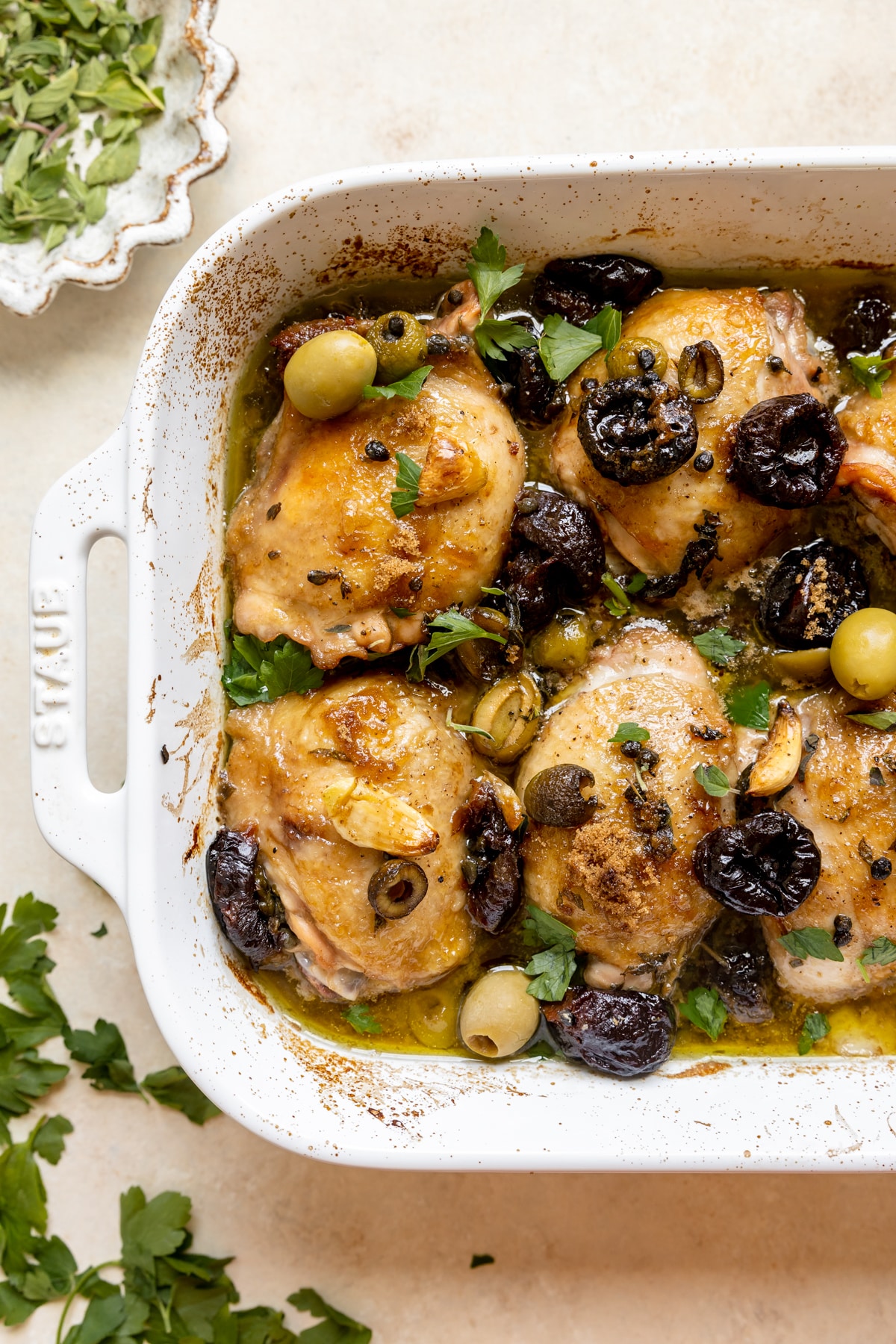 Expert Tips and Variations
While the chicken is basking in the delicious marinade, make sure you stir/toss it every few hours so that all pieces are evenly marinated.
While the chicken is cooking, baste it about 2 or 3 times to get all those yummy juices on top.
When adding the white wine make sure to pour it around the chicken and not over it to keep the brown sugar on top of the chicken.
Marinating overnight is best or if you don't have that time, at least 2 hours.
Use kalamata olives instead of green olives.
This classic dish uses A LOT of garlic. I used 8 cloves, feel free to use more if preferred.
You can take the pan juices and simmer in a pot on the stove until it reduces. I usually just spoon it right over the chicken and it's delicious!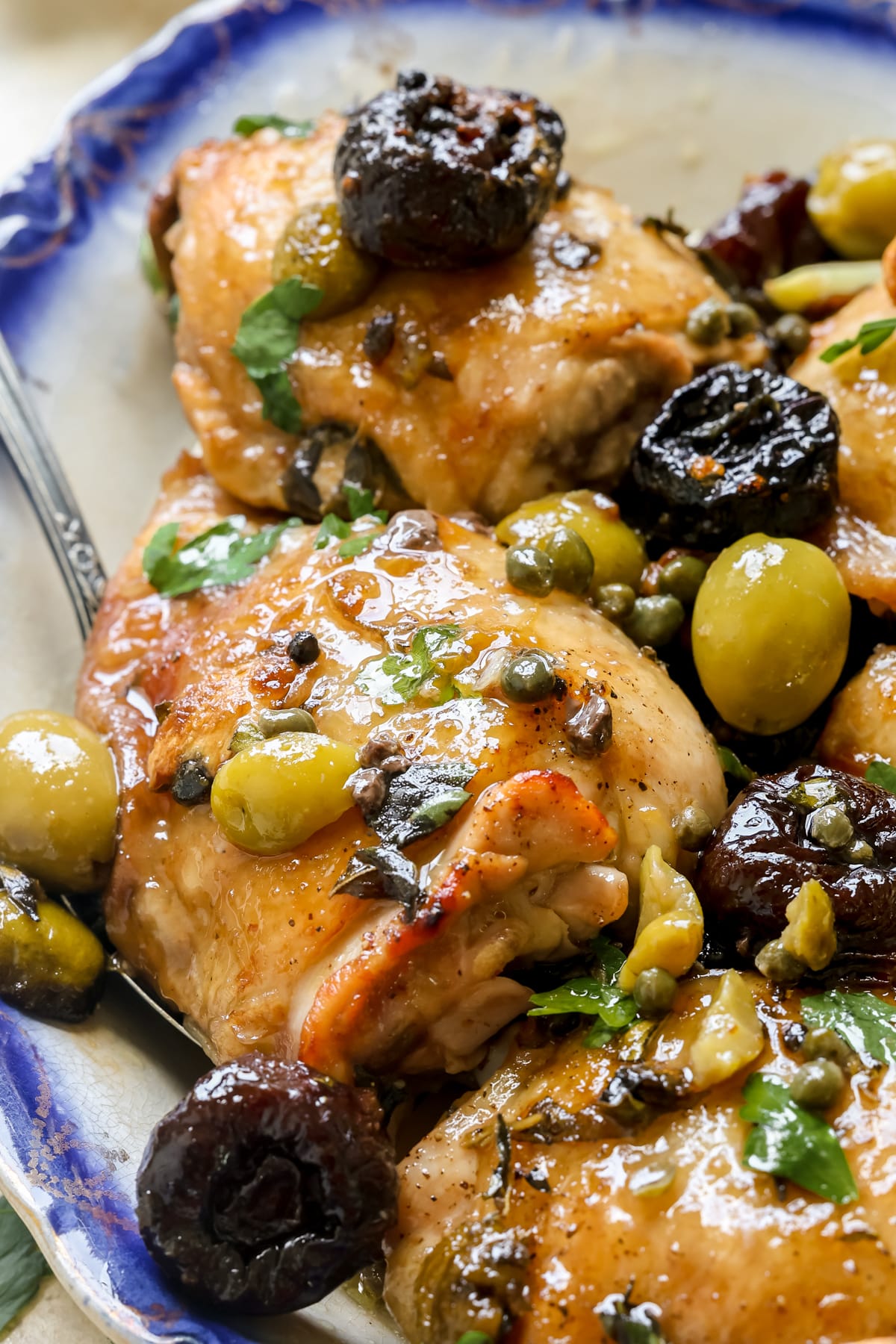 FAQ
What other cuts of chicken can be used?

You can use boneless chicken thighs (these will cook faster than the bone in thighs so keep an eye on them), chicken breasts (also keep an eye cooking time because chicken breasts tend to dry out more easily), or a whole quartered chicken is the more traditional Marbella recipe.

What should I serve with chicken marbella?

There are so many great options: Roasted potatoes, smashed or mashed potatoes, roasted sweet potatoes, crusty bread, couscous, rice, brown rice, your favorite roasted veggies, and of course a delicious salad.

Can I make it in advance?

Absolutely! That's actually the beauty of this meal. Just mix everything together the day before and let it marinate in the refrigerator. The next day simply finish it off with the white wine and brown sugar and pop it in the oven to cook.
What is a good substitute for wine?

My go-to substitution is chicken broth, but you can also substitute at a 1:1 ratio unsweetened apple juice. Note: this will result in a different flavor.

Are there any red wine vinegar substitutes?

I personally haven't tested any out, but you can try apple cider vinegar, lemon juice, or red wine mixed with white wine vinegar. Note: these substitutes will change the flavor of the chicken.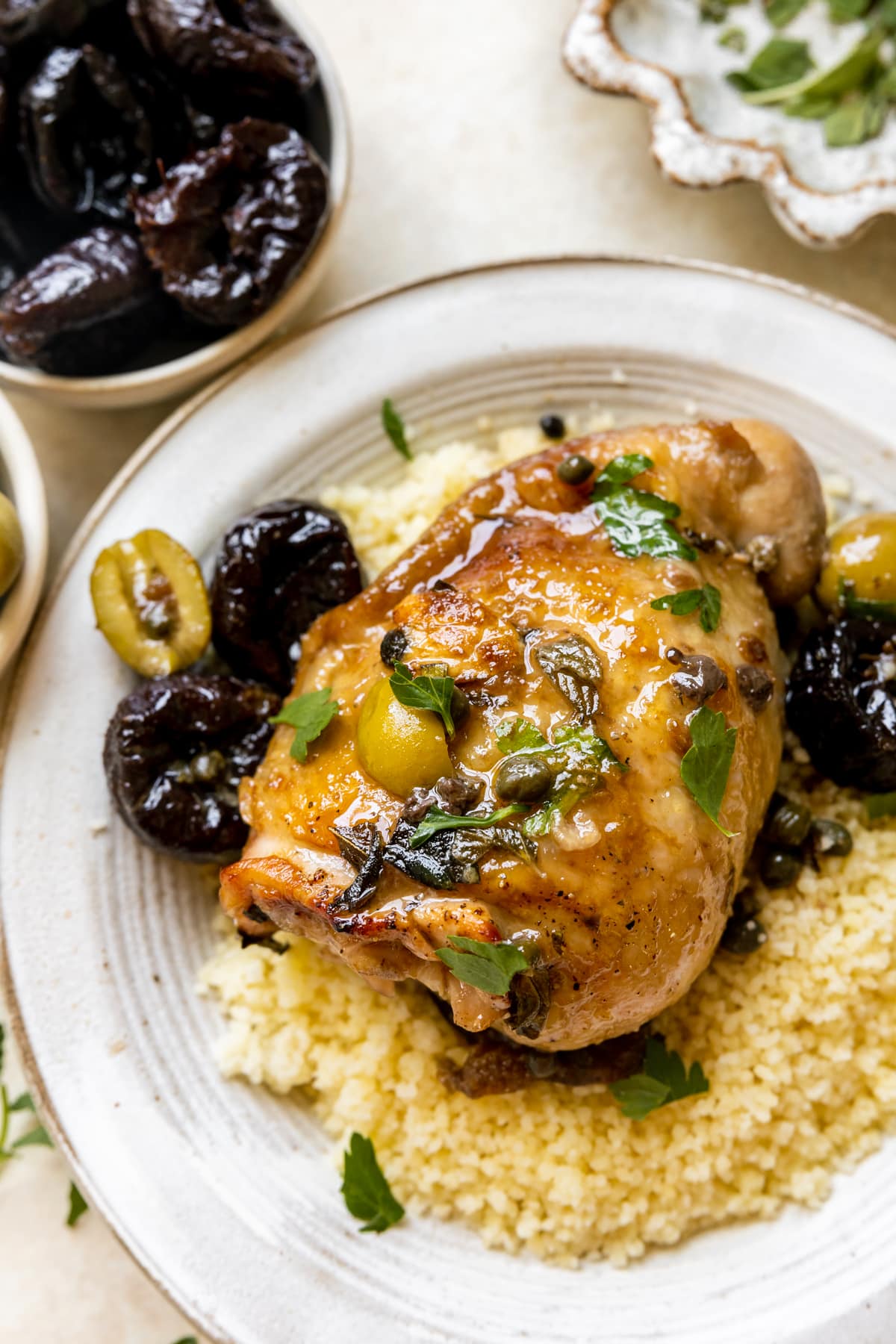 Before You Begin! If you make this, please leave a review and rating letting us know how you liked this recipe! This helps our business thrive & continue providing free recipes.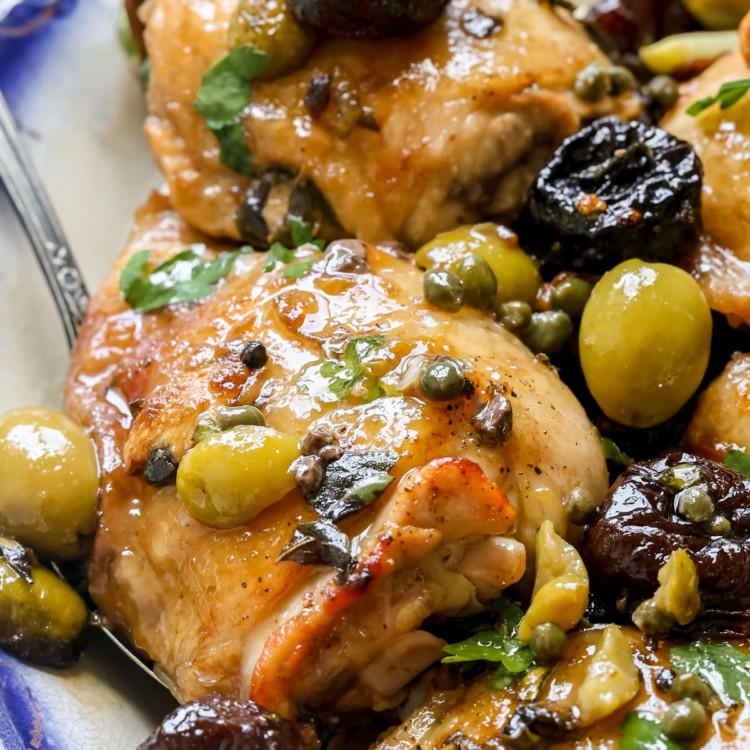 Chicken Marbella is all about the marinade. It's a combination of unexpected but totally delicious flavors that work wonders together. The chicken marinade is dotted with olives, prunes, capers, and fresh herbs to create a sweet, sour, garlicky, juicy, and flavorful chicken. It's perfect for your next dinner party or easy enough for weeknight dinners.
Ingredients
2 1/2

lbs.

chicken thighs, skin on, bone-in

8

cloves

garlic, smashed (or more if preferred)

1/2

cup

fresh oregano leaves

1/3

cup

red wine vinegar

1/3

cup

olive oil

1 1/2

cups

California prunes (you can keep whole or slice in half)

1

cup

green olives, pitted (you can keep whole or slice in half)

1/3

cup

capers plus 2 Tbsp. of their brine

2

bay leaves

1

Tbsp.

kosher salt

freshly ground black pepper

1/2

cup

white wine

1/4

cup

brown sugar
Last step! If you make this, please leave a review and rating letting us know how you liked this recipe! This helps our business thrive & continue providing free recipes.
Instructions
Marinate the chicken: add the chicken, garlic, oregano, red wine vinegar, olive oil, prunes, olives, capers, bay leaves, salt and pepper to a large mixing bowl. Coat the chicken well. Transfer to a plastic baggie or just cover and refrigerate for at least 2 hours or up to 24 hours. Toss the chicken to get the marinade coated all over every few hours if you remember.

Preheat the oven to 400°F.

Arrange the chicken and all marinade ingredients in a roasting pan or large oven safe baking dish.

Pour the wine around the chicken (not on it) and sprinkle the tops of the chicken with brown sugar.

Bake for 40-45 minutes and baste every 15-20 minutes to get the juices all over the chicken. Bake until the chicken is deeply golden and chicken reaches an internal temperature of 165°F.

Transfer the chicken, prunes, olives, and juices to a serving platter and serve with the juices over the tops of the chicken, garnish with fresh parsley and enjoy with your favorite sides.
Notes
A whole quartered chicken is the more traditional Marbella recipe, if you'd prefer that.
Storage: keep in an air-tight container in the fridge for 3-4 days.
Nutrition Information
Serving:
1
serving
,
Calories:
393
kcal
(20%)
,
Carbohydrates:
29
g
(10%)
,
Protein:
28
g
(56%)
,
Fat:
18
g
(28%)
,
Saturated Fat:
3
g
(19%)
,
Polyunsaturated Fat:
3
g
,
Monounsaturated Fat:
11
g
,
Trans Fat:
0.03
g
,
Cholesterol:
135
mg
(45%)
,
Sodium:
512
mg
(22%)
,
Potassium:
620
mg
(18%)
,
Fiber:
3
g
(13%)
,
Sugar:
19
g
(21%)
,
Vitamin A:
367
IU
(7%)
,
Vitamin C:
1
mg
(1%)
,
Calcium:
47
mg
(5%)
,
Iron:
2
mg
(11%)
Nutritional information is provided as a courtesy and is automatically calculated. It should only be construed as an estimate rather than a guarantee. Ingredients can vary and Kroll's Korner can't make any guarantees to the accuracy of this information.