Bacardi Rum Bundt Cake (Nut Free!)
Chocolate | Published on Sep 16, 2019 | Last modified on Oct 12, 2019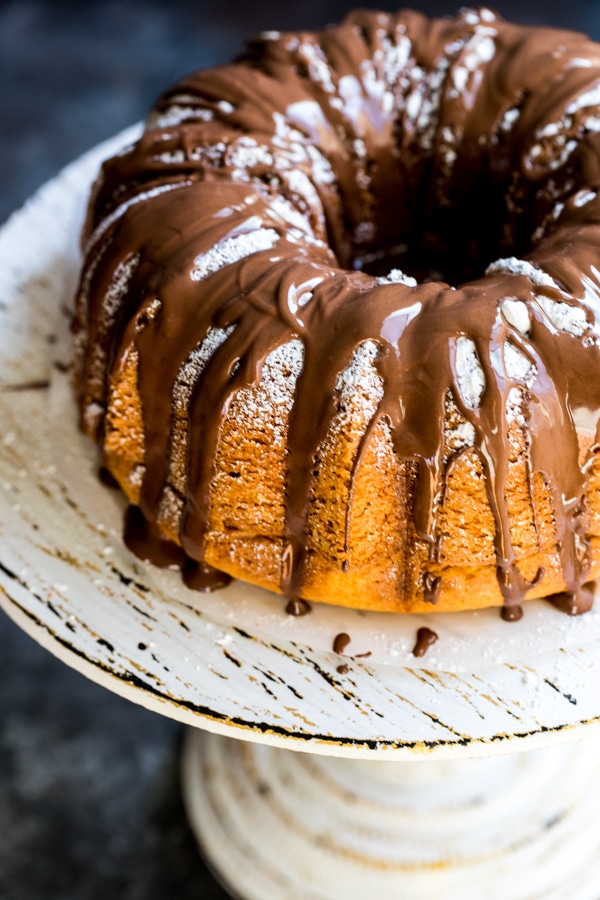 Bacardi Rum Bundt Cake has been a traditional cake to make for birthday's in my family as long as I can remember. It's moist, simple to make and finished with an irresistible butter rum glaze.
Creating this Bacardi Rum Bundt Cake
Traditionally, the Bacardi Rum Cake is made with nuts (walnuts or pecans). Cameron (my fiancé) is allergic to ALL nuts so we always have our eye out for nut-free, allergen friendly desserts.
If you have people in your life who are allergic to nuts then you've found the right rum cake recipe!
My brother's birthday is the day before mine and he is 4 years older than me. So every September we both get so excited for Rum cake. We don't make it any time of the year other than birthday month!
Even though as a family we enjoy this as a birthday cake, Bacardi Rum Cake is perfect for any occasion – holiday's, parties, house warming or just for a good ol' Saturday morning treat!
Bacardi Rum Cake is
Bursting with flavor
Tastes better the longer it sits and soaks up the glaze.
Is freezer friendly
Ingredients you'll need for Bacardi Rum Bundt Cake
1 Package Yellow Cake Mix (We like Duncan Hines or Betty Crocker)
Instant Vanilla Pudding
Ground flaxseed (optional)
Cardamom
Eggs
Canola oil
Bacardi Dark Rum
Water
Butter
Sugar
How to make Bacardi Rum Cake
Preheat oven to 325°F. Butter and flour a bundt pan to prevent the cake from sticking. Tap out any excess flour.
In a large bowl of an electric mixer, beat the eggs, oil, water and rum just until mixed. Then add in the cake mix, instant pudding, flaxseed and cardamom and beat until you get a nice smooth mixture.
Pour the batter into your prepared bundt pan and bake for 55-60 minutes. Cake will have a light golden brown color.
Once the cake has cooled for 5-10 minutes, make the glaze by melting butter in a medium sized saucepan. Then add the sugar and water and stir. Let this cook for 2-3 minutes on simmer.
Remove from heat and stir in the Bacardi rum. Pour into a 2 cup measuring cup and set aside for a moment. Using a fork, toothpick or skewer poke holes all around the bundt cake and slowly pour 1/2 cup of the glaze into the cake. (You will want something under the cake since the glaze might run down the sides).
The rum cake will start to absorb the glaze. MMMM. Add one more half cup of the glaze and wait a few more minutes to absorb it. Now, you can turn the cake over, remove the pan, poke more holes and repeat drizzling the glaze over slowly while you let it absorb.
Sprinkle with powdered sugar or melted chocolate and enjoy. Cake is best left at room temperature.
How to prevent Bundt cakes from sticking to the pan
Use a non-stick coated pan! It's all about the pan. If your pan is old and questionable, don't waste your time.
Grease your pan. There is a debate on using butter or shorteneing. I always use butter and then sprinkle with flour and have had good luck. If you haven't and want to try something else, try solid shortening and sprinkle with flour or granulated sugar!
Cooling your bundt cake
You will transfer the pan to a wire rack and let the cake cool upright in the pan for 5-10 minutes. Then tap the pan firmly a few times and shake it gently to help loosen the cake (or I've even used a butter knife to help).
Invert the pan onto the rack, lift it off and let the cake continue to cool on the rack.
How to store a bundt cake
This American-Classic dessert is best stored at room temperature wrapped in plastic wrap. It also freezes very well!
Bacardi Rum Bundt Cake is elegant yet simple, showered with powdered sugar and nut free! It makes for an impressive dessert! #krollskorner
Click To Tweet
Other cake recipes you'll love
Chocolate Peppermint Bundt Cake
Bacardi Rum Bundt Cakes are beautiful to look at and delicious to eat – I hope you enjoy it as much as we do!

I'd love to see what you made!!
Share it with me on Instagram or Facebook and tag me @krolls_korner or use the hashtag #KrollsKorner!