7 Ingredient Medjool Date Pumpkin Pecan Cookies
Chocolate | Published Oct 3, 2018 | Updated Aug 20, 2019 | By Tawnie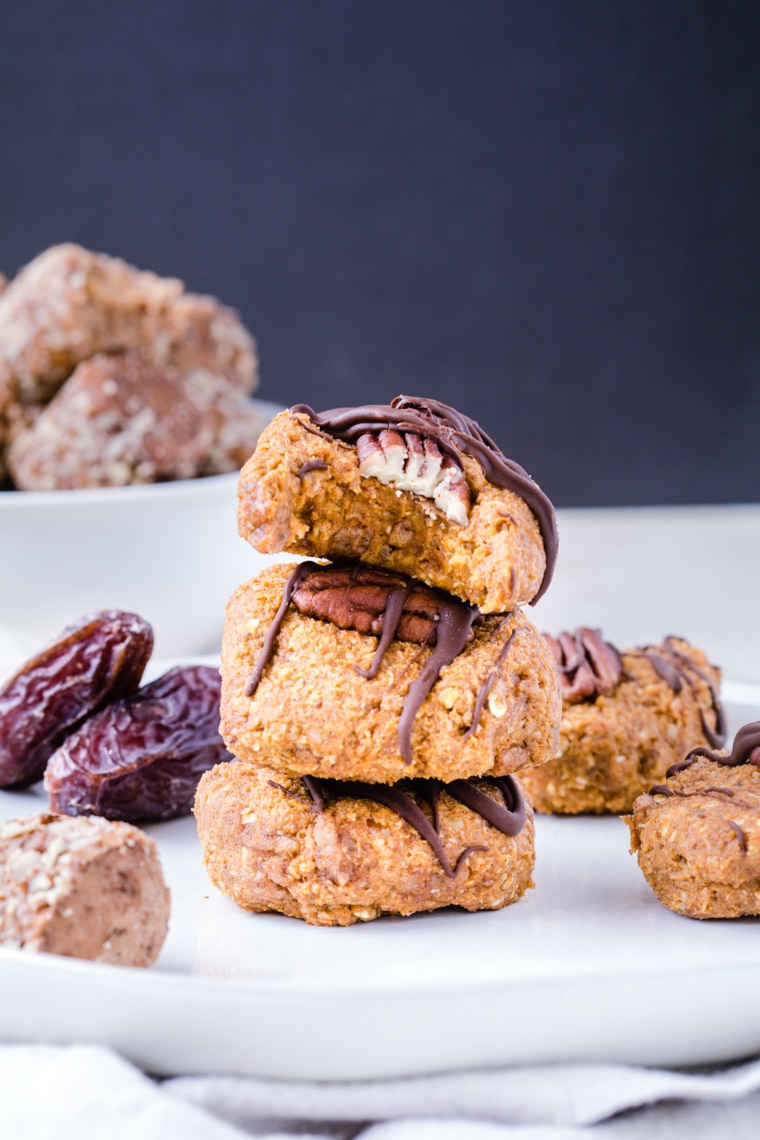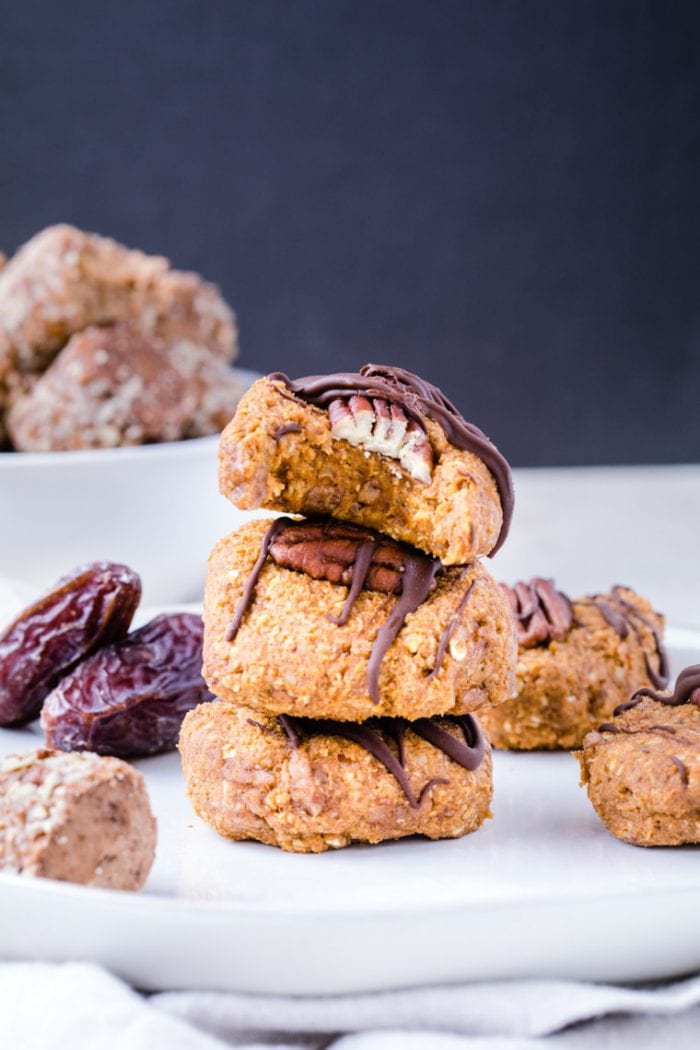 Drop what you're doing and make these Medjool Date Pumpkin Pecan Cookies made with Natural Delights® Pecan Pumpkin Pie Spiced Date Rolls!
Disclosure: I created this blog content in partnership with Natural Delights® Medjool Dates. I was compensated for my work, and all opinions are solely my own. Find additional information on these Pecan Pumpkin Pie Spiced Date Rolls!
I am so obsessed with these Natural Delights® Pecan Pumpkin Pie Spiced Date Rolls because they are filled with the flavors of Fall. Each bite tastes just like pumpkin pie, but with simple, pure ingredients and no added sugar! (hollllaaaa!) They are a only available for a limited time, so RUN, don't walk to grab your goods!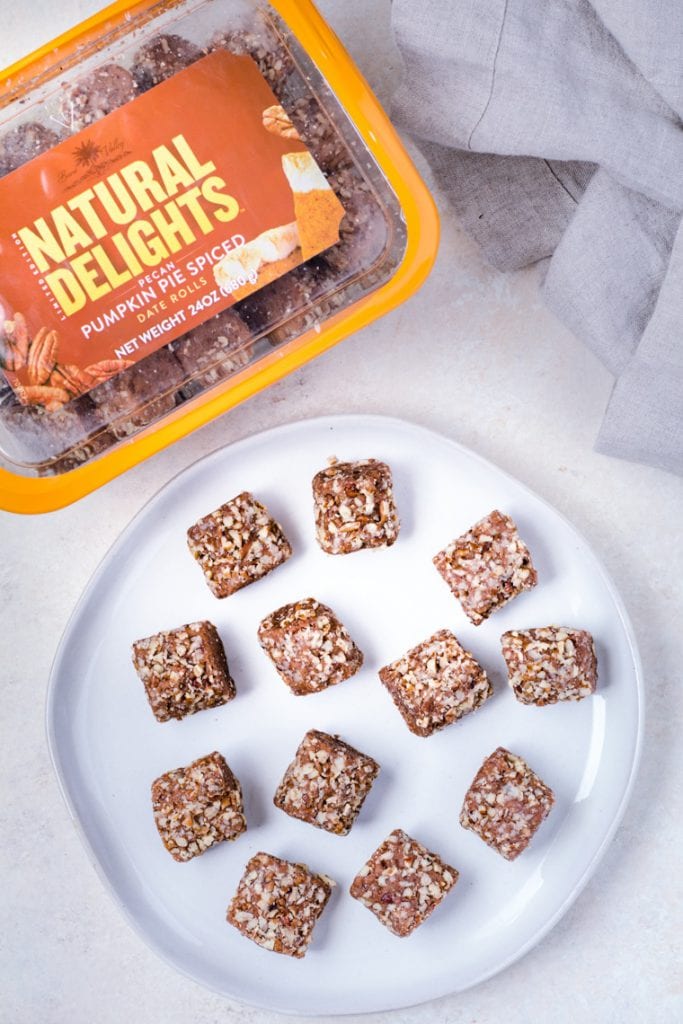 My newest collaboration is with Natural Delights® and I am so excited to finally announce it! Over the next year I will be sharing a plethora of recipes featuring Natural Delights® Medjool Dates. Have you had them before?!
If you haven't, here are some things to note about them. Medjool dates are a fresh fruit, not dried. They are the largest and sweetest of the date varieties. Medjool dates are low on the glycemic index, have 33g of carbs per serving (which is 2 Medjool dates) and 281mg potassium!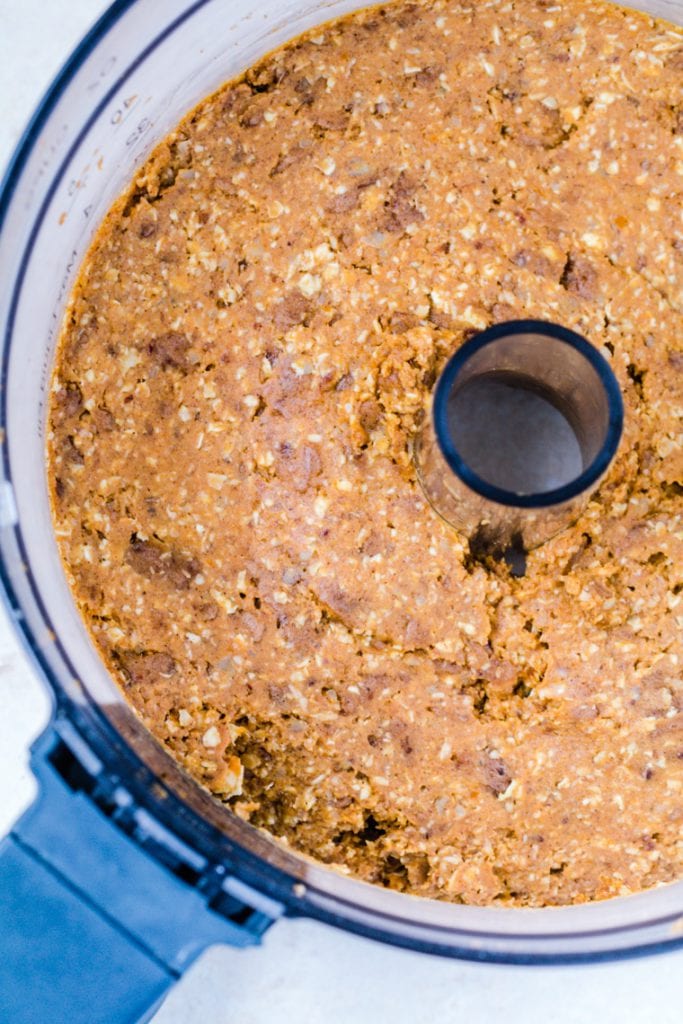 One of my other favorite no bake desserts are my Gluten-Free Date Brownies. Have you tried them out yet? I always use the pitted Medjool dates to make the process easier!
Cookies often involve a stand mixer, a bunch of dry ingredients, mixing bowls, and the list goes on! These cookies have minimal ingredients and are so simple to make!
What do you need to make these cookies?
Natural Delights® Pecan Pumpkin Pie Spiced Date Rolls
Quick Oats (gluten-free if needed)
Pumpkin puree (100% pumpkin, not the pumpkin pie filling!)
Sea Salt
Pumpkin Pie Spice (Cinnamon, Ginger, Nutmeg, Allspice, Cloves)
Pecan Halves
Chocolate Chips and coconut oil for drizzle on top (optional, but recommended!)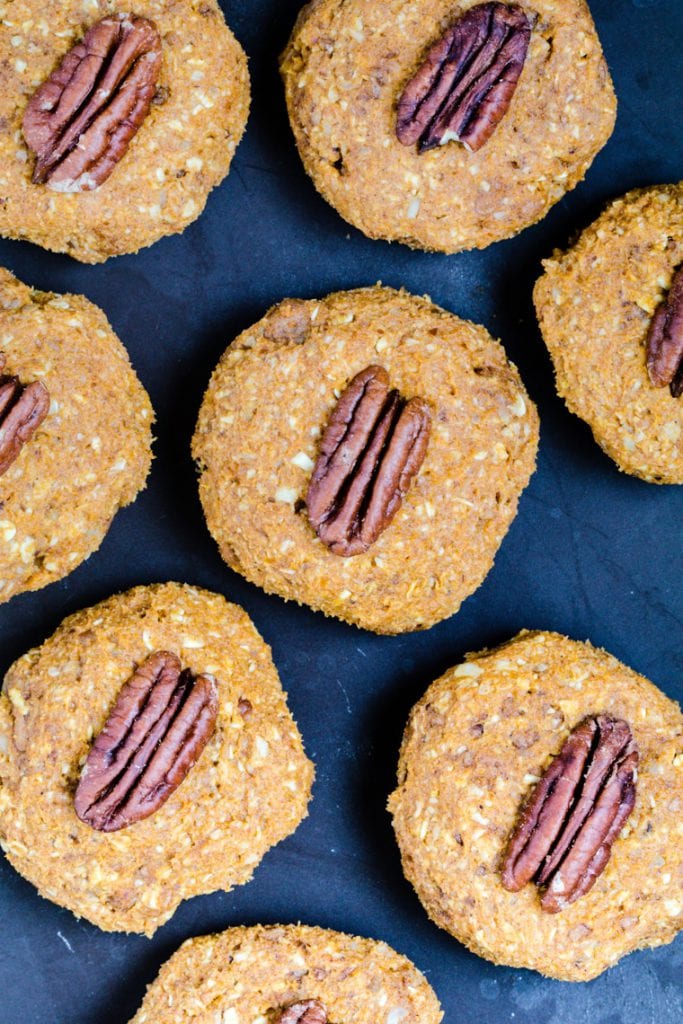 Can you freeze these cookies?
YES. I highly recommend keeping them frozen actually and popping one out of the freezer when ready to eat!
Are these gluten free?
YES. Be sure you are purchasing gluten-free oats!
What are the ingredients in the Natural Delights® Pecan Pumpkin Pie Spiced Date Rolls?
They have Medjool dates, pecans, and pumpkin pie spice (cinnamon, nutmeg, ginger, and Allspice). No sugar added!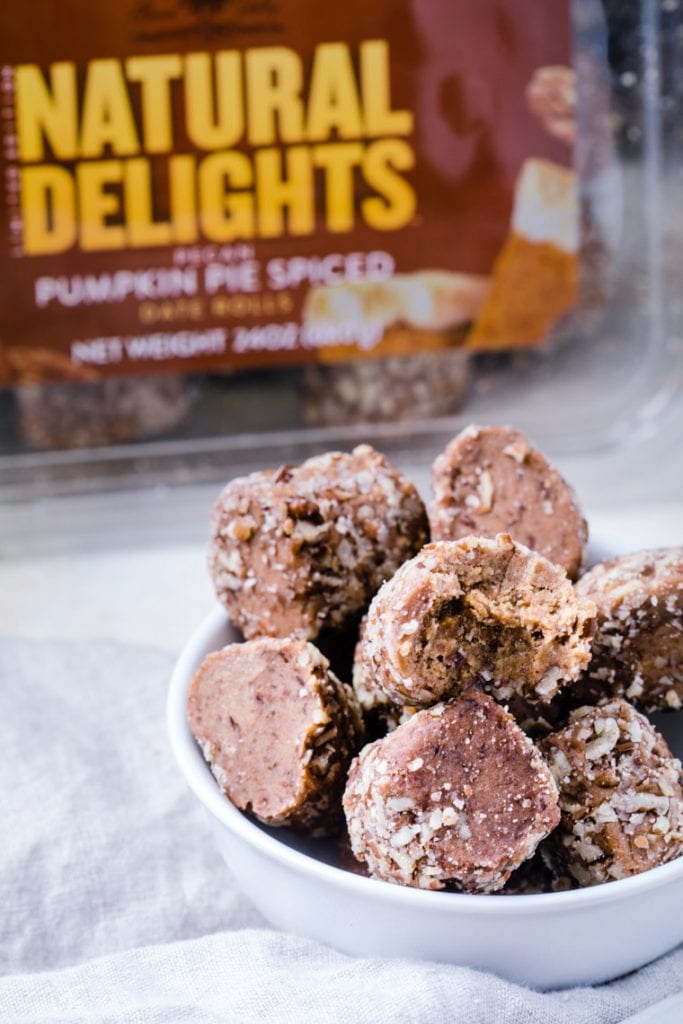 How long do these cookies take to make?
About 10 minutes to make in the food processor, and then 30-45 minutes in the freezer! Use a cookie or baking sheet lined with parchment paper to place cookies in the freezer. Once they are frozen you can place them on a wire rack to drizzle the chocolate mixture on top.
[Tweet " #AD Drop what you're doing and make these Medjool Date Pumpkin Pecan Cookies Make with Natural Delights® Pecan Pumpkin Pie Spiced Date Rolls! #ad #pumpkin #krollskorner "]
If you like this cookie recipe, you should try out my chocolate chip cookie recipe! I use muesli to bulk them up and add fiber. I am all about enjoying healthful sweet treats!
Or if you are not feeling like chocolate, these Peanut Butter Blueberry Cookies are like adult peanut butter and jelly cookies!
Back to the Medjool Date Pumpkin Pecan Cookies! They are:
Vegan
Easy to make
The perfect treat or mid-afternoon snack
Great freezer cookies
Have less than 10 ingredients
Perfect for Fall!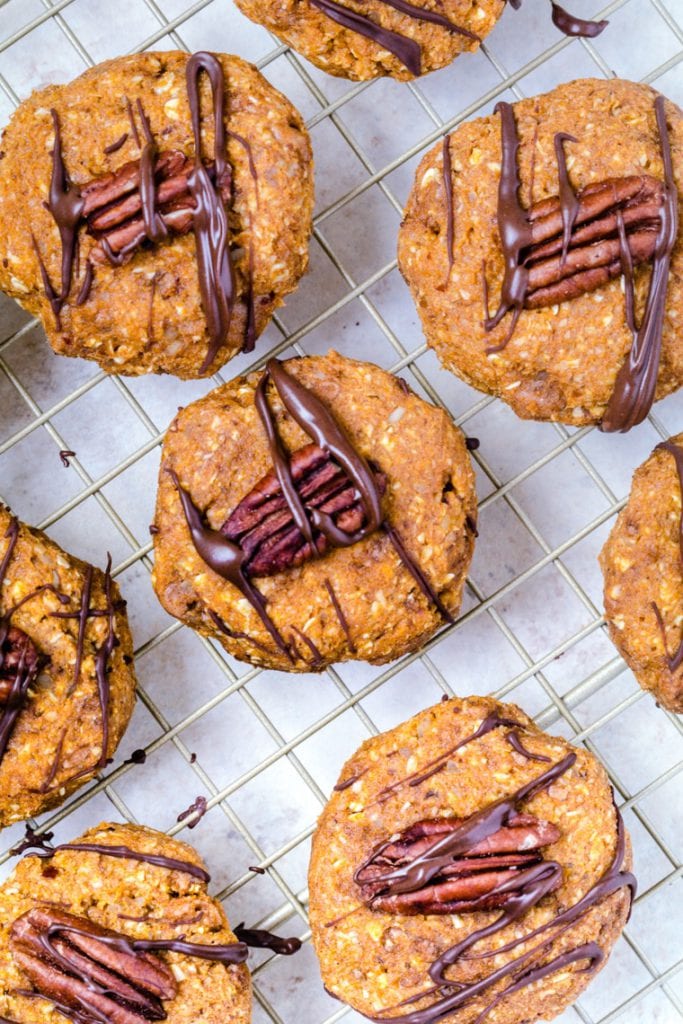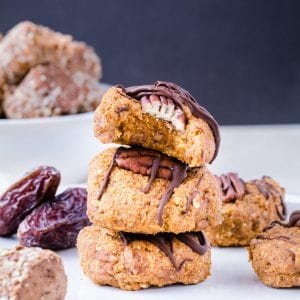 7 Ingredient Pumpkin Pecan Cookies
These no bake, minimal ingredient cookies are filled with pumpkin pie flavor and contain Natural Delights Pecan Pumpkin Spiced Date Rolls so they are healthy and delicious!
Ingredients
12

date rolls

chopped

1

cup

Quick Oats

Gluten-Free

3/4

cup

Pumpkin Puree (100% pumpkin)

1

tsp.

Vanilla Extract

1/2

tsp.

sea salt

8-10

pecan halves for topping
Optional drizzle:
1/2

cup

chocolate chips

1

tsp.

coconut oil
Instructions
In a food processor, mix all ingredients (besides chocolate chips and coconut oil) together until well blended. Be sure to chop them up a little so you are not left over with big chunks in your cookies!

Line a baking sheet with parchment paper. Roll your cookies into balls (about 3 Tbsp. per cookie) and then flatten out a little and place on the parchment paper. This recipes makes 8-10 cookies.

Place 1 pecan halve on each cookie. Freeze for 45 minutes. Then melt chocolate chips and coconut oil in microwave. Heat for 1 minute, stir, then heat for another minute. Drizzle and enjoy immediately!

Freeze cookies in an airtight container.
What is your favorite way to enjoy Natural Delights® Medjool dates?!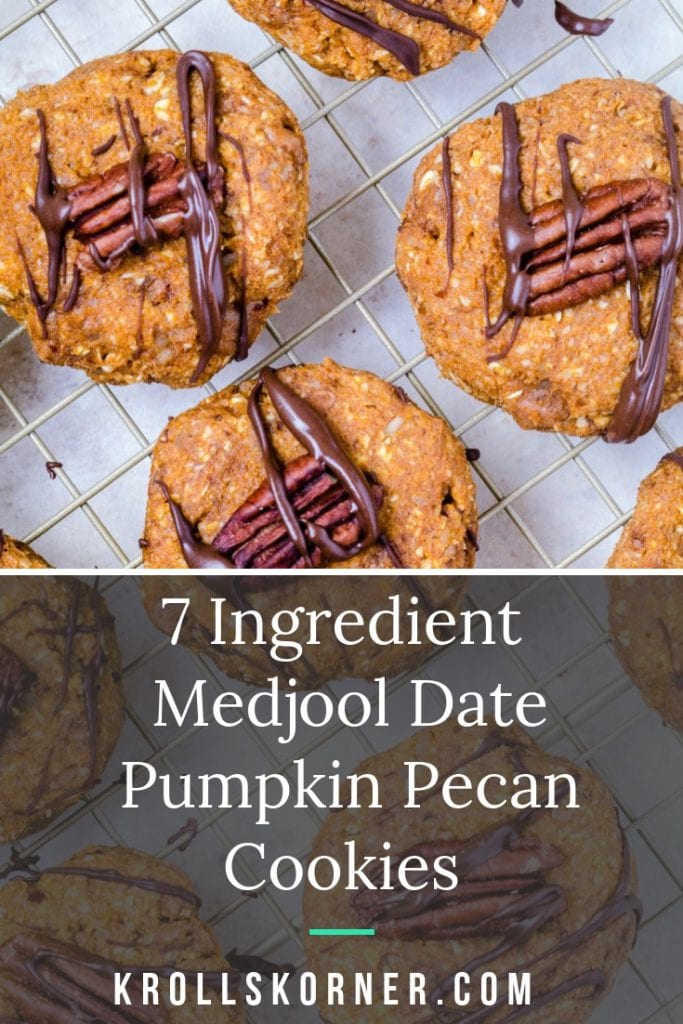 Hi, I'm 
Tawnie

!

Welcome to my tiny "korner" on the Internet! I am a Registered Dietitian Nutritionist who loves cookies as much as kale. (OK, maybe I like cookies a little bit more but shh, don't tell anyone). I am so glad you're here! Follow along for hassle free, realistic and approachable recipes.

More about Tawnie

I'd love to see what you made!!
Share it with me on Instagram or Facebook and tag me @krolls_korner or use the hashtag #KrollsKorner!