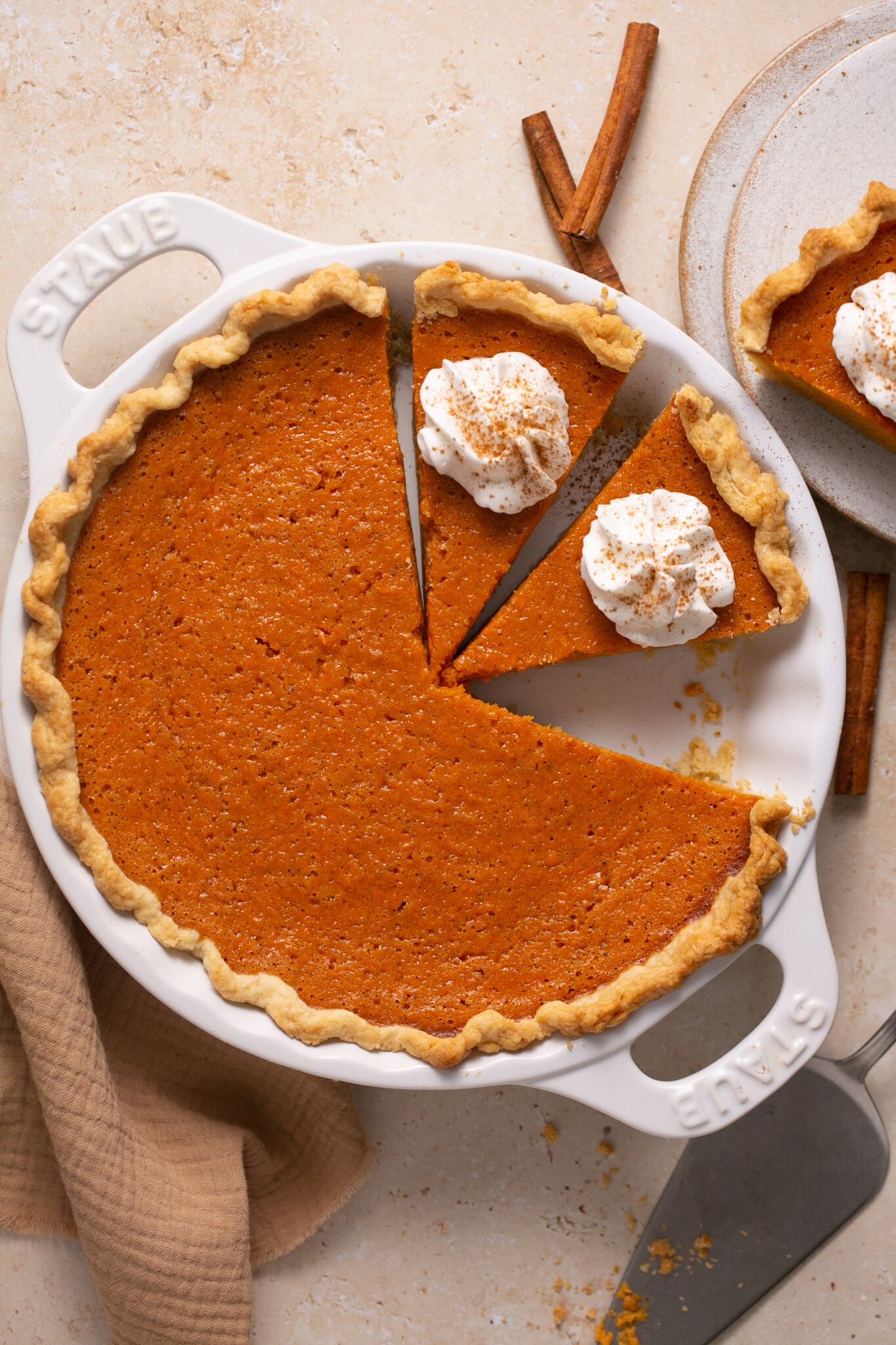 Sweet Potato Pie deserves a spot on your holiday table this year.
Classic desserts like Apple Pie or pumpkin treats like my Pumpkin Mousse often steal the show, but my Sweet Potato Pie will soon be a popular request from your family and friends!
It's made with simple ingredients, a buttery, flaky pie crust and lots of cozy Autumn spices. The filling is sweetened with sweet potatoes and sweetened condensed milk to create a creamy, dense and ultra flavorful filling.
You might just like this more than pumpkin pie!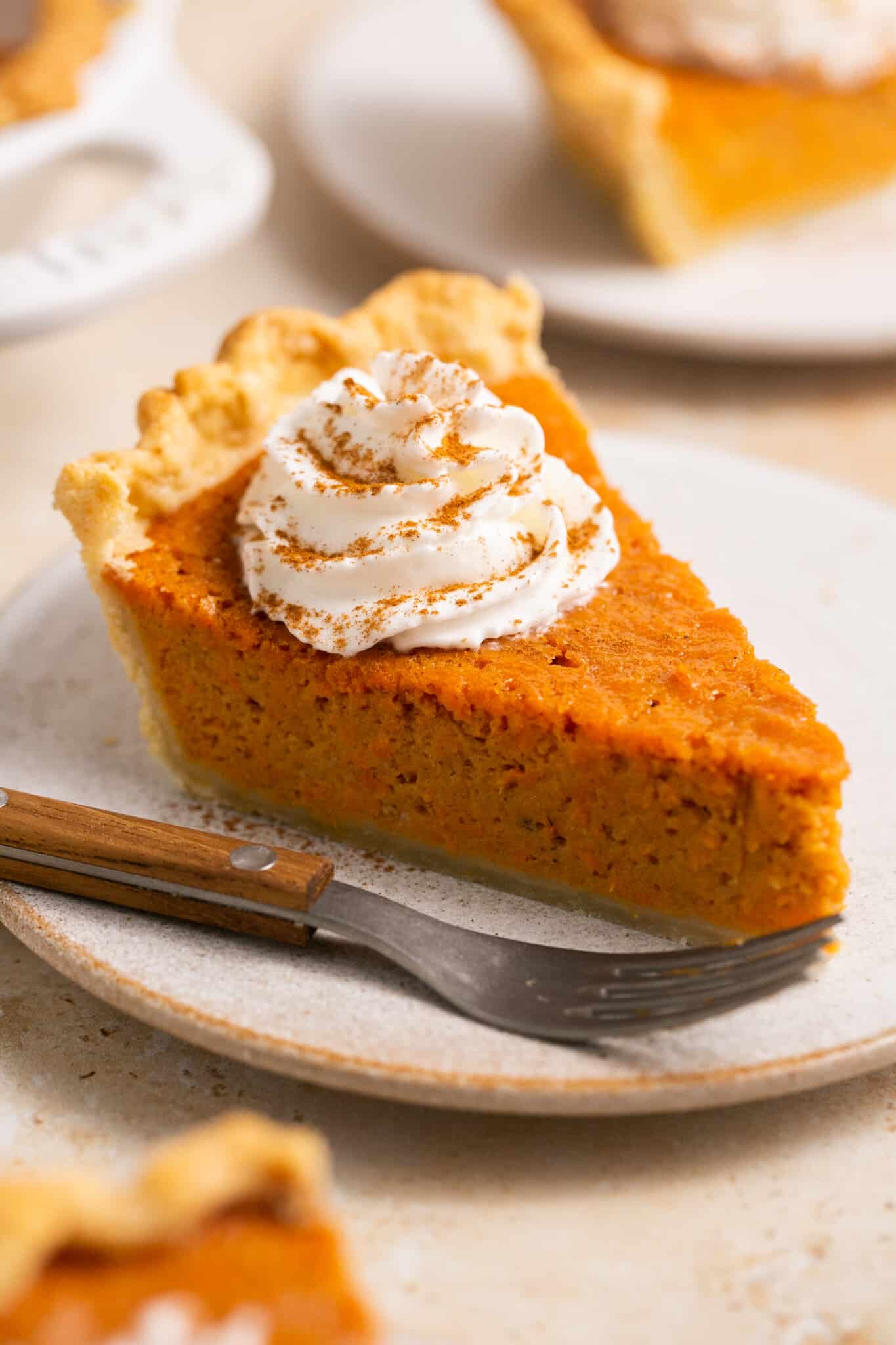 Why this recipe works
The sweet potatoes are roasted to create a sweet, caramel like flavor in the pie filling.
The filling is rich and silky smooth and made with your favorite cozy spices.
The crust is made easily in a food processor and is so buttery and flaky.
The butter is melted and infused with cinnamon and cloves for extra flavor.
Sweet potato pie ingredients
This sweet potato pie recipe has two components: the homemade pie crust and the homemade sweet potato pie filling. For the ingredient measurements and entire recipe, be sure to scroll down to the bottom of the blog post where the recipe card is located.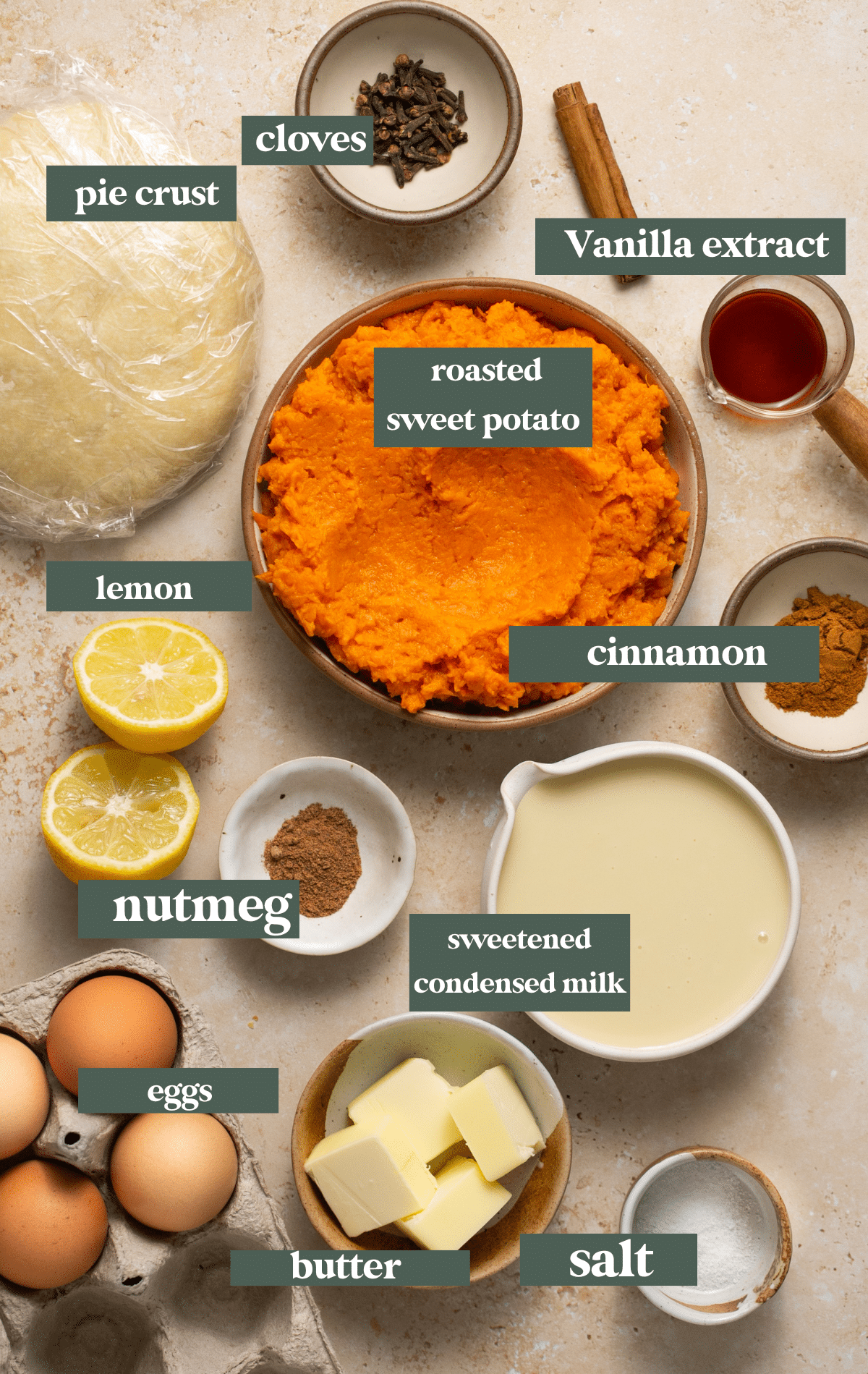 Flour: all purpose flour works well here. I have not tested this recipe with a gluten free flour.
Butter: I like using unsalted butter, and remember to keep the butter refrigerated until you are ready to use it. The colder the better in creating a flaky and crisp dough.
Sugar: a little granulated sugar is needed for the crust
Shortening: I use just a little bit of shortening in my homemade pie crust because I found doughs made with shortening hold their shape much better.
Water: As the butter is mixed into the flour to make the dough, it warms up slightly, so to stop the warming process, slowly pour in the ice cold water. This helps retain small bits of butter.
Sweet potato: be sure to use the sweet potatoes with the orange flesh. You'll need about 2 large sweet potatoes to yield 2 1/2 – 3 cups mashed, roasted sweet potato.
Sweetened condensed milk: used to help sweeten the filling.
Ground cinnamon and nutmeg: warm and cozy spices. Feel free to also use pumpkin pie spice as a substitute.
Eggs: the eggs help to bind everything together and give the pie a soft, velvety texture.
Lemon juice: the zing of lemon balances out the sweetness of the sweet potatoes.
How to make sweet potato pie
For the full recipe instructions, scroll down to the bottom of the blog post to the recipe card.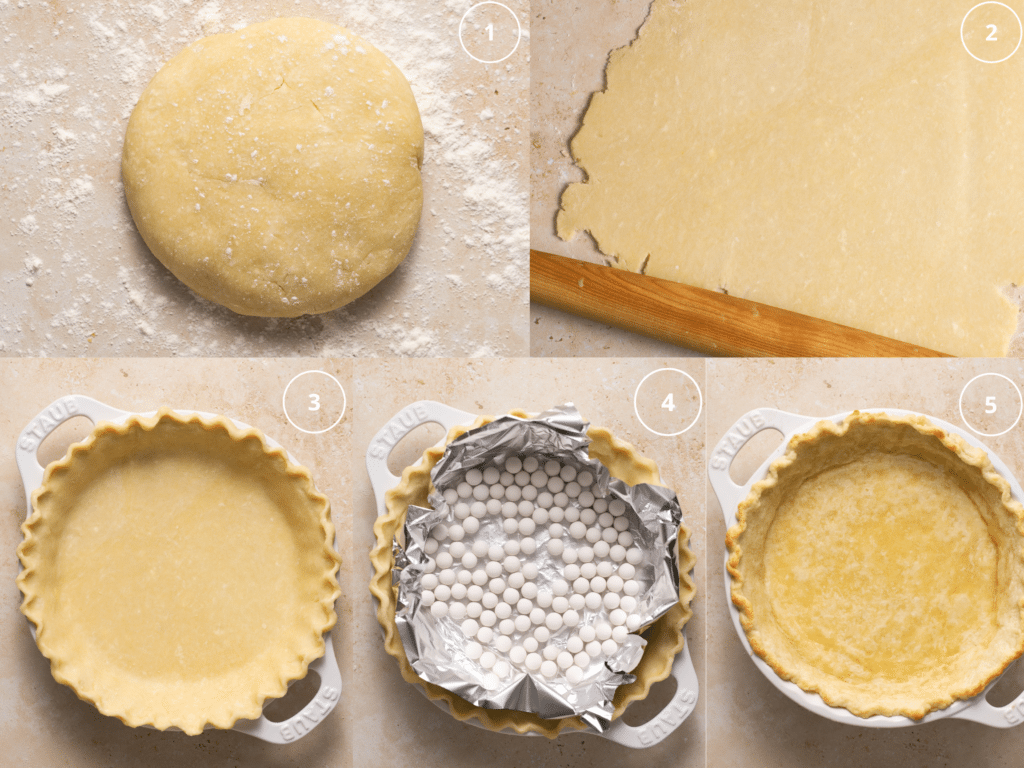 Make the pie dough in the food processor.
Once the dough is chilled, roll out into a 12 inch circle.
Transfer to 9 inch pie plate, crimp the edges.
Chill again and then partially blind bake for 10-15 minutes. Cool crust.
Roast the sweet potatoes and allow them to cool.
Combine with the remaining filling ingredients.
Pour onto cooled crust, bake, cool, and serve!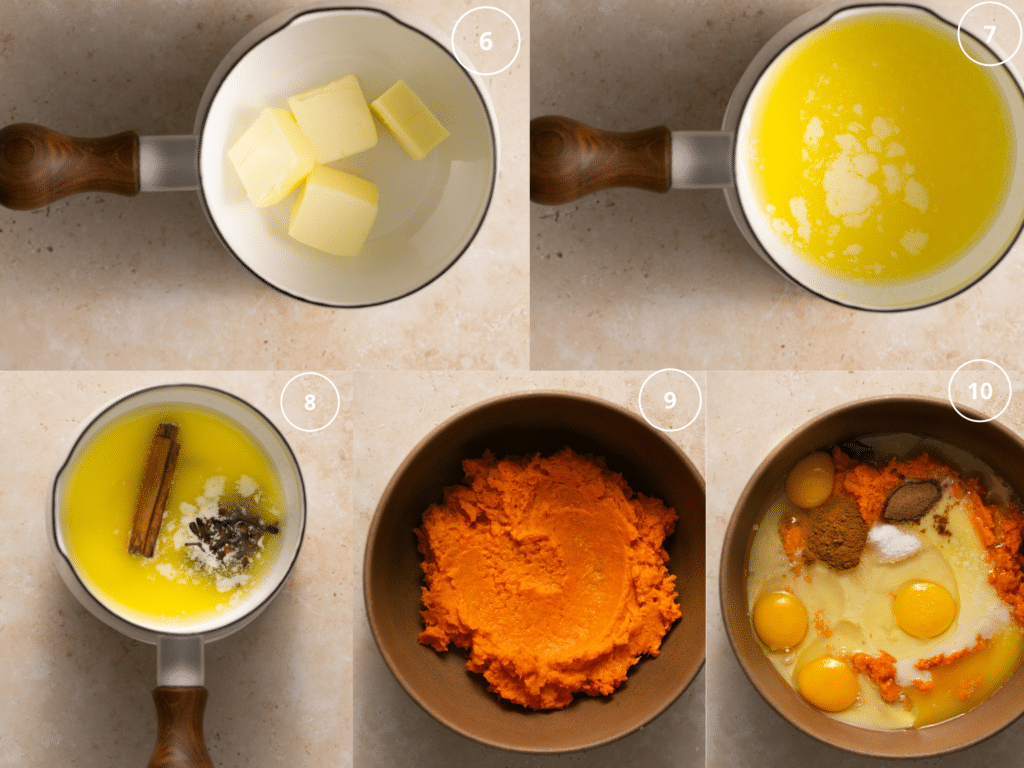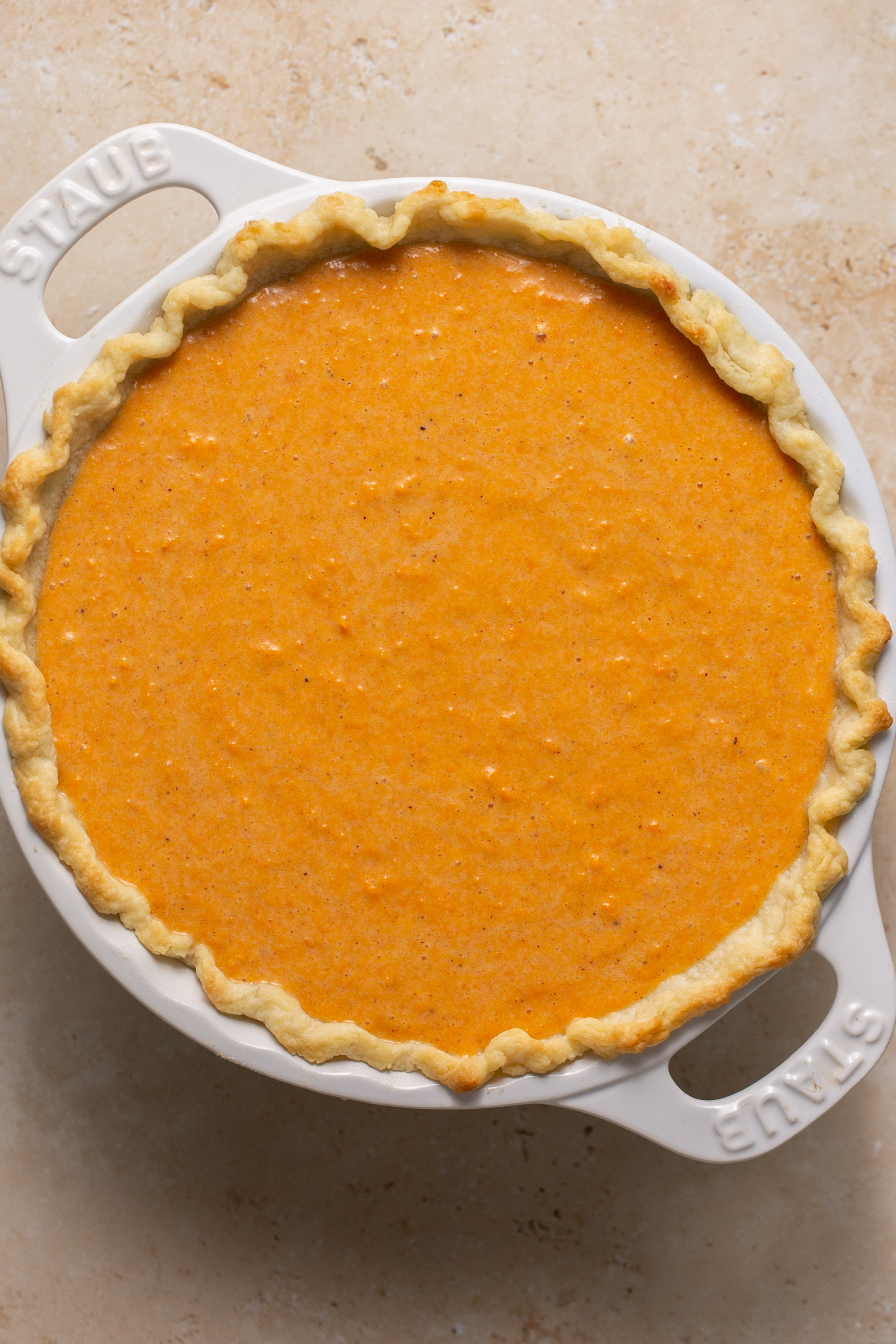 Expert Tips and Variations
Pre-made pie crust: for convenience and ease, you can use a store-bought pie shell but I recommend making the dough from scratch for best results.
Store-bought refrigerated or frozen pie crusts do not need to be pre-baked.
We want the natural sweet potato flavors to shine, so do not over do it on the seasonings. However, if you want to add a touch of cardamom or ginger, feel free!
You can use dark brown sugar in place of the sweetened condensed milk, if preferred. 3/4 cup is plenty.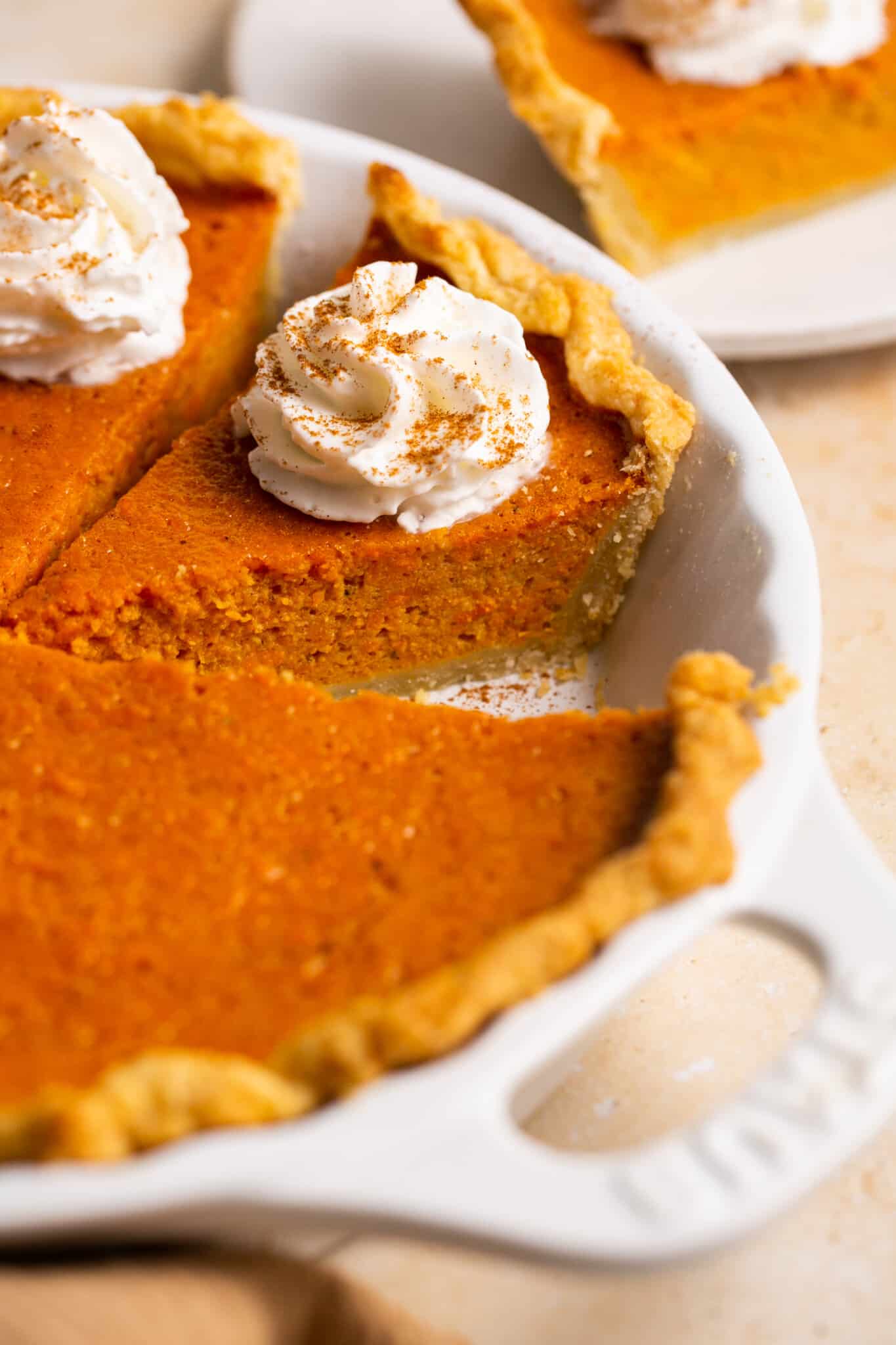 FAQ
Can sweet potato pie be made in advance?

Yes. Once baked, let cool completely and then store in the fridge covered with plastic wrap for up to 3 days.
Can sweet potato pie be frozen?

Yes. Once baked and cooled to room temperature, you can freeze the pie for up to 3 months. Wrap tightly with plastic wrap or foil before freezing. Thaw overnight in the refrigerator and allow to come to room temperature before serving.
What should I serve with sweet potato pie?

Top with whipped cream, marshmallow fluff, ice cream or caramel sauce.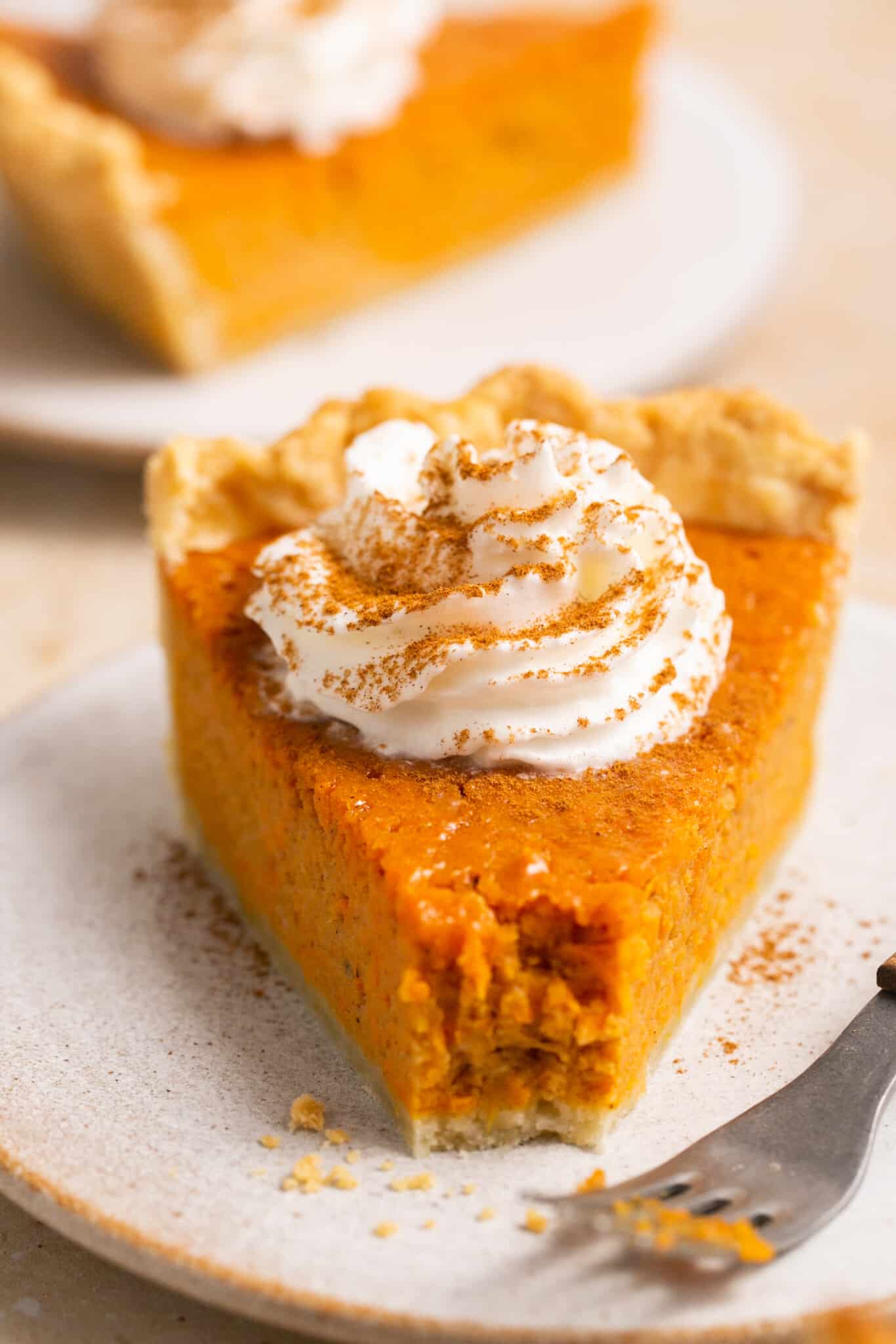 More Holiday Recipes You'll Love
Before You Begin! If you make this, please leave a review and rating letting us know how you liked this recipe! This helps our business thrive & continue providing free recipes.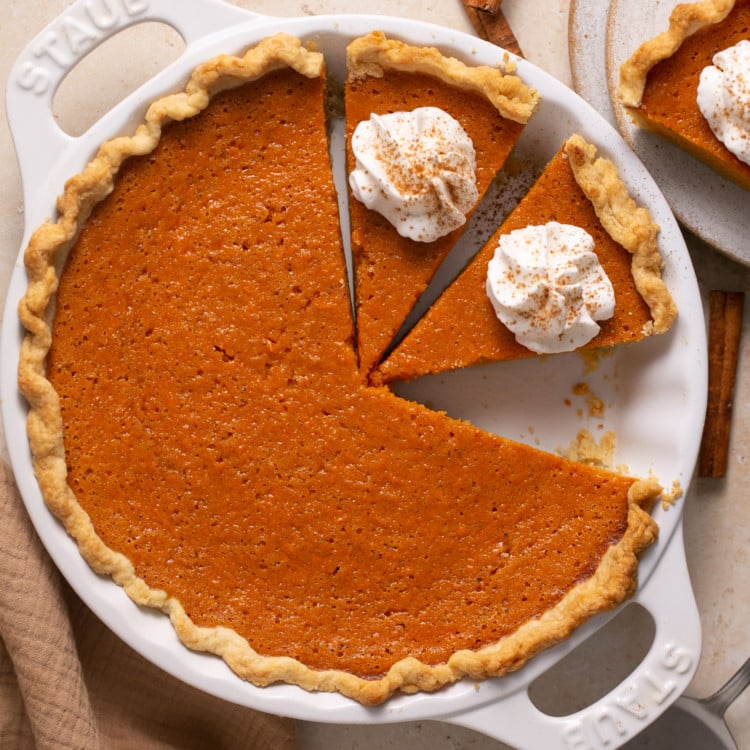 This easy sweet potato pie is made with a homemade pie crust and a silky sweet filling. Top with a dollop of whipped cream and enjoy!
Ingredients
For the pie crust:
1 1/4

Cup

All purpose flour

1

Tbsp.

Granulated sugar

1/2

tsp.

salt

6

Tbsp.

Unsalted butter, cold, cubed

1 1/2

Tbsp.

Shortening (Crisco)

2-4

Tbsp.

Ice cold water
For the sweet potato pie filling
4

Tbsp.

unsalted butter

1

stick

cinnamon

1

tsp.

whole cloves

2

large

sweet potatoes*, ~2 1/2-3 cups

(cooked, skin removed & mashed)

7

oz.

sweetened condensed milk (1/2 can)

1

tsp.

ground cinnamon

1/2

tsp.

ground nutmeg

1/2

tsp.

salt

4

large

eggs

2

tsp.

vanilla extract

2

tsp.

lemon juice
Last step! If you make this, please leave a review and rating letting us know how you liked this recipe! This helps our business thrive & continue providing free recipes.
Instructions
For the crust:
Pulse the flour with salt and sugar in a food processor. Add the cold butter cubes and pulse a few more times until no large butter chunks remain. Then add in the shortening and pulse again. Slowly begin to stream in the water about a tablespoon at a time. You need to add just enough to be able moisten the dough, it will look a little shaggy still. Turn out the dough onto a lightly floured surface.

Gently knead the dough until it comes together into a disk. You don't want to overwork the dough here, just work it enough until it comes together. Wrap in plastic wrap and and refrigerate for at least 1 hour or up to 3 days.

Once chilled, roll the dough on a lightly floured surface into a circle that is about 12 inches in diameter using a rolling pin. If the edges are craggly or breaking, feel free to gently re-knead the dough just a little more, then roll out into a smooth circle.

Transfer the dough to a 9 inch pie dish. Trim and seal the dough OR I like to also fold the over hang of dough underneath to create a thicker wall of dough at the edge. Tucking in the excess also helps to reinforce the walls of the pie. You can crimp the dough making a "v" with two fingers one hand on the outside of the pie crust and the index finger of the opposite hand to make an indent in the pie crust. Use scraps to repair dough if needed. Freeze the dough for 15-30 minutes to keep the dough nice and chilled, this will solidify the fat, which helps prevent shrinkage.

Preheat the oven to 425°F. Place a piece of foil on the bottom crust and top with the pie weights. (Use dried beans, sugar or rice if you don't have pie weights). Bake the pie crust for 10-15 minutes just until edges are set and lightly brown. This is just to partially blind bake the crust. Cool the crust to room temperature.
For the roasted sweet potato pie filling:
Preheat the oven to 425°F. Line a baking sheet with foil. Prick the sweet potatoes all over with a fork and place on the baking sheet. Bake for 45 minutes-1 hour or until very soft and tender. Remove from the oven and let cool for at least 30 minutes. Peel, discard the skins, and mash the sweet potatoes in a mixing bowl or blitz until smooth in a food processor. (Should yield about 2½-3 cups.) Reduce the oven temperature to 350°F.

Melt the butter in a sauce pan and add in the cinnamon stick and cloves. Let this cook over low heat for 5 minutes, then remove from heat and discard cloves and cinnamon stick.

In a stand mixer fitted with the whisk attachment, mix the melted butter with remaining filling ingredients until smooth, light, and fluffy.

Pour this mixture into cooled pie crust and bake for 45 minutes or until the filling is set and barely jiggles in the center. Let cool for another 45 minutes before serving. Top with whipped cream and enjoy!
Notes
Be sure the sweet potato is no longer hot when mixing. Let sweet potato cool after roasting.
This recipe has been updated and was originally made with a graham cracker crust. For the graham cracker crust, mix 1 1/2 cup graham cracker crumbs, 1/3 cup sugar, and 6 Tbsp melted butter together. Press down into a 9 inch pie pan and bake for 10 minutes at 350° F. Let cool before filling with the sweet potato filling.
Recipe inspired by Southern Living.