Vermont Cheddar Mac and Cheese with Fall Protein Salad
Dinner | Published Nov 9, 2017 | Updated Aug 20, 2019 | By Tawnie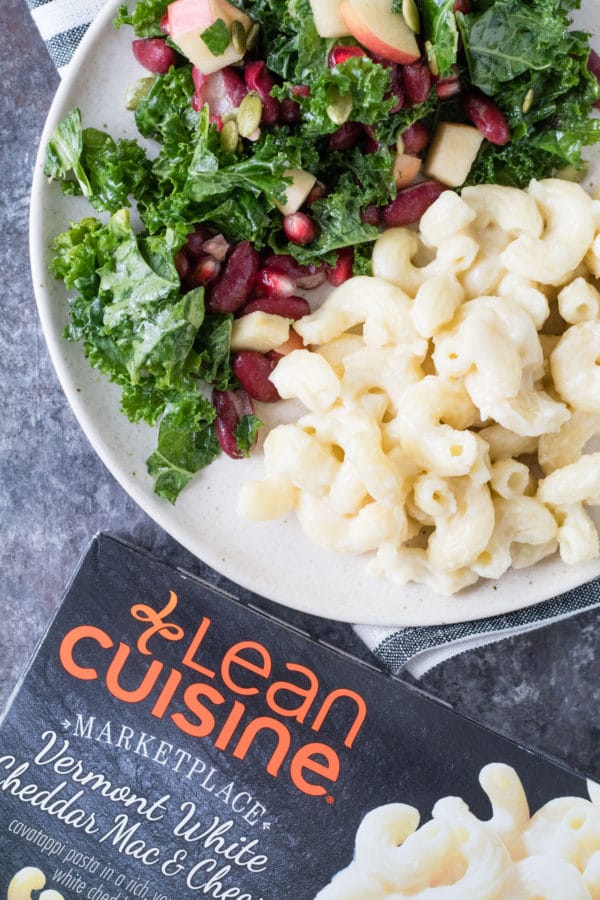 Let's be honest, we all enjoy having the work of cooking done for us now and then. Instead of going out to eat, try this easy, balanced and nutritious meal: Lean Cuisine's Vermont White Cheddar Mac and Cheese and a Fall Protein Salad!
Disclosure: I created this blog content in partnership with Nestlé's Balance Your Plate Program. I was compensated for my work, and all opinions are solely my own. For additional resources from Balance Your Plate, click here.
Back in August of this year, I had the opportunity to tour Nestlé in Ohio and learn about their Balance Your Plate (BYP) Program. (How cool is that?!) In short, BYP is an educational program that helps Americans build nutritious and delicious meals that fit into an overall healthy eating pattern. I fell in love with their philosophy because it aligns with my nutrition philosophy too: a healthy lifestyle is providing your body with nutritious food choices daily to keep the body functioning optimally.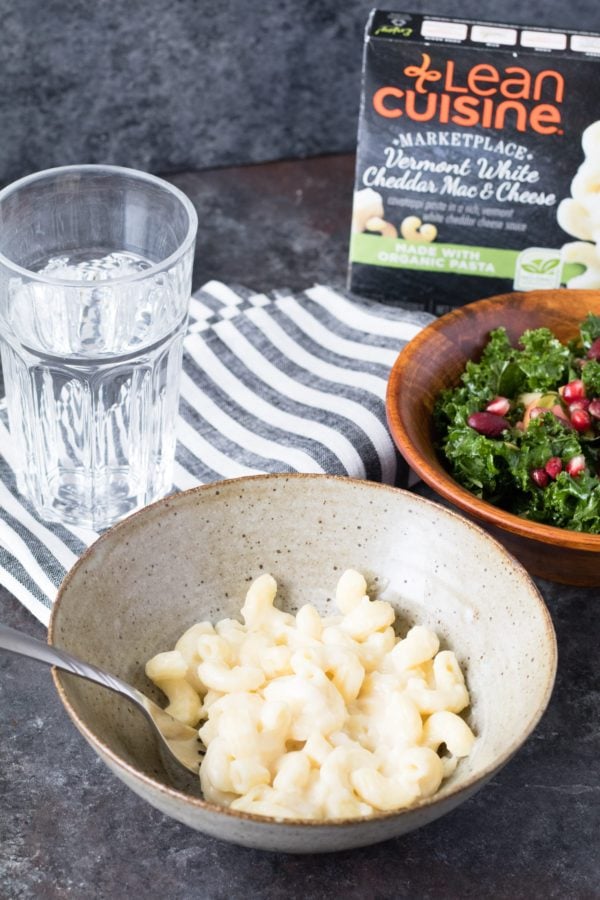 The Balance Your Plate equation is simple and can help you slash time in the kitchen!
Just follow this formula: frozen or chilled entrée + fruit/veggie/protein = a balanced plate.
Today I am showing you how to balance your plate with Lean Cuisine Vermont White Cheddar Mac and Cheese, simply paired with a Fall Protein Salad and water. If that doesn't equal a balanced plate, I don't know what does!
One serving of the Lean Cuisine Vermont White Cheddar Mac and Cheese has 250 calories and 14g of protein. The salad includes plant-based protein from the kidney beans and pepitas, and the kale is a great source of vitamin K and fiber. The dressing is tasty too! I added a touch of cinnamon in the dressing and to compliment the fresh fall flavors.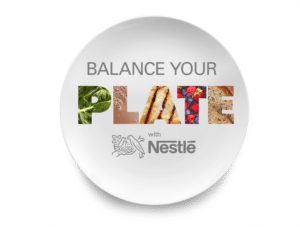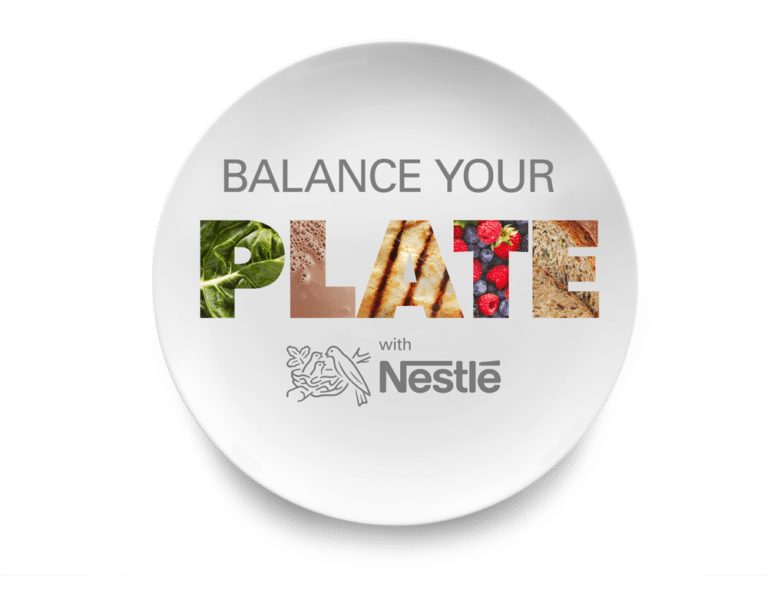 [Tweet "#Sponsored – Try this easy and nutritious way to Balance Your Plate with Lean Cuisine's Vermont Cheddar Mac and Cheese and a Fall Protein Salad! |#BalanceYourPlate"]
Lean Cuisine offers more than classic recipes and comfort food like this tasty mac and cheese. They now have a variety of globally-inspired flavors and modern dishes to cater to your preferences. I know I get in a rut making the same recipes over and over again. Having the same meals on repeat not only gets boring, but it also is not what my body needs. It craves different nutrients and vitamins, which is why I think it's so cool that Lean Cuisine has such a wide variety of options available.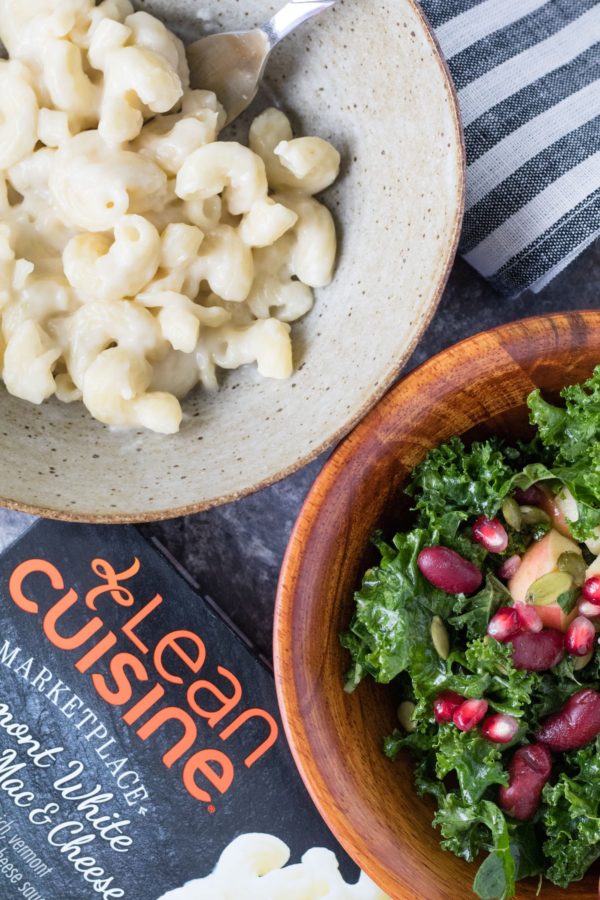 Being mindful of portion sizes can also be hard, especially in today's world. Lean Cuisine takes that worry away as a pre-portioned entree, and if you add fruits, veggies (and protein or whole grains, if needed), it's easily made into a complete, balanced meal. Since I am a very active individual, I knew eating this serving of mac and cheese for 250 calories would not satisfy my hunger. I wanted to ensure I was getting in additional fiber, vitamin A, vitamin C and protein. By having the salad with the mac and cheese, those needs were met!
Now it's your turn! How will you Balance Your Plate?! Visit the Balance Your Plate Pinterest board for more meal inspiration.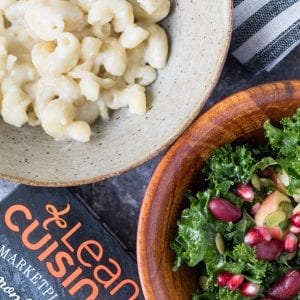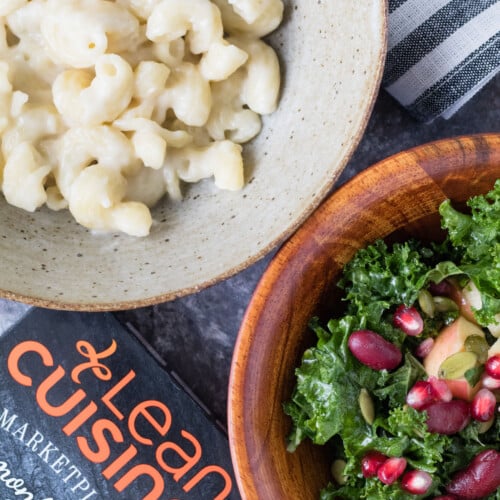 Vermont Cheddar Mac and Cheese with Fall Protein Salad
Try this easy and nutritious way to Balance Your Plate with Lean Cuisine's Vermont Cheddar Mac and Cheese and a Fall Protein Salad! #BalanceYourPlate
Ingredients
1

Lean Cuisine Vermont White Cheddar Mac & Cheese

2

cups

Kale, washed and chopped

1/2

cup

fuji apple, washed and cubed

1

Tbsp.

Pepitas

1/4

cup

Kidney Beans

2

Tbsp.

Pomegranate arils

2

Tbsp.

Red wine vinegar

2

Tbsp.

Honey

1

tsp.

Dijon mustard

1

clove

garlic, minced

1/4

tsp.

Cinnamon, ground

1/3

cup

Extra Virgin Olive Oil

Pinch of salt and pepper
Instructions
Cook Lean Cuisine Mac and Cheese according to package directions.

While it's cooking, make the salad. In a large bowl, toss the kale with apple, pepitas, beans and pomegranate arils. In a small bowl, whisk ingredients for dressing all together. (It will make 1/2 cup dressing so you will have leftovers for more salad later on!). Pour amount of dressing desired on the salad, and enjoy your balanced plate with the Lean Cuisine Mac and Cheese!
Notes
Note: dressing will make 1/2 cup. This is more than 1 serving so you can save the rest for salad throughout the week!


Hi, I'm 
Tawnie

!

Welcome to my tiny "korner" on the Internet! I am a Registered Dietitian Nutritionist who loves cookies as much as kale. (OK, maybe I like cookies a little bit more but shh, don't tell anyone). I am so glad you're here! Follow along for hassle free, realistic and approachable recipes.

More about Tawnie

I'd love to see what you made!!
Share it with me on Instagram or Facebook and tag me @krolls_korner or use the hashtag #KrollsKorner!