The Best Homemade Chicken Pot Pie
Dinner | Published on Jan 23, 2018 | Last modified on Aug 20, 2019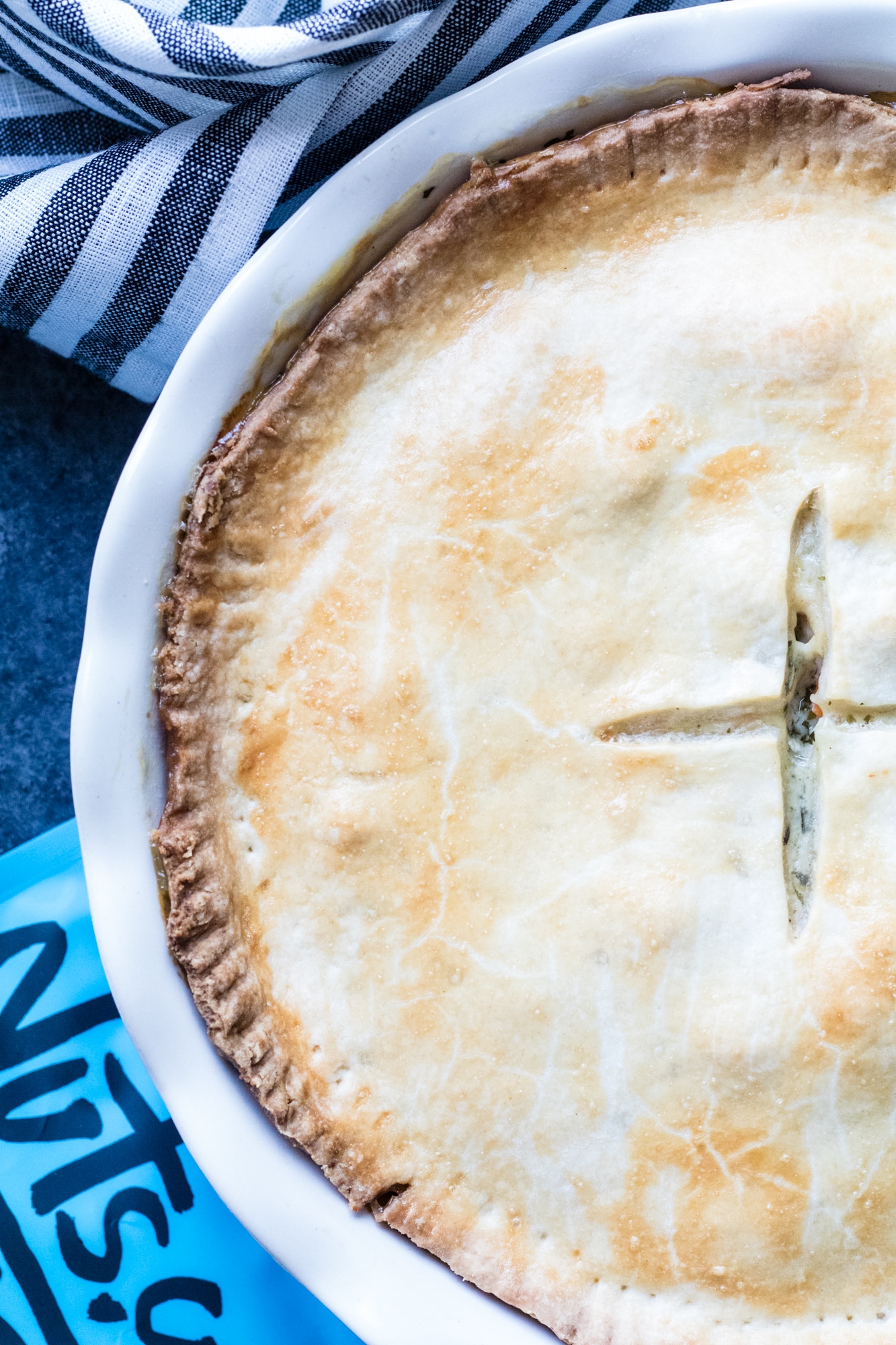 It's National Pie Day so I've partnered up with Nuts.com to share this amazing Homemade Chicken Pot Pie with you today!
Disclosure: I created this blog content in partnership with Nuts.com. I was compensated for my work, and all opinions are solely my own. Thank you for supporting the brands that keep Kroll's Korner up and running!
While it's easy to run to the store and grab a pot pie from the frozen food isle, there is something so satisfying about making pot pie from scratch. Not to mention the amazing smell filtering through your home as you prepare it! This dish was certainly made easy from some of the grocery shopping I did prior on Nuts.com. I was running low on kitchen staples such as salt, flour, and white sugar so I went over to their website and purchased some. Check it out yourself because they really do have more than just NUTS! Nuts, I know 😉 They stock items such as coffee & tea to snacks like trail mix or veggie chips! One of the many things I love about this company is their mission statement:
"Establish Nuts.com as the premier purveyor of the finest nuts and dried fruit in the world while maintaining our uncompromising principles as we grow. The following six guiding principles will help us measure the appropriateness of our decisions:
Provide a great work environment and treat each other with respect and dignity.
Embrace diversity as an essential component in the way we do business.
Apply the highest standards of excellence to the purchasing, roasting, and fresh delivery of our nuts.
Develop enthusiastically satisfied customers all of the time.
Contribute positively to our communities and our environment.
Recognize that profitability is essential to our future success."
We are nothing without goals, missions, and core values! It's great to see a company openly sharing what they believe in.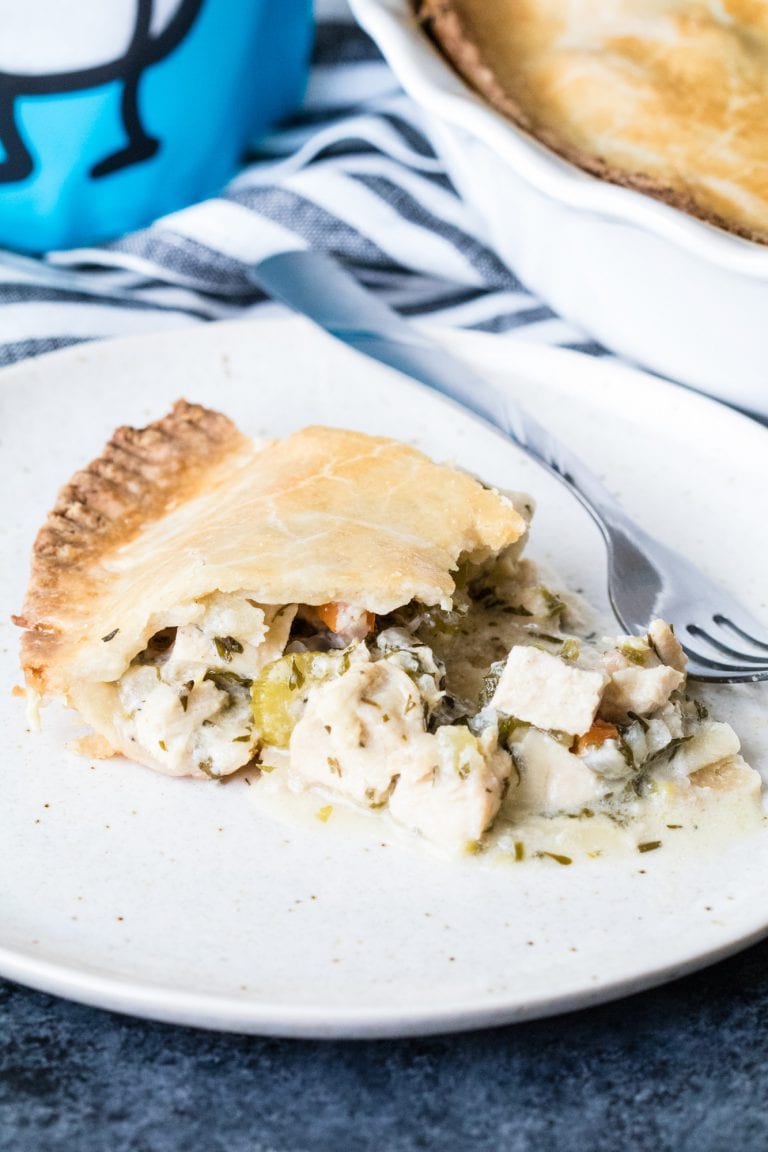 National Pie Day was indeed created by he American Pie Council. When you think of pie, I am sure apple or pumpkin come to mind first. Am I right? Well I wanted to be a little different on this national holiday and celebrate with this healthy yet comforting homemade chicken pot pie recipe.
While it can be fairly time consuming, I hope this video help show you just how simple it is to make homemade pot pie from scratch! Really…the most time consuming part is chopping veggies and letting the dough sit in the fridge!
[Tweet "#Sponsored| The Best Homemade Chicken Pot Pie to celebrate National Pie Day! Nuts.com | krollskorner.com"]
The crust to this pie is made using ingredients from Nuts.com and it is flaky, not too thin, not too thick, and has the perfect ratio of crust to pot pie filling. It enjoy a good crust and this crust recipe is indeed a keeper.
I hope you check out Nuts.com and enjoy National Pie Day with this Chicken Pot Pie recipe! Be sure to tag @krolls_korner on Instagram when you make a recipe!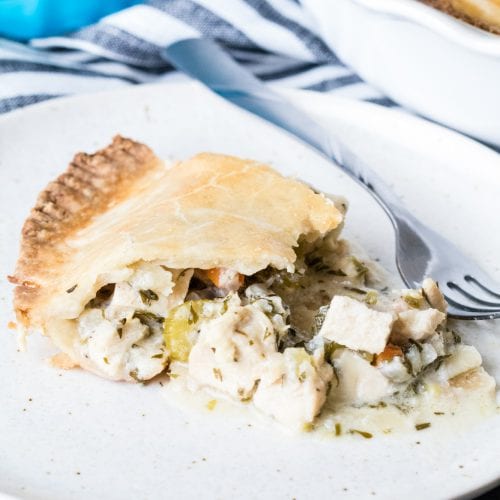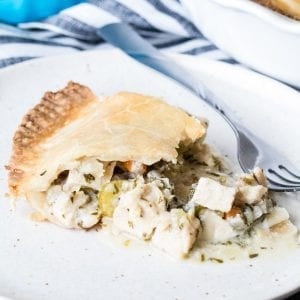 The Best Homemade Chicken Pot Pie
The Best Homemade Chicken Pot Pie to celebrate National Pie Day! Thank you

Nuts.com

for sponsoring this post!

Print Recipe
Pin Recipe
Rate
Prep Time:
1
hour
20
minutes
Cook Time:
2
hours
20
minutes
Total Time:
3
hours
40
minutes
Ingredients
For the crust:
2.5

cups

All-Purpose Flour

from Nuts.com

2

Tbsp.

sugar, granulated

from Nuts.com

1

tsp.

salt

from Nuts.com

1

stick (8Tbsp)

butter, unsalted, cubed

cubed

1/2

cup

buttermilk, cold
For the chicken pot pie filling:
2

pounds

chicken, cooked (I used breast)

directions below on how to cook!

1/4

cup

canola oil

6

cups

chicken stock, low-sodium

1/2

stick

butter, unsalted

1

onion

white, finely diced

2

carrots, large, diced

1

jalapeno, diced

2

stalks

celery, chopped

3

cloves

garlic, chopped

1/4

cup

All-Purpose Flour

from Nuts.com

1 1/4

cup

whole milk

1/4

cup

parsley, dried

2

Tbsp.

fresh chives, chopped

2

tsp.

thyme, dried

1

Tbsp.

Apple cider vinegar (ACV)

1

egg

beaten with 1 Tbsp. water
Instructions
Preheat the oven to 375 degrees F. Make the crust in a food processor: combine flour, sugar and salt. Add in butter and pulse a few times. Slowly pour in the buttermilk so the dough begins to form. Flour a cutting board and start to knead the dough then begin to form the dough into a ball/disk. Cut this in half, wrap with plastic wrap and cool in fridge for 30 minutes.

While the dough is in the fridge, cook your chicken breast. Seasoning generously with salt and pepper. Make sure there is also a little oil in the pan so your chicken doesn't stick. Cook the chicken for ~5 minutes and then add in the chicken stock and bring this to a boil. Simmer until the chicken is fully cooked and reaches an internal temperature of 165 degrees F for 15 seconds. Using tongs, moved fully cooked chicken to a plate and then reduce the chicken stock down to ~1 cup.

Once the dough is nice and cool, roll out dough using rolling pin on a floured surface. It should be ~1/4 inch thick and wide enough to fit into your desired pie pan (standard 9-inch pie pan works great!). Ease the dough around, cleaning up the edges. Bake crust for 7 minutes.

Meanwhile, melt the butter. Add in 2 tbsp. canola oil, carrots, jalapeños, onions, celery and garlic. Cook over medium heat until veggies become tender. Then add in the cooked & chopped chicken, flour and stir this together until nicely coated. Slowly add in milk and the reduced chicken stock and bring to a boil. Simmer until this mixture thickens up! Then add in chives, parsley, thyme, apple cider vinegar, salt and pepper. Set aside and let cool.

Roll out the top piece of dough. Once the filling has cooled, place in bottom of pie pan and then seal the pie with the top rolled out dough (top crust). Brush with egg wash, being sure to get the edges so they don't burn. Use your form to decorate the edges. Cut 2 slits, or an X at the top to let steam release while pit pie bakes. Bake for 40 minutes, let sit for 20, then enjoy!

I'd love to see what you made!!
Share it with me on Instagram or Facebook and tag me @krolls_korner or use the hashtag #KrollsKorner!