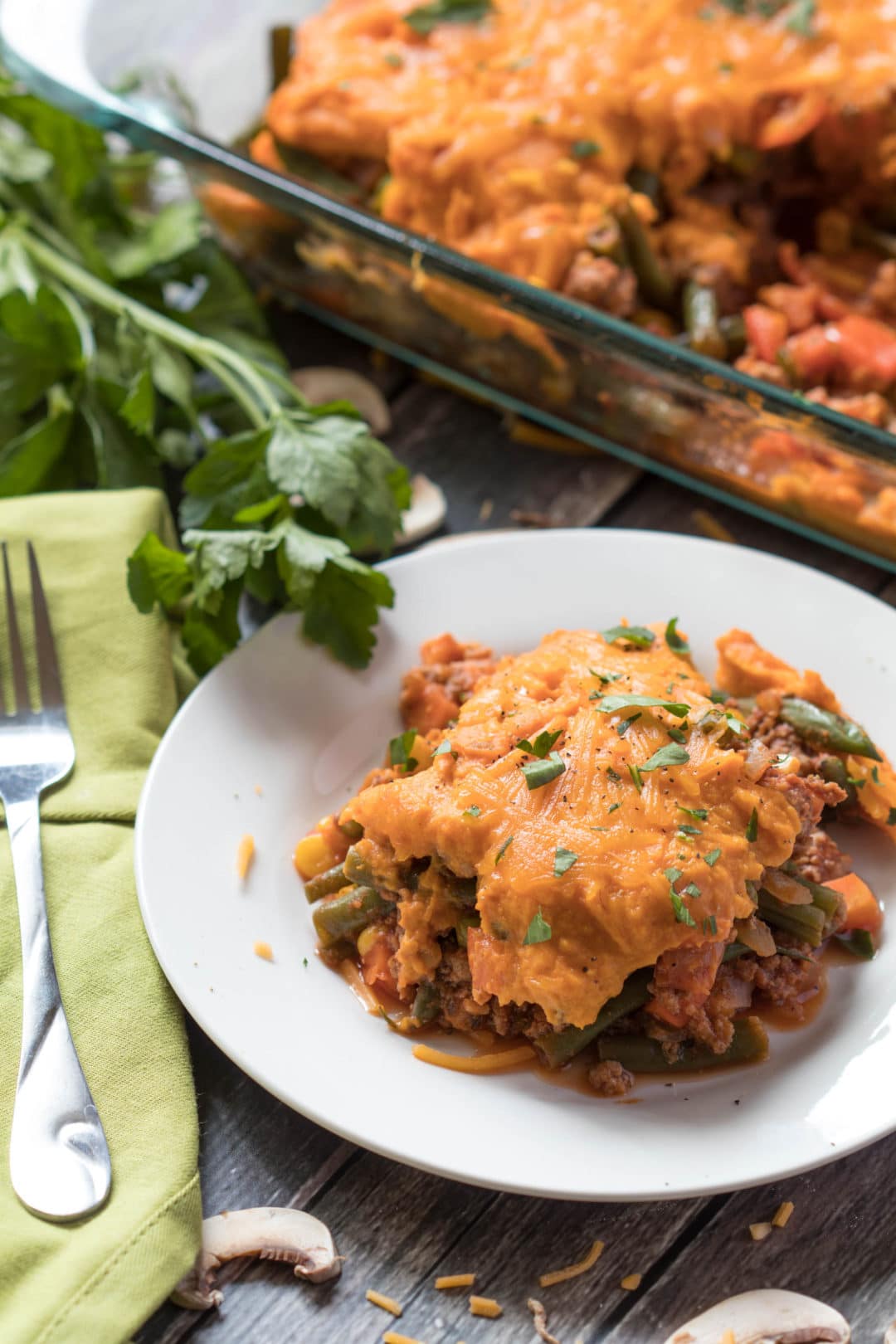 This healthy shepherd's pie is layered with ground turkey and veggies topped with whipped sweet potatoes and a savory mushroom gravy.
The other day my friend posted a Snapchat of something that looked delicious and I HAD to ask her what it was of course. She told me its a healthier version of Shepherd's pie made with sweet potato instead of regular potatoes and a few other changes. I decided to look up a few versions to get some ideas and came up with a recipe of my own.
So who knows why it's called "Shepherds Pie?!" Besides it being comfort food I did not know either, so don't feel bad! Have you heard of the term "cottage pie?" Here is some information gathered from the internet: Cottage pie was first used at the end of the 18th century. It was around that time that the poorer people of Great Britain (people who lived in cottages in the country), started using potatoes as a everyday food. Shepherd's pie should only be named as such if it contains lamb, and cottage pie usually applies to one made with beef. So technically my recipe is neither of these since it is made with ground turkey, but there are several different variations. If you are a vegetarian you can swop the turkey or other meat with lentils!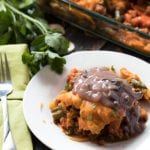 Sweet Potato 'Shepherd's Pie' w/ Mushroom Onion Gravy
This healthy shepherd's pie is layered with ground turkey and veggies topped with whipped sweet potatoes and a savory mushroom gravy.
Print
Ingredients
1

and 1/2 large yams

washed, peeled and cut into cubes

1

and 1/2 cups frozen pea/carrot mix

1

cup

frozen corn

1

cup

diced red bell peppers

1

pound

ground turkey

1/2

large white onion

chopped

1

tsp.

oregano

1/2

tsp.

salt and pepper

1

tsp.

garlic powder

1/2

pound

fresh green beans

cut into 1-inch pieces

1

cup

shredded cheddar cheese

2

Tbsp.

tomato paste

1/4

cup

ketchup

1

tsp.

Worchestire sauce

3

Tbsp.

unsalted butter

1/4

cup

2% milk

For the mushroom gravy

optional

1/2

large white onion

chopped

1

cup

mushrooms

sliced thinly

3

Tbsp.

EVOO

3

Tbsp.

flour

1

cup

red wine

2

cups

beef broth

salt and pepper to taste
Instructions
Preheat oven to 350 degrees F. In a medium pot bring water to boil. Cook the bell peppers and fresh green beans in the boiling water for 5 minutes then remove from water with a slotted spoon, set aside in small bowl.

Keep the same boiling water and add in the cubed yams. Cook the yams for 12-15 minutes or until tender, then strain & set aside to cool.

While the yams are boiling add the olive oil in a large pan and saute the chopped onion for 5 minutes. Add in the ground turkey, garlic powder, and oregano. Cook until no longer pink.

Once fully cooked add the tomato paste, ketchup, Worchestire sauce, bell pepper and green bean mixture, carrots and peas, and the corn. Stir until all ingredients are incorporated evenly.

With a food processor, mix the sweet potatoes with the butter and milk until fluffy. Spray a casserole dish with PAM, and spread the ground turkey vegetable mixture on the bottom. Then carefully scoop and spread the sweet potatoes across the top of the ground turkey. Top with cheese and cook for 10-15 minutes.

While in the oven, you can make the gravy (optional). In a medium sauce pan, saute the olive oil, onion, and mushrooms for about 10 minutes. Add in the flour and stir. Then, slowly whisk in the beef broth and red wine. Simmer until mixture thickens. Season with salt and pepper.

Once removed from the oven, let it sit for about 10 minutes, top with gravy and enjoy!
Recipe Notes
The Gravy is totally optional! Gravy recipe was adapted from the Food Network
I hope you enjoy this recipe. The ingredient list & directions may look long and intimidating but it's really easy, I am sure you'll have no problem making it! 🙂