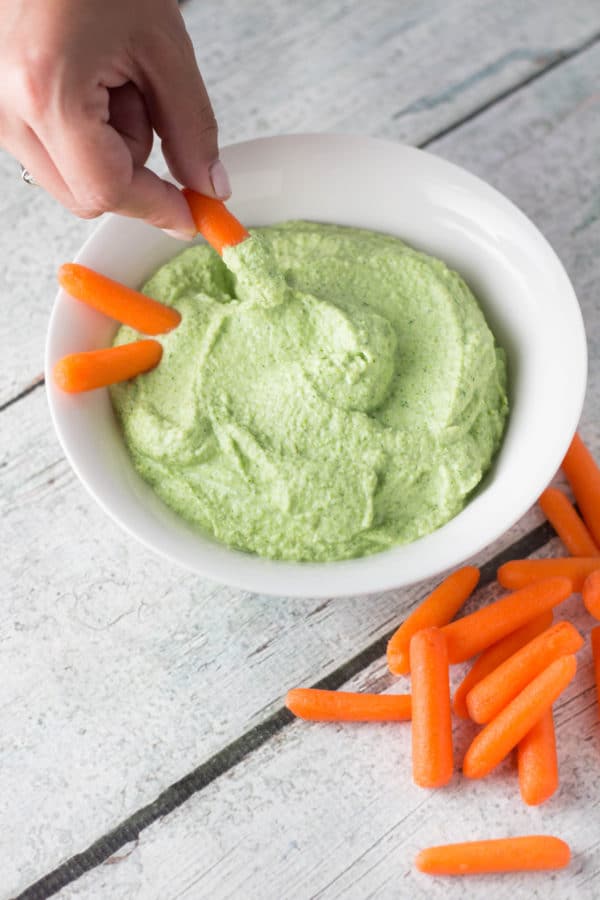 Broccoli Pesto Dip for the win! Try out this dip as an alternative to a high-fat, high-sodium store bought dip for your next gathering!
I have been MIA for a few weeks due to a traditional family vacation and then an unfortunate family death in NY. Crazy how life is sometimes, huh? We ended our vacation and headed straight to the airport to fly out to be with the family. On the bright side, we ate pizza and bagels every day 🙂
[Tweet "The new hummus? Broccoli Pesto Dip for the win! Super refreshing on a hot summer day! |Krollskorner.com"]
Broccoli is one of my favorite veggies and pesto is just simply amazing. I came across a broccoli pesto dip and was basically mind blown! I knew I had to make my own and try it out. It's safe to say I was impressed, haha!
Behind the color GREEN: The natural plant pigment chlorophyll colors green fruits and vegetables. Cruciferous veggies like broccoli contain phytochemicals which may have anti-cancer properties. Woo! In addition green veggies are excellent sources of vitamin K, folic acid, and potassium.
Why you shouldn't throw away the broccoli stems:
If you've ALWAYS thrown away the broccoli stems, this news is probably going to be one of those mind blowing times in your life. The broccoli stems actually contains the same, if not MORE nutrition than the florets. Yep. All the stems you've been throwing away all these years = wasted nutrition!
The stalks and the florets are both very nutritious, and the stalks actually contain more fiber than the florets!
But wait, how do I cook with them? Mix them into a broccoli salad or slaw, use them in a gratin, saute them, make broth, put them in a soup… or just cut them up and steam & eat them like you would with the broccoli florets.
Have you ever made broccoli pesto? If not I hope you find time to enjoy this recipe!

Before You Begin! If you make this, please leave a review and rating letting us know how you liked this recipe! This helps our business thrive & continue providing free recipes.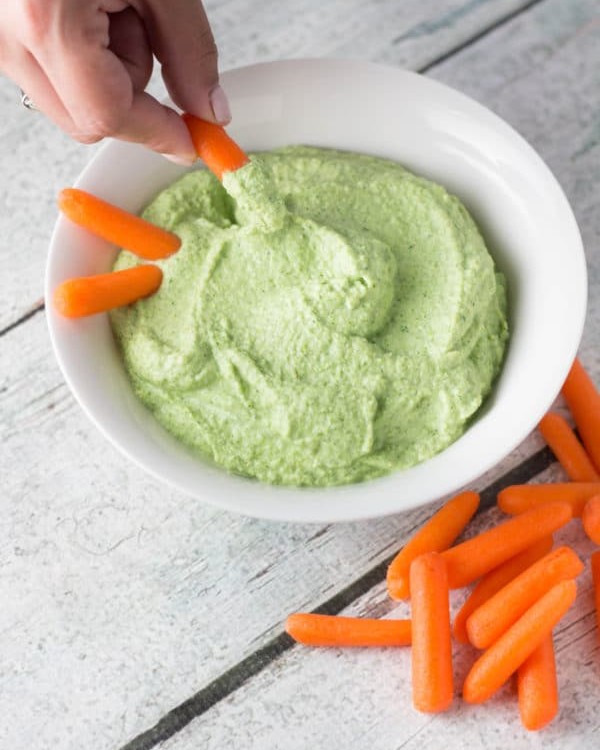 Swap out high fat dips for this light and flavorful broccoli pesto dip! Pro tip: this is great as a spread on sandwiches or flatbread too!
Ingredients
3

cups

broccoli florets

3

cloves

garlic

(chopped)

2/3

cup

walnuts

(toasted, chopped)

1/2

cup

fresh Parmesan

1/4

cup

fresh lemon juice

1

cup

loosely packed fresh basil

1/2

cup

low-fat ricotta cheese

1/3

cup

EVOO

salt and pepper to taste
Last step! If you make this, please leave a review and rating letting us know how you liked this recipe! This helps our business thrive & continue providing free recipes.
Instructions
Steam broccoli for a few minutes until it is bright green but not too soft. Plunge in an ice bath to stop cooking. Remove and pat with a paper towel to dry. Purée in a blender or food processor with the remainder of the ingredients.

Serve with fresh veggies, pita bread, or chips!
Notes
Be sure to use the broccoli stalks too! Or save for use in another recipe because they are just as nutritious as the florets! High in calcium, iron and Vitamin C.
Nutritional information is provided as a courtesy and is automatically calculated. It should only be construed as an estimate rather than a guarantee. Ingredients can vary and Kroll's Korner can't make any guarantees to the accuracy of this information.