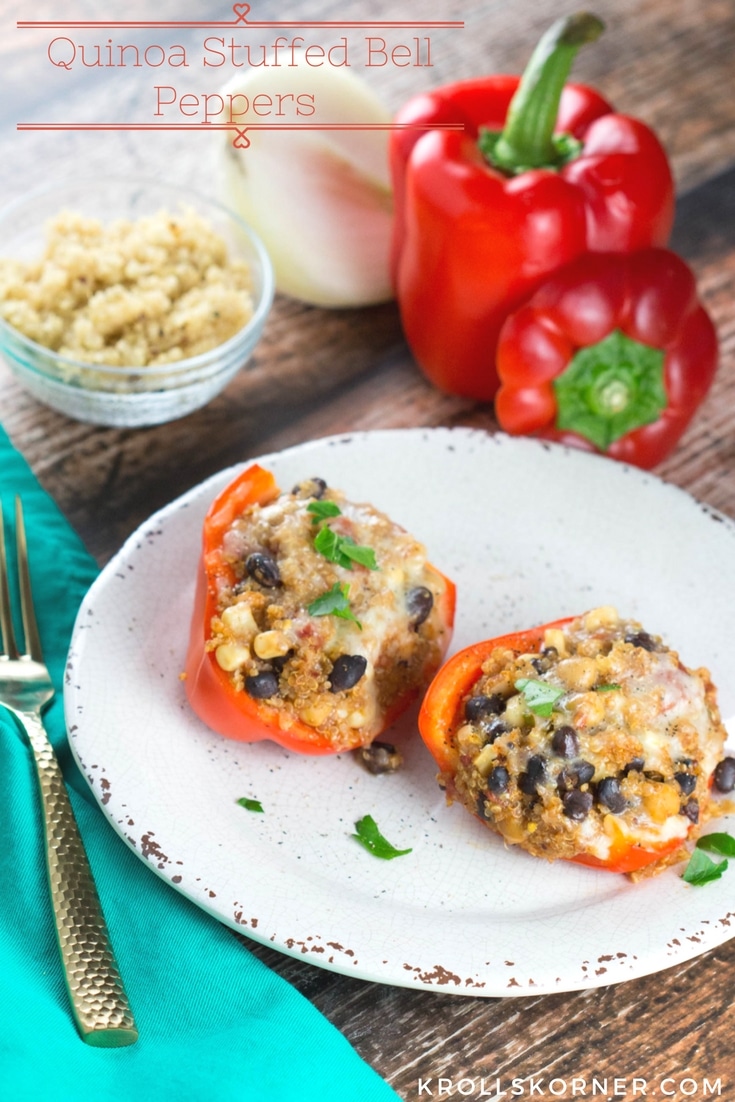 Quinoa Stuffed Bell Peppers are a healthy and delicious way to eat more veggies and plant based proteins!
I hope everyone had a nice & relaxing weekend! Mine was filled with cooking, baking, yoga and cycling. Sounds boring but I had fun 🙂 These quinoa stuffed bells came in handy when I was in a dinner crunch last week and they hit the spot. Filled with protein and fiber and super flavorful, loved them! I made my own taco seasoning because the store bought packets can be so high in sodium! Plus, making anything homemade is just more tasty. I hope you like this recipe as much as I did!
Click here to save this recipe for later!

Quinoa Stuffed Bell Peppers
2017-01-29 21:42:29
Ingredients
5 bell peppers
2 cups quinoa, cooked
1/2 white onion, diced
1 can (14oz.) diced tomatoes
1 jalapeno, diced
1 can low sodium black beans, rinsed and drained
1 can garbanzo beans, rinsed and drained
1 can corn, rinsed and drained
Homemade taco seasoning (optional - packet is OK too)
1 Tbsp. chili powder
1/4 tsp. garlic powder
1/4 tsp. onion powder
1/4 tsp. red pepper chili flakes
1/4 tsp. dried oregano
1/2 tsp. paprika
1 tsp. cumin
salt and pepper TT
1 cup mozzarella cheese, shredded
Cilantro
Olive oil
Directions
Preheat oven to 375 degrees F.
In a large saucepan, heat olive oil and saute onion for 2-3 minutes. Add in quinoa, black beans, garbanzo beans, corn, diced tomatoes, jalapeno, quinoa, and taco seasoning. You may need to add a little water at this point to the mixture.
Cut the tops of the bell peppers off and remove seeds + membrane. You can either fill the bells by cutting them in half, or leaving them whole. It is up to you.
Spoon in the quinoa filling and top with cheese and cilantro. Place bell peppers in a baking dish and cover with foil. Bake for 30 minutes or until warm. Enjoy!
Notes
Note: this can be prepped ahead of time and baked off when you'd like to eat them! Great for meal prep.
Krolls Korner https://krollskorner.com/