Overnight Breakfast Raspberry Muesli
Breakfast | Published Feb 11, 2019 | Updated Aug 20, 2019 | By Tawnie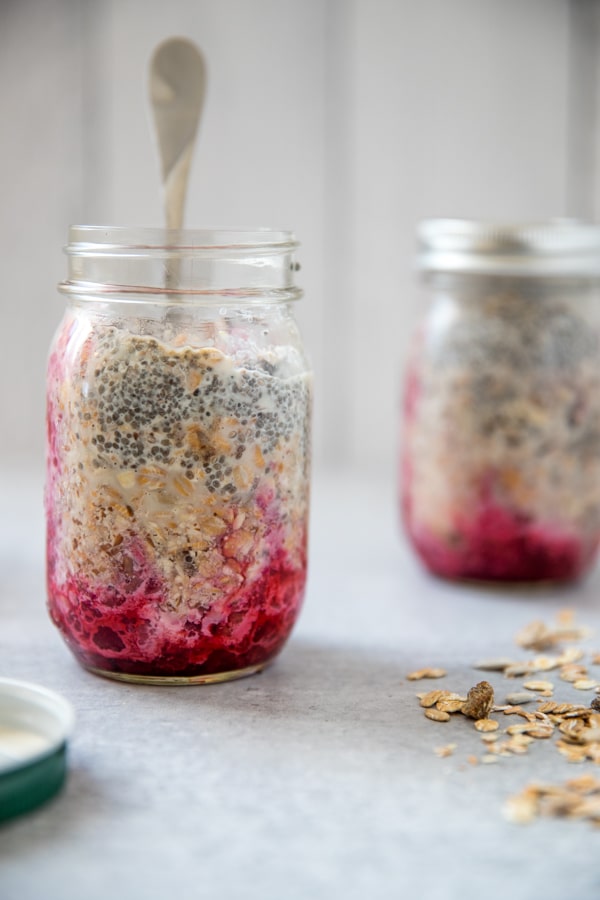 Overnight Breakfast Raspberry Muesli is the perfect make-ahead breakfast for those of us on the go!
What is Muesli?
Haven't had muesli yet? Muesli is an uber-nutritious mix of rolled oats, nuts, seeds, and fruit. It is a healthy whole grain addition to this recipe and it far surpasses oatmeal in flavor and texture—and it's far easier to make using the overnight method.
Today, muesli remains one of the world's most popular cereals. It can be eaten cold or hot, in a bowl or from the bag. It can be served up creamy or just as it is and can be integrated into your favorite baked goods or your healthy snacking routine. It's good to use in both sweet and savory dishes, from chocolate chip cookies and blondies to rosemary granola and savory oatmeal. Or – in this delicious breakfast!
Muesli is chewy, crunchy, luxurious, and slightly sweet, muesli is more than worthy of a spot in your morning mason jar.
What's in muesli?
It consists of a delicious mix of whole grain oats, wheat, sunflower seeds, raisins, dates, almonds, walnuts and flaxseeds. One serving packs 4g of fiber and protein, plus 6% of your daily iron needs. When softened, this muesli packs a nutty, comforting, and mildly sweet flavor. You also still get plenty of crunch, thanks to sunflower kernels and flaxseeds.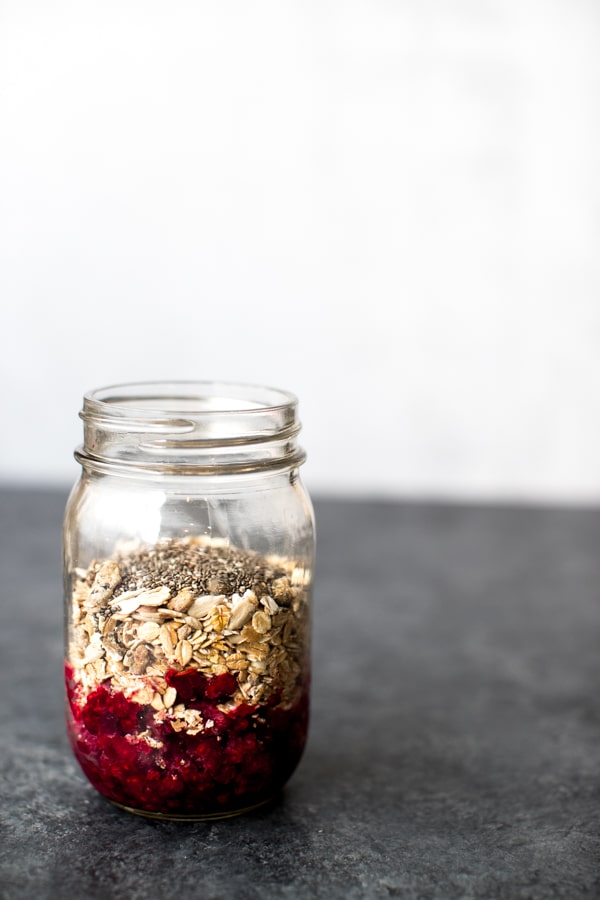 What type of fruit should I use for this overnight muesli?
I recommend frozen fruit for this recipe since the fruit is on the bottom. The frozen fruit holds up nicely and adds great flavor, without compromising any of the nutrition, to this breakfast!
Use frozen raspberries, frozen strawberries, or a frozen berry blend if you'd like! The great thing about these muesli jars is how customizable they are!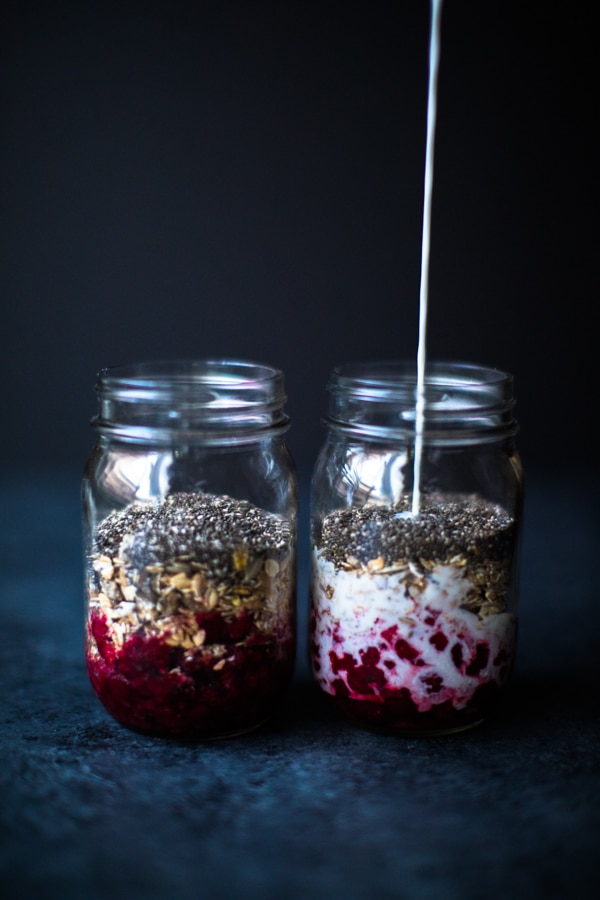 Order of ingredients:
First layer on the bottom of your jar will be the frozen raspberries (or other frozen berry you choose!)
Second, drizzle the honey/maple syrup.
Then, pour in the muesli
Then drizzle the honey/maple syrup.
Next, pour on the chia seeds!
Lastly pour the milk on top!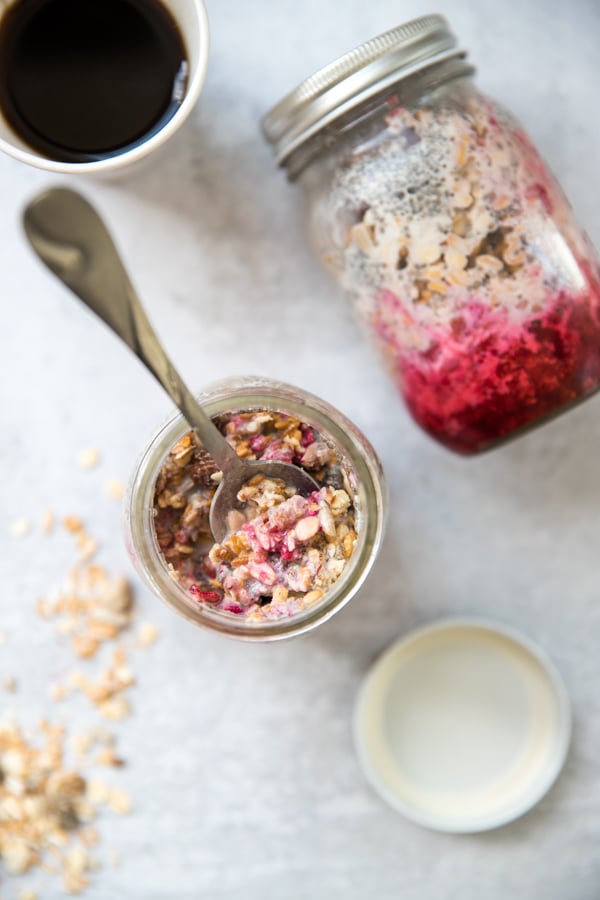 If you're loving this breakfast idea I am sure you'll also love these Pumpkin Overnight Oats and this Simple Berry Oatmeal Bake too! Both great breakfasts for busy mornings.
You'll love these make-ahead breakfast muesli jars because:
Easy to make!
Only 5 ingredients
Perfectly sweetened from the frozen fruit on the bottom
The muesli has the best texture and consistency
They are hearty and healthy
Filled with nutrients to keep you full (protein and omegas)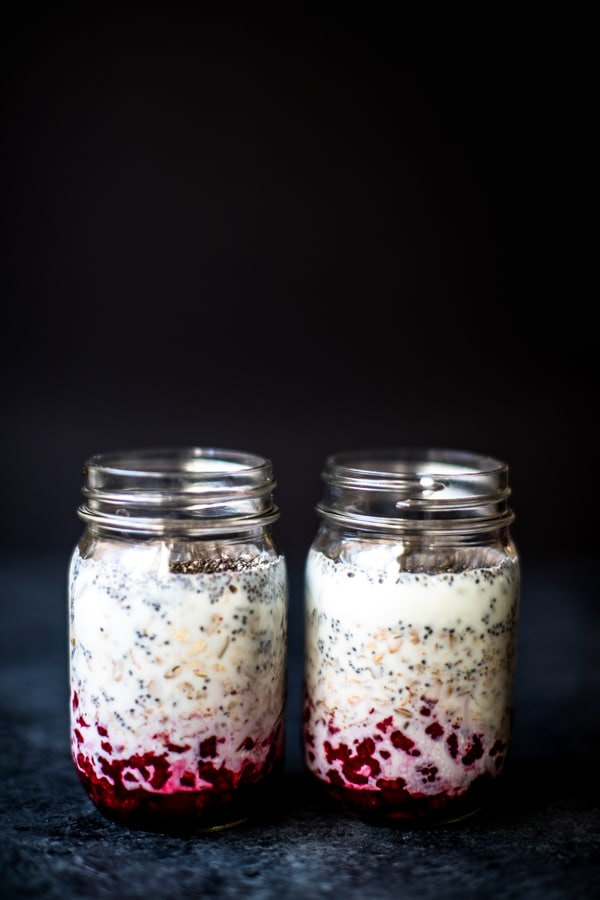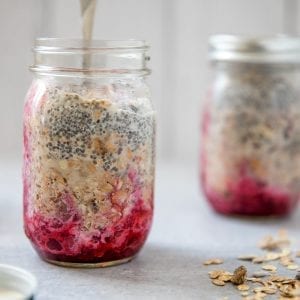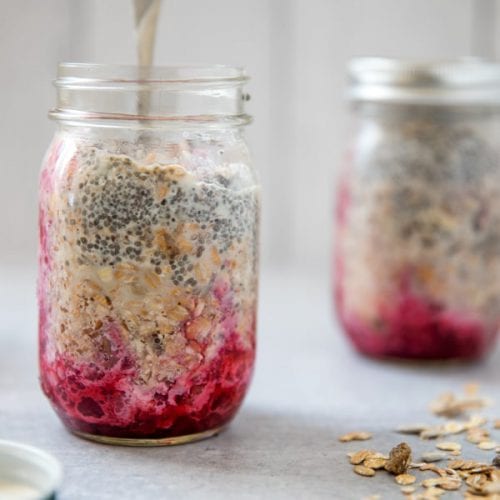 Overnight Breakfast Raspberry Muesli
Making your breakfast the night before has never been easier (or more nutritious) than with these fruit on the bottom overnight muesli breakfast jars!
Ingredients
2

cups

frozen raspberries, slightly thawed

2

cups

Muesli

2

tsp.

honey or maple syrup

2

Tbsp.

chia seeds

2

cups

milk (almond or cow milk)
Instructions
Place thawed frozen raspberries in the bottom of a jar and mash gently with a fork.

The add the remaining ingredients in this order: honey, muesli, chia seeds, and milk. No need to even stir, just put the lid on and place in the fridge for at least 3 hours or overnight!
Nutrition
Serving:
1
jar
|
Calories:
488
kcal
|
Carbohydrates:
91
g
|
Protein:
12.5
g
|
Sodium:
386
mg
|
Potassium:
709.5
mg
|
Sugar:
32.6
g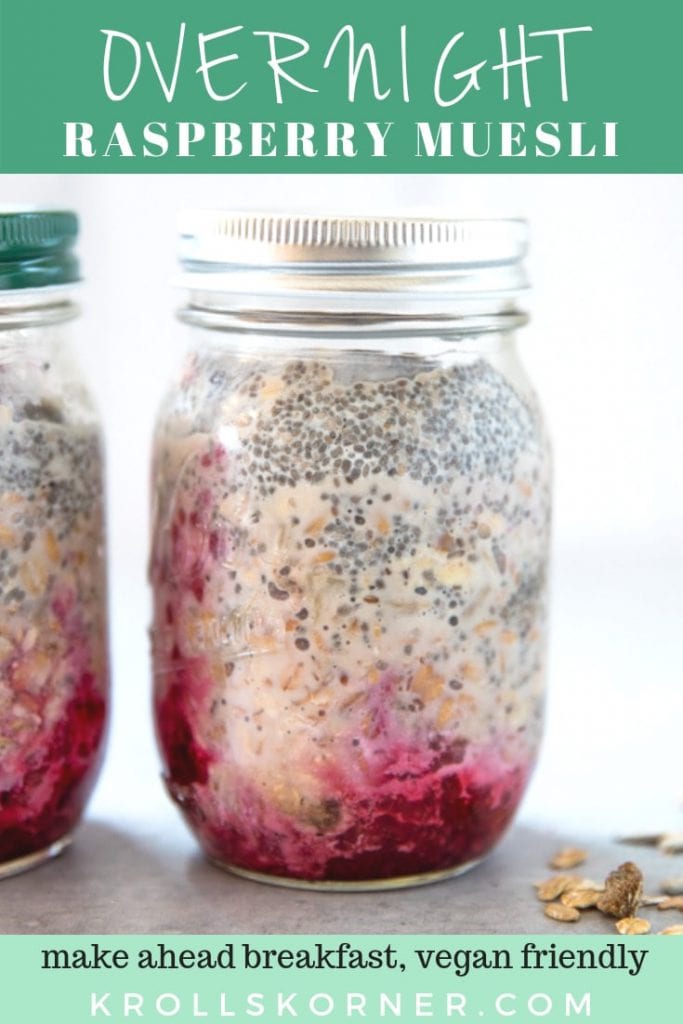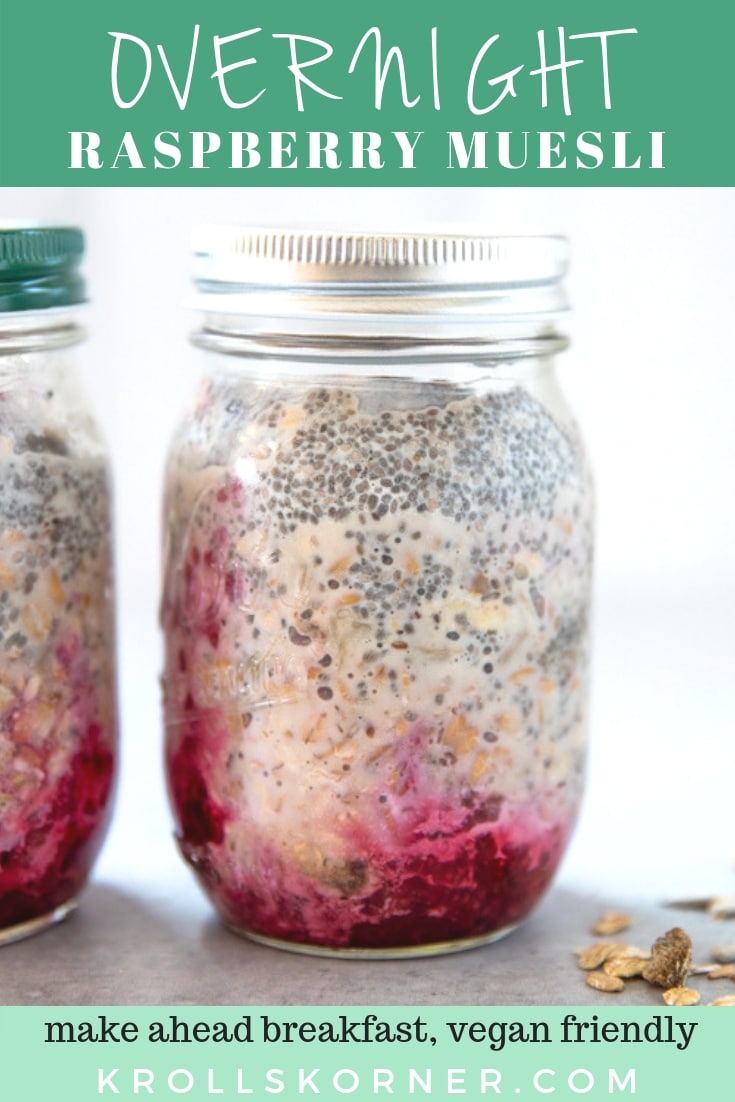 Hi, I'm 
Tawnie

!

Welcome to my tiny "korner" on the Internet! I am a Registered Dietitian Nutritionist who loves cookies as much as kale. (OK, maybe I like cookies a little bit more but shh, don't tell anyone). I am so glad you're here! Follow along for hassle free, realistic and approachable recipes.

More about Tawnie

I'd love to see what you made!!
Share it with me on Instagram or Facebook and tag me @krolls_korner or use the hashtag #KrollsKorner!