Easy Italian Wedding Soup Recipe
Beef & Pork | Published Jan 18, 2021 | Updated Jan 18, 2021 | By Tawnie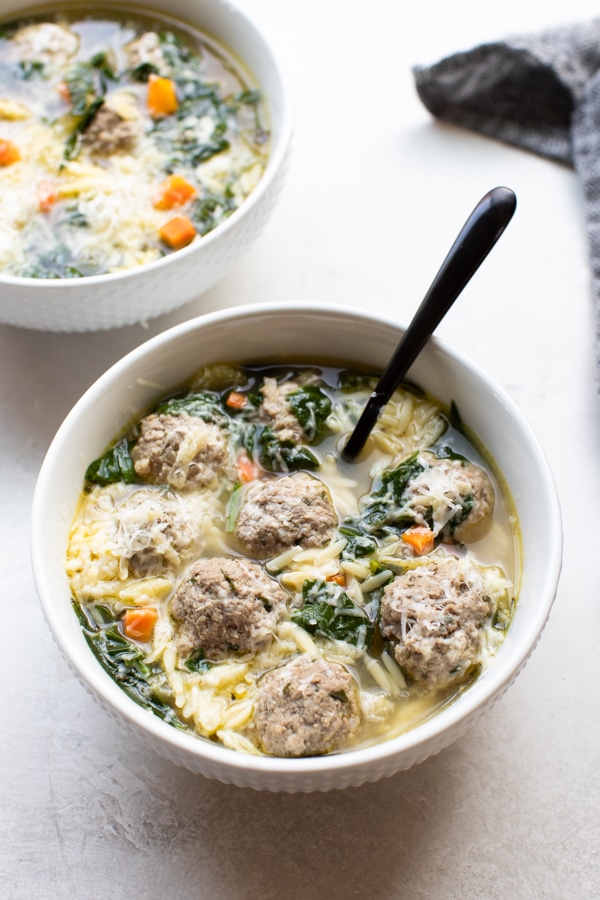 You're going to fall in love with this Easy Italian Wedding Soup Recipe, trust me! 🌟
We eat a lot of soup during soup season in our household! From Tomato Tortellini Soup to Crockpot Minestrone we love it all!
What is Italian Wedding Soup?
Italian Wedding Soup consists of green vegetables and a meat (usually meatballs or sausage). It's quite popular in the United States but is it a staple in Italy.
This post was sponsored by Ajinomoto in 2019. All thoughts and opinions are my own. Thank you for supporting the brands that keep Kroll's Korner running!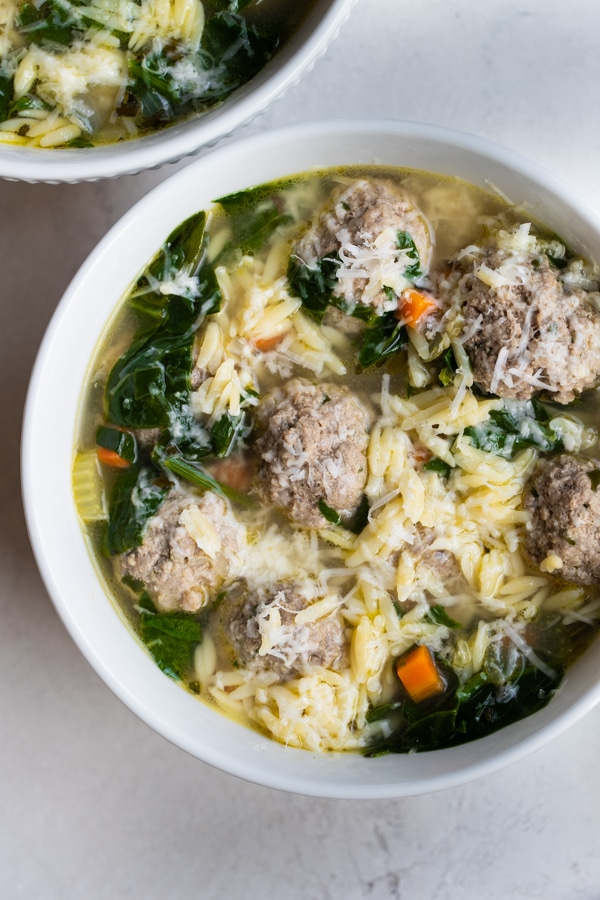 This Easy Italian Wedding Soup Recipe is…
Full of flavor but low in sodium thanks to MSG
A family favorite recipe
Comforting and easy weeknight meal
Can be made in the slow cooker/crockpot
Perfect for soup season
Can be prepped in advance (making meatballs, chopping vegetables, etc.)
Ingredients needed for wedding soup
For the meatballs: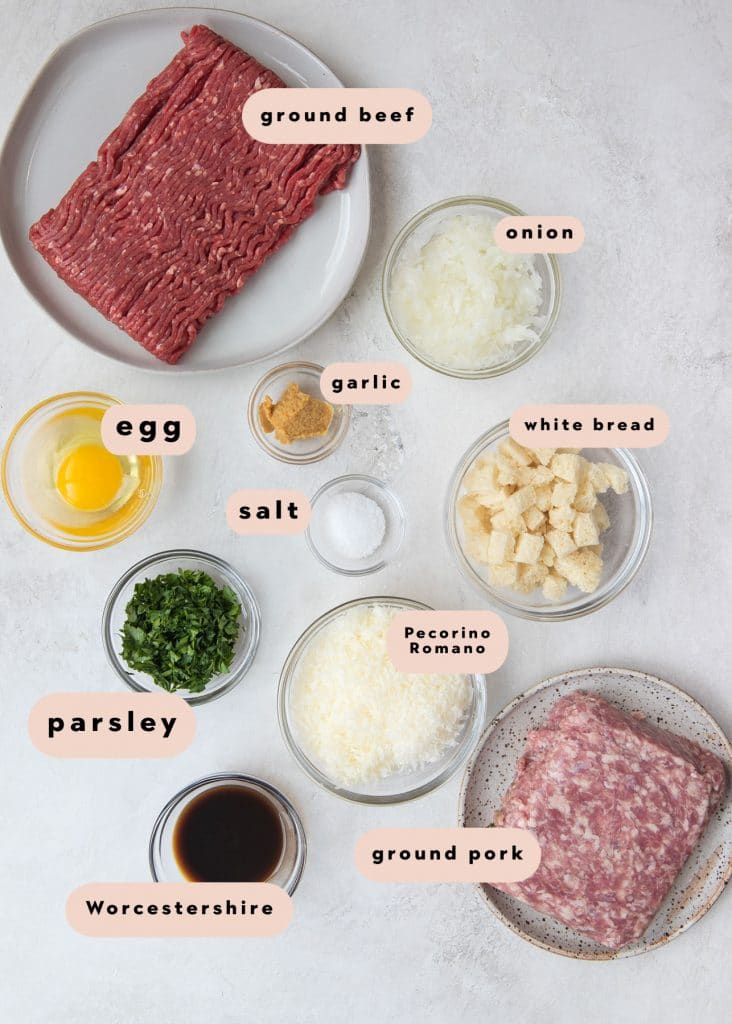 Ground pork and ground beef: We love using a mixture of both!
Fresh White Bread: use bread to bind the meatballs
White onion: have you ever tried grating your onion on a box grater and adding into your meatballs? It's a fun way to include the onion flavor but not the texture!
Cheese (Pecorino Romano and Parmesan)
For the soup: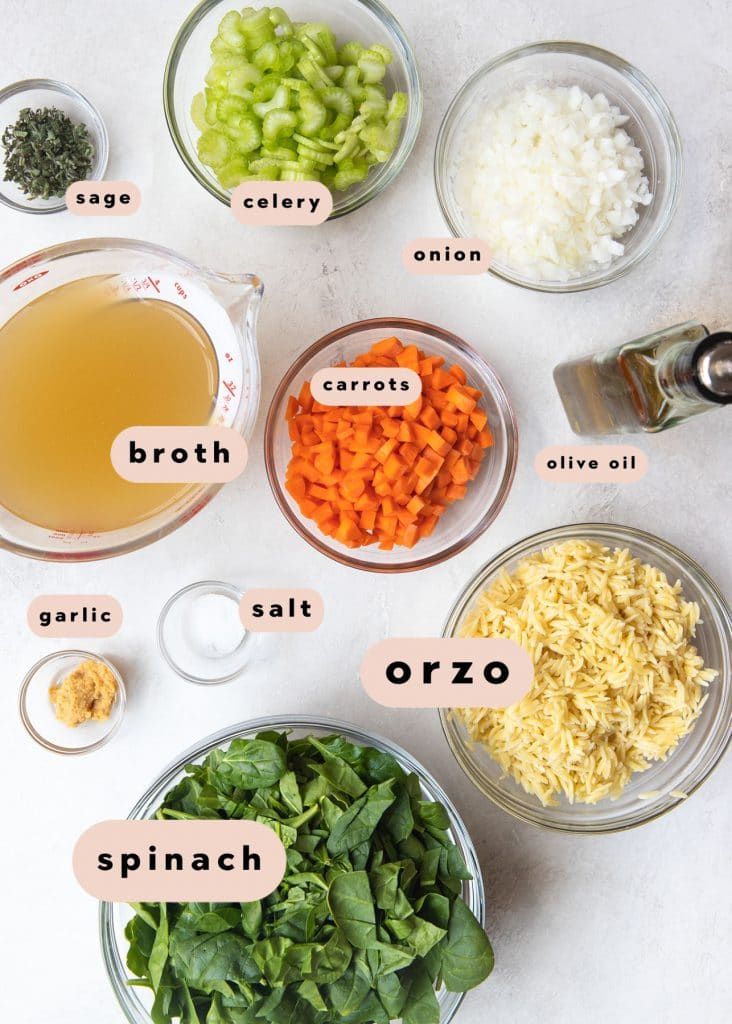 Chicken broth: or vegetable broth. If you have homemade, use that!
Greens🙁 such as baby spinach, endive, kale)
Orzo or Acini di Pepe: or any small pasta shape of your choice
Sage: fresh if you can!
So, what is MSG anyways?
MSG stands for monosodium glutamate. It's a seasoning and ingredient that is the purest form of umami. MSG combines sodium (like that in table salt) with glutamate, which is the most abundant amino acid in nature and one of 20 that make up protein! (Not so scary, right?)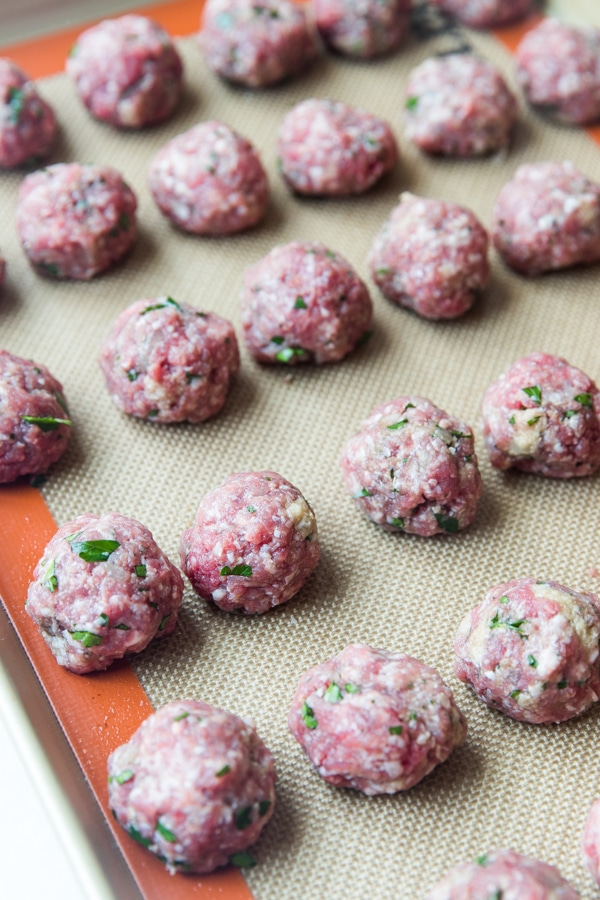 Is MSG safe for me to consume?
YES, MSG is safe to consume. Over the past 30 years, scientists, regulatory agencies and public health organizations have verified MSG's safety.
Why did MSG get a negative reputation?
It all started back in 1968 with a letter to the editor of a prestigious medical journal that described the author's anecdotal account of generalized weakness, palpitations and numbness in the arms after eating at a Chinese restaurant.
He noted that any number of ingredients may have caused his symptoms – sodium, alcohol from the cooking wine, MSG. However, the letter spawned the idea that MSG may be associated with such symptoms, which was coined "Chinese Restaurant Syndrome."
And that's how the bad rap of MSG began…
But let's be clear. MSG is NOT an allergen!
Some people identify themselves as sensitive to MSG, however reactions have not been consistently demonstrated in double-blind, placebo-controlled human trials.
To learn more about MSG safety you can visit this link here!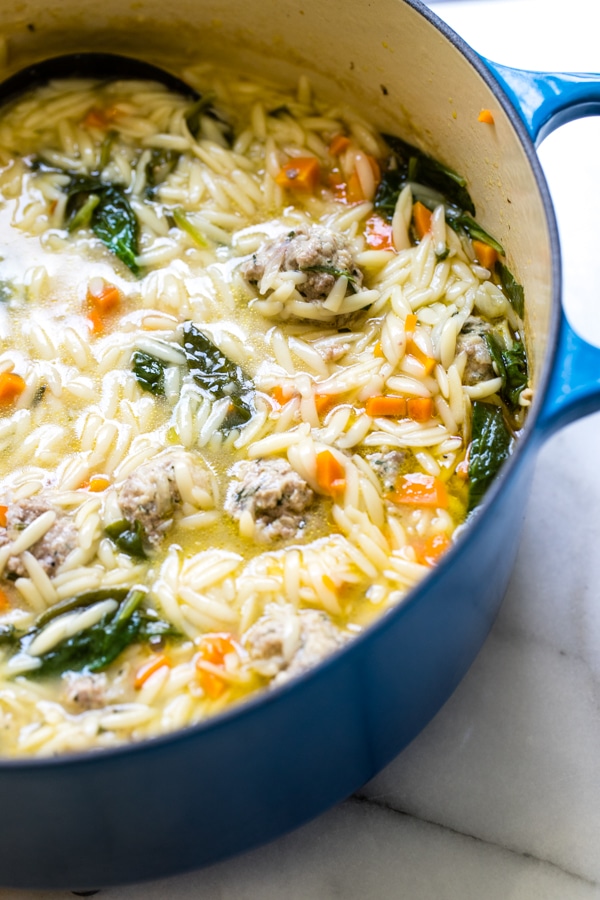 Why use MSG in cooking?
For sodium reduction! One part MSG to two parts table salt gives foods a flavor boost while decreasing sodium by 25 percent, compared to salt!
It brings out the deliciousness of food: it adds dimension to the flavors. In fact, just one half teaspoon can enhance the flavor of a pound of meat, or 4-6 servings of vegetables, casseroles or soup all while decreasing the need for salt.
Some studies have shown that it is possible to maintain food palatability with a lowered overall sodium level in a food when MSG is substituted for some of the salt.
Palatability of plant-based foods: MSG can be used to build savory, rounded flavors that enhance plant-based dishes.
Because it's safe to consume!
How to make this Easy Italian Wedding Soup Recipe
Wedding soup is actually really easy to make. This soup may look complex or complicated, but trust me it's a soup anyone can make. Promise!
My favorite combination for the meatballs is ground pork and ground beef but you can use ground chicken or chicken sausage if desired.
Prepare the meatballs. Recipe will make ~35 small meatballs.
Cook onions, celery and carrots in olive oil until onions are translucent. Then add in garlic and sage, and stir for 1 minute. Add in broth. Bring to a boil.
Then add in meatballs. Once they float to the top they will most likely be done.
Stir in the greens ( I used baby spinach). Spoon cooked orzo into bowl, followed by a ladle of the soup and finish with Parmesan cheese or Pecorino Romano and serve.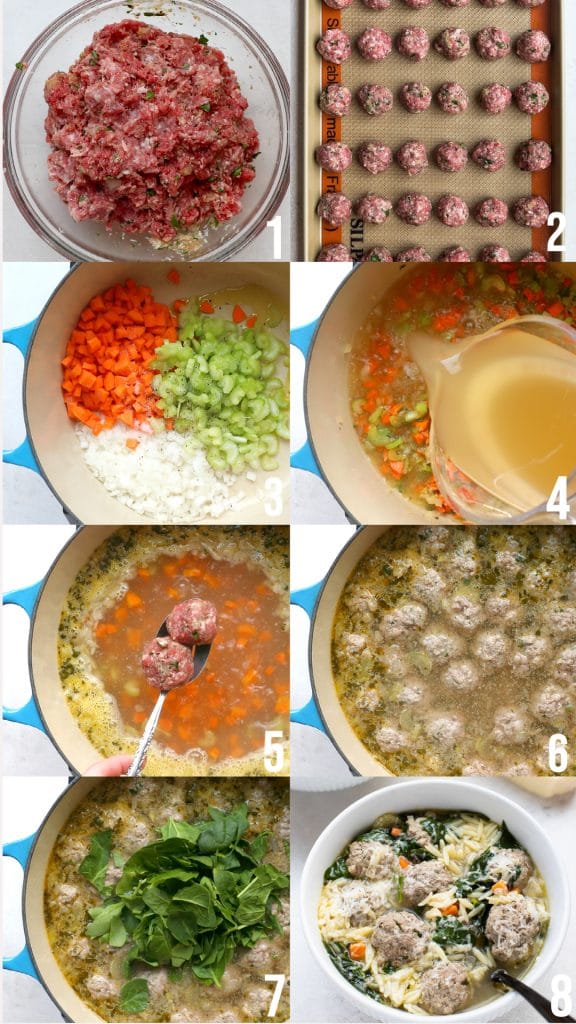 Can I make Italian Wedding Soup in the Slow Cooker?
Yes! (One of my favorite ways when I have errands to run!)
In a slow cooker, add in the broth, onions, celery, carrots, sage, salt and garlic. Cook on high for 4 hours.
Make your meatballs and cook them in the oven at 400° F for 15 minutes or until no longer pink. Blot them with paper towels and then add into the soup.
Once you are about 20 minutes out from eating dinner, add in the pasta and greens. Serve warm!
What to eat with Italian Wedding Soup?
Salad or bread are some of our favorites to enjoy with wedding soup.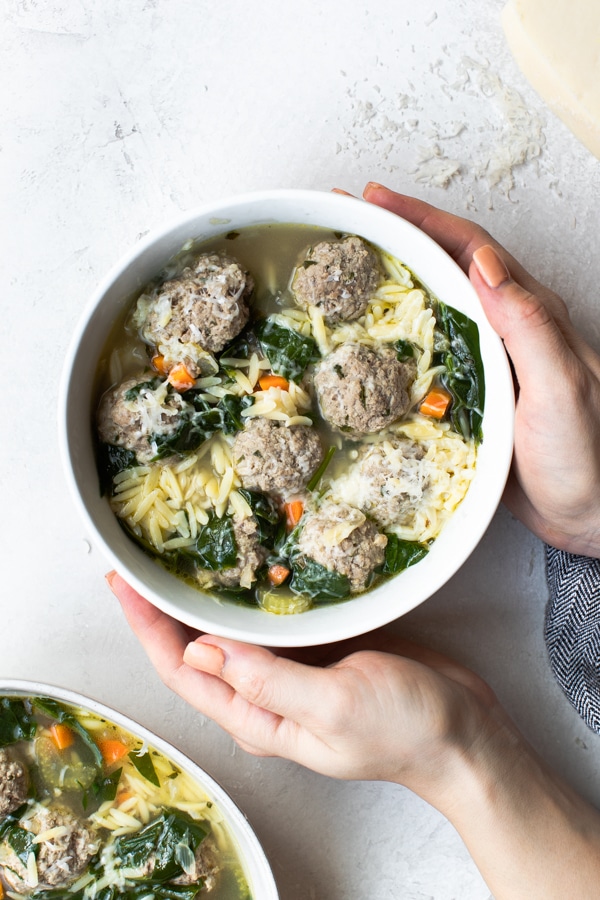 PS If you try this recipe, why not leave a star rating in the recipe card right below and/or a review in the comment section further down the page? I always appreciate your feedback! You can also follow me on Pinterest or Instagram. Sign up for my email list, too!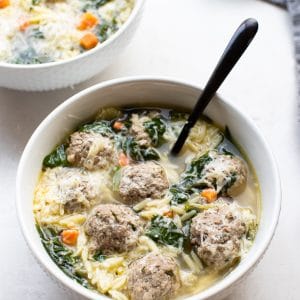 Easy Italian Wedding Soup Recipe
This Italian Wedding Soup Recipe is made with homemade meatballs and full of flavor from vegetables and simple seasonings. It's so cozy and comforting!
Ingredients
For the meatballs:
8

oz.

pork, ground

8

oz.

beef, ground

2

slices

fresh white bread, crust trimmed, torn into pieces

2

cloves

garlic, minced (about 1 tsp.)

1/2

medium

white onion, grated or finely chopped

1/3

cup

fresh parsley, minced

1/2

cup

Pecorino Romano cheese, freshly grated

1/2

tsp.

MSG or salt

1

large

egg

2

Tbsp.

Worcestershire (or sub milk)
For the soup:
2

Tbsp.

Olive oil

1/2

medium

white onion, chopped

3

large

carrots, finely chopped

4

stalks

celery, diced

salt and pepper to taste

2

cloves

garlic, minced

2

Tbsp.

sage, fresh, chopped

12

cups

chicken broth

2

cups

Orzo, cooked

8

cups

greens (baby spinach, endive, kale, or escarole)
Instructions
In a large bowl, combine the bread, garlic, onion, parsley, cheese, MSG, egg and Worcestershire. Once combined, then add in the ground pork and beef. Gently combine with clean hands or a spoon until thoroughly mixed.

Roll mixture into small meatballs using your hands or a cookie scoop and place on a baking sheet lined with parchment paper. Recipe will make ~35 small meatballs. Set aside.

Add the olive oil to a large soup pot along with the onions, celery carrots, salt & pepper and sweat over low heat for 15 minutes. Stirring occasionally. Do not brown them.

Then add in garlic and sage and stir for ~1 minute.

Add in the broth and bring to a boil.

Then add in the meatballs. Once they float to the top they will most likely be done. Be sure to check internal temperature with a meat thermometer (Beef and pork should reach 145°F).

Stir in the greens (I used baby spinach).

To serve, spoon cooked orzo into a bowl followed by the soup and finish with grated Parmesan cheese or Pecorino Romano on top
Notes
Feel free to use different greens such as kale or endive. Baby spinach remains my personal favorite.
For the bread, using white bread is typically easiest but if you have a French loaf on hand you can grind into breadcrumbs that works well too.
I always like to cook the orzo or small pasta of choice on the side and add it into the bowls when serving so the pasta doesn't soak up all of the broth.
Nutrition
Serving:
1
bowl
|
Calories:
221
kcal
Hi, I'm 
Tawnie

!

Welcome to my tiny "korner" on the Internet! I am a Registered Dietitian Nutritionist who loves cookies as much as kale. (OK, maybe I like cookies a little bit more but shh, don't tell anyone). I am so glad you're here! Follow along for hassle free, realistic and approachable recipes.

More about Tawnie

I'd love to see what you made!!
Share it with me on Instagram or Facebook and tag me @krolls_korner or use the hashtag #KrollsKorner!