Best Egg Salad Sandwich Ever
Eggs | Published Feb 12, 2020 | Updated Jul 6, 2020 | By Tawnie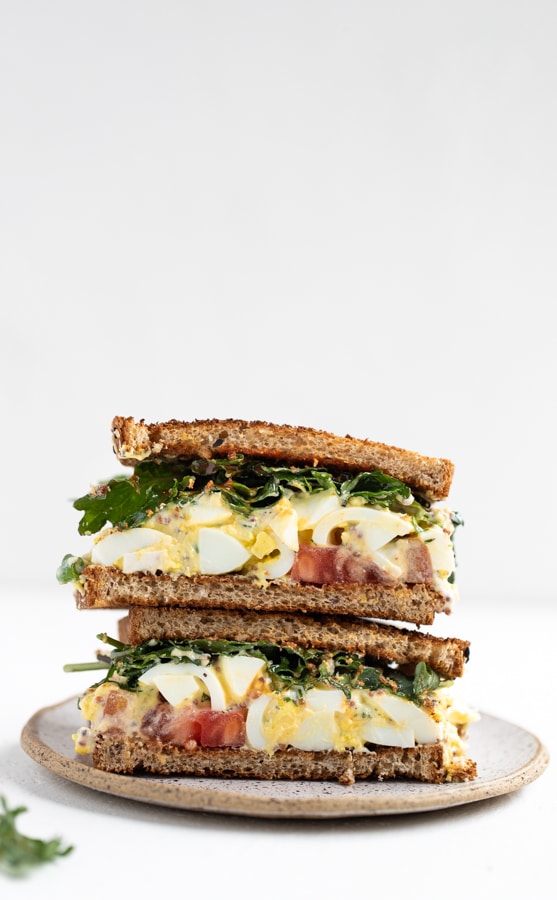 Creating this Greek yogurt egg salad
Egg are one of my favorite foods. They are so versatile and so easy to include as part of a healthy lifestyle. The opportunities are endless when it comes to cooking with eggs!
This post has been sponsored by The Incredible Egg. All thoughts and opinions are my own. Thank you for supporting the brands that keep Kroll's Korner running!
Besides their versatility, they are nutritious too.
Eggs are a nutritional powerhouse, providing a good or excellent source of eight essential nutrients, including choline plus the carotenoids lutein and zeaxanthin, all for 70 calories in one large egg.
The great thing about eggs is that they are naturally nutrient rich: a large egg is an excellent source of vitamin B12, biotin, iodine, selenium and choline. A large egg is also a good source of riboflavin, pantothenic acid and protein.
Additionally, I love the simplicity of an egg salad sandwich too. Hard boiled eggs, Greek yogurt and some seasonings and condiments you probably already have on hand!
Egg salad sandwiches aren't just for bridal showers or Easter either – they are a fabulous meal for any time of year.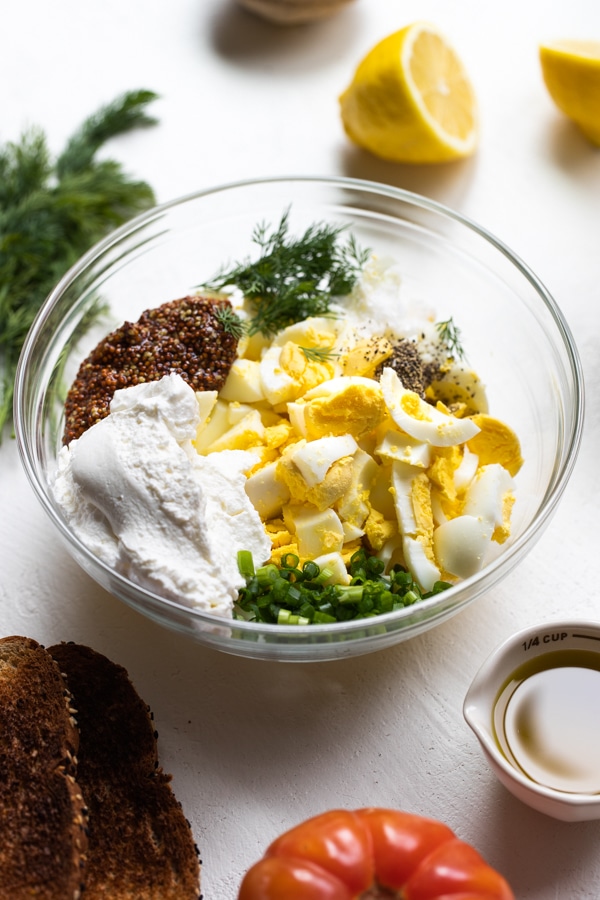 Egg salad ingredients
Hard boiled eggs: Eggs are very affordable, about 12 cents a piece, and are the perfect complement to any eating pattern. Also, eggs are one of the only foods that naturally has Vitamin D, which along with calcium, it critical for building strong bones!
Greek Yogurt: another source of protein added into this energy-sustaining sandwich.
Scallions: Can substitute for red onion.
Whole grain Dijon: I recommend a Dijon mustard, not a yellow mustard.
Olive Oil: Can also use an avocado oil
Lemon Juice: fresh lemon juice recommended
Cayenne: optional
Fresh dill: The combination of eggs and dill is delicious and makes this sandwich crave-worthy.
Salt and pepper
Baby Kale: Can use favorite salad greens such as spinach or arugula.
Whole grain bread: An important element to a good sandwich, be sure to buy your favorite!
Heirloom tomato: Their vibrant rainbow colors are beautiful and sweet juicy flesh is oh-so-tasty! If not in season, use a Roma or Steak tomato.
Hot sauce (optional)
How to make an egg salad sandwich
Make hard boiled eggs, peel and chop them up! (directions below)
In a large bowl, mix the chopped eggs with Greek yogurt, fresh dill, scallions, lemon juice, Dijon mustard, olive oil, cayenne, salt and pepper. Mix well and set aside.
Slice the heirloom tomatoes and toast the whole wheat bread.
Assemble the sandwich: toast, tomato, egg salad, baby kale, hot sauce (optional), toast. Simple and delicious!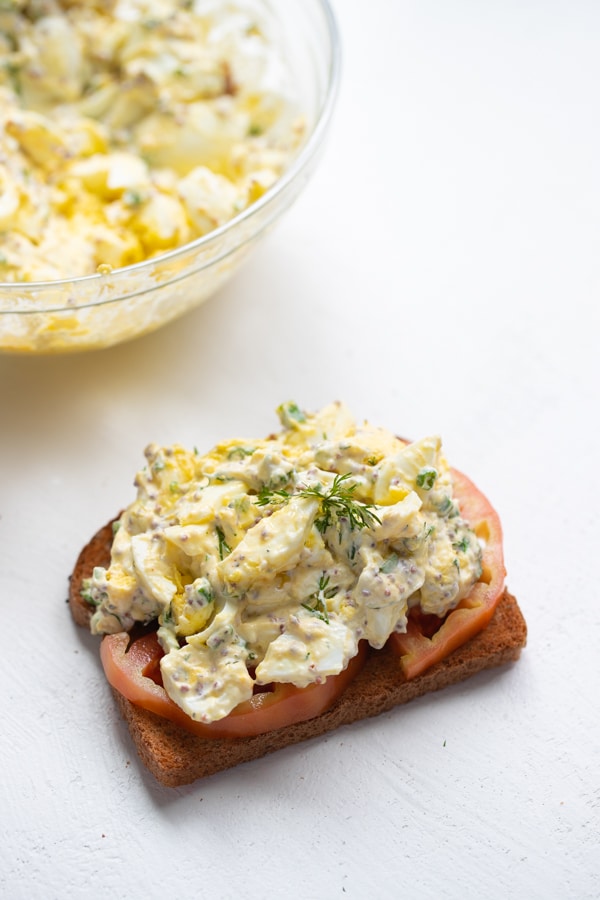 How do I make hard boiled eggs?
My favorite way to make them is in the Instant Pot. If you don't have an Instant Pot, see the stovetop directions below.
How to make hard boiled eggs in the Instant Pot:
IT'S EASY! Pour 1 cup water in your Instant Pot and place the trivet at the bottom of your Instant Pot. Carefully place a dozen eggs on the trivet in a single layer.
Put the lid on, plug in the Instant Pot, make sure the valve on the lid is set to sealing (not venting) and cook on manual HIGH pressure for 5 minutes.
During the 5 minutes, make an ice water bath by placing ice in a large bowl and filling about half way with water. This is for the eggs once they are done to cool them down/stop the cooking process.
Once the Instant Pot beeps, use a towel to carefully switch the valve from sealing over to venting and let the steam release for about 1 minute. Remove the lid, and place eggs in the ice water bath using a slotted spoon. Be careful, they will be hot!
Let them chill (literally) and then remove and peel the shells off!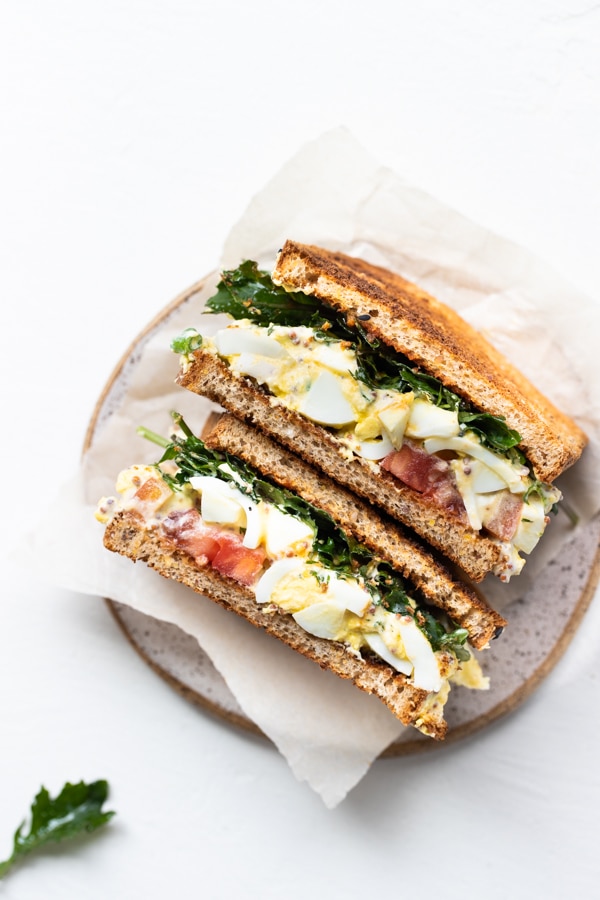 How to make hard boiled eggs on the stove:
Heat 1/2- to 1-inch of water in a large saucepan to boiling over high heat. Carefully place steamer insert into pan over boiling water or proceed to step 2, if not using a steamer insert.
Carefully add eggs using a large spoon or tongs. Cover. Continue cooking 12 minutes for large eggs and 13 minutes for extra-large eggs).
Drain eggs under cold running water to help the shell ease off the hard-boiled eggs.
Gently tap the large end of the egg onto a hard surface until shell is slightly cracked and peel the egg.
Insider info:
The hard-boiled eggs in the shell can be refrigerated for up to a week.
Hard boiled eggs should be eaten within two days of being peeled.
Now that you know how to make hard boiled eggs for this easy egg salad, you'll be an egg salad sandwich pro!
How long does this egg salad sandwich last?
Egg salad can last 3-5 days in the fridge, properly stored. Do not leave on the counter for more than 2 hours. Store the egg salad separate from the bread so the bread doesn't get soggy!
This sandwich doesn't last long in my house though because it's one of my favorite post workout snacks.
Eating high quality protein, like eggs, with carbohydrates post-workout can help refuel muscle and optimize recovery. (This egg salad sandwich is the perfect meal for that!)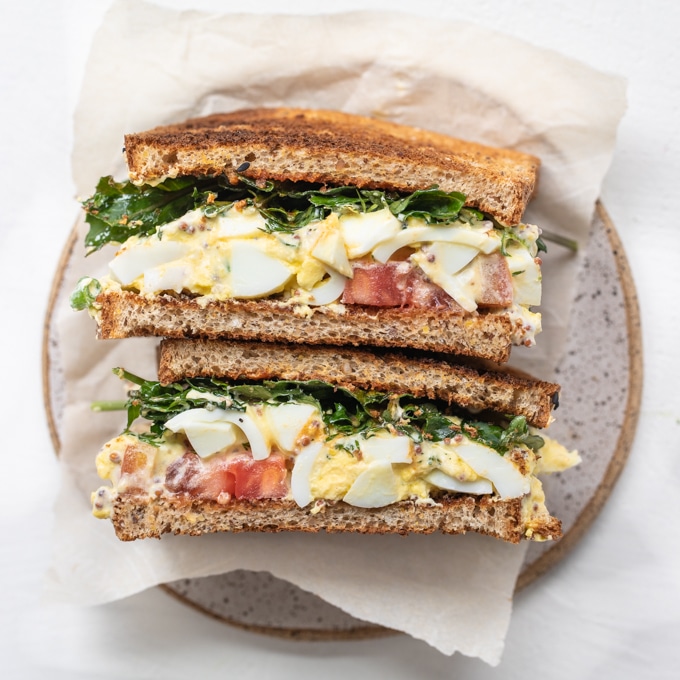 Other ingredients you can add or substitute in the recipe:
Celery
Bacon
Cucumber
Arugula, butter lettuce or spinach instead of kale
Sub mayo instead of the Greek yogurt
Sweet relish or pickles
Red onion
Use croissants or a different sandwich bread
Use collard greens to make this sandwich a low carb wrap
Did you know…
Eggs contain important nutrients for brain health too? Eggs are an excellent source of choline and lutein (about 150mg choline and 252mcg lutein and zeaxanthin per large egg).
Choline is critical for brain development during pregnancy and infancy. Just two large eggs supply more than half of the recommended intake for pregnant women and can help them meet their needs.
Lutein has long been associated with eye health, but research has discovered lutein may also play an important role in cognition too! Lutein is present in the eye and in the brain and has been positively associated with cognitive function in older adults and academic performance in children.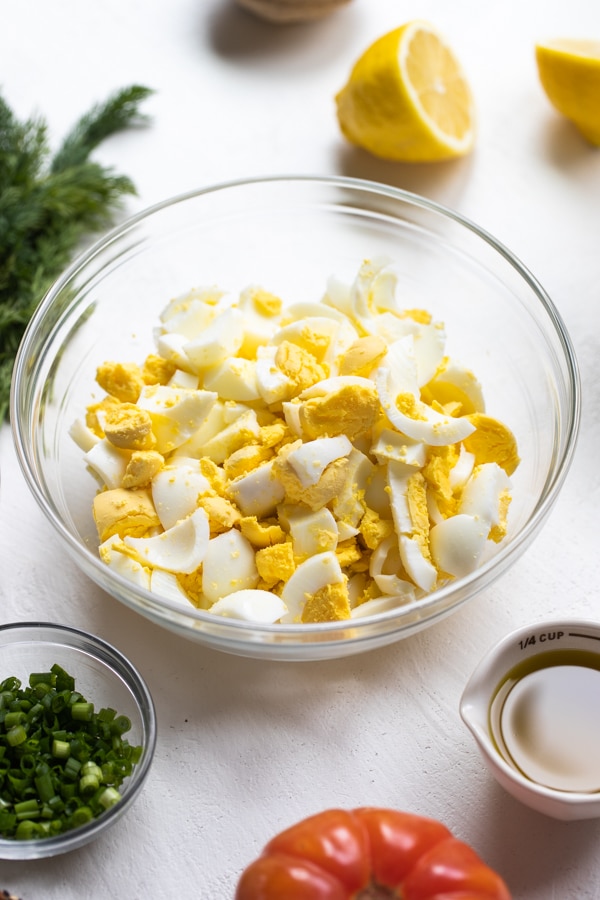 Don't skip out on the egg yolks!
Lutein and zeaxanthin are carotenoids found in egg yolks that help protect our eyes from harmful blue light emitted from computers and smartphones.
The yolk is also where you'll find most of the nutrients in an egg, including choline, vitamin B12, vitamin D, vitamin A, vitamin B6, iron, vitamin E, zinc, fat, cholesterol, folate, phosphorus, selenium, riboflavin and protein.
I love how eggs can fit into a healthy eating patterns, including a plant-forward diet. Eggs can help you absorb the nutrients found in plant foods such as vitamin E and carotenoids, which is so cool!
Meal prep this egg salad sandwich
This egg salad sandwich is typically my go-to for lunches because the eggs help me feel fuller for longer. Eggs make for a delicious protein option not only for breakfast but they are a great option for lunch and dinner too.
Make this egg salad for meal prep and have it on hand for quick lunches or dinners for the next few days!
More healthy egg recipes you will love: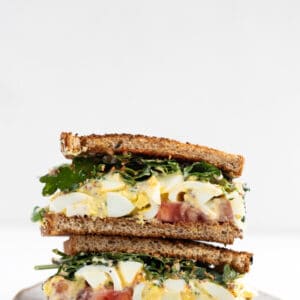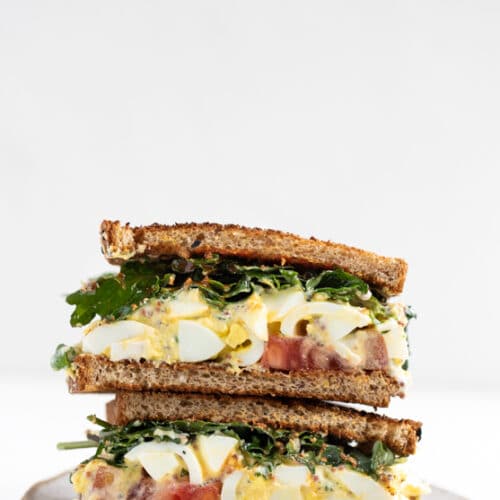 Best Egg Salad Sandwich Ever
This egg salad is so easy to make, puts a fun twist on the classic recipe by using Greek yogurt and is delicious for lunch or dinner!
Ingredients
12

hard boiled eggs

6

scallions, chopped

1/4

cup

Dijon (I like whole grain Dijon)

1/2

cup

Greek Yogurt

1/4

cup

Olive oil

1

lemon, juiced

1

Tbsp.

fresh dill, chopped

1/4

tsp.

cayenne

1/2

tsp.

salt

1/4

tsp.

pepper

8

slices

whole grain bread, toasted

2

heriloom tomatoes, slices

2

cups

baby kale

hot sauce (optional garnish)
Instructions
Make hard boiled eggs, peel and chop them up! (directions above in blog post)

In a large bowl, mix the chopped eggs with Greek yogurt, fresh dill, scallions, lemon juice, Dijon mustard, olive oil, cayenne, salt and pepper. Mix well and set aside.

Slice the heirloom tomatoes and toast the whole wheat bread. Assemble the sandwich: toast,
tomato, egg salad, baby kale, hot sauce (optional), toast. Simple and delicious!
Notes
Recipe inspired from the Egg Shop Cookbook
Hi, I'm 
Tawnie

!

Welcome to my tiny "korner" on the Internet! I am a Registered Dietitian Nutritionist who loves cookies as much as kale. (OK, maybe I like cookies a little bit more but shh, don't tell anyone). I am so glad you're here! Follow along for hassle free, realistic and approachable recipes.

More about Tawnie

I'd love to see what you made!!
Share it with me on Instagram or Facebook and tag me @krolls_korner or use the hashtag #KrollsKorner!