Veggie Stuffed Spaghetti Squash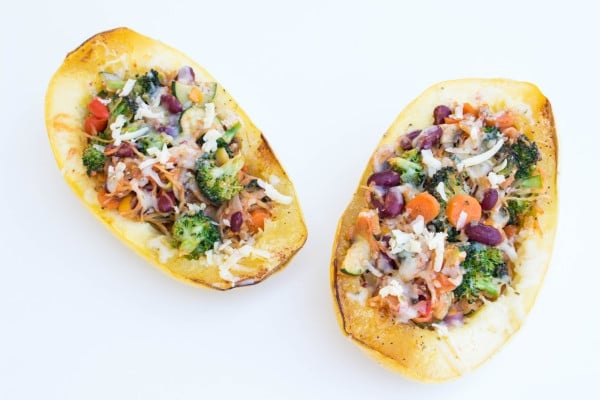 The first thing people usually ask is, "Does it really taste like spaghetti?!" To me the answer is yes…it is a little like angel hair pasta because it is thin, fragile and stringy. But you still need to remember you are eating squash…so the flavor might be a little bland to you. Toss some marinara on top…or create a yummy dish like I made here!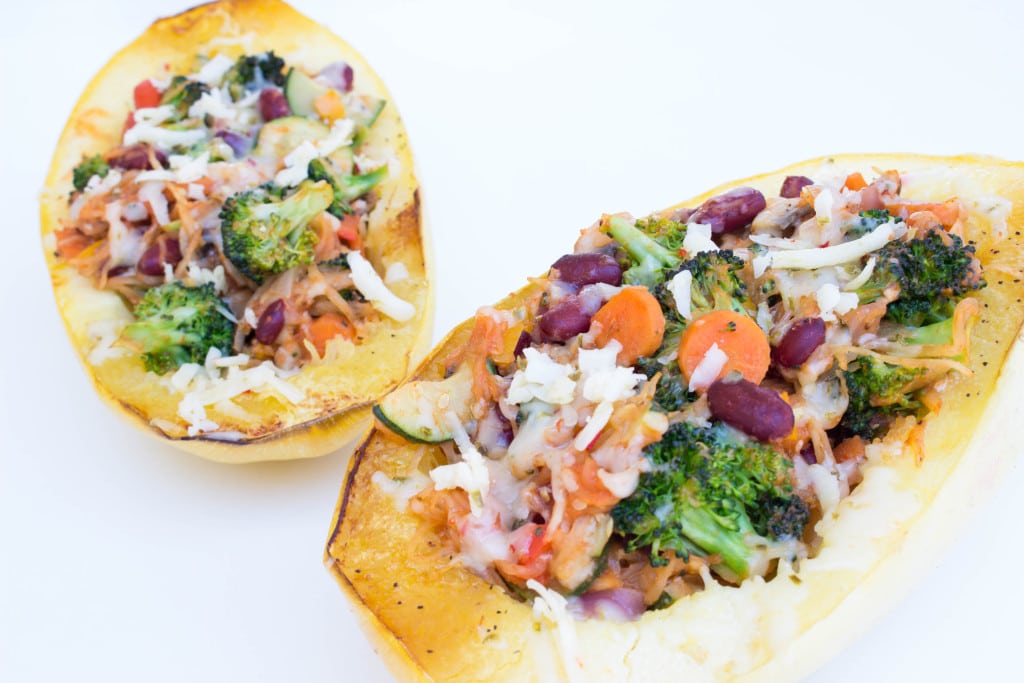 I used to be intimidated by things like squash in the grocery store because I never knew how to prepare them the "right" way. If you are one of those people still who don't pick up the spaghetti squash at the store I wanted to share how easy it is to make it!
How to Cook Spaghetti Squash in the Oven:
1. Preheat oven to 400 degrees Fahrenheit.
2. While oven is preheating, slice your squash in half using a chef's knife from the top to bottom, keeping it as even as you can. The squash is really hard and can be difficult to cut, so work slowly…or have your boyfriend/husband/brother/man do it (haha).
3. Once cut, lightly coat the inside of the squash with olive oil and with a dash of garlic powder, salt and pepper.
4. Line a baking sheet with foil and place the squash halves-cut side down. Bake for 30-40 minutes or until the insides of the squash are tender enough to be pulled away with a fork. Here is where you will be able to see the spaghetti-like strands! Such a cool vegetable if you ask me!
5. Scrape out the inside: Using a fork, gently scrape the "spaghetti" out from the vegetable. Don't scrape all of it for this recipe, because you want to leave some to still give it the bowl shape.
It really is easy to cook! Just is a little time consuming. Some people place their spaghetti squash in the microwave to cook, but I have found it tastes a lot better when made in the oven. Plan out your day to find time to cook the squash so you won't be eating dinner at 9pm! 🙂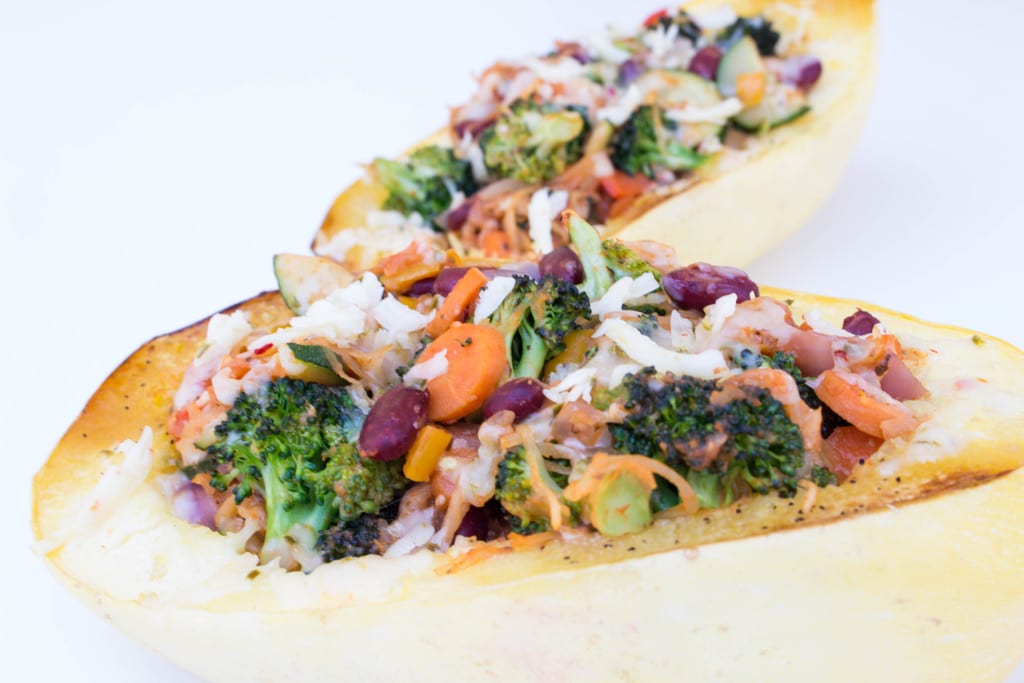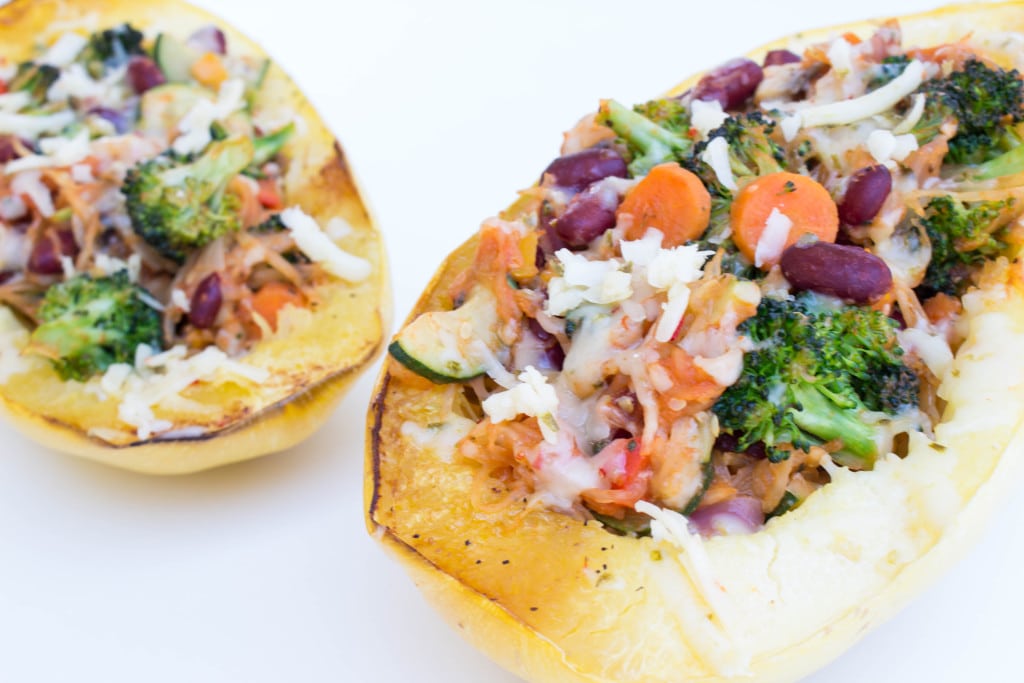 Before You Begin! If you make this, please leave a review and rating letting us know how you liked this recipe! This helps our business thrive & continue providing free recipes.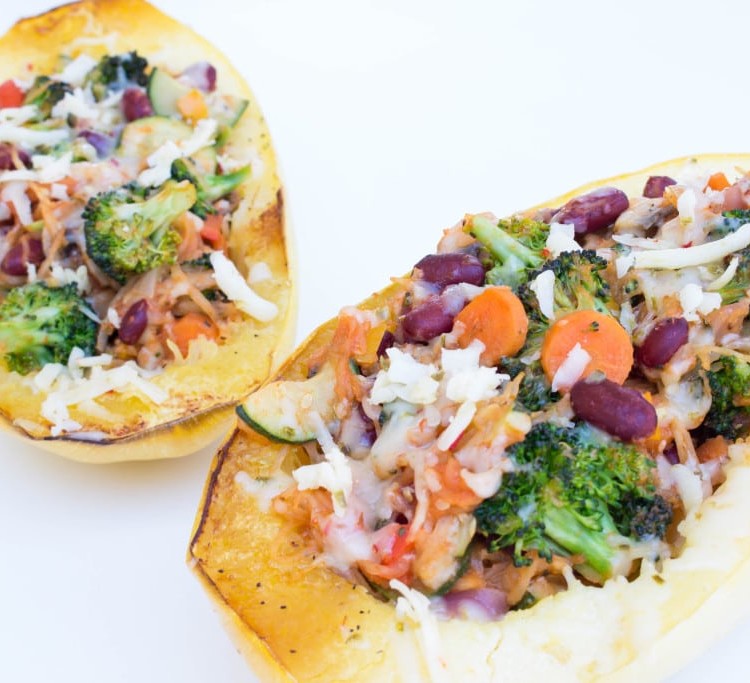 Veggie Filled Spaghetti Squash
Ingredients
1

medium spaghetti squash

1

can kidney beans

(drained and rinsed)

1/2

cup

red tomato sauce

1

small red onion

1 1/2

cup

chopped broccoli

(fresh)

1

small zucchini

(chopped)

4

fresh carrots

(peeled and sliced)

1/2

cup

sliced white mushrooms

(fresh)

~5-6 mini belled peppers

(diced)

2

Tbsp.

chopped garlic

3

Tbsp.

EVOO

salt and pepper to taste

1/2

tsp.

oregano

1/2

tsp.

Italian seasonings

1/4

tsp.

garlic powder

dash of onion powder

1/2

cup

pepper jack cheese
Last step! If you make this, please leave a review and rating letting us know how you liked this recipe! This helps our business thrive & continue providing free recipes.
Instructions
Preheat oven to 400 degrees F. Cook spaghetti squash according to directions above.

While spaghetti squash is cooking, heat olive oil in a large pan on the stove. Add in onion, mushroom, peppers, carrots, and garlic. Stir for a few minutes, then add in the zucchini, broccoli and seasonings. Cook until vegetables become slightly tender and broccoli becomes bright green.

Remove veggies from heat and add in the kidney beans and red sauce. By this time, squash should be ready to come out of the oven. Let cool slightly, and then using a fork scrape out some of the insides and mix into the veggie mixture. Leave some of the squash to keep the bowl shape. Mix in the squash and add some of the cheese (leave some extra cheese for topping).

Scoop the veggie/squash mixture back into the hollowed out bowls and top with remaining cheese. Place back in the oven and cook for ~5 minutes or until cheese has melted. Enjoy!
Notes
Adapted from Inspired by: Love & Zest
Nutritional information is provided as a courtesy and is automatically calculated. It should only be construed as an estimate rather than a guarantee. Ingredients can vary and Kroll's Korner can't make any guarantees to the accuracy of this information.
[Tweet "1 cup of spaghetti squash has only ~42 calories! Try out this perfect Spring time meal packed with nutrients! #Krollskorner"]
Spaghetti squash vs pasta:
Both are low in fat, salt, and provide fiber in our diets. Squash has antioxidants you won't find in regular pasta.
Pasta can have up to 182 calories (1 cup of small shells) vs spaghetti squash only has 42 calories for 1 cup.
Pasta has 35.5g of carbohydrates while the squash only has 10g of carbs (per 1 cup)
Enjoy!