Spring Time Pasta with Asparagus and Peas
Dinner | Published Apr 14, 2017 | Updated Mar 7, 2023 | By Tawnie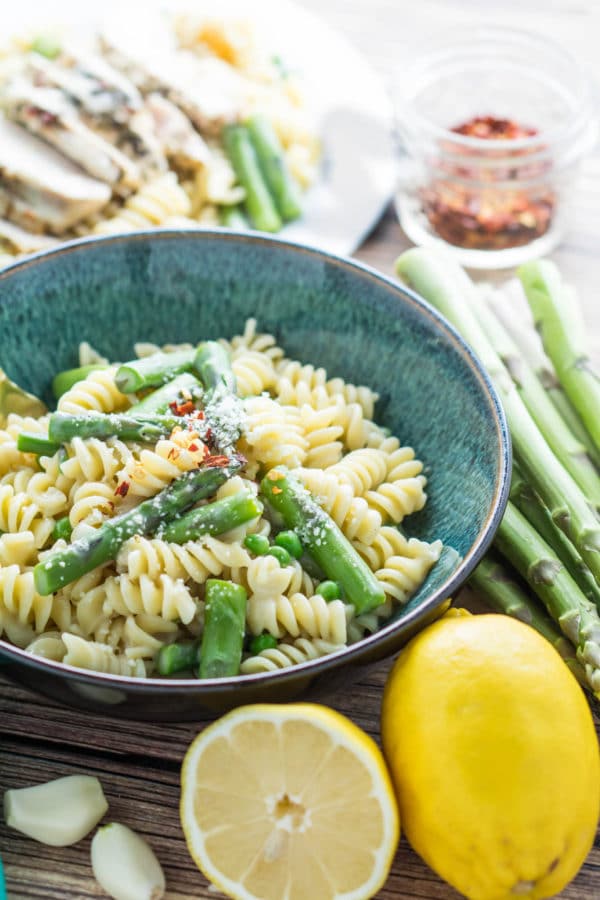 Asparagus screams Spring time! This Spring Time Pasta with Asparagus and Peas is light and a nutritious pasta for Spring.
This pasta recipe is perfect for Spring time because it is light, yet still full of flavors. Pastas like this are also a great alternative to a rich and heavy fettuccine Alfredo sauce. With summer right around the corner you are probably thinking about trying to tone up before you have to strut your stuff off at the pool! This pasta dish is great topped with a grilled chicken breast or just enjoying as will. Even though April is the peak season for asparagus, I found some delicious asparagus as the farmers market over the weekend. When fruits & veggies are in their peak season you may also notice the prices going down on them in your grocery stores. Anywho… I love tossing in veggies with my pasta because of all of the added nutrients they provide! What kind of veggies do you like with your pasta??
PS – I made this recipe in April 2015, and remade it March 2017 and took new photos 🙂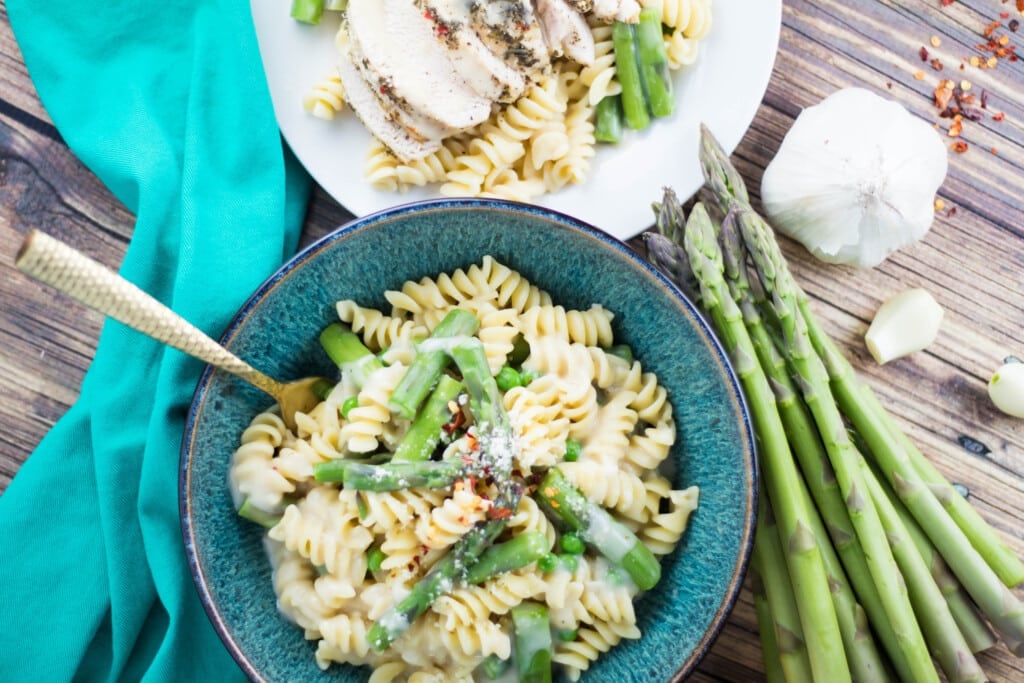 Time for a mini Dietitian lesson on asparagus. Why is asparagus even good for us anyways? Just because it's green its good for us? Haha, well this veggie can help protect against heart disease, Type 2 Diabetes, and even some cancers. Asparagus has a wide range of vitamins and minerals including folate, potassium, vitamins E, A, and C. You may even see your blood pressure lower by incorporating asparagus into your diet.
PIN this recipe for later!


OK — this might be TMI but as a Dietitian we have no shame. I am sure you have noticed, or have heard, that asparagus may make your urine have a funky odor! Why is that?! Well I did a little research on this and found a great answer from Carolyn O'neil, MS, RD. "Researchers believe that, during digestion, the vegetable's sulfurous amino acids break down into smelly chemical components in all people. And because those components are "volatile," meaning airborne, the odor wafts upward as the urine leaves the body and can be detected as soon as 15 minutes after you eat this spring delicacy. But only about one-quarter of the population appears to have the special gene that allows them to smell those compounds. So the issue isn't whether or not your pee is smelly; it's whether you're able to smell it. If you smell a funny fragrance in your urine after you eat asparagus, you're not only normal, you have a good nose."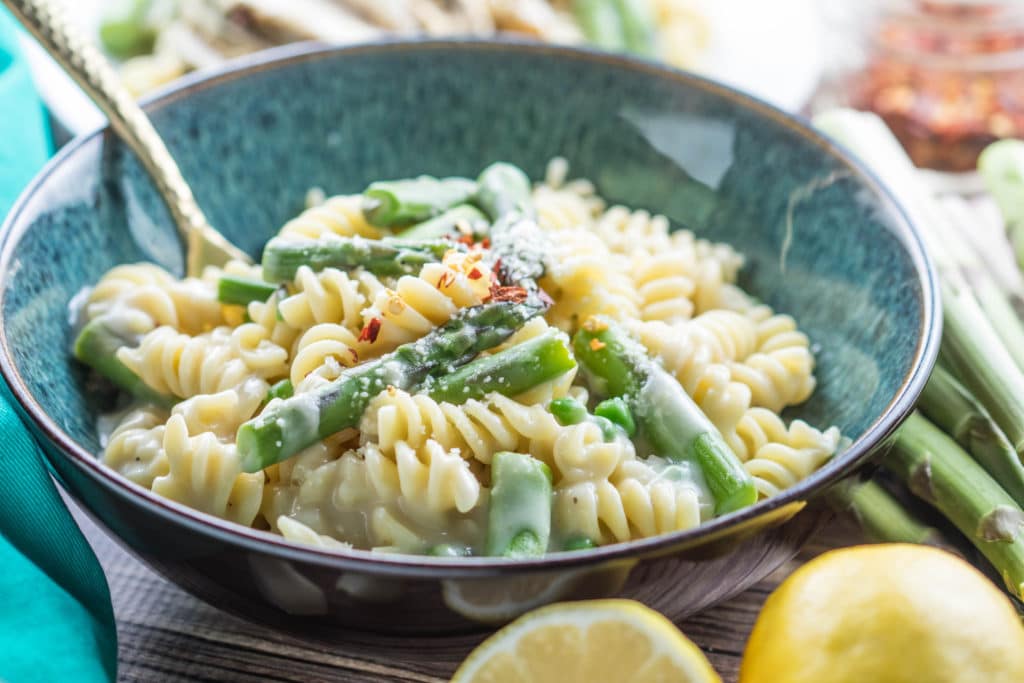 Interesting stuff right? Now you can try out this pasta and see if you have a good nose or not! 😉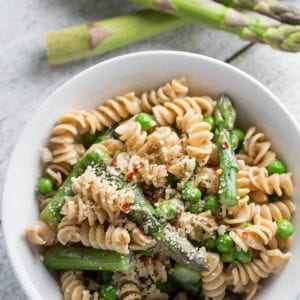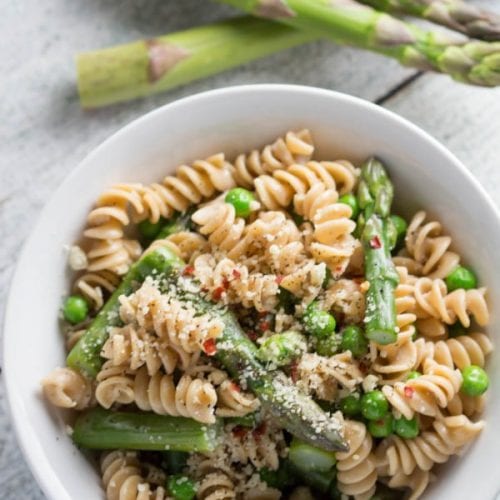 Spring Time Pasta with Asparagus and Peas
Ingredients
8

oz.

uncooked whole wheat spiral pasta

1

lb.

asparagus

ends trimmed and cut into 2-inch pieces

1

cup

frozen peas

1

Tbsp.

butter

2

cloves

garlic

1

cup

chicken broth

1

tsp.

cornstarch

1/3

cup

heavy cream

3

Tbsp.

fresh lemon juice

salt and pepper TT

dash of red pepper chili flakes

1/2

tsp.

dried oregano

lemon slices for garnish

Parmesan: optional topping
Instructions
Bring a pot of salted water to boil over high heat. Add the pasta and cook until al dente. Add the asparagus into the pasta and boiling water for 1-2 minutes - asparagus should turn bright green.

Place the peas in the bottom on the colander, drain the pasta and asparagus over the peas and then return pasta, asparagus, and peas into the pot. Set aside while you make the sauce.

Melt the butter in medium saucepan and add the garlic. Stir garlic for ~60 seconds, being careful to not let it burn. Combine vegetable broth and cornstarch and slowly whisk. Bring mixture to a boil, stirring constantly until mixture thickens. Remove from heat and stir in the cream, lemon juice, s&p, and red pepper flakes.

Pour the cream mixture into the pan with the cooked pasta and veggies and toss. Serve with grilled chicken and fresh parmesan cheese on top! Enjoy!
Notes
Recipe adapted Cooking Light
[Tweet "Lemon…garlic…asparagus…pasta…what could be better? Try out this light and healthy Spring time pasta dish for an easy weekend meal! |Krollskorner.com"]
Hi, I'm 
Tawnie

!

Welcome to my tiny "korner" on the Internet! I am a Registered Dietitian Nutritionist who loves cookies as much as kale. (OK, maybe I like cookies a little bit more but shh, don't tell anyone). I am so glad you're here! Follow along for hassle free, realistic and approachable recipes.

More about Tawnie

I'd love to see what you made!!
Share it with me on Instagram or Facebook and tag me @krolls_korner or use the hashtag #KrollsKorner!