Kale & Brussels Salad with Pomegranates and Almonds and GIVEAWAY!
Salads | Published on Jul 20, 2016 | Last modified on Aug 20, 2019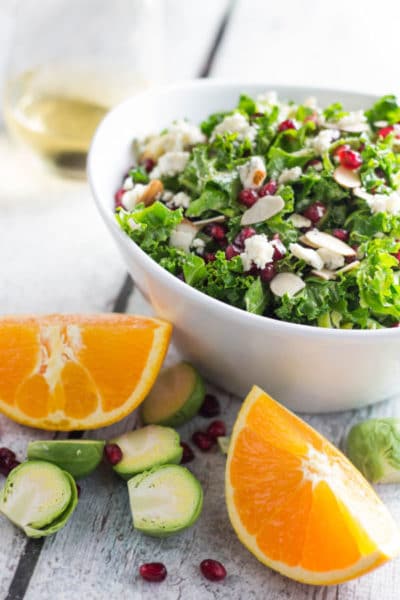 This year, the Fresno Food Expo will be held July 27-28th AND I AM GIVING AWAY 4 TICKETS THIS YEAR!! 🙂 (see details below). The Fresno Food Expo promises they are more than just your average trade show. This is the ultimate opportunity to connect with local trendsetters and CEO's behind some of the nation's largest food companies!
This year the Expo will have a very special guest:
SIMON
MAJUMDAR: World-Renowned Author, Broadcaster and Food Network Personality From:
Beat Bobby Flay
Cutthroat Kitchen
The Next Iron Chef
I wanted to feature one of the vendors who will be in attendance – California Almonds – Almond Board of California. Almonds are one of my favorite on the go snacks, but are even better when included in other recipes – like this salad! Almonds provide our bodies with several health benefits including the "good" monounsaturated fats, Vitamin E (antioxidant), 6 grams of protein per serving, and 3.5 grams of fiber.


I do not take credit for this recipe: This Kale and Brussels Salad with Pomegranates and Almonds recipe can be found here. And so many other great recipes from the California Almond Board can be found here.
GIVEAWAY!!
Don't forget about the GIVEAWAY! The Fresno Food Expo is giving away FOUR tickets (Each of $50 value) to 4 lucky Kroll's Korner readers in the U.S. or Canada (just no PO Boxes puh-lease). The giveaway will run for one week through 7/20/16 – 7/27/16 and the winners will be announced shortly after that. Good luck ya'll!
BIG thank you Fresno Food Expo for donating the tickets for this giveaway! Good luck all!

I'd love to see what you made!!
Share it with me on Instagram or Facebook and tag me @krolls_korner or use the hashtag #KrollsKorner!