Herb Chicken Pasta Bake
Dinner | Published on Apr 16, 2018 | Last modified on Aug 20, 2019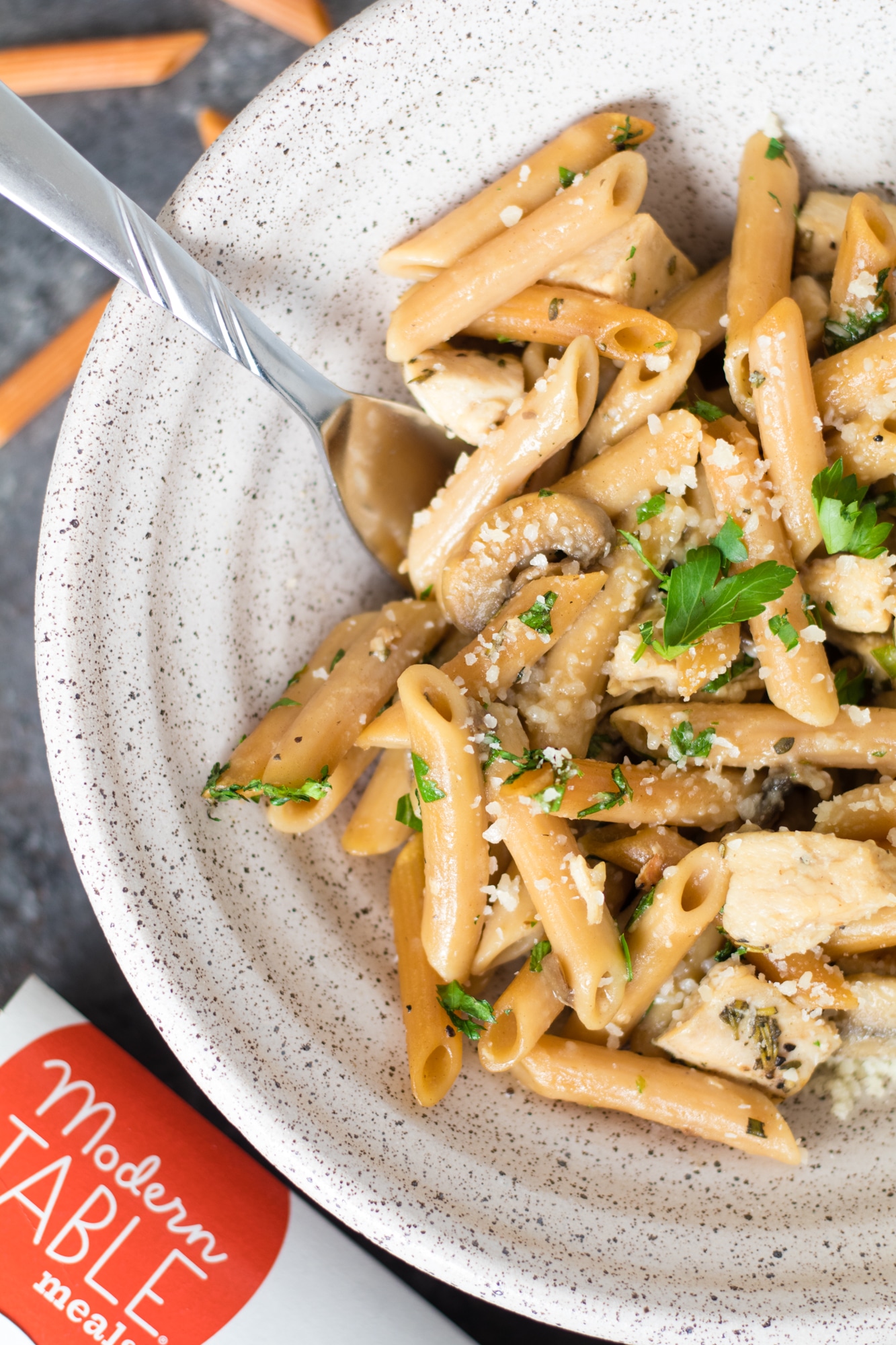 Nothing compares to a flavorful, easy herb chicken pasta bake! I love making this Chicken Bake for a weeknight dinner or on Sunday for meal prep to enjoy during the week!
Disclosure: I was not compensated for my time writing this post & all opinions are my own. Separately from this blog post I made a 60 second video and I was compensated for that. . Thank you for supporting the brands that keep Kroll's Korner up and running!
I made this Herb Chicken Pasta Bake with Modern Table Meals pasta…have you tried it before? I was introduced to it a couple months ago and I'm hooked! The noodles are full of plant protein, gluten free (if that's your thing), and are made with a blend of lentils, rice, and pea protein. If you're still feeling like ehhh…Tawnie, that sounds weird to me…they also have "meal kits" and mac and cheese you can start out with too – which I really like for a quick lunch or dinner paired with a veggie + protein.
I feel like a lot of pasta alternatives have a sticky texture and really don't taste like true pasta. This pasta, and a few others, are the only ones I will buy now. I even have my boyfriend on board with this pasta, and that is saying a LOT! I am not sure if I have told you all much about him – if you follow me on Instagram I am sure you see his guest appearances on my stories! His name is Cameron – we have lived together since August and he is in real estate and has his own property management company. He is also the biggest supporter of all things blogging/social media and I love that about him! (Bloggers with significants know how hard it can be!!) He is equally motivated and dedicated towards hard work so we make a great team (at least we think so!)
This weekend was busy – I taught cycle at Cyclebar Friday night and 2 classes on Sunday…I also donated blood on Saturday so teaching TWO classes on Sunday really took a lot out of me! I was pooped come Sunday evening. I am so happy it's April though because that means 1. The weather is starting to get warmer (with a few days of rain here and there) and 2. Rodeo in Clovis is coming! Are you a rodeo fan?! It's one of my favorite times of year…and an excuse to wear a cute cowboy hat and boots!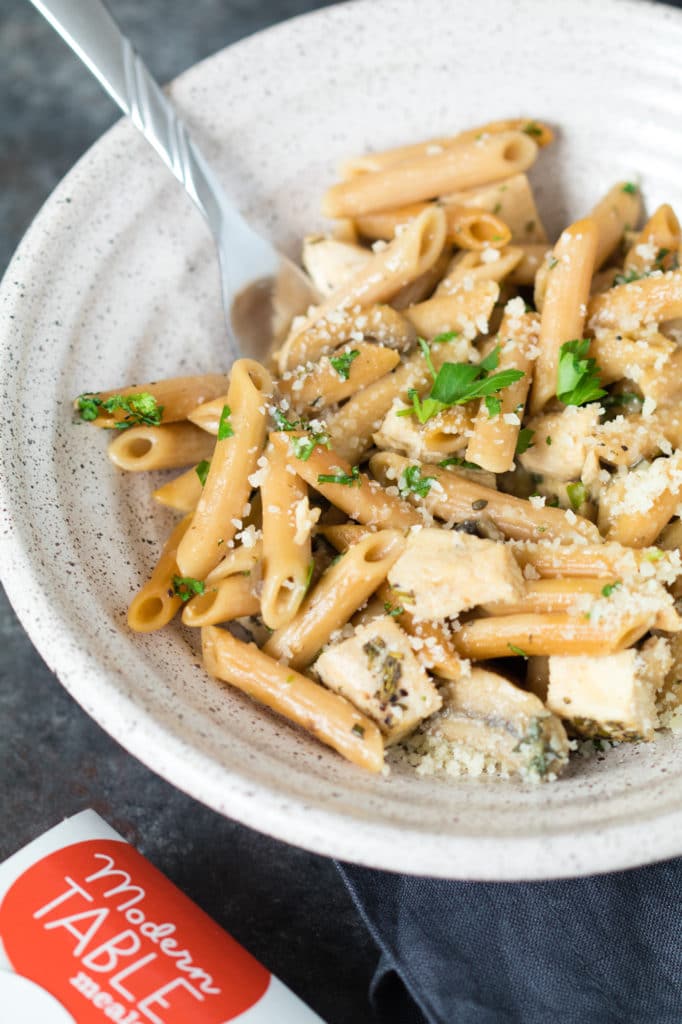 So this pasta – you can prep the chicken and boil off the pasta ahead of time, and then assemble & bake when you are ready. Which is what I would recommend if you are wanting it for a quick weeknight meal! Also if you want it to be extra creamy, double the sauce in the recipe below!
What are some of your favorite weeknight dinner/go-to meals?!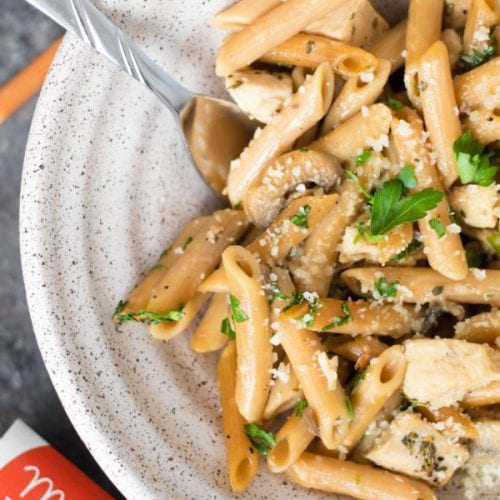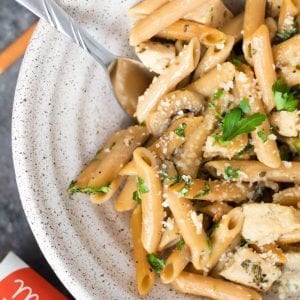 Ingredients
3

chicken breasts

boneless, skinless

2

Tbsp.

rosemary, fresh

2

Tbsp.

thyme, fresh

1

Tbsp.

Extra Virgin Olive Oil

8

ounces

white button mushrooms

sliced

1

tablespoon

All-Purpose flour

Optional: Gluten Free Flour

1

cup

chicken broth

low-sodium

1/2

cup

dry white wine

2

Tbsp.

Dijon mustard

1/4

cup

flat-leaf Italian parsley

roughly chopped

2

packages (16oz)

Modern Table Meals Penne Pasta

Or pasta or choice

salt and pepper - 1/4 tsp. each

3

cloves

garlic, fresh

chopped

Parmesan, grated

garnish
Instructions
Bring a large pot of water to boil, and cook shell pasta according to package.

Preheat oven to 400 degrees F. Season chicken, in a medium bowl, on both sides with salt, pepper, 1 Tbsp. rosemary and 1 Tbsp. thyme. Heat the olive oil and fresh garlic over medium heat in a large skillet. Add chicken, to the hot oil and cook for about 10 minutes or until no longer pink.

Remove chicken from skillet and set aside. Add mushrooms to skillet and turn heat to medium-high; cook stirring occasionally for 4 minutes. Mushrooms should begin to sweat. Add flour to skillet, stirring to coat. Stir in chicken broth, wine, and mustard. Cook and stir until thickened and bubbly, ~5 minutes.

In a Pyrex or oven safe casserole dish, combine cooked pasta, cubed chicken, remaining herbs and mushroom sauce into the dish and mix well. Cook in oven for 15-20 minutes, and enjoy!
Notes
If you do not have white wine, just use more chicken broth.
Double the sauce if you want a more creamy pasta bake!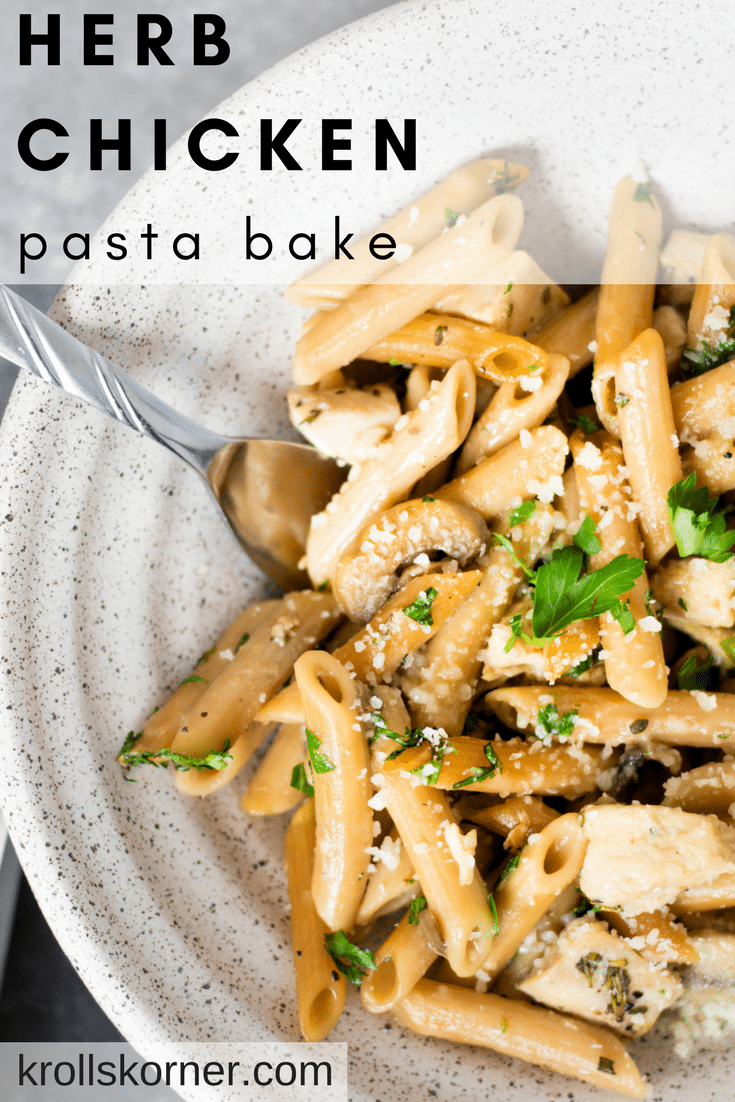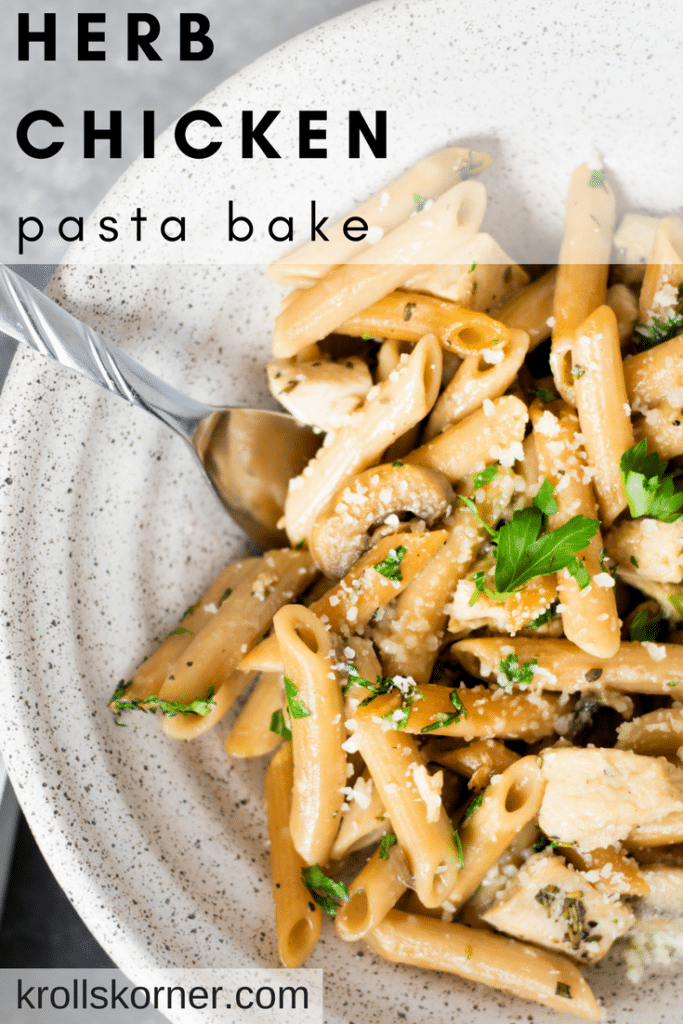 [Tweet "Do you like easy dinners? Yep – I knew you did. That's why I made this yummy Herb Chicken Pasta Bake just for you! Krollskorner.com"]

I'd love to see what you made!!
Share it with me on Instagram or Facebook and tag me @krolls_korner or use the hashtag #KrollsKorner!