Freekeh Pilaf with Mint and Pine Nuts
Dinner | Published Dec 29, 2016 | Updated Aug 20, 2019 | By Tawnie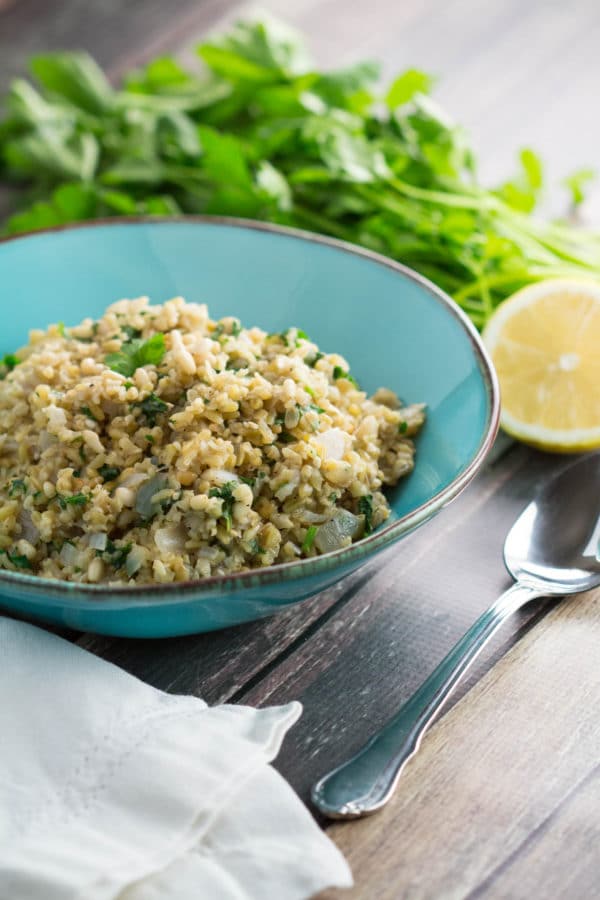 Freekeh Pilaf made with Mint, Pine Nuts and spices.
First things first. Let's clear the air on how we say this word. Freekeh (pronounced "Free-kah").
For about the last 6 months, I've been reading through some nutrition magazines and blog posts about this grain. It is an ancient grain that is gaining popularity in America mostly due to its nutritional qualities. If any of you are "quinoa'ed" out this may be your new buddy! (Quinoa is technically a seed though, not a grain). But don't get me wrong, quinoa is still delicious and I cook with it often!
Back to Freekeh…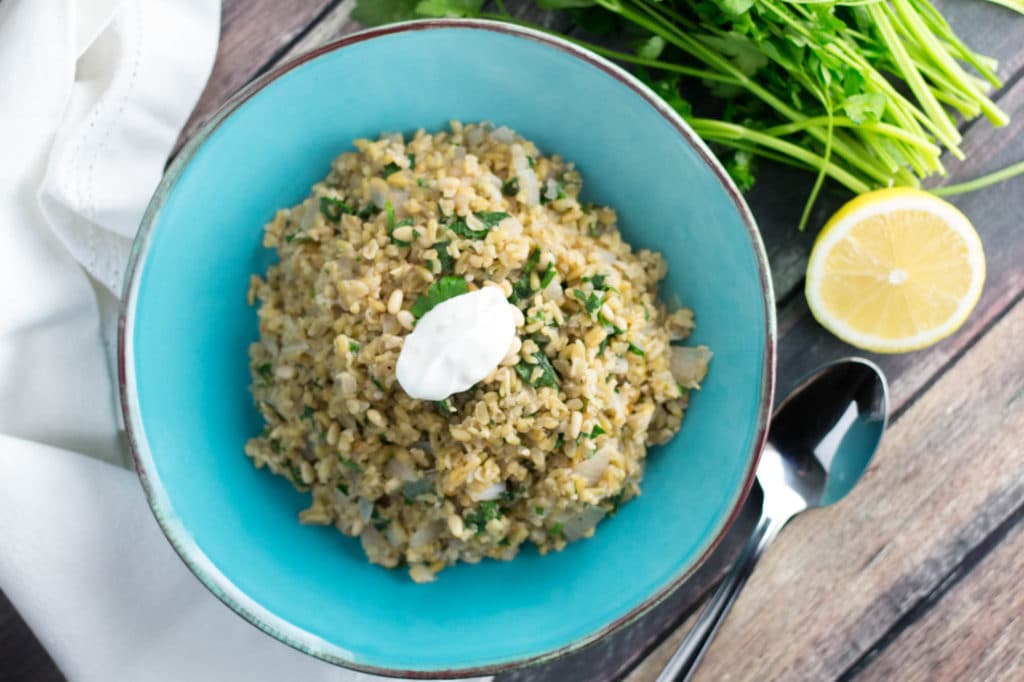 HEALTH BENEFITS
It is high in protein, fiber, vitamins, minerals, and has a low glycemic index compared to most other grains. Glycemic index measures how a carbohydrate containing food raises blood sugars/glucose.
It contains 4 times the fiber than brown rice! This is great because a fiber rich diet is linked to lower body weight! Freekeh will leave you feeling fuller longer.
Freekeh can protect your eyes because it contains two antioxidants – Lutein & Zeaxanthin – which are very important for eye health.
It can act as a prebiotic to increase healthy bacteria in your GI tract.
**Freekeh is not gluten free for those of you with Celiac disease.
Other superfood grains you may be interested in include: spelt, amaranth, couscous, and farro.
[Tweet "Freekeh Pilaf is a nutritious alternative to rice pilaf, full of fiber and protein! Ancient grains are making there way into 2017! |krollskorner.com"]
QUINOA vs. FREEKEH
Per 1 cup cooked…
Quinoa has 39.4g carbs, 3.6g fat, 5.2g fiber, 8.1g protein, 223 calories.
Freekeh has 36g carbs, 0.4g fat, 8.2g fiber, 5.6g protein, 205 calories.
Which is better? Well as you can see, quinoa has more protein per cup. It also is a better source of iron, folate, and calcium. It is also gluten free, which freekeh is not. Freekeh has a lower glycemic index, making it a slow-release energy superfood. Higher source of fiber, and lower in fat, carbs, and calories!
Since I've talked so much about it, I'd like to share a delicious recipe using Freekeh. I found my Freekeh at Whole Foods Market.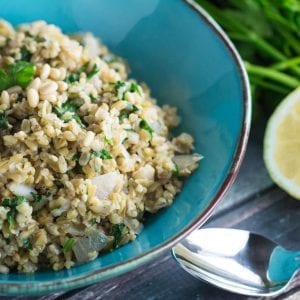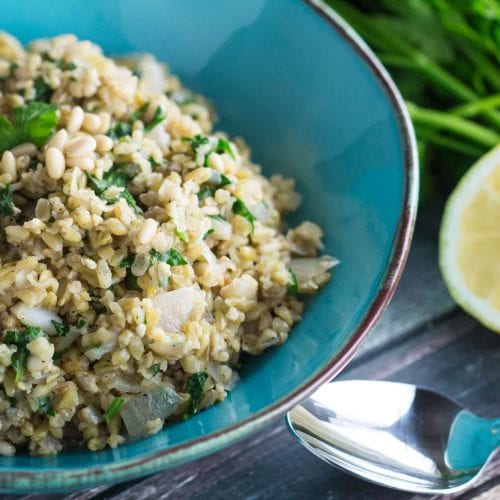 Freekeh Pilaf with Mint and Pine Nuts
Freekeh Pilaf is a nutritious alternative to rice pilaf, full of fiber and protein!
Ingredients
1/2

white onion

finely chopped

2

cloves

garlic

jar or fresh

3

tsp.

Olive oil

1

cup

Freekeh

1/4

tsp.

cinnamon

1/4

tsp.

ground allspice

1/4

tsp.

ground coriander

salt and pepper to taste

2

cups

chicken broth

or water. (I used low sodium organic chicken broth)

2

Tbsp.

pine nuts

1

handful of fresh mint, parsley and cilantro

Chopped.

3/4

cup

Greek yogurt

plain, nonfat

1 1/2

tsp.

lemon juice
Instructions
Place oil, onion, and one clove garlic into saucepan. Sauté on medium heat for about 10 minutes, stirring occasionally.

Add Freekeh to pot, and then add the cinnamon, allspice, coriander, salt and pepper.

Add chicken broth or water and bring to a boil.

Cover, reduce heat to low. Let simmer for 20 minutes. (It will smell sooo yummy at this point!)

Remove pan from heat and let sit for 5 minutes, covered. Then, remove lid and fluff with fork.

Stir in herbs, mix well, and top with pine nuts! Wonderful alternative for rice pilaf!
Notes
Optional: Mix together 3/4 cup Greek yogurt, garlic, and lemon juice and top on pilaf. Very tasty!!
I encourage you all to try this grain out!
Hi, I'm 
Tawnie

!

Welcome to my tiny "korner" on the Internet! I am a Registered Dietitian Nutritionist who loves cookies as much as kale. (OK, maybe I like cookies a little bit more but shh, don't tell anyone). I am so glad you're here! Follow along for hassle free, realistic and approachable recipes.

More about Tawnie

I'd love to see what you made!!
Share it with me on Instagram or Facebook and tag me @krolls_korner or use the hashtag #KrollsKorner!