Kidney Bean Veggie Burgers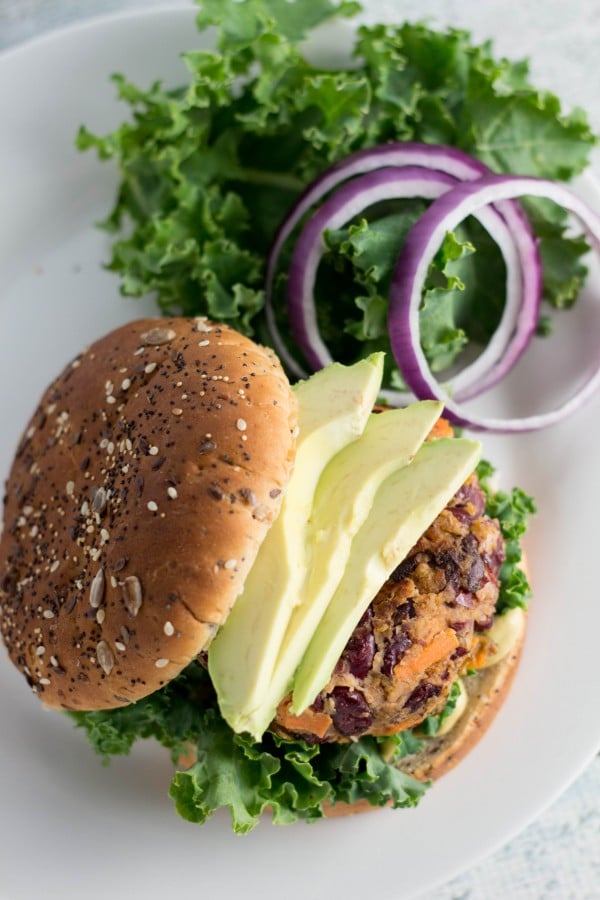 I have really been focusing on more of a plant-based diet comprised of tons of fruits and veggies, nuts, and seeds while decreasing red meat consumption, processed meats, etc. I was cleaning out my pantry this last weekend and found a couple cans of kidney beans and figured it would be fun to make a veggie burger with them. Let me back track to an important part I skipped over…the reason behind cleaning my pantry was because one of my longest and best friends of all time moved in with me this past weekend! So naturally I thought of where she would store her food so I had to reorganize my clutter to make room for her things. 🙂 Shout out to Shannon Leahy if you are reading this, love you! We actually had these burgers for dinner together and decided it is a keeper recipe!

Beans are a nutritional powerhouse if you ask me. They are an inexpensive way to include fiber, protein, carbs, and micronutrients such as folate in our diets. Some of you may defer away from beans because of the well known side affect – gas. However, I want to ensure you all are eating plant proteins like beans because of their magnesium, potassium, iron content along with the other nutrients I just mentioned!
Raffinose, stachyose, and verbacose are all non-digestible short-chain carbohydrates which are believed to provide health benefits, they're also a major contributor to the intestinal gas that results from adding more beans to the diet. Here are some tips for taming the gas-producing compounds in beans!
So with that said, here are some handy tips and tricks to decrease beans from producing excess gas in our bodies:
1. Mix 1/8 teaspoon of baking soda or a spoon of vinegar into the soaking water. Soak beans for eight to 10 hours.
2. Rinse beans thoroughly and don't cook beans in the water in which they were soaked because it contains the gas-causing sugars.
3. Slow cook beans in a crock pot for several hours.
4. Drain and rinse canned beans; this will significantly reduce the gas-producing oligosaccharides (Raffinose, stachyose, and verbacose).
5. Add beans to the diet in small amounts in the beginning until you get used to it.
Info adapted from: http://www.med.umich.edu/umim/food-pyramid/legs.html
[Tweet "Kidney Bean Veggie Burgers…way too yummy! | Krollskorner.com"]
Before You Begin! If you make this, please leave a review and rating letting us know how you liked this recipe! This helps our business thrive & continue providing free recipes.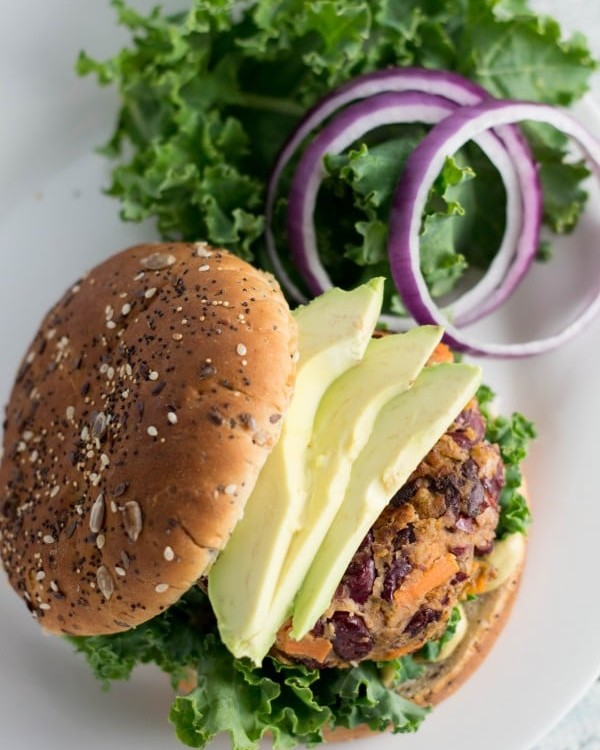 Kidney Bean Veggie Burgers
Ingredients
2

cans red kidney beans

(rinsed and drained)

2

Tbsp.

red wine vinegar

3

medium carrots

(peeled and shredded)

1

tsp.

dried oregano

1

tsp.

chili powder

3/4

cup

breadcrumbs

(Gluten free optional)

2

eggs

(lightly beaten)

1/4

cup

kalamata olives

(chopped)

squeeze of lemon

salt and pepper to taste

Hamburger buns

(whole wheat)

Garnish: kale

(avocado, mustard, red onion or any burger fixings you prefer!)
Last step! If you make this, please leave a review and rating letting us know how you liked this recipe! This helps our business thrive & continue providing free recipes.
Instructions
Lightly mash kidney beans in a large bowl, being sure to leave some of the beans whole. Add in all of the other ingredients listed about (except garnish of course) and combine well. I used my hands for this part!

Divide the mixture into 4-6 patties, depending how thick and big you want them.

Heat 1-2 Tbsp. olive oil in a skillet over medium heat. Add patties to cook - 10 minutes on one side, and 5-8 minutes on the other...add more olive oil to the pan when necessary.

Once finished, load up your veggie burgers with your preferred toppings and enjoy!