Creamy Chicken and Rice Soup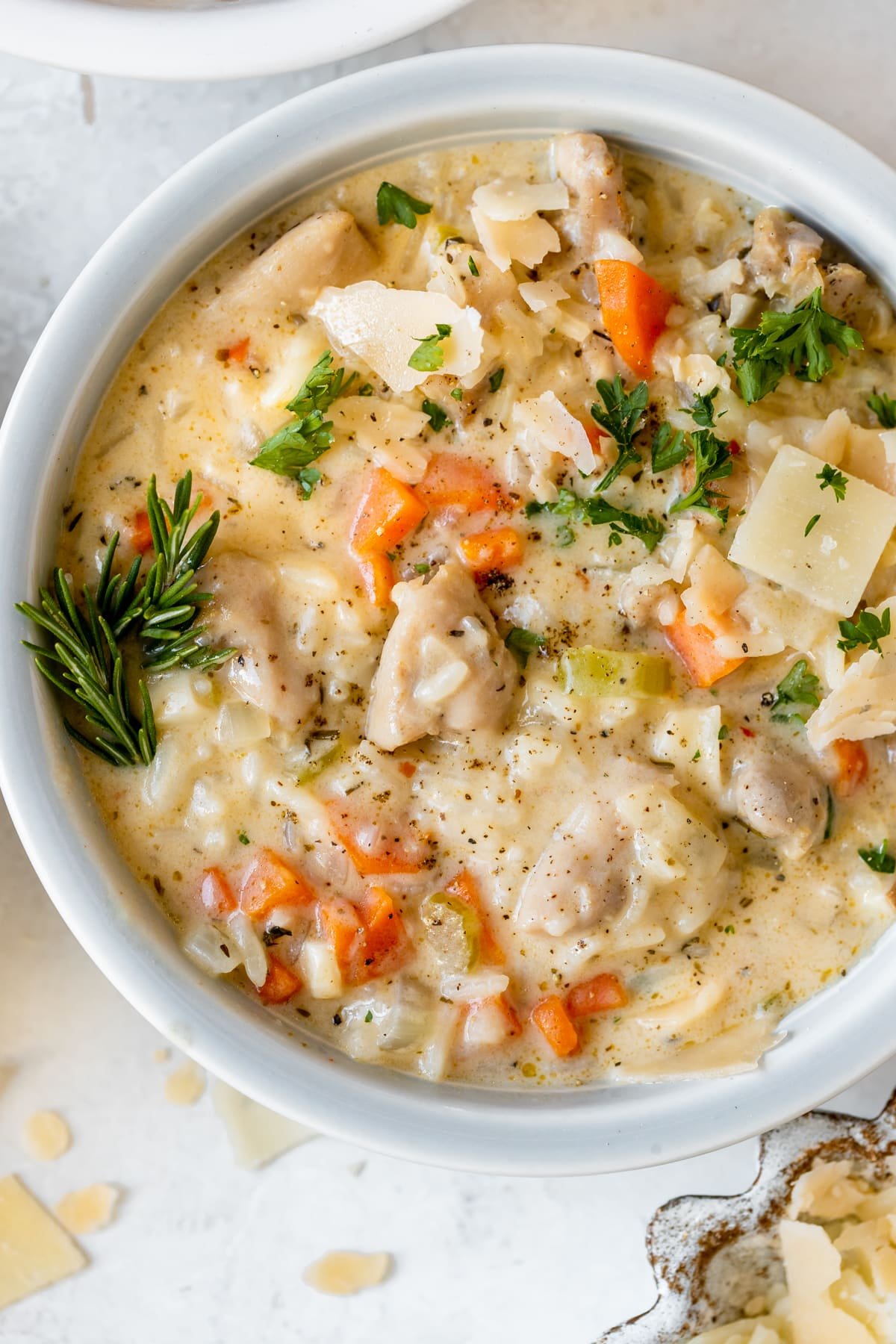 This Creamy Chicken and Rice Soup comforts the soul with a combination of fresh vegetables, simple spices, and a light and creamy broth that is overflowing with tender chucks of chicken.
It is perfect for those busy-day-dinners when you are just about out of time, but still want to put a hearty, nutritious meal on the dinner table.
And if you love this soup you'll be sure to love my creamy wild rice soup, it's perfect for adding in leftover Thanksgiving turkey or ham.
This soup starts out like most soups, with a hearty mix of onions, carrots, celery and seasonings for the base and it creates the perfect foundation of flavor for the velvety, creaminess of this Creamy Chicken and Rice Soup.
In just 30 minutes, this soup will put a hush to your families hunger pangs. Get ready to cozy up and end the day on a warming, comforting note.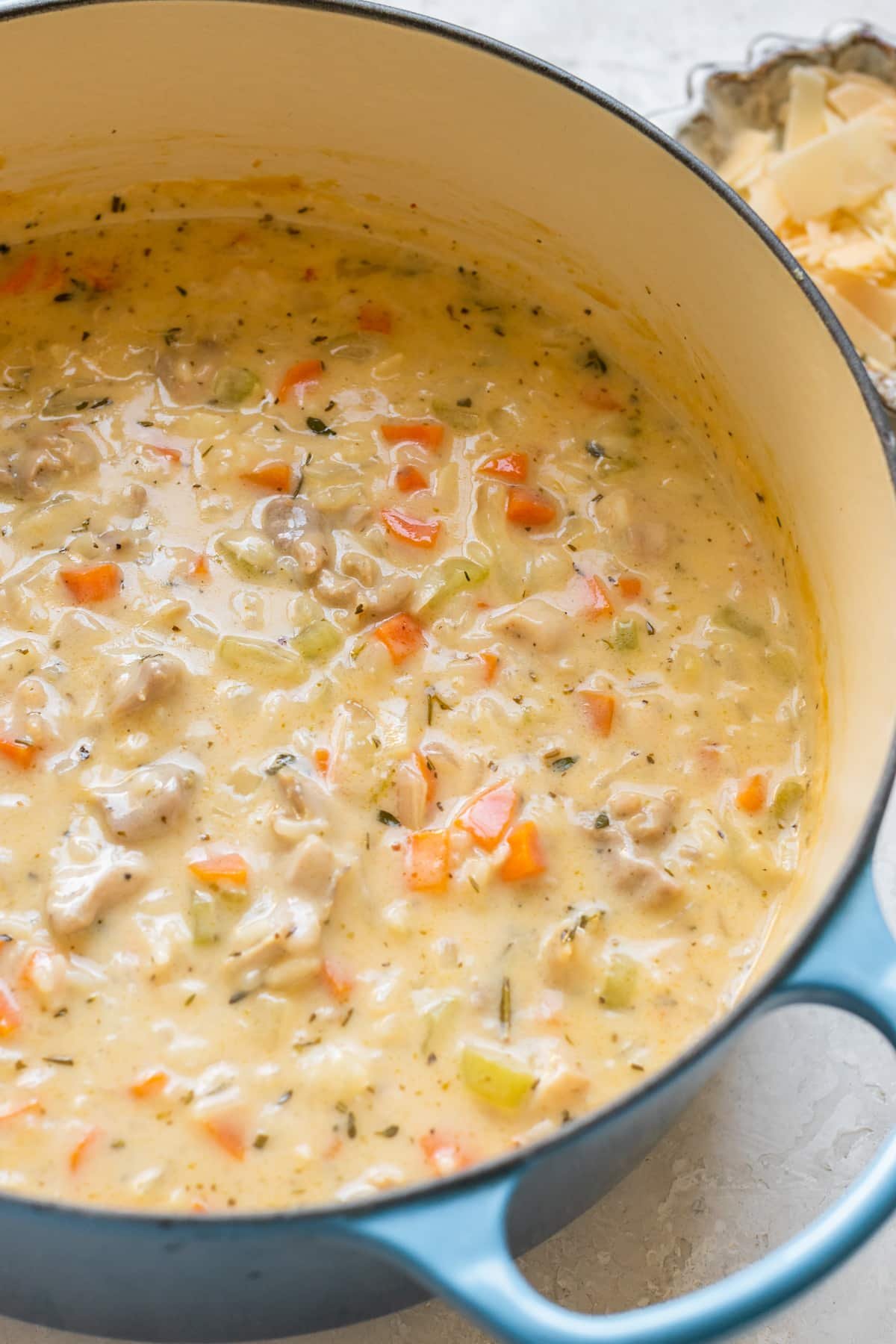 You'll Love This Soup Because…
This time-saving soup is quick and so easy to make.
You will use just one pot so cleanup is s breeze.
The surprise of the bright lemony flavors and the aromatic rosemary.
It's made with every day ingredients and pantry staples.
…well, what's not to love?! Chicken, rice, veggies, creamy goodness… yum!
Ingredient Notes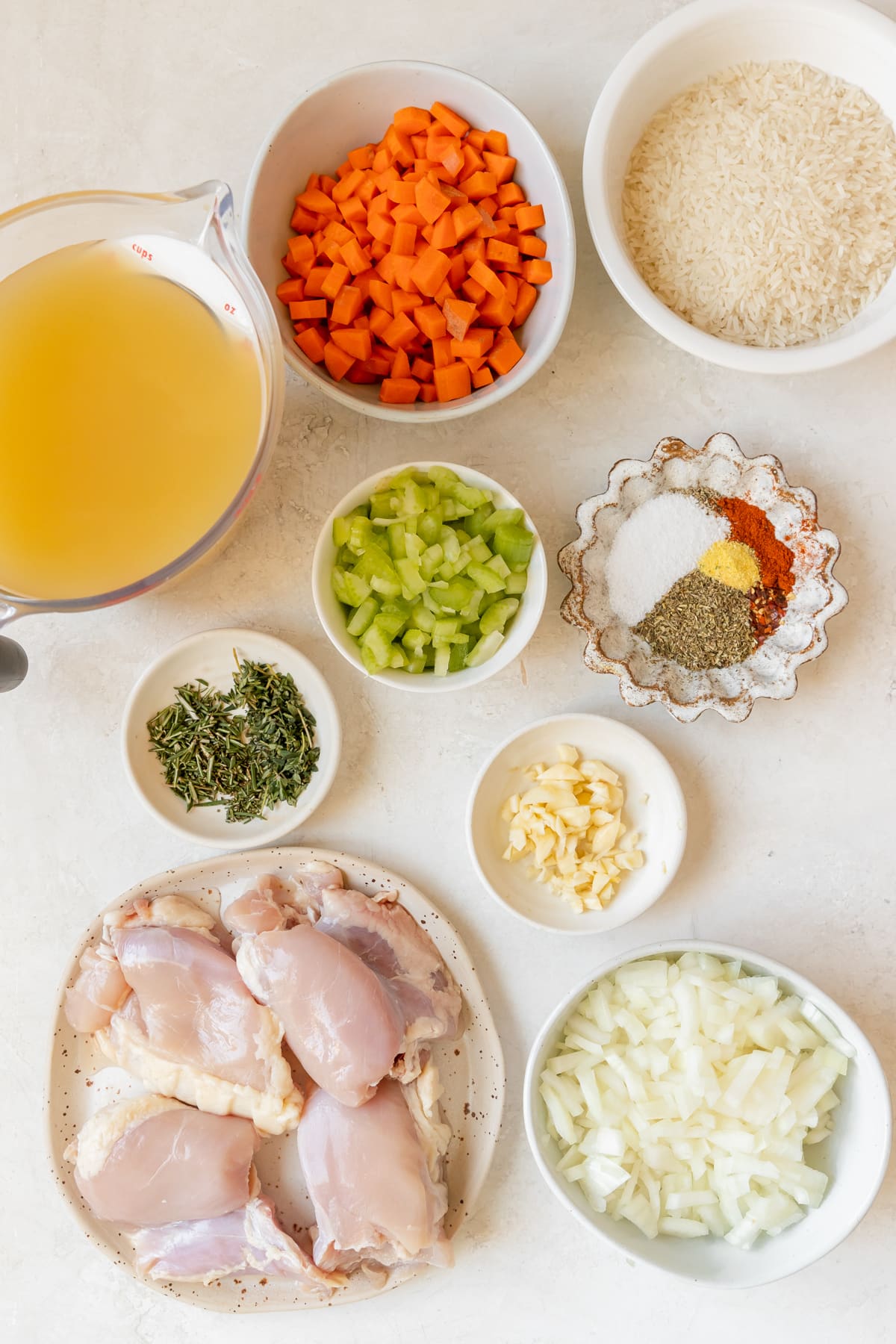 Butter: Use butter for the best flavor, but olive oil can also be used.
Yellow onion: Yellow onion adds sweetness to the soup and it's always a good idea to start with cooking aromatics in a little fat (in this case butter) to add overall flavor to soups.
Carrots: Carrots add a slightly sweet and earthy flavor.
Celery: Think of the celery as a supporting actor in this soup. It's not the main star, but along with the carrots and onions they are essential to make a flavorful, robust soup.
Boneless skinless chicken thighs: Chicken thighs are tender and juicy and add more richness to the soup than chicken breast. However, feel free to use boneless skinless chicken breasts or even stir in leftover shredded chicken or a rotisserie chicken at the end if you're in a pinch.
Garlic: We all know when my recipe says 3 cloves, I'm really adding like 8 cloves. HAHA. Measure with your heart and what feels good!
Thyme & rosemary: Aromatic herbs add delicious flavors to your soup. Be sure to use fresh, not dried.
All-purpose flour: this helps thicken the creamy broth.
Chicken broth: I recommend using a good broth that is packed with chicken flavor. Or even chicken bone broth.
Half and half: Adding half and half adds a silky, rich flavor. You can use whole milk if you prefer.
Soy sauce: just a little splash adds to the complexity of the soup that brightens and brings out the layers of flavors.
Hot sauce: Much like salt, hot sauce will enhance and open up the flavors in your soup. Feel free to omit if you are sensitive to spicy foods.
Rice: Adding uncooked rice to the soup allows it to soak up the rich flavors of the soup while it is cooking. Plus, it cooks right into the soup so there is no need to cook it beforehand and add another step!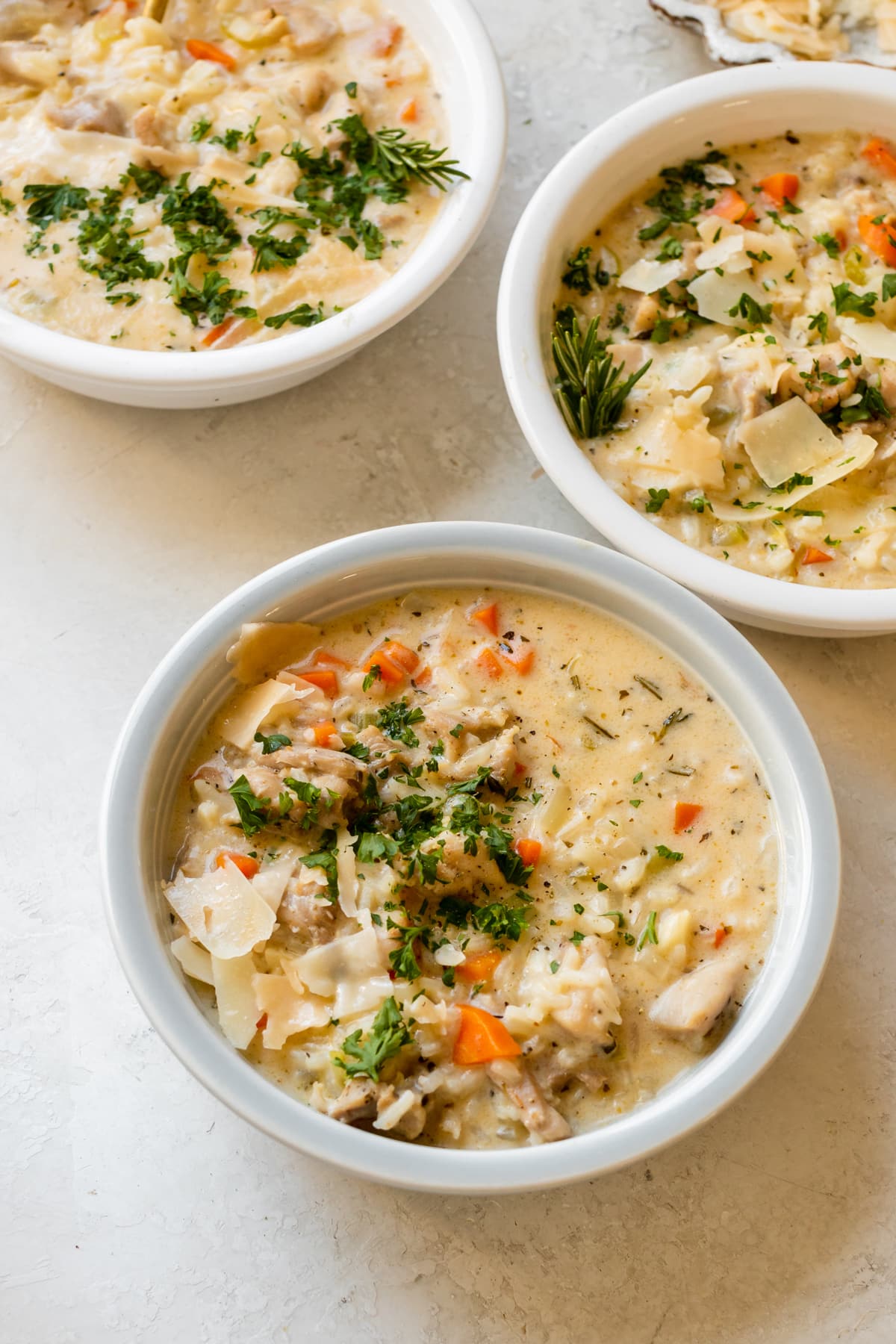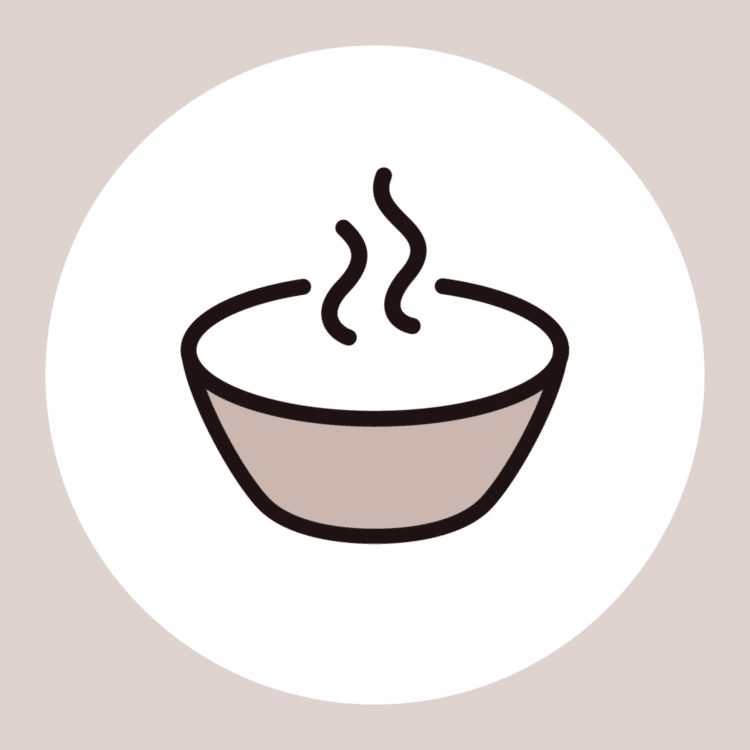 More Soup Recipes
I don't know about you, but when the weather gets colder, all I want to make are delicious, homemade soups. If you're looking for more soup recipes, I've got the perfect Soup Series for you to check out!
Soup Series
Step by Step Directions
Melt the butter in a Dutch oven.
Saute the veggies. Add salt to taste. Add garlic and stir.
Toss chicken in seasonings and add them to the pot. Cook ~7min. Then add thyme and rosemary.
Add flour and stir.
Add broth, half and half, soy sauce and hot sauce. Then add in the rice. Bring to boil then down to simmer until rice is cooked and soup thickens, ~15-20 minutes. Be sure to stir frequently so rice doesn't stick to the bottom. Soup thickens quite a bit as it cooks/sits. Add more broth as desired.
Garnish with parsley and parmesan.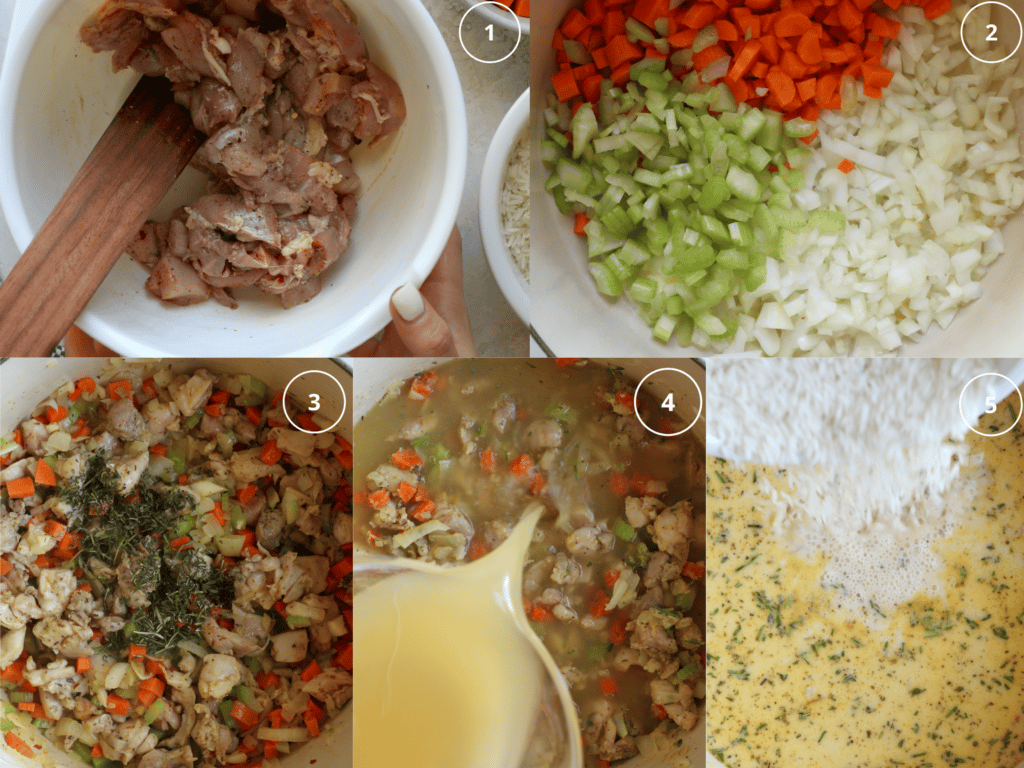 Tips & Variations
Save even more time and use already cooked chicken or rotisserie chicken and add during the last 5 minutes so it doesn't over cook.
To add more spice to your soup, garnish with freshly sliced jalapenos.
Since this soup is made with rice, the rice soaks up a lot of the liquid. When reheating, I recommend to add in more broth or water to thin the soup back out.
Feel free to cook the rice on the side and add to the bowls so the rice doesn't soak up all of the liquid.
Be sure to taste the soup as you go, adding more salt or seasonings to build flavor at each stage of the cooking process.
And on the other end, if you feel you've over seasoned your soup, it's OK! Simply add in a little more water or broth to balance it out.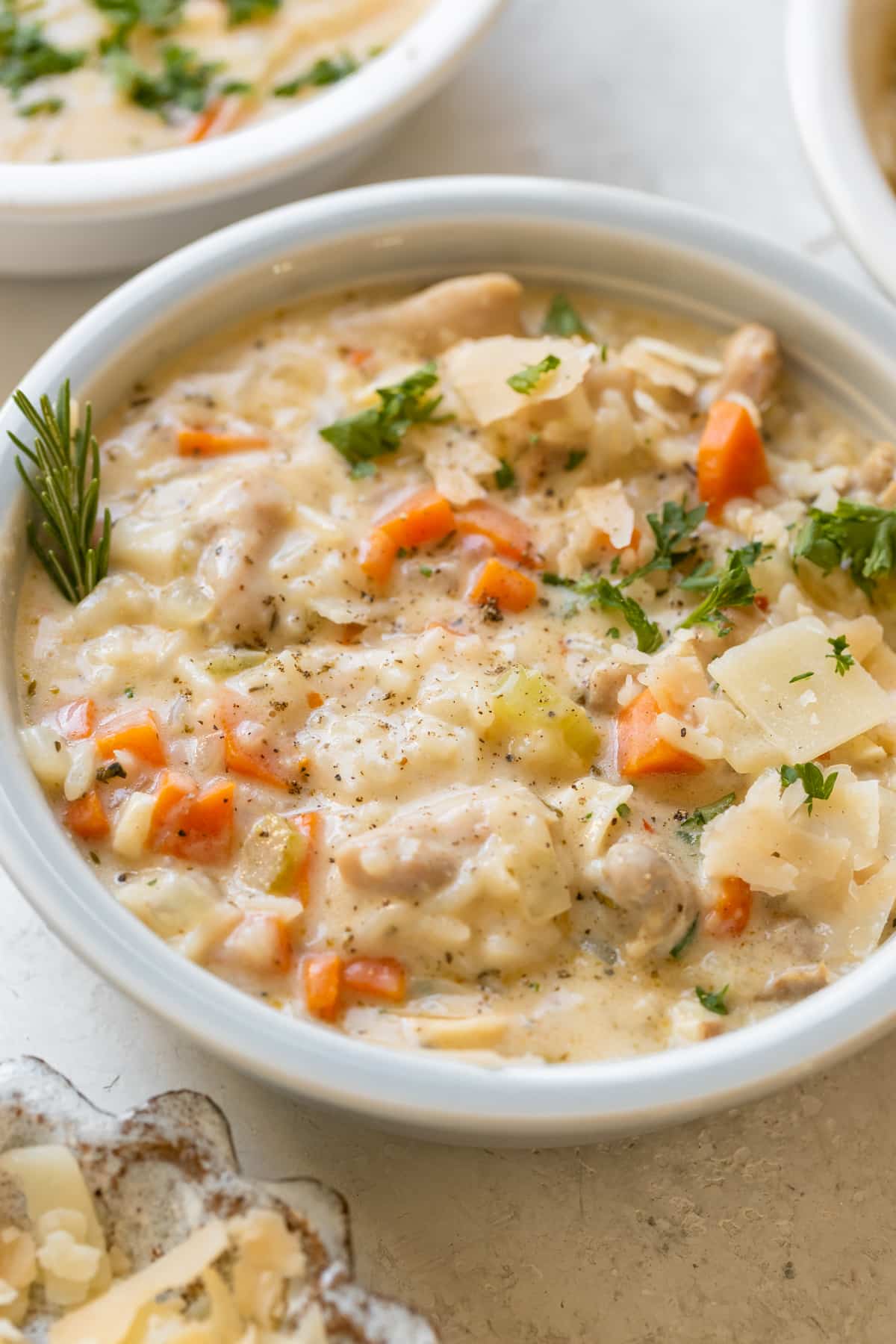 FAQ
Can I use other types of rice?

I like using long-grain white rice, but for a heartier nuttier taste and texture try brown or wild rice. Either adjust the cook time or cook the rice separately and add at the end.
Can I use milk instead of half and half?

The answer is yes, but there will be a difference in the richness of the soup. I would use whole milk if you have it!
How long can I keep Creamy Chicken and Rice Soup in the refrigerator?

Stored properly, it will last 3 to 4 days.
Can I freeze Creamy Chicken and Rice Soup?

I personally would not freeze a cream soup because you risk the cream separating when thawing it out. Also, starchy soups do not freeze well.
Before You Begin! If you make this, please leave a review and rating letting us know how you liked this recipe! This helps our business thrive & continue providing free recipes.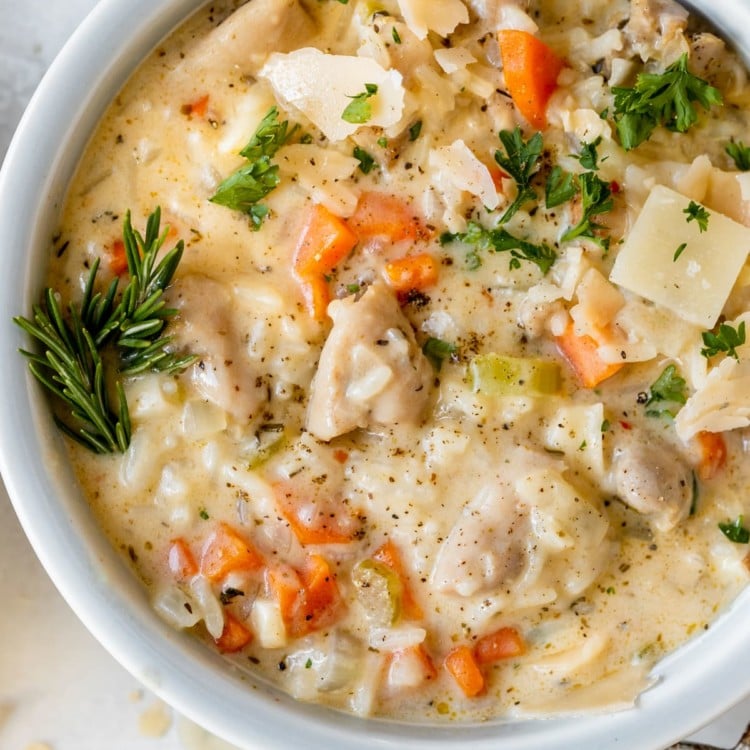 Creamy Chicken and Rice Soup
Creamy Chicken and Rice Soup made with chicken, veggies, rice and a creamy broth. The rice cooks right in the soup giving it body & richness!
Ingredients
1 1/2

lb.

boneless, skinless chicken thighs, cut into bite-sized pieces

1

tsp.

kosher salt

1

tsp.

Italian seasoning

1/4

tsp.

mustard powder

1/4

tsp.

paprika

1/4

tsp.

chili flakes

3

Tbsp.

butter, unsalted

1

medium

yellow onion, diced

3

large

carrots, peeled and diced

3

stalks

celery, diced

4

cloves

garlic, minced

1

Tbsp.

fresh thyme, chopped

1

Tbsp.

fresh rosemary, chopped

1/4

cup

all purpose flour

6

cups

chicken broth

1

cup

half and half

1

Tbsp.

soy sauce

1

Tbsp.

hot sauce

1

cup

long grain white rice, uncooked

salt and pepper, to taste

garnish: Parmesan cheese, black pepper, fresh parsley
Last step! If you make this, please leave a review and rating letting us know how you liked this recipe! This helps our business thrive & continue providing free recipes.
Instructions
Place the diced chicken pieces in a medium sized mixing bowl. Add the salt, Italian seasoning, mustard powder, paprika and chili flakes and stir to coat the chicken. Set aside.

Heat a large Dutch oven or soup pot over medium heat. Melt the butter and then add in the onions, carrots and celery. Add kosher salt to taste. Saute, stirring occasionally, for 5-7 minutes. Add the garlic and stir for another 30 seconds or so.

Add the seasoned chicken pieces and cook until no longer pink. Then stir in the thyme and rosemary.

Add the flour and stir to coat the vegetables and chicken pieces.

Slowly pour in the chicken broth, half & half, soy sauce and hot sauce. Then add in the rice and stir. Turn the heat up to medium-high to bring to a boil and then turn the heat back down to low to simmer the soup until the rice cooks and the soup thickens, ~15-20 minutes. Be sure to stir frequently so the rice doesn't stick to the bottom of the pot.

Note: Since this soup is made with the rice cooked directly in the soup, the rice absorbs a lot of the broth and the starch released from the rice thickens the soup. Add more broth or water as desired to thin out the soup, especially when reheating leftovers.

Taste the soup, add more hot sauce, salt, pepper, etc. Ladle soup into bowls and garnish with shaved Parmesan, black pepper and fresh parsley and enjoy.
Notes
Storage: keep in the refrigerator in an air-tight container for up to 4 days.
Nutrition Information
Serving:
1
bowl
,
Calories:
299
kcal
(15%)
,
Carbohydrates:
24
g
(8%)
,
Protein:
17
g
(34%)
,
Fat:
15
g
(23%)
,
Saturated Fat:
5
g
(31%)
,
Polyunsaturated Fat:
2
g
,
Monounsaturated Fat:
5
g
,
Trans Fat:
0.2
g
,
Cholesterol:
65
mg
(22%)
,
Fiber:
2
g
(8%)
,
Sugar:
4
g
(4%)
,
Vitamin C:
5
mg
(6%)
,
Iron:
1
mg
(6%)