S'mores Cookie Recipe
Desserts | Published Jun 30, 2020 | Updated Sep 14, 2020 | By Tawnie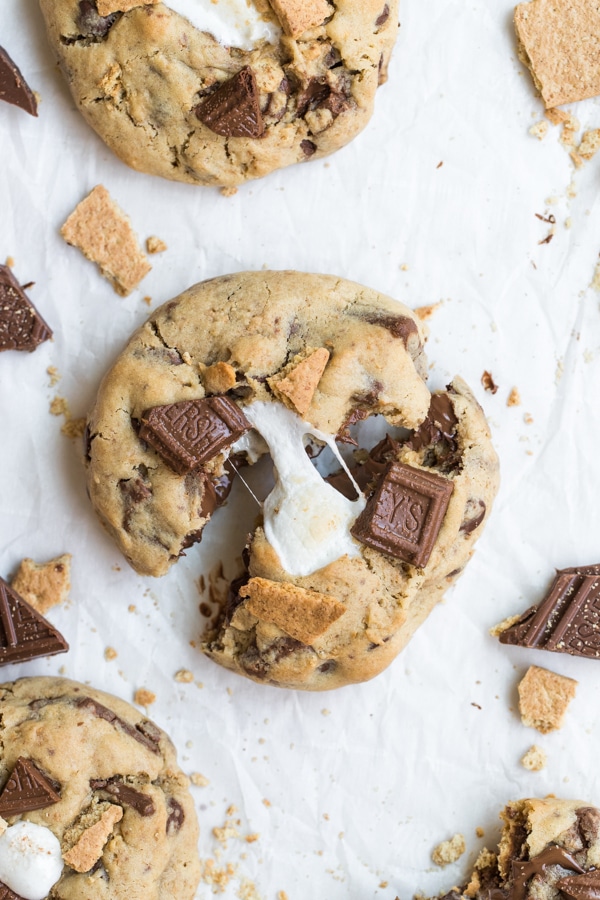 Say hello to the newest member of the cookie family here on Kroll's Korner: the Smores Cookie Recipe!
If you love an amazingly soft, chewy chocolate chip cookie and the gooey-ness of a traditional s'more, this Smore's Cookie is just for you.
If you've made my Kroll's Kookies before, you'll know how chewy, thick, and amazing they are. This recipe is just that, but in S'mores fashion!
These S'mores Cookies use the base of the Kroll's Kookies recipe, but have the addition of a soft marshmallow stuffed in the center, as well as the graham cracker crumbs in the batter.
I am also using a mix of chocolate chips and broken up pieces of Hershey chocolate bars because you can't make S'mores without a Hershey Bar!
Smores Cookies are fun for BBQs, Fourth of July, picnics, and parties. These taste perfect when they are just slightly cooled — you get the combination of a gooey marshmallow, warm, melted Hershey's chocolate, and a slight hint of graham cracker.
Smores Cookie Recipe Ingredients: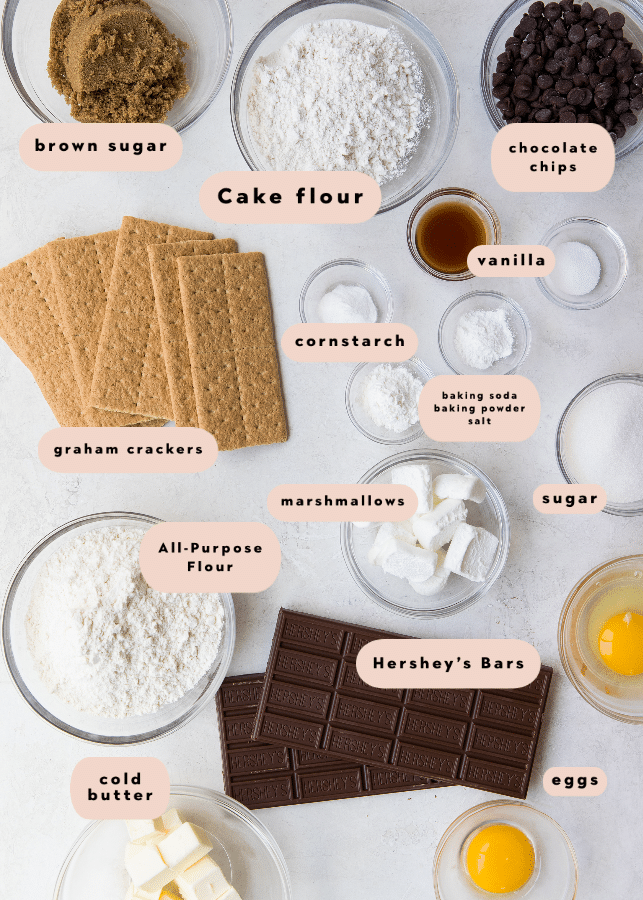 All-Purpose Flour: All-Purpose Flour helps to maintain the structure of the cookies. If you find your cookies are spreading out, you can try adding 1-4 Tbsp. more flour.
Cake flour: Cake flour is finer, softer, and lighter than All-Purpose Flour and helps to create the perfect, fluffy cookie. You can find it in most grocery stores or make your own homemade cake flour.
Cornstarch: The small bit of cornstarch is the secret to the soft center of the cookies. It also helps to keep these S'mores Cookies thick even after baking.
Baking powder: leavening agent for the cookies
Baking soda: leavening agent for the cookies, but about four times stronger than baking powder
Salt: The salt helps to bring out the sweetness of the cookies
Brown sugar: The brown sugar makes the Smores Cookies soft, moist, and chewy. Feel free to use light or dark brown sugar.
Cold, unsalted butter: The cold butter will create tiny pockets of air that release steam while the cookies are baking. This results in a fluffier, lighter cookie.
Granulated white sugar: White sugar will help these giant cookies spread a little bit while baking, so it is best to make these gooey cookies with the combination of white and brown sugar.
Egg: Use room temperature eggs to result in a lighter, fluffier cookie.
Egg yolk: The extra egg yolk adds richness and tenderness to the cookie, and it also binds the dough all together.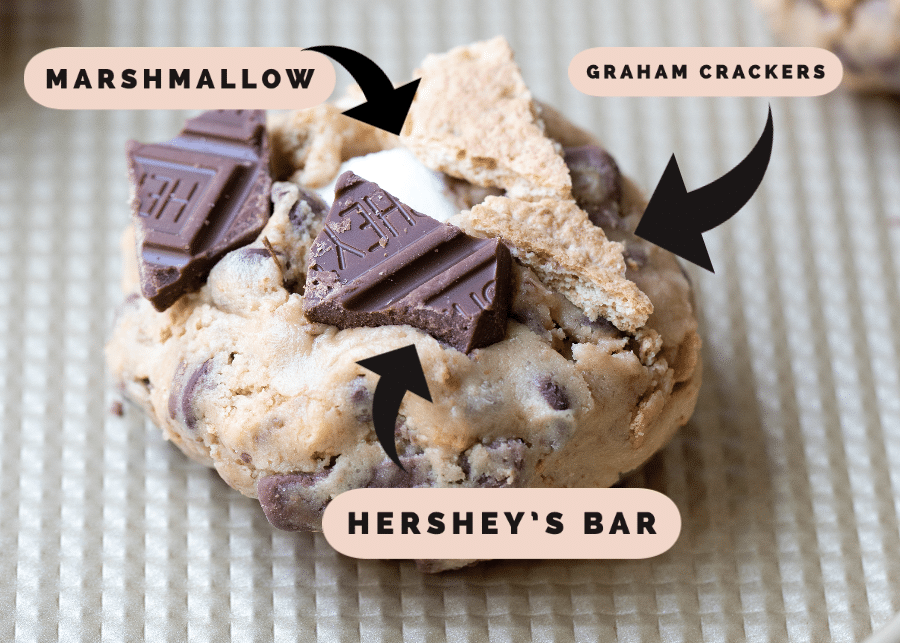 Pure Vanilla extract: The vanilla extract acts as another rich base note of flavor to the cookie, and it can help highlight the chocolate flavor.
Graham crackers: Adding crushed graham cracker crumbs adds that extra layer of texture and taste of original S'mores. I like to reserve a few pieces to decorate on top of the cookie (optional).
Milk chocolate chips: I love making these S'mores Cookies with milk chocolate the best, but feel free to use any chocolate that you prefer.
Hershey's chocolate bar: The Hershey's chocolate bar gives that extra chocolate-y flavor, and the bigger pieces result in more melted chocolate for the perfect cookie! I like to reserve a few chunks to decorate on top of the cookie (optional)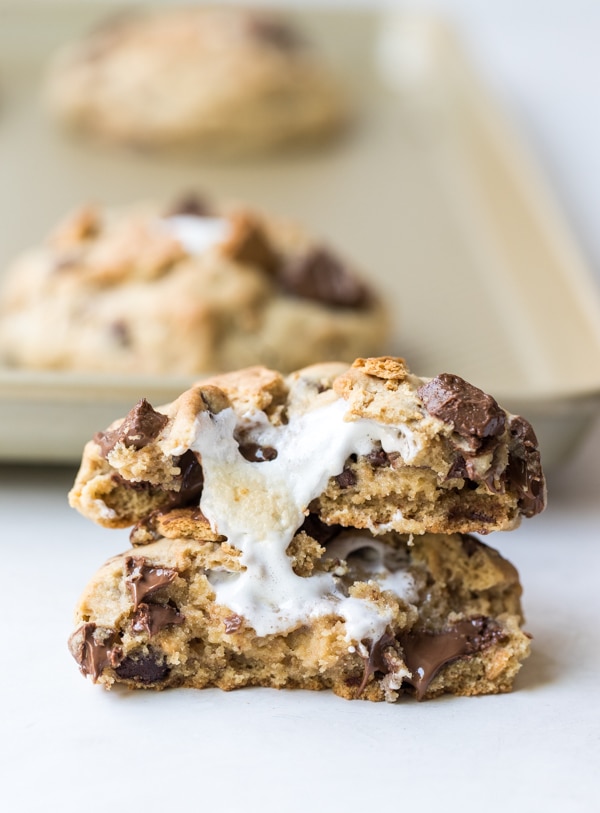 How to make S'mores Cookies
Mix together dry ingredients in a large mixing bowl.
Cream the butter and sugars together until light and fluffy.
Add in the eggs and vanilla extract.
Gradually add in dry ingredients.
Add in the broken graham cracker pieces, chocolate chips and Hershey Bar chunks.
Roll dough balls into ~7-8 large cookies.
Make a well in the center of the cookie. Slice a marshmallow in half and fold dough over marshmallow.
Decorate cookies with reserved graham cracker pieces and chocolate chunks if desired.
Bake until tops are golden brown and until the marshmallow slightly resembles a toasted marshmallow.
Let cool, transfer to cooling rack or parchment paper and enjoy!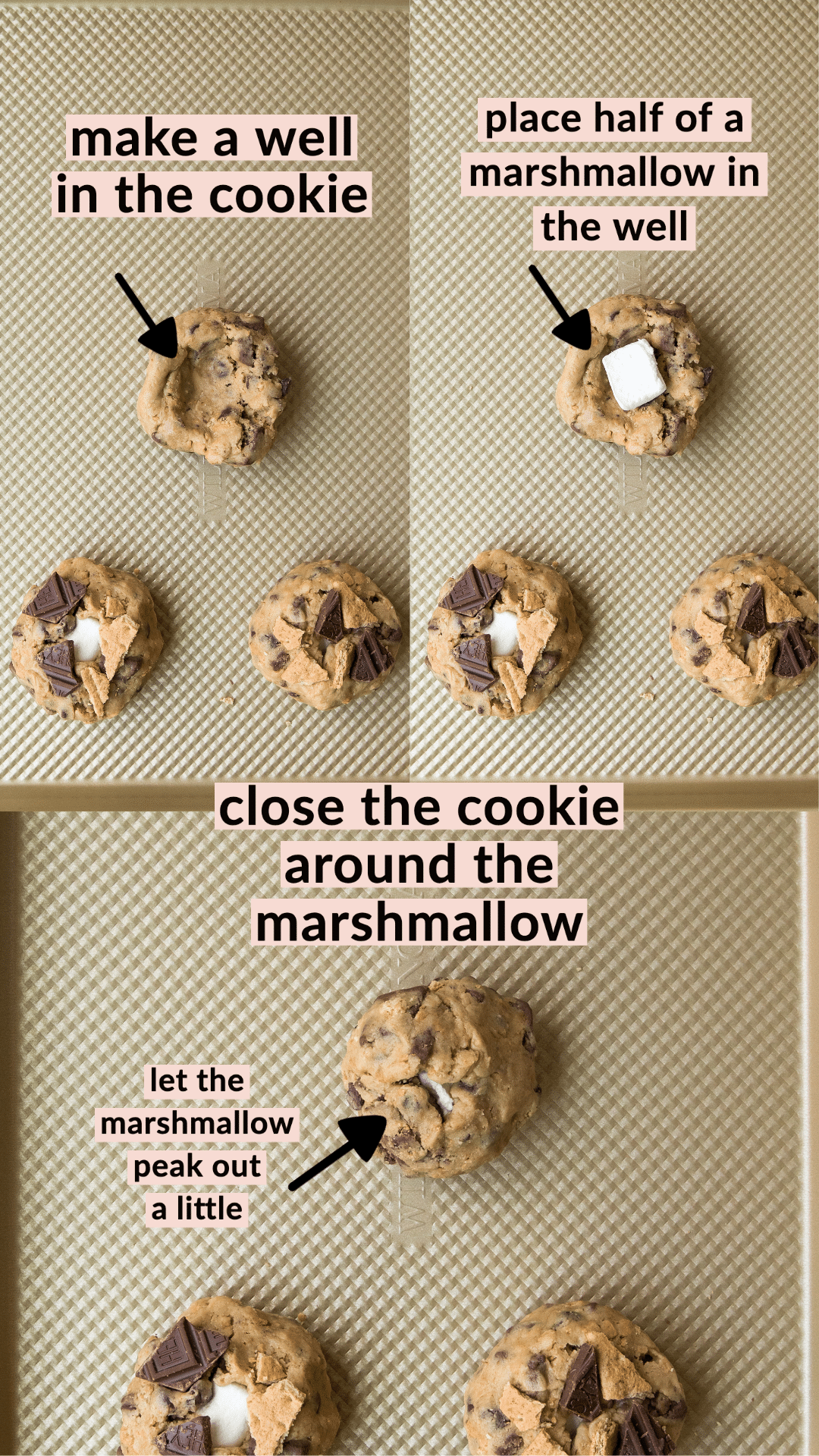 Tips to make the best Smores Cookies:
Using a mix of both All-Purpose Flour and cake flour makes the cookies fluffy! If you choose to you 100% All-Purpose Flour, the cookie will be more dense, but they will still be delicious. You can also make your own homemade cake flour.
Make sure to spoon the flour into your measuring cup and level it off with the back of a knife instead of scooping the flour with your measuring cup.
Pull the cookies out before you think they are done, since they will continue to cook a little bit from the hot baking pans as you let them cool down.
If you over bake these cookies, they won't be as gooey or soft in the center, and the marshmallow may spill out onto the baking pan.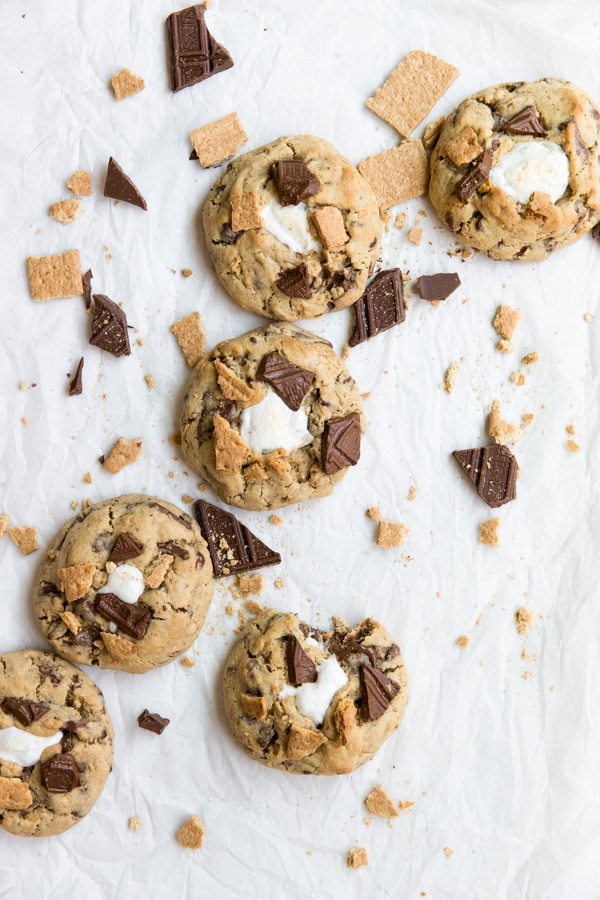 Add an extra egg yolk along with the 1 whole egg to make super chewy, delicious, and amazing cookies!
Don't flatten out these cookies before you place them into the oven so your cookies stay be nice and thick! The giant cookies will help keep the marshmallows intact before baking, and you'll end up with perfect S'mores Cookie.
I have not tested this recipe with mini marshmallows. I feel like the might make the cooke too sticky to enjoy if folded into the batter!
PS If you try this recipe, why not leave a star rating in the recipe card right below and/or a review in the comment section further down the page? I always appreciate your feedback! You can also follow me on Pinterest or Instagram. Sign up for my email list, too!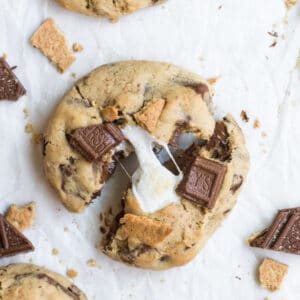 S'mores Cookies
S'mores Cookies with gooey marshmallows in the center and graham cracker crumbs mixed throughout. These are soft, chewy, thick, and baked until golden brown on the outside! SO good.
Servings:
7
large cookies
Ingredients
1 1/4

cup

All-Purpose Flour

3/4

cup

Cake Flour

1

tsp.

cornstarch

1/2

tsp.

baking soda

1/2

tsp.

baking powder

1/2

tsp.

salt

1

stick cold butter cubed (8 Tbsp.)

1/2

cup

brown sugar, packed

1/4

cup

granulated sugar

1

large

egg

1

large

egg yolk

1

tsp.

vanilla extract

7

sheets

graham crackers, broken into pieces (6 mixed in the cookie dough, 1 for garnish)

10

oz.

Hershey Chocolate Bar chunks (9 oz. mixed in the cookie dough, 1 oz. for garnish)

(You can use 6, 1.55 oz. bars or 2, 4.4 oz. XL bars)

1

cup

chocolate chips (milk chocolate or semi sweet)

4

marshmallows, cut in half
Instructions
Preheat the oven to 375°F. Mix dry ingredients together: In a large bowl, whisk together the all-purpose flour, cake flour, cornstarch, baking soda, baking powder and salt. Set aside.

Cream butter and sugars: Place the cold, cubed butter into the bowl of a stand mixer and secure the paddle attachment. Let the mixer cream the butter for about 30 seconds then add in both sugars and blend until incorporated and creamy.

Then add in the egg, egg yolk and vanilla extract. Blend until mixed. If any of the mixture gets stuck on the paddle attachment or side of the bowl use a rubber spatula to knock it off.

Turn the mixer to low speed and gradually add in the dry ingredients. I add in about ¼ cup at a time. Add in 6 graham crackers, Hershey's chocolate and chocolate chips until incorporated and then turn off the machine.

Measure out the cookies into 7, ~5 oz. portions (or smaller if you prefer). Make a well in the center of the cookie with your thumbs. Slice a marshmallow in half and fold dough over marshmallow.

Decorate cookies with reserved graham cracker pieces and chocolate chunks if desired. Bake at 375°F for 10-13 minutes or until tops are golden brown. Let cool and enjoy!
Notes
GLUTEN FREE: Replace both the All-Purpose flour and Cake flour with: Bob's Red Mill Gluten Free 1-to-1 Baking Flour .
To make homemade cake flour, you'll need 14 Tbsp. All-purpose flour and 2 Tbsp. corn starch.
Mix these together and sift them twice to get them fully mixed and aerated. This will make ~1 cup flour. You only need 3/4 cup for this recipe.
Nutrition
Calories:
467
kcal
|
Carbohydrates:
60
g
|
Protein:
9
g
|
Fat:
20
g
|
Saturated Fat:
11
g
|
Cholesterol:
54
mg
|
Sodium:
386
mg
|
Potassium:
361
mg
|
Fiber:
6
g
|
Sugar:
15
g
|
Vitamin A:
89
IU
|
Calcium:
74
mg
|
Iron:
7
mg
Hi, I'm 
Tawnie

!

Welcome to my tiny "korner" on the Internet! I am a Registered Dietitian Nutritionist who loves cookies as much as kale. (OK, maybe I like cookies a little bit more but shh, don't tell anyone). I am so glad you're here! Follow along for hassle free, realistic and approachable recipes.

More about Tawnie

I'd love to see what you made!!
Share it with me on Instagram or Facebook and tag me @krolls_korner or use the hashtag #KrollsKorner!