Eggnog Cookies with Cream Cheese Frosting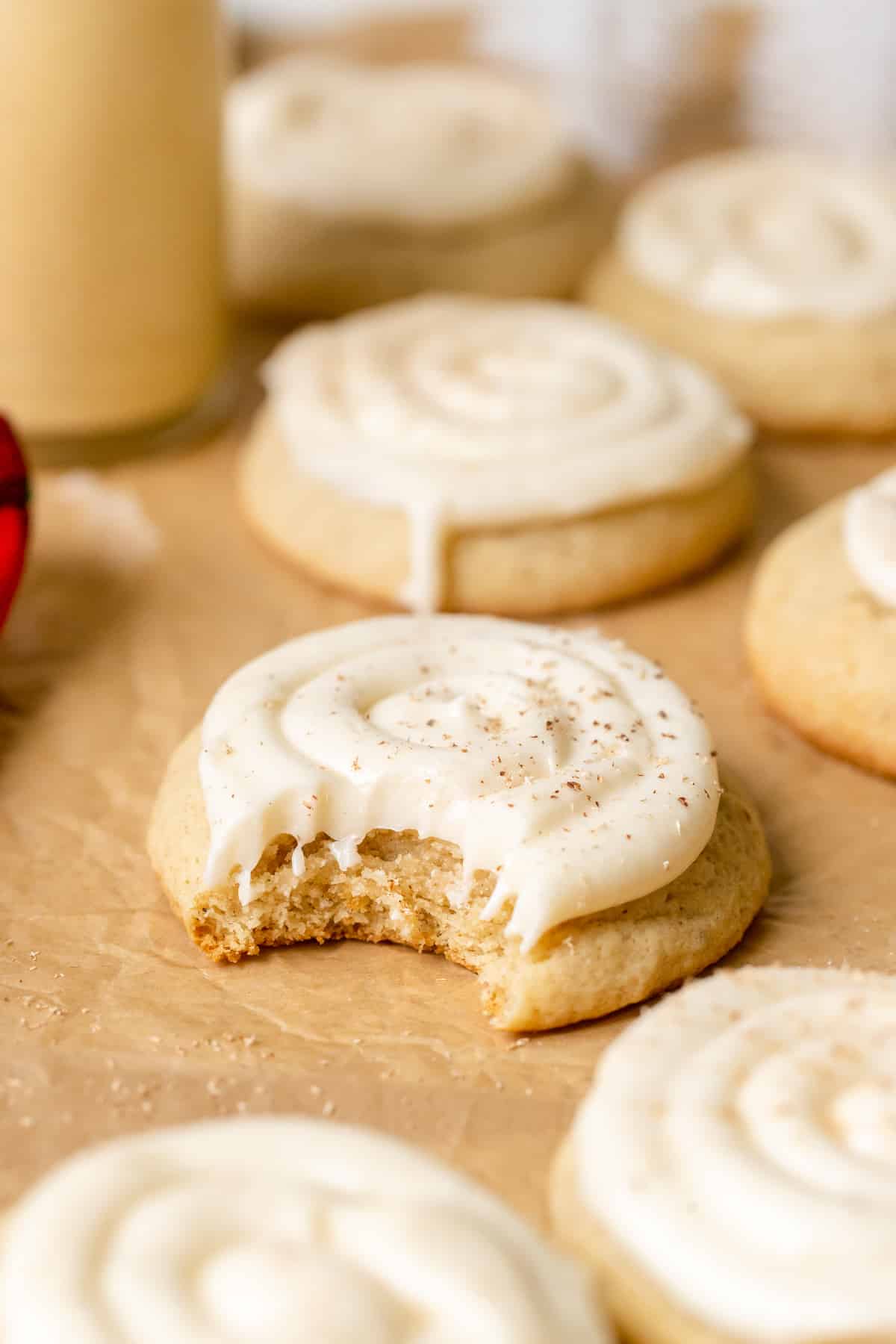 My Eggnog Cookies made with the most delicious eggnog cream cheese frosting are the reason why people say that this is the most wonderful time of the year.
These soft and chewy, eggnog flavored cookies are the ideal Holiday treat. Every layer of this cookie, from the warm spiced cookie dough, to the creamy, cream cheese frosting is filled with eggnog and rum extract.
Dust the tops with freshly grated whole nutmeg and a pinch of cinnamon to dress up this "limited edition" holiday cookie that will catch everyones eye when you set out your holiday desserts.
And if these holiday cookies aren't your thing, that's OK! I have these Coffee Cake Cookies, Apple Pie Cookies, or Cinnamon Roll Cookies for you to try!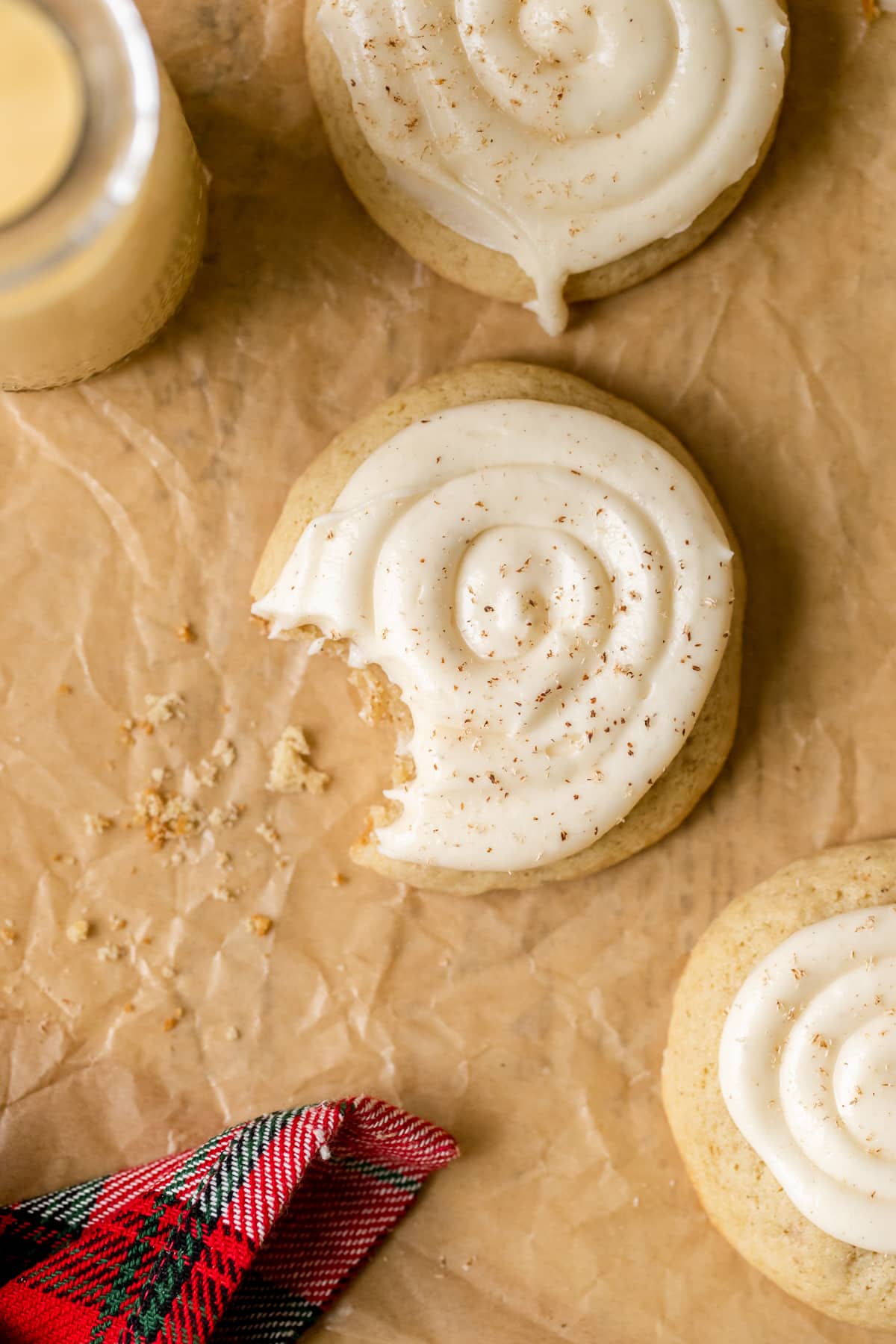 As soon as November arrives I start searching the grocery stores for Eggnog. Am I the only one?!
I make sure I buy some every time I shop, because once the holidays are gone…so is the eggnog. Eggnog just isn't a great addition to my morning cup of coffee, but it also makes great cocktails, early morning breakfast breads, pies and cakes, candy and yummy cookies.
This year I wanted to make a cookie that you would fall in love with. It is packed with the sweet custard like eggnog flavor so there is no way of getting around how festive these Eggnog Cookies are and how they will become your holiday favorite.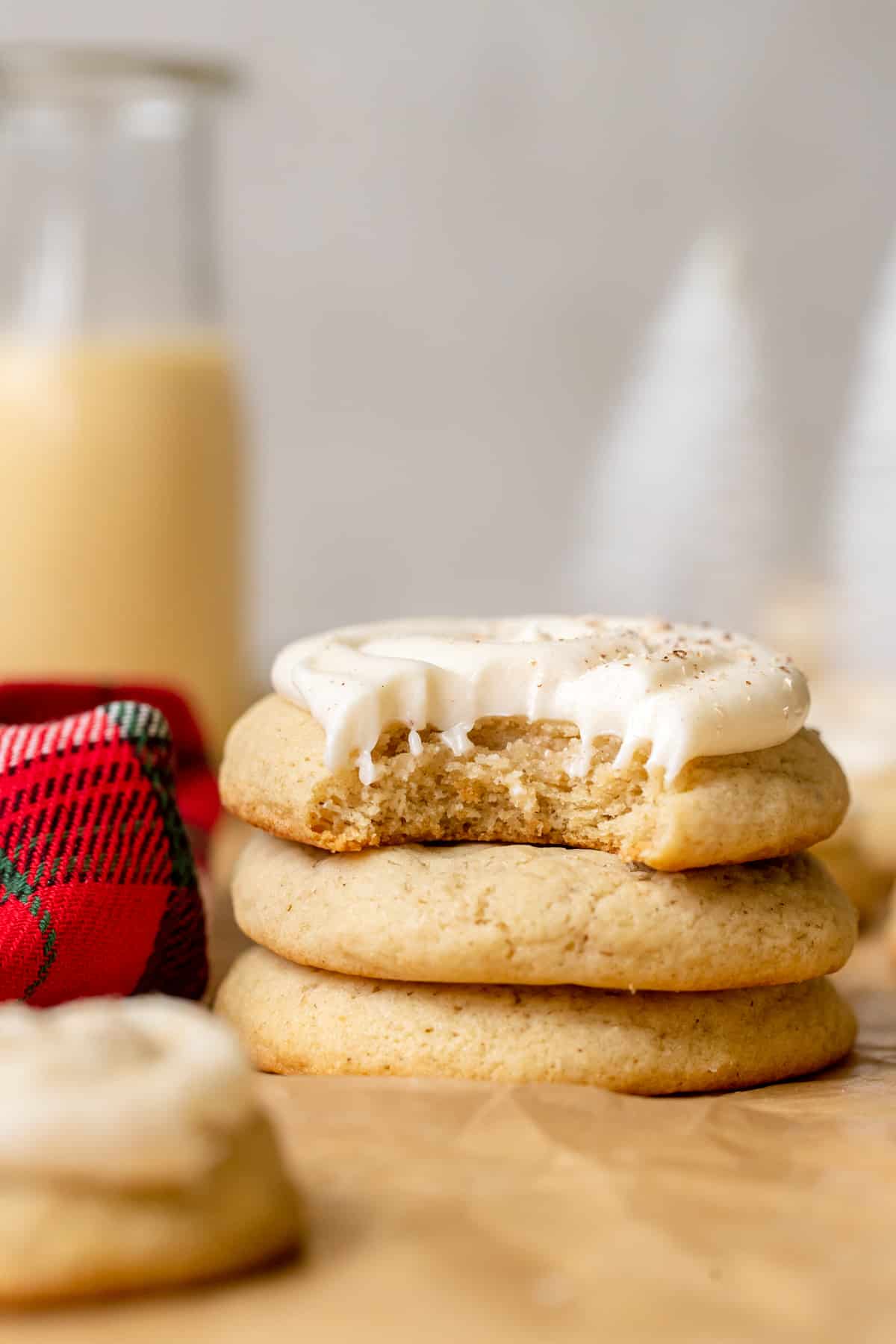 These cookies are a mix and bake cookie, so there is no chill time required
This is an EASY recipe to make and so quick
This cookie recipe is the perfect combination of nutmeg, cinnamon, eggnog and rum.
Even if you aren't an eggnog fan, I bet you'll love these!

The eggnog cream cheese frosting make these the best eggnog cookies.

They are the perfect cookie to make for parties and cookie exchanges.
Ingredient Notes
The great thing about making cookies is that if you're a frequent baker, you will likely have most of these ingredients in the baking section of your pantry. The only outliers you might not have already is the rum extract and eggnog. I also strongly recommend whole nutmeg if you can get your hands on some and grating it yourself for the frosting and garnish. This will add a more potent and aromatic touch to the cookie.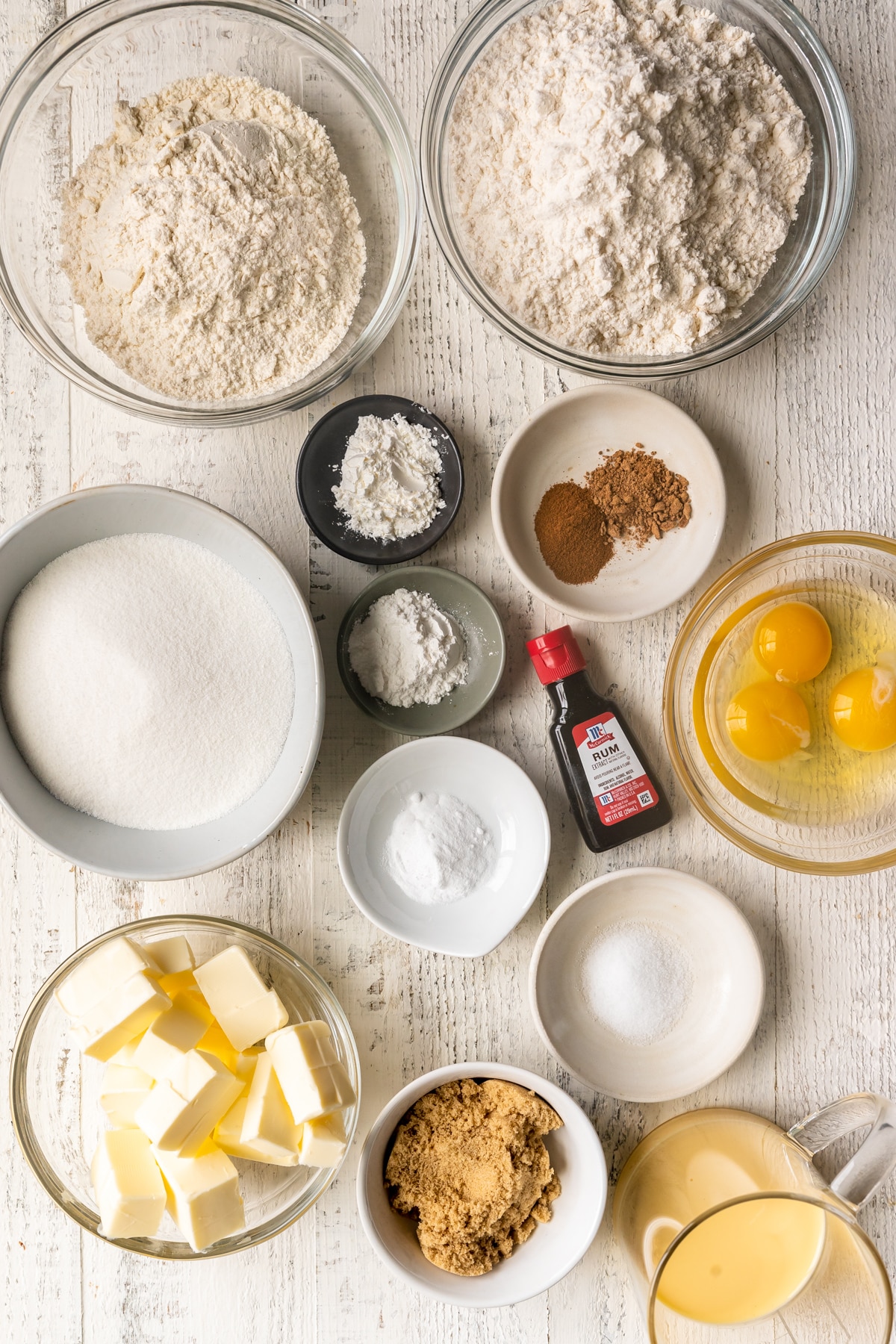 All-Purpose Flour: always measure the flour correctly. See my tips below to How to Measure Flour properly every time!
Cake Flour: keep your cake flour in the recipe since it is responsible for the cake-like texture of these eggnog cookies. However, if you cannot find any you can use additional all purpose flour in its place.
Cornstarch: Cornstarch is important in making these cookies thicker and more chewy
Baking soda: Helps the cookies rise for a fluffy texture.
Baking powder: A very important ingredient for leavening.
Salt: this flavor enhancer being out all the cookie flavors plus helps with the tenderness of the cookie.
Cinnamon: this warm spice pares perfectly with the nutmeg.
Nutmeg: Nutmeg is the true flavor of eggnog, so don't skimp here.
Butter: when you cream the cold butter with the sugars the mixture will be fluffier, and you will have less cookie spread when you bake them.
Sugar: white sugar helps with the crisp but tender outside of this cake-like sweet treat
Brown sugar: Don't skip packing the brown sugar as it is crucial to pack it to get exact measurements. The right amount of sugar will give you the correct sweetness for these cookies.
Large eggs: Eggs add color, structure, leavening and texture to the cookies.
Large egg yolk: The extra yolk enriches the flavor and texture of the cookies
Rum Extract: has the full rich flavor of rum. Your cookies will taste like rum spiked eggnog!
Eggnog: This eggnog cookie recipe calls for full fat eggnog to help keep the cookies from spreading.
Step by Step Directions
These base of these cookies are similar to my drop sugar cookies with a few modifications. It's the standard process of creaming the butter and sugar, adding in the eggs and extract and mixing the the dry ingredients. It doesn't get easier!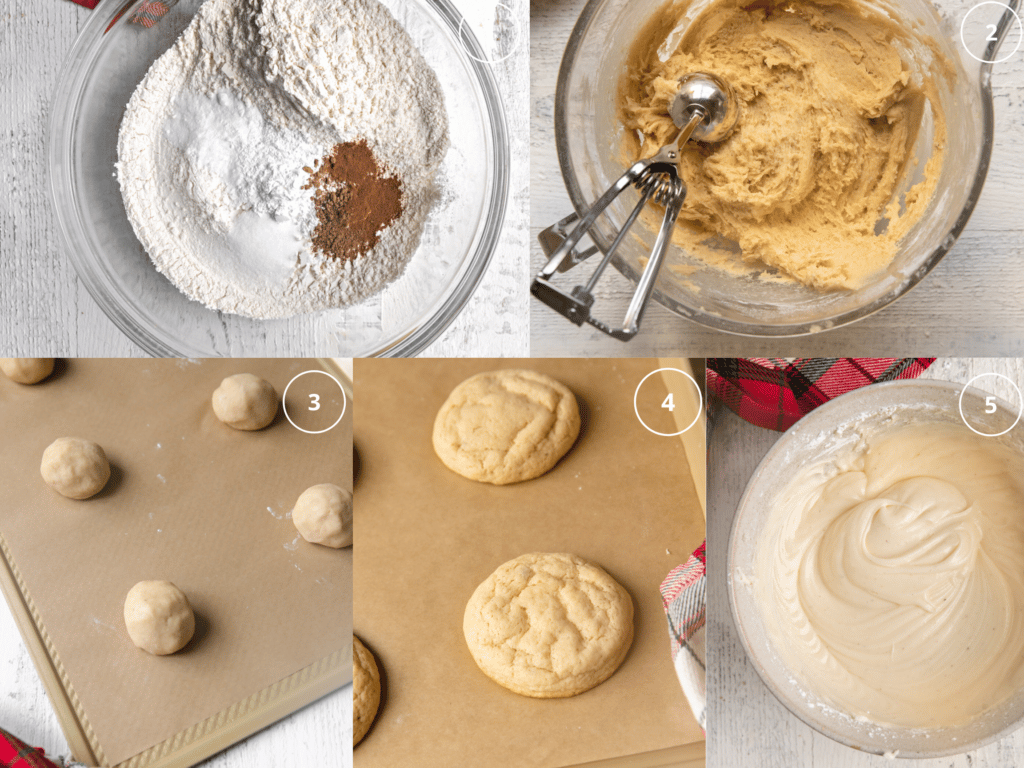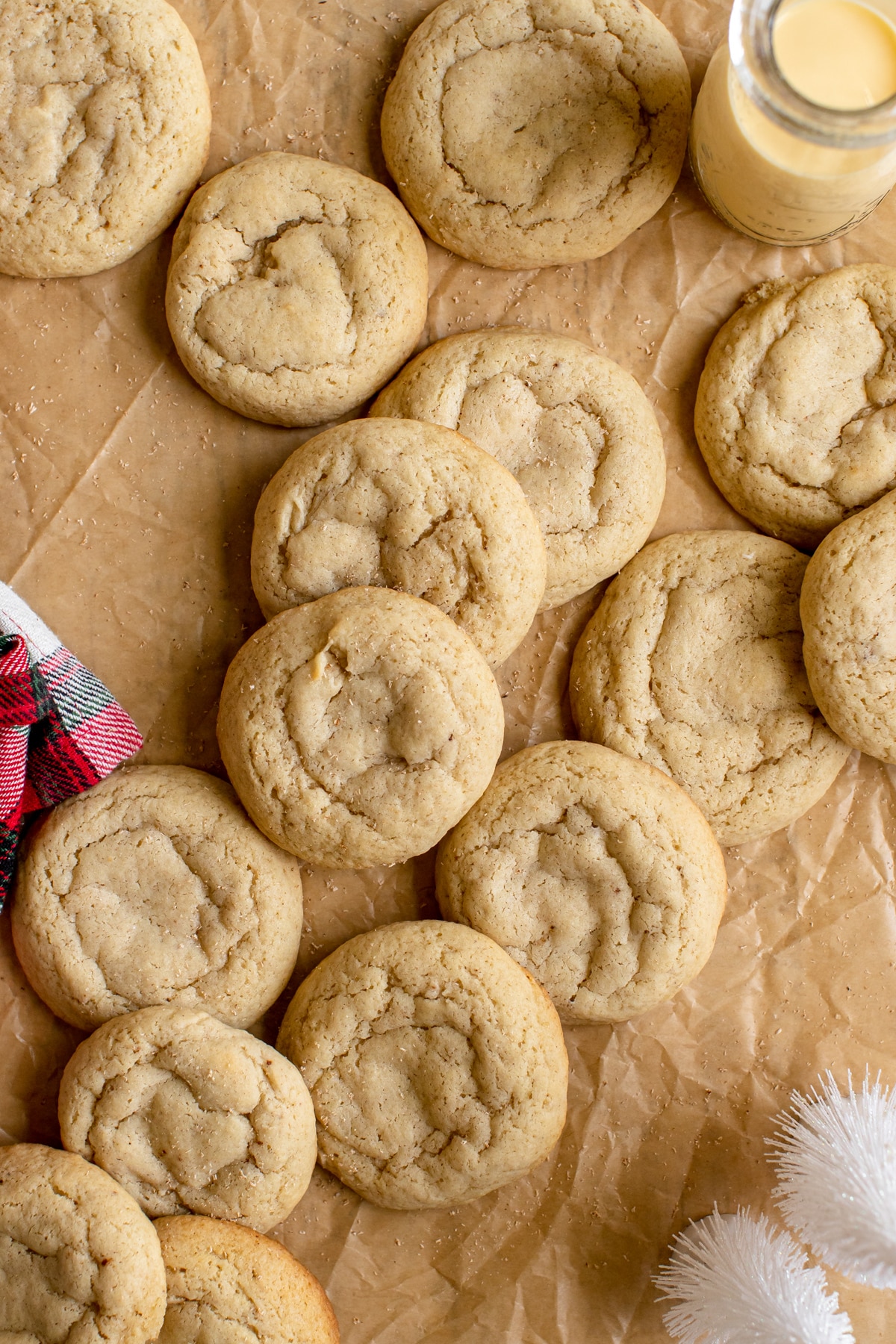 Cream the butter and sugars together until smooth and fluffy.
Add in the eggs, one at a time.
Beat in the rum extract and eggnog.
Add in the dry ingredients on medium speed just until combined.
Scoop the dough or roll into balls in the palm of your hands and place on a parchment paper lined baking sheet.
Bake at 375°F for 10-12 minutes or until the edges are lightly browned.
Allow the cookies to cool.
Make the eggnog cream cheese frosting. Spread on top of cooled cookies or use a piping bag.
Add fresh nutmeg or cinnamon on top and enjoy!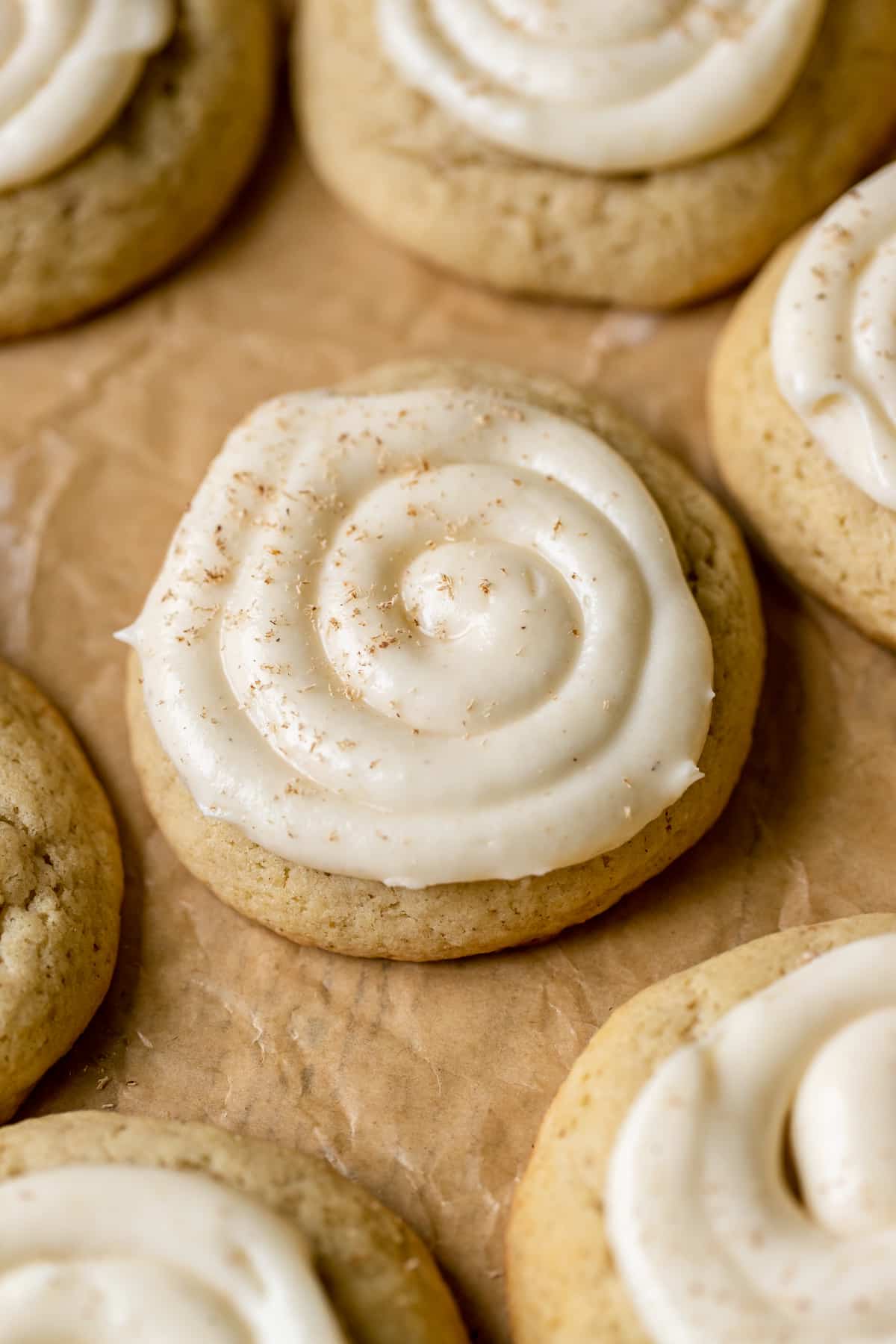 Tips and Variations
Use the eggnog cream cheese frosting on my chewy molasses cookies. So yummy.
Make sure you set out the cream cheese for 60 minutes before making the frosting so that it is at room temperature. This will keep your frosting from being lumpy.
Eggnog Cream Cheese frosting needs to be refrigerated. So, after frosting your cookies, make some room in the fridge for them. They can only sit out at room temperature for up to 2 hours.
Store the frosted cookies in an airtight container for up to 5 days in the refrigerator. If you are going to freeze the baked cookies, I would freeze them without the frosting. You will be able to store them in an airtight container in the freezer for up to 3 months. When you remove them from the freezer, let them thaw in the refrigerator overnight. Then frost.
How to Measure Flour Properly
Flour, if not measured correctly will definitely affect the look and texture of your cookies. Too much flour will make them tender and even crumbly. Not enough flour will result in very thin, crisp and even brittle cookies.
Start by fluffing the flour in the bag or canister.
Grab your measuring cup and spoon the flour into it. (Instead of sticking the cup into the bag).
Level the flour across the top of the measuring cup by scrubbing a knife across the top.
Don't skip these steps and scoop the flour directly from the canister.
Correctly measured 1 cup of flour should with between 120 ad 125 grams.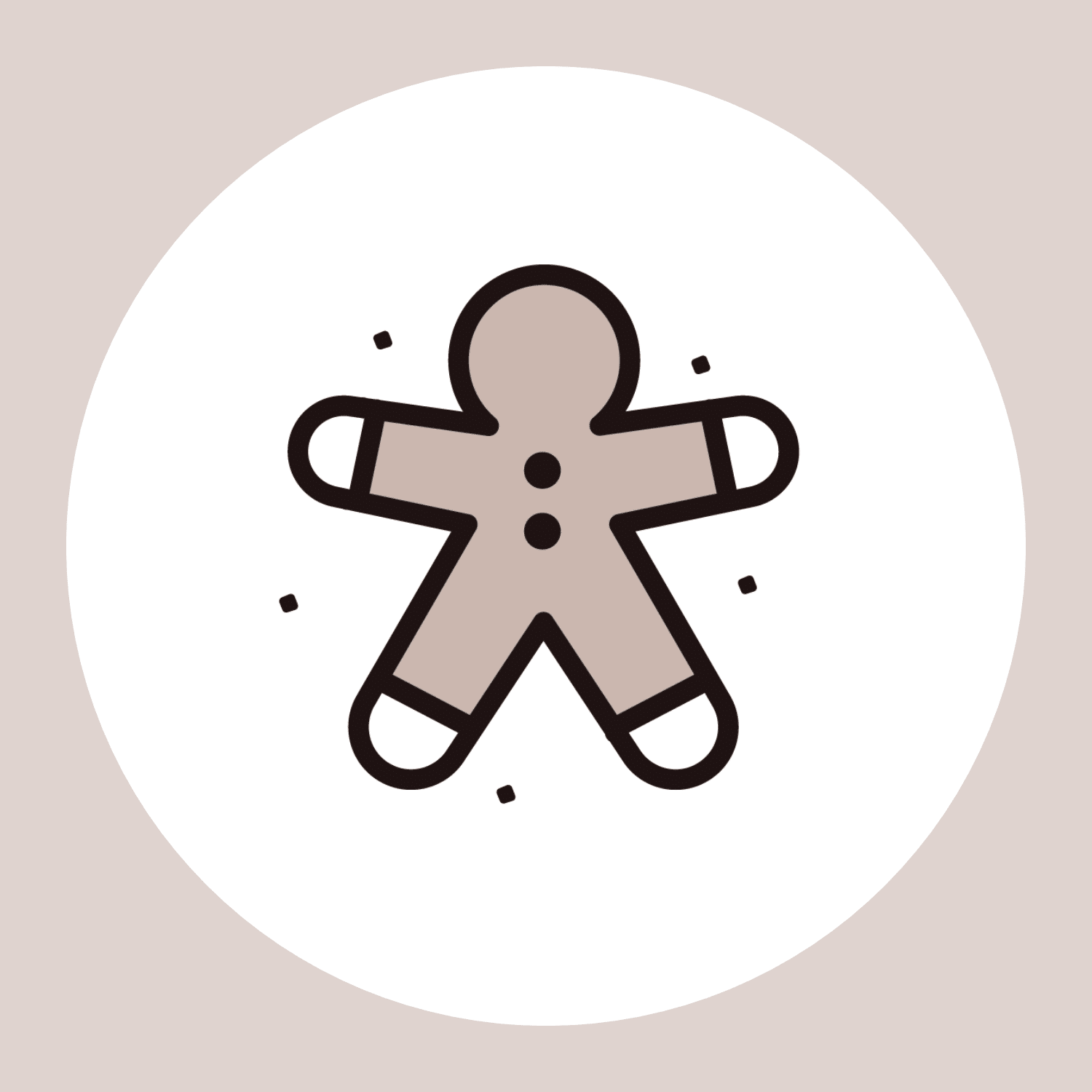 Looking for more cookie recipes for your holiday parties and cookie exchanges? Look no further than my Holiday Cookie Series!
Show Me More
FAQ
Can I substitute low-fat Eggnog for the full fat Eggnog?

I suggest using full fat eggnog otherwise if you use low-fat the cookies tend to spread to much.
Can I substitute home-made Eggnog for the full fat Eggnog?

Yes, just make certain that the homemade Eggnog is made with full fat milk and heavy cream . The texture of the cookie may be slightly different when using homemade eggnog based on the thickness of the eggnog.
What can I substitute for eggnog ?

If you are looking to cut back on some calories you might want to consider using soy nog or Oat nog. These alternatives to regular eggnog contain less fat and nearly half the calories for store bought eggnog. Vanilla chai tea is also an option. But keep in mind that changing out a major ingredient will affect the taste and texture of the cookies.
What if I don't have rum extract?

You can use the real thing. I recommend Dark Rum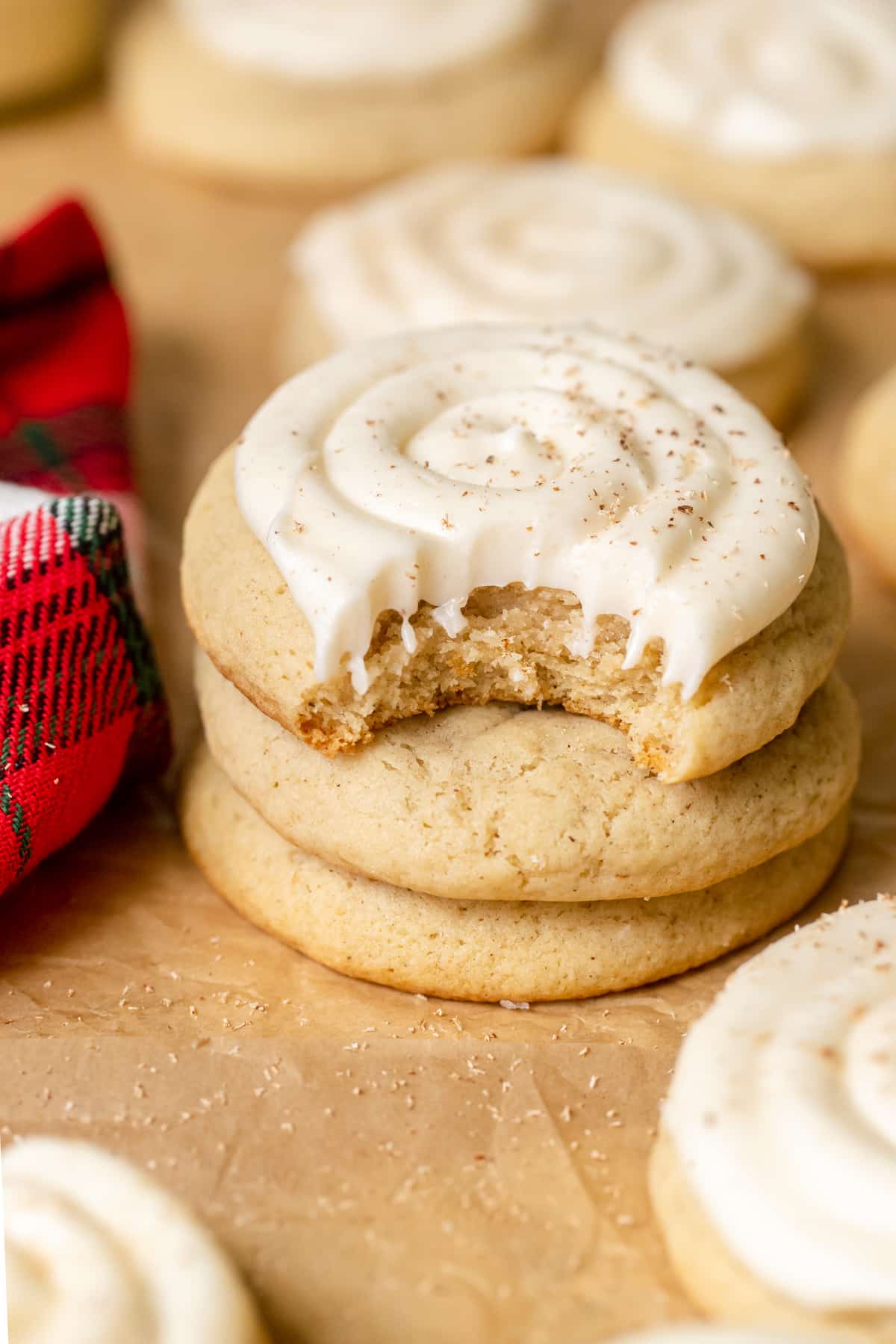 Before You Begin! If you make this, please leave a review and rating letting us know how you liked this recipe! This helps our business thrive & continue providing free recipes.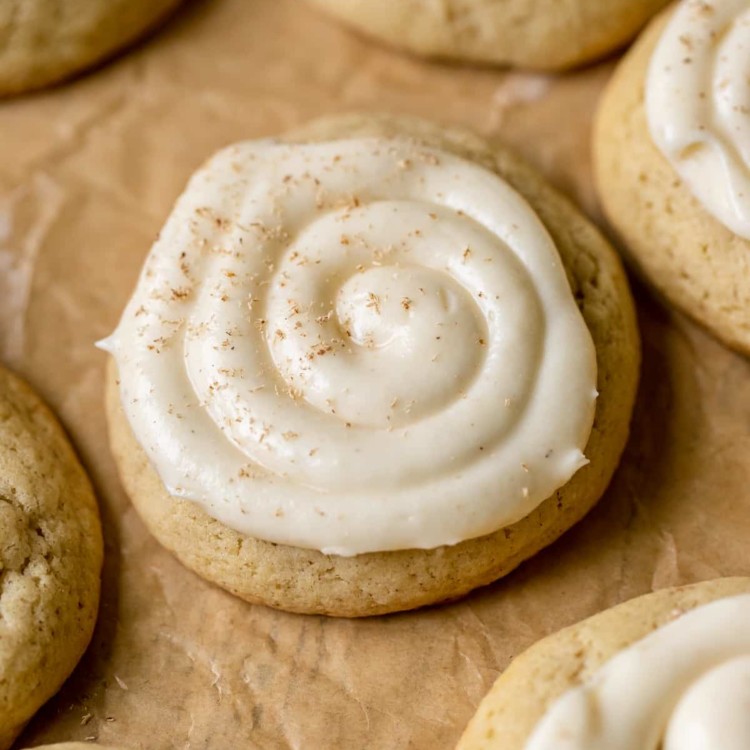 These Eggnog Cookies are made with festive spice flavors like cinnamon, nutmeg and rum extract. Top them off with a creamy and thick Eggnog Cream Cheese frosting dusted with a sprinkle of ground nutmeg. They are a holiday must-make for the Eggnog lovers in your life! (And even non-eggnog-lovers drool over them, too!)
Ingredients
2 1/2

cups

all purpose flour

1 1/4

cups

cake flour

2

tsp.

cornstarch

2

tsp.

baking powder

1

tsp.

baking soda

1

tsp.

salt

3/4

tsp.

ground nutmeg

3/4

tsp.

ground cinnamon

1

cup

unsalted butter, cold, cubed

1

cup

white sugar

1/4

cup

brown sugar (tightly packed), dark or light

2

large

eggs

1

large

egg yolk

1

tsp.

rum extract

1/2

cup

eggnog, full fat
For the eggnog frosting
8

oz.

cream cheese, full-fat, softened

4

Tbsp.

unsalted butter, room temperature

2

Tbsp.

eggnog, full fat

1/2

tsp.

rum extract

pinch of cinnamon nutmeg and salt

3

cups

powdered sugar
Last step! If you make this, please leave a review and rating letting us know how you liked this recipe! This helps our business thrive & continue providing free recipes.
Instructions
Preheat the oven to 375°F. Line 2 baking sheets with parchment paper or silicone baking mats and set aside.

In a large bowl, whisk together the flour, cake flour, cornstarch, baking powder, baking soda, salt, nutmeg and cinnamon. Set aside.

In a stand mixer fitted with the paddle attachment, cream together the butter and sugars for about 3 minutes on medium speed or until light and fluffy.

Add in the eggs, one at a time, mixing just until the yellow disappears. Add in the rum extract and eggnog. Scrape down the sides of the bowl as needed.

Gradually add in the dry ingredients on medium-low speed and mix just until combined.

Scoop the dough out using a 2 Tbsp. cookie scoop (and roll into balls with lightly floured hands) and place onto prepared baking sheet, spacing them about 2 inches apart.

Bake for 10-12 minutes, or just until the edges are lightly browned. The cookies will look puffy and they'll settle as they cool.

Allow the cookies to cool on the baking sheet for 10 minutes then transfer to a rack to cool.

Meanwhile, make the eggnog cream cheese frosting. Using a hand held mixer or a stand mixer fitted with the paddle attachment, beat the softened cream cheese and butter on medium speed until it's creamy. About 2 minutes. Add in the eggnog, rum extract and a pinch of cinnamon nutmeg, and salt. Then add in the powdered sugar. Beat on low just to get it combined the increase to medium-high speed until fully incorporated. Adjust as needed, adding more powdered sugar is the buttercream is too thin or a touch more eggnog if too thick.

Spread on top of cooled cooking or you can use a piping bag. Garnish with a sprinkle of nutmeg and/or cinnamon and enjoy!
Notes
Storage: since these cookies are made with a cream cheese frosting, do not let them sit at room temperature for longer than 2 hours.
The cookies will need to be refrigerated because of the cream cheese frosting. I recommend letting the cookie sit at room temperature a little before enjoying.
Frosted cookies will last up to 3-4 days in the fridge or in the freezer for up to 3 months (without the frosting).
You can make the cookie dough in advance. Roll it into balls, and store in the refrigerator or up to 4 days. Once ready to bake, pop them in the oven and bake for an additional minute.
Nutrition Information
Serving:
1
cookie (with frosting)
,
Calories:
333
kcal
(17%)
,
Carbohydrates:
46
g
(15%)
,
Protein:
4
g
(8%)
,
Fat:
15
g
(23%)
,
Saturated Fat:
9
g
(56%)
,
Polyunsaturated Fat:
1
g
,
Monounsaturated Fat:
4
g
,
Trans Fat:
0.4
g
,
Cholesterol:
68
mg
(23%)
,
Sodium:
324
mg
(14%)
,
Potassium:
63
mg
(2%)
,
Fiber:
1
g
(4%)
,
Sugar:
29
g
(32%)
,
Vitamin A:
515
IU
(10%)
,
Vitamin C:
0.1
mg
,
Calcium:
60
mg
(6%)
,
Iron:
1
mg
(6%)
Nutritional information is provided as a courtesy and is automatically calculated. It should only be construed as an estimate rather than a guarantee. Ingredients can vary and Kroll's Korner can't make any guarantees to the accuracy of this information.