Crescent Wrapped Mediterranean Chicken with Hummus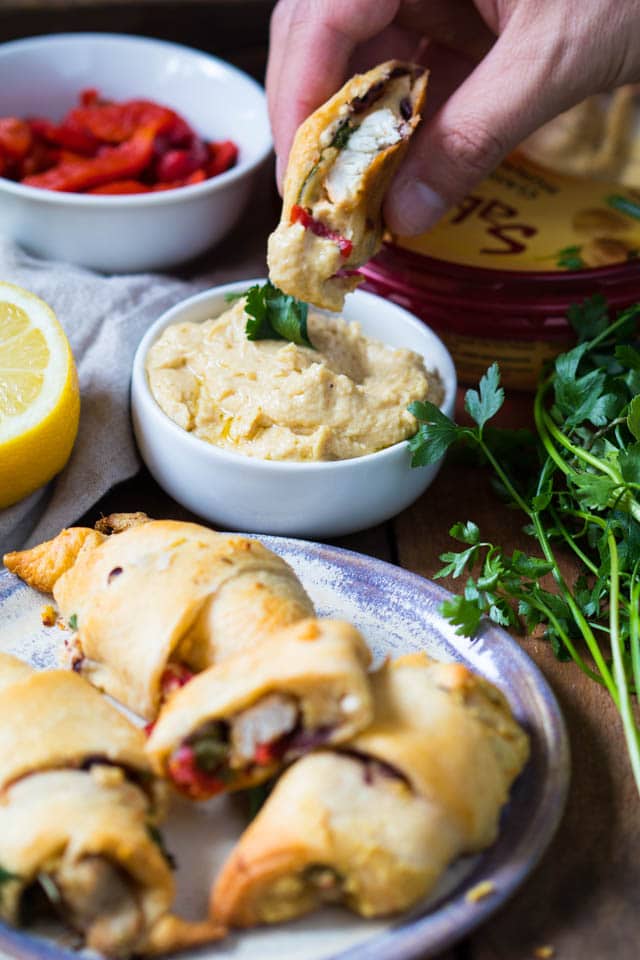 I received free samples of Sabra Hummus mentioned in this post. By posting this recipe I am entering a recipe contest sponsored by Sabra and am eligible to win prizes associated with the contest. I was not compensated for my time.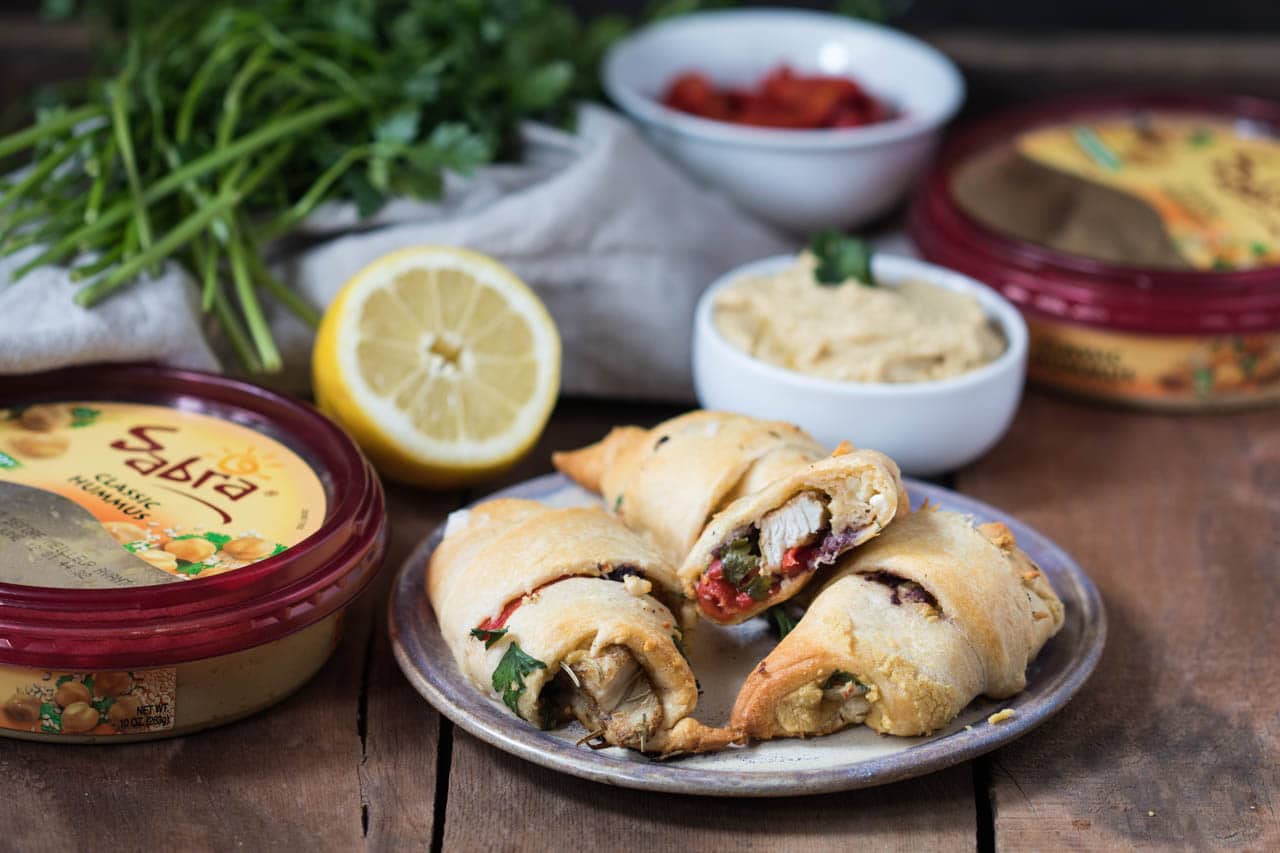 Ah…May 13th…National Hummus Day — a day to celebrate the deliciousness of this beloved Middle Eastern spread. The usual ingredients in hummus are simple: cooked or mashed chickpeas, olive oil, tahini, lemon juice, salt and garlic. While the 'original hummus' is simply amazing and fun to make at home, Sabra hummus kicks it up a notch and has flavors that include Pine Nut, Lemon Twist, Basil Pesto, Roasted Garlic, Supremely Spicy (mah fav!), and Roasted Red Pepper to name a few. I used the Sabra Original hummus in this Crescent Wrapped Mediterranean Chicken and as my Dad would say, it was "da bomb!"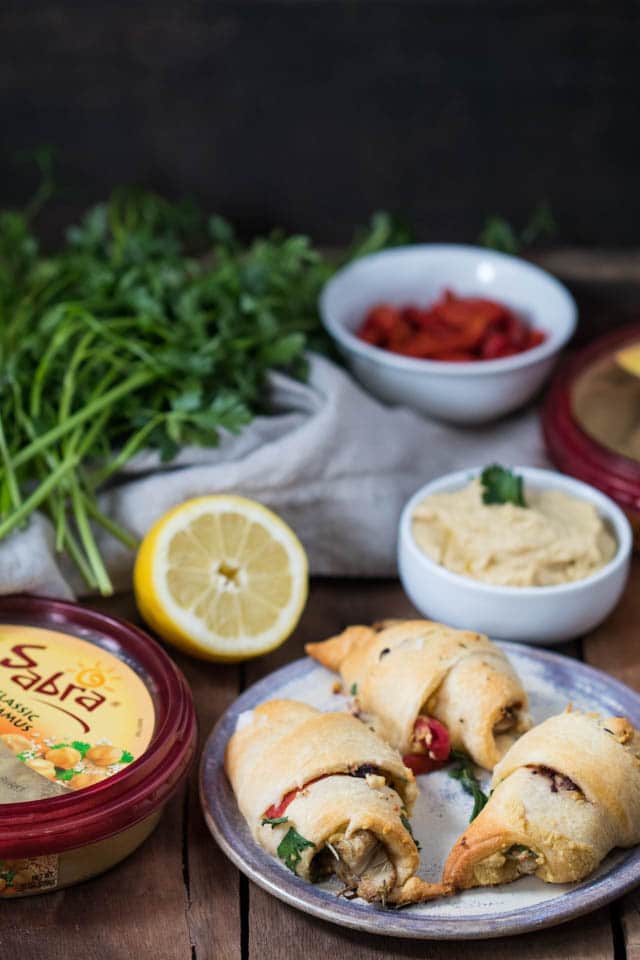 In March during National Nutrition Month I spoke with over twenty-five 9th grade health classes about basic nutrition and was surprised to find out that many of them ate hummus! It is kind of trendy now a days I think, but when I was in high school it was certainly not the thing to eat. Most of them just thought it was a dip (which yes, it technically is) but did not realize it is a great plant based protein and offers a host of nutritional benefits.
[Tweet "#AD Celebrate National Hummus Day May 13th with this easy Crescent Wrapped Mediterranean Chicken appetizer! #Sponsored #TheRecipeRedux"]
Hummus benefits
It is made from chickpeas making it a rich plant based protein and high in fiber.
It includes a winning combination of micronutrients such as iron, folate, and B vitamins.
It is a great option for vegetarians and vegans due to the vitamin B found in hummus!
Contains carbohydrates which may give you that extra boost of energy you need!
The fiber content will also give you a feeling of satiety.
Happiness = Hummus, especially with Sabra Hummus!


Many times hummus is used just for dipping and I wanted to incorporate it differently into a recipe! I thought of this crescent idea because when I am out to eat at a Mediterranean restaurant I find myself always dipping my chicken into the hummus in the middle of the table. I thought hey, why not make it an actual appetizer?! As a kid growing up, my mom would sometimes cook with crescent rolls and she always told me you can fill them with anything so I gave this recipe a go and it was a hit. (Moms are always right!).
Celebrate your love for National Hummus Day (May 13th!) with these yummy hand held appetizers!
Before You Begin! If you make this, please leave a review and rating letting us know how you liked this recipe! This helps our business thrive & continue providing free recipes.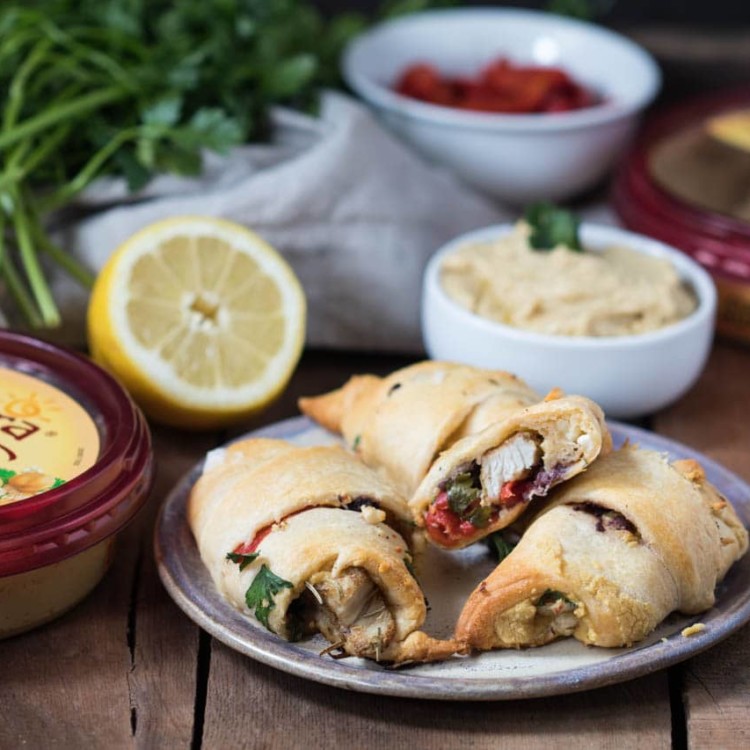 Crescent Wrapped Mediterranean Chicken with Hummus
Celebrate National Hummus Day with these easy hummus filled appetizers! You will love the Mediterranean flavors!
Ingredients
1

pound

chicken breast tenderloins

1

8 oz.

can crescent dinner rolls

1

container of Sabra Original hummus

1/2

cup

feta cheese

5

cloves

garlic

(chopped)

1/2

cup

sun dried tomatoes

(diced)

1/3

cup

kalamata olives

(diced)

Juice of 1 lemon

1

Tbsp.

Olive oil

Italian parsley

salt and pepper to taste
Mediterranean seasoning for chicken
3

tablespoons

dried rosemary

2

tablespoons

ground cumin

2

tablespoons

ground coriander

1

tablespoon

dried oregano

½

teaspoon

salt
Last step! If you make this, please leave a review and rating letting us know how you liked this recipe! This helps our business thrive & continue providing free recipes.
Instructions
Preheat oven to 375 degrees F. Line a baking sheet with foil and spray with PAM. Set aside.

In a frying pan over medium heat, warm olive oil and add chicken breast tenderloins. Cook with Mediterranean seasonings, lemon juice and garlic until chicken is no longer pink, or reaches internal temperature of 165 degrees F. Remove from pan and set aside on a plate.

Roll out each crescent until they are flat. (Be gentle, they are fragile). Spread a thin layer of hummus on each roll and then place chicken, feta, olives, and sun dried tomatoes on top (~1 tsp of each topping). You may need to cut chicken tenders in half lengthwise depending on thickness of chicken.

Roll each crescent roll up and bake in oven for ~14 minutes, or until crescent is golden brown.

Serve warm with extra hummus and garnish with Italian parsley.
Nutritional information is provided as a courtesy and is automatically calculated. It should only be construed as an estimate rather than a guarantee. Ingredients can vary and Kroll's Korner can't make any guarantees to the accuracy of this information.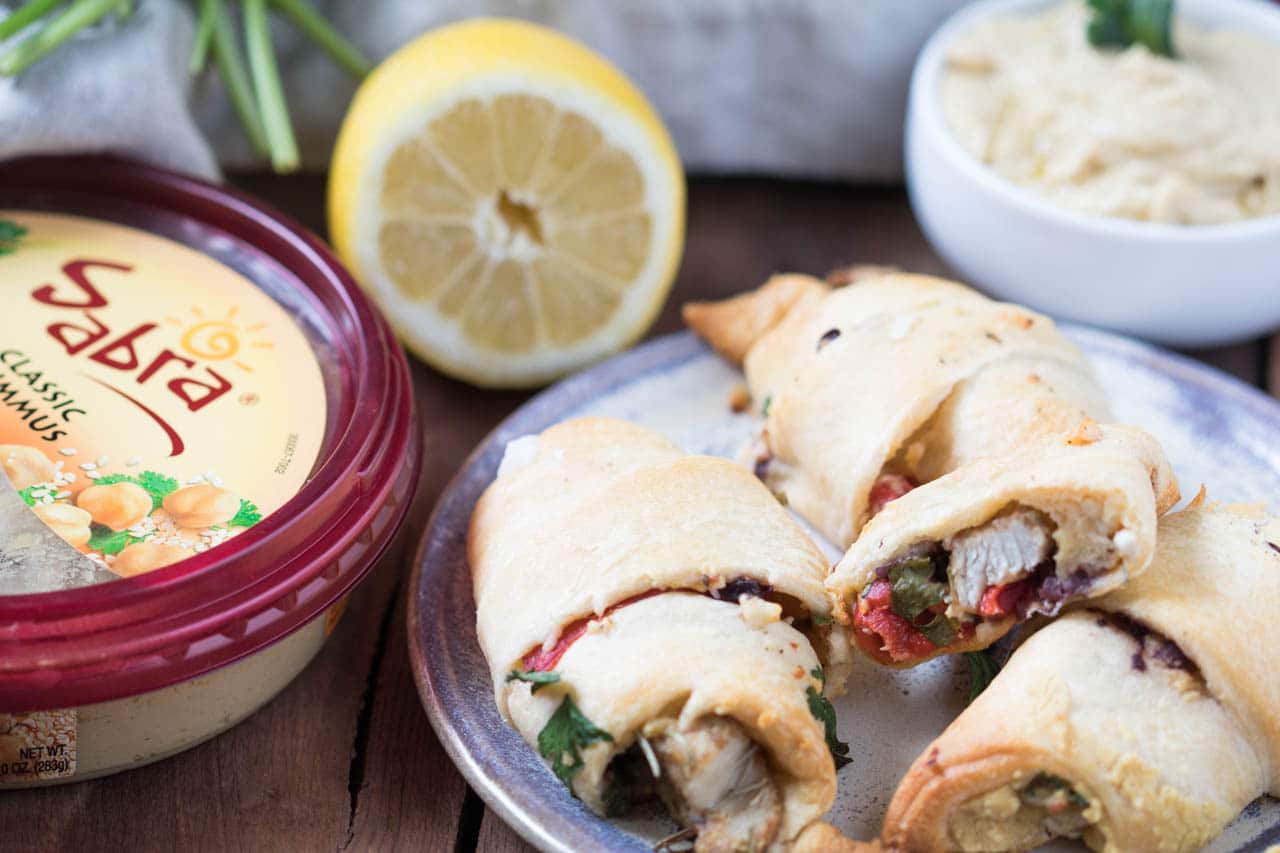 Did you make this recipe? Tag @krolls_korner on Instagram or send me a pic, I'd love to see!
Let's Connect!
Looking for easy and healthy recipes? Head over to my Pinterest page to get inspired!