Spaghetti Squash Egg Nests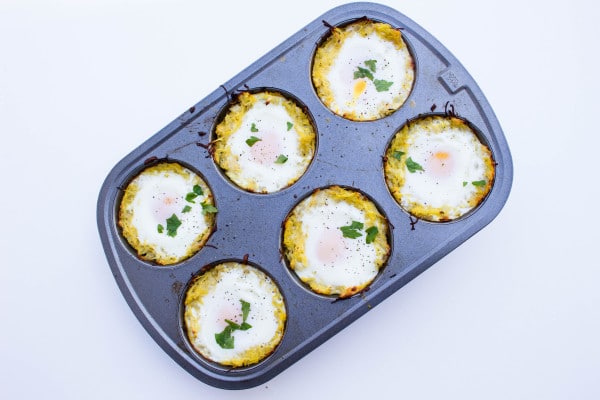 Don't you feel like the holiday season always sneaks up on us?! I do. We all know the holiday's are full of parties gathered around food and drinks…do you have a plan for this season on how to avoid holiday weight gain? If not – I have a few pointers for you today along with a delicious spaghetti squash egg recipe. 🙂
1. Do not skip meals. Before leaving for a party, eat something like a piece of fruit or veggies dipped in hummus to curb your appetite. A snack high in fiber will help keep you full and satisfied longer. This can help with over indulging right when you get there.
2. Scan foods before you eat them AKA have a game plan. Choose foods that you will definitely eat, foods that will you only sample, and foods you will completely skip. Try filling up on the fruit and veggies first to not only get in healthy nutrients but to also prevent from over eating something less nutritious. I'm not saying you have to hang out by the veggie tray all night…but be mindful of your portions when moving on to other foods.
3. Eat until you are satisfied, not stuffed. Savor not only the food but the company around you. Enjoy the company and catching up with family and friends… sit down and relax!
[Tweet "Maintain your weight this holiday season with these Spaghetti Squash Egg Nests! ~115 calories per serving and 10g carbs! YUM! "]
4. Move socializing away from the food. This is a big one that can be difficult for some. However, moving conversation to the patio/away from the food can help minimize unconscious nibbling. Also don't rush to eat. Socialize a little bit first, enjoy some of the festivities and then grab some delicious food!
5. Don't sabotage your entire diet just because you had 1 "bad" day. The average American believe it or not will only gain 1 pound during the holiday months. This weight gain isn't dramatic but research shows it tends to stick and accumulate over the years. It takes 500 calories extra each day (or 3500 calories/week) to gain 1 pound. But remember…just because you had 1 piece of pie it's not the end of the world 🙂 Go out for a walk with your family after dessert!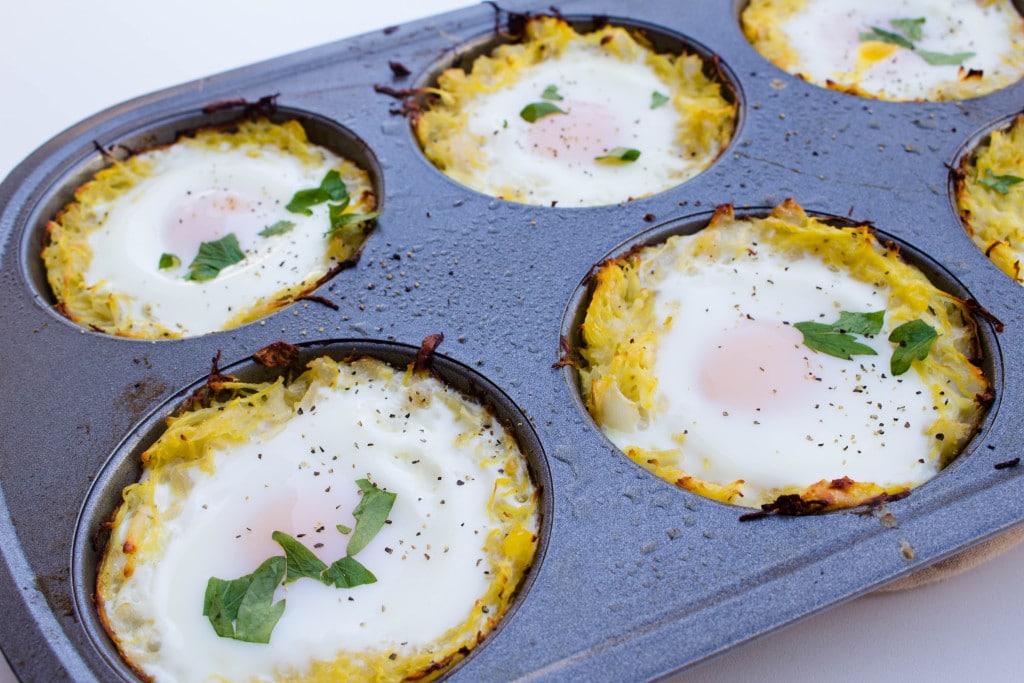 6. Feel like the host of the part won't be making anything healthy? Go ahead and bring your own healthy dish! Recently we had a party at my moms house and my friend brought a quinoa, beet and goat cheese salad… everyone loved it!
7. Do not show up to a party starving. This sort of ties in with tip #1, but many people think since they are going to a party later they need to save up calories. I would recommend still having a balanced breakfast and lunch but cutting the portions down a little to still "save room" for some party foods. Showing up to the party super hungry will put you at risk for having minimum control of how much you eat…and what you eat!
8. Let's not forget about liquid calories. Egg nog and alcoholic beverages rapidly stack on the calories without you really thinking about it…and it's easy to lose track of how many you've have as well. Try to drink a glass of water between each alcoholic beverage or sugary drink. This can help cut back on consuming extra calories and also help to fill you up!
9. Use a smaller plate. Several studies have shown the benefits of using a smaller plate and calories consumed. This is such a simple trick to help you eat less and keep portions controlled.
10. Practice mindful eating. Eat slowly and savor each bite. Before going back for seconds, wait about 10-15 minutes to check in with yourself to see if you really are still hungry. By paying more attention to what you eat, you're more likely to make beneficial changes.
I shared these tips on my blog last year as well – but they are GREAT reminders on being mindful during the holiday months.
Spaghetti squash vs pasta:
Both are low in fat, salt, and provide fiber in our diets. Squash has antioxidants you won't find in regular pasta.
Pasta can have up to 182 calories (1 cup of small shells) vs spaghetti squash only has 42 calories for 1 cup.
Pasta has 35.5g of carbohydrates while the squash only has 10g of carbs (per 1 cup)
Some Holiday Shopping Tips:
Try to shop just once or twice a week. You will spend less on impulse items – and save time and fuel cost too!
Eat BEFORE you go to the grocery store! This also will help prevent impulse buys and from store sampling.
Shop during off hours if possible – such as early morning or late evening…or midweek rather than weekends. Stores are often less crowded and shopping may be less stressful.
Try to walk or bike to the store for a small purchase if time allows. If you need to carry food items home, you will be less likely to impulse shop – and this way you fit in some exercise too! 🙂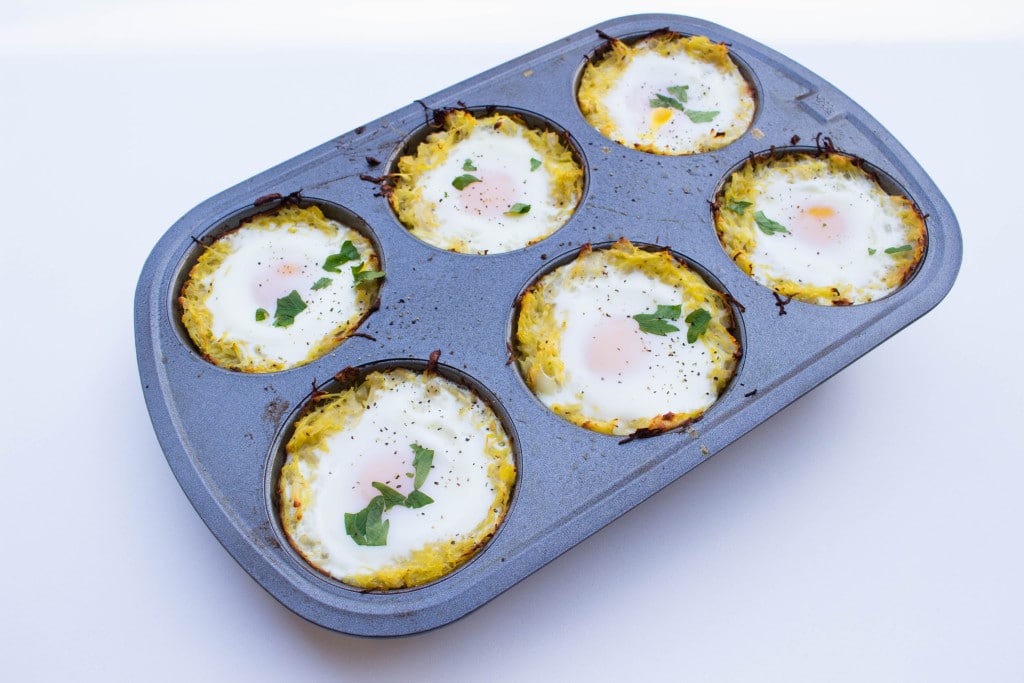 If you need tips on how to cook your spaghetti squash, read my blog post here.
ENJOY!! <3
Before You Begin! If you make this, please leave a review and rating letting us know how you liked this recipe! This helps our business thrive & continue providing free recipes.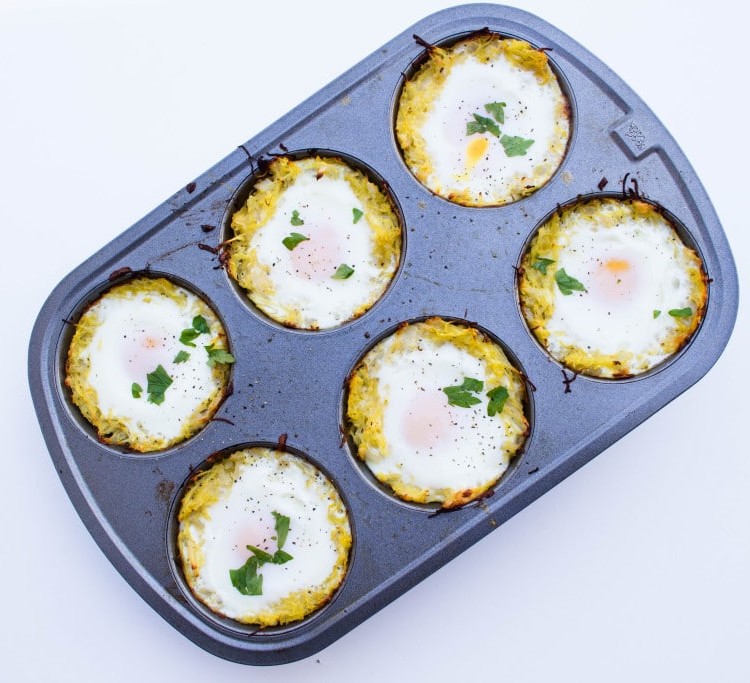 Spaghetti Squash Egg Nests
Ingredients
Ingredients
6

eggs

1

egg white

1

medium spaghetti squash

(cooked (see above link on how to cook spaghetti squash))

1/2

white onion

(finely chopped)

1/2

tsp.

dried oregano

1/2

tsp.

garlic powder

2

garlic cloves

(diced)

2

Tbsp.

Olive oil

salt and pepper to taste

2

Tbsp.

All Purpose Flour

1/3

cup

Parmesan

PAM

Muffin tin for 6
Last step! If you make this, please leave a review and rating letting us know how you liked this recipe! This helps our business thrive & continue providing free recipes.
Instructions
nstructions
Preheat oven to 425 degrees.

Place the cooked spaghetti squash in a large bowl and set aside. In a frying pan, heat the olive oil over medium heat. Cook the white onion in the frying pan for about 5 minutes - until onion becomes translucent. Add onions in the same bowl with the spaghetti squash.

Then add in oregano, garlic powder, garlic, salt, pepper, flour, egg white and cheese. Mix well.

Spray the muffin tin with PAM. Scoop about 1/3 of the spaghetti squash mixture into each muffin tin. Using your fingers, press the spaghetti squash down and around the sides of the muffin cup to create a "nest" for the egg to go in. Before you crack the egg in each nest, bake the squash cups in the oven for 16 minutes.

Once edges begin to get some color, remove from oven and carefully crack an egg into each nest. Bake these at a reduced temperature - 375 F - for 10 minutes or until egg white is fully cooked.