Asparagus with Spicy Gochujang Glaze
Nut-Free | Published Apr 6, 2016 | Updated Aug 20, 2019 | By Tawnie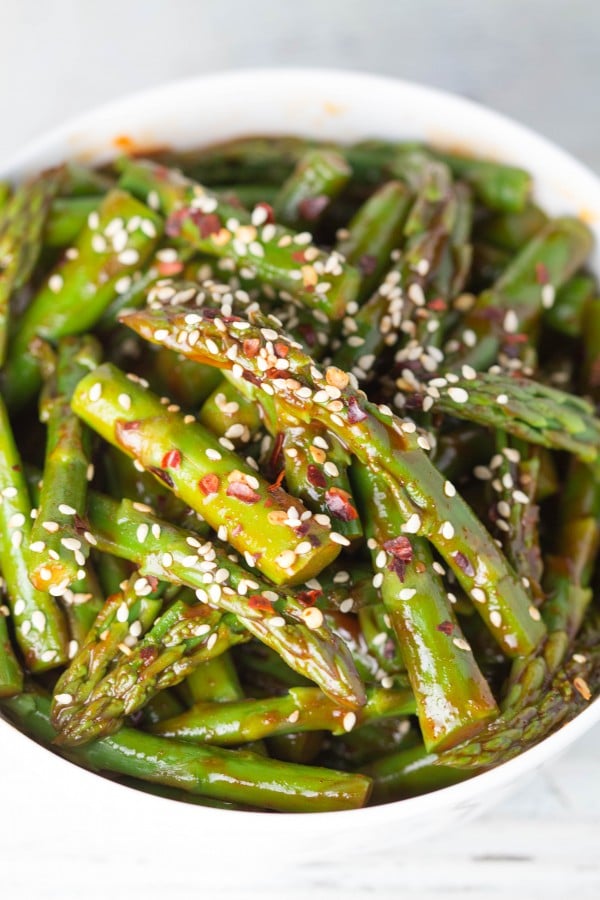 Maybe I am late on this…but have you all heard of Gochujang (hot pepper paste) ?! According to the March 2016 edition of Food Business News, it is supposed to be the new Sriracha sauce…the flavor profile is sweet and spicy, and it is made from red chili, glutinous rice, fermented soybeans and salt. I picked the paste up at a local Korean mart on my lunch break the other day. Downside to this sauce (just like most sauces out there) is that it is super high in sodium…about 500mg per Tablespoon! It scares me to think about how much sodium people are consuming when it is recommended in our daily diets to consume <2300 mg sodium a day, and this sauce alone provides over 500mgs. It adds up so quickly especially in these concentrated amounts. This sauce is unlike Sriracha because it is not meant to be used as a finishing sauce, it is more of a base and you can add other ingredients to it (like garlic, brown sugar, sesame oil, soy sauce).
I think it would be fun to add this into soups or marinades with certain proteins – this way of using it in cooking would certainly help with "spreading the love" of the sodium as compared to using it as a dip or sauce! I was just really excited to try it out and wanted to see how it paired with…well, anything! I had some fresh asparagus in the fridge to use up and thought this made a fantastic side dish. Asparagus is a total mood boosting food and has folate to help aid in our nerve function.


I hope you enjoy this fun recipe and tell me what you think of the sauce if you either have had it before or are just trying it for the first time!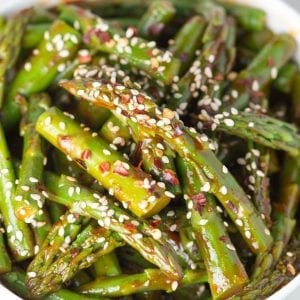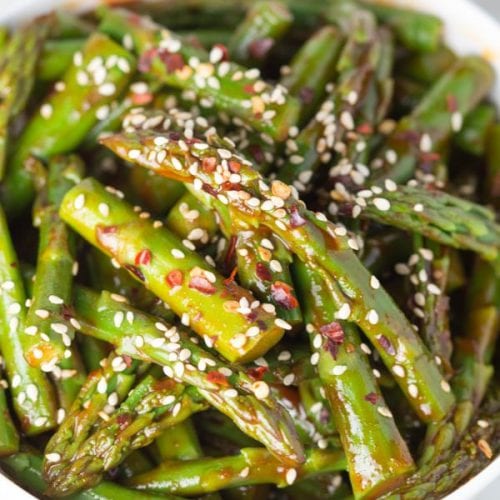 Asparagus with Spicy Gochujang Glaze
Such a fun way to eat veggies - pairs perfectly with brown rice and a lean protein!
Ingredients
2

bunches asparagus

cut ends off and cut spears into thirds

1

Tbsp.

Gochujang paste

1

Tbsp.

sesame oil

1

Tbsp.

honey

1

Tbsp.

soy sauce

low sodium

1

tsp.

sesame seeds

1

tsp.

chopped garlic
Instructions
Bring a large pot of water to boil. Toss in cut up asparagus spears and let cook in hot water for 3-5 minutes, or until tender. While this is cooking, mix all remaining ingredients (except sesame seeds) together in a medium bowl to make the glaze.

Using a strainer, strain asparagus and rinse with cold water to halt the cooking process. Place spears back into the pot and then gently toss with the glaze. Serve warm and garnished with sesame seeds.
Notes
Red pepper chili flakes are optional - I am just a huge fan of spicy!!
[Tweet "Asparagus with Spicy Gochujang Glaze…new tasty way to enjoy your Spring time veggies! Krollskorner.com"]
Hi, I'm 
Tawnie

!

Welcome to my tiny "korner" on the Internet! I am a Registered Dietitian Nutritionist who loves cookies as much as kale. (OK, maybe I like cookies a little bit more but shh, don't tell anyone). I am so glad you're here! Follow along for hassle free, realistic and approachable recipes.

More about Tawnie

I'd love to see what you made!!
Share it with me on Instagram or Facebook and tag me @krolls_korner or use the hashtag #KrollsKorner!