Appetizers & Snacks
Lentil Won Ton Tacos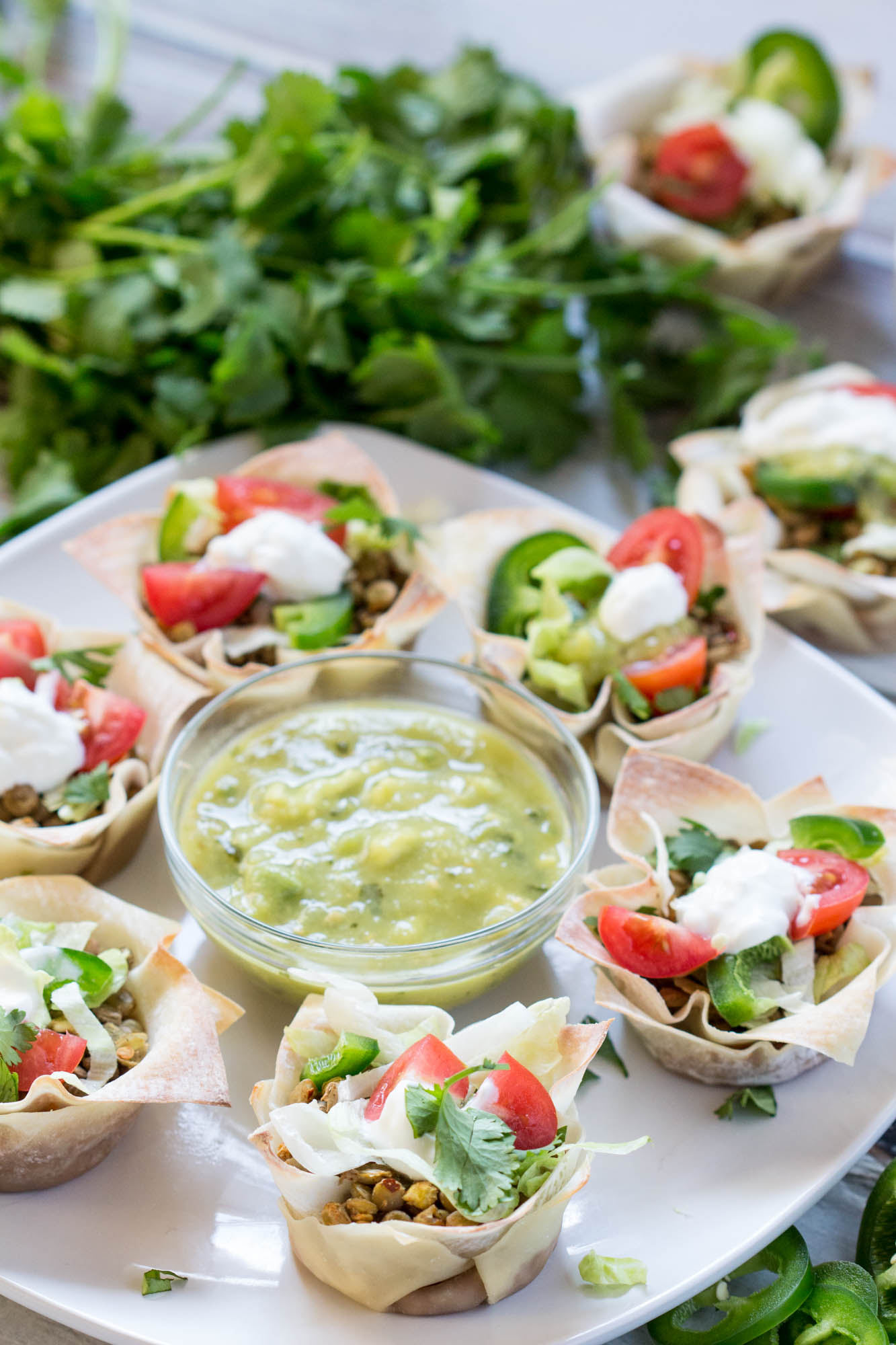 Vegetarian Lentil Won Ton Tacos are a perfect way to include plant based proteins into your diet – these lentil tacos are a perfect party appetizer or turn it into a meal with a side of grilled veggies!
These Recipe Redux days always been to sneak up on me! I love being able to see what all of my other foodie bloggers come up with for the monthly theme. This month, the Recipe Redux them is…
February 2017 – Theme
So show us your healthy, creative take on the taco.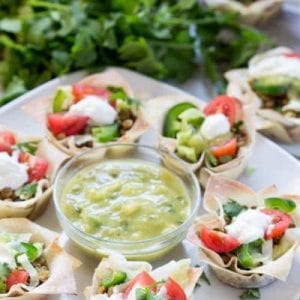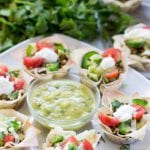 Vegetarian Lentil Won Ton Tacos
Perfect way to include plant based proteins into your diet!
Print
Ingredients
12

Square won ton wrappers

1

can

low sodium refried beans

1

cup

cooked lentils

(I used green)

Homemade taco seasoning

see notes

Garnishes: cherry tomatoes

cilantro, greek yogurt, jalapeños, cilantro, hot sauce, etc.
Instructions
Preheat oven to 375 degrees F. Spray a cupcake pan with PAM. Set aside.

Mixed 1 cup cooked lentils with taco seasoning.

Place 1 won ton wrapper down into cupcake tin and spread 1 Tbsp. refried beans on the bottom of the won ton. Then layer another won ton wrapper over it and scoop in some of the cooked lentils. Repeat until finished. Bake for 15 minutes or until wrappers appear golden brown.

Remove from tin and garnish with your favorite taco toppings!
Recipe Notes
I used the same taco seasoning from this recipe: http://krollskorner.com/recipes/quinoa-stuffed-bell-peppers/
Typically won ton wrappers are used to make wonton dumplings. I thought it would be fun to use them to make a healthy finger-food appetizer.
Lentils are one of those foods I have a back and fourth relationship with. I feel like I go on a loving lentils kick, and then I almost forget about them for a while. Does that happen to anyone else with certain foods?? I would love to find a routine way to include them into my diet since they are so good for you. See, even dietitians struggle with finding balance in food too! Lentils contain fiber, protein, potassium, folate and iron (just to name a few) and are a perfect plant based option for vegetarians or vegans. For this recipe, I used green lentils simply because that is what I had on hand – but there are a variety of lentils and you can use any of them for these won ton tacos.
Note on storage of lentils: I like to keep dry lentils in my cupboard on the shelf or just in a dry, dark, cool location. They have a shelf life for up to 1 year! If you have open bags of lentils laying around the house, I would transfer them into an airtight container to reserve the shelf life of them.
What are some ways you like to cook with lentils? Or bake? I've seen a fellow RD make lentil brownies! I love the creativity of baking with pulses. Have you seen my brownies recipe I made using black beans?! It's one of the top 3 most popular recipes on the blog!
PIN this recipe for later!

I'd love to see what you made!!
Share it with me on Instagram or Facebook and tag me @krolls_korner or use the hashtag #KrollsKorner!