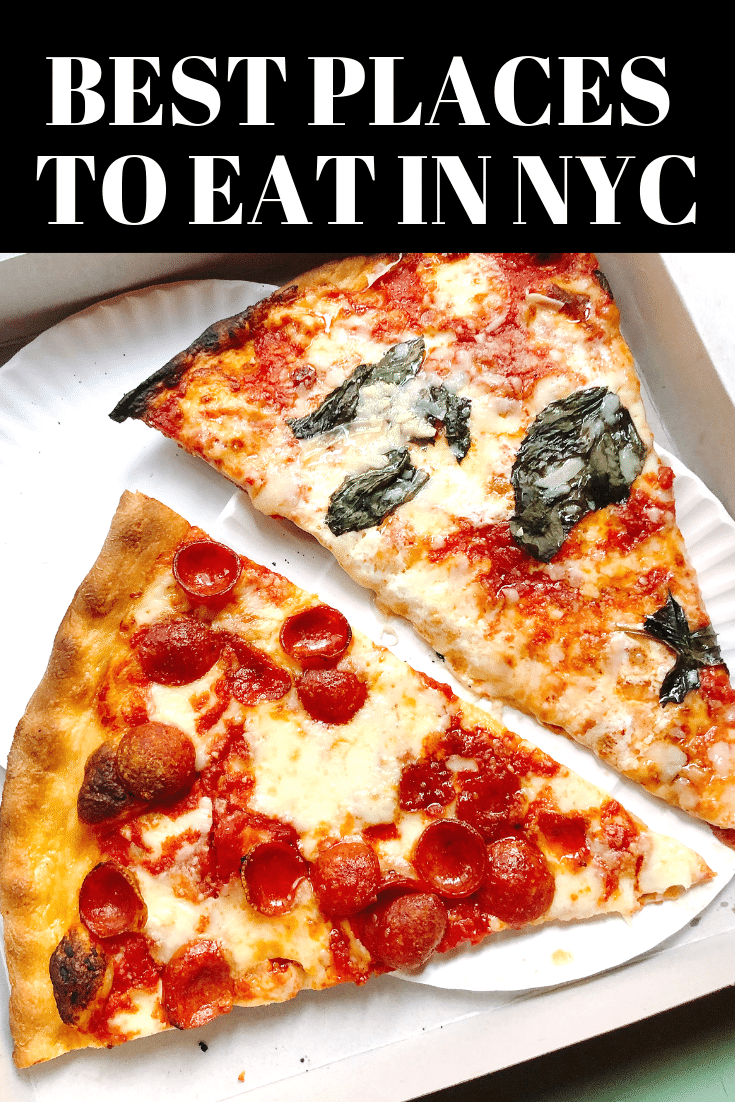 Here is a list of the best places I have eaten at in New York City (NYC) along with some GREAT recommendations that I cannot wait to go back and try!
As many of you know, I spent ten days in NYC with my husband to be recently! We basically ate, drank and slept our way through the trip and had the time of our lives doing it! I want to share my favorite places we visited, along with the long list of places people recommended to us as well!
Here we go…
MY TOP 5 FAVORITE PLACES: (this was hard to choose…)
Prince Street Pizza: Pizza. Eat all the pizza! You've gotta try their pepperoni! The traditional cheese slice is bomb too!
Minetta Tavern: Best burger you'll ever have. This restaurant is a 1 Michelin Star, so just a warning your burger is going to be like $30. #worthit
La Pecora Bianca: An awesome little Italian restaurant where we went for dinner. We had the whipped ricotta with truffle honey for an appetizer and for dinner we shared the rigatoni and roasted sasso chicken. For my cocktail I had the forbidden fruit: aperol, pomegranate, prosecco, oregano. So refreshing and delicious!
Levain Bakery: The most massive and delicious Chocolate Chip Walnut cookie of my life. Slightly crispy on the outside and so ooey-gooey chewy on the inside! Cameron had their dark chocolate one. #drooling
Pepe Giallo: We loved this little spot so much that we went twice. They have simple, authentic Italian food and fresh pasta. It's a cozy spot! Great pizza – we tried the margherita and the salsiccia (sausage). For an appetizer they have great calamari. All of their pasta's are amazing. The pappardelle and spaghetti bolognese were incredible!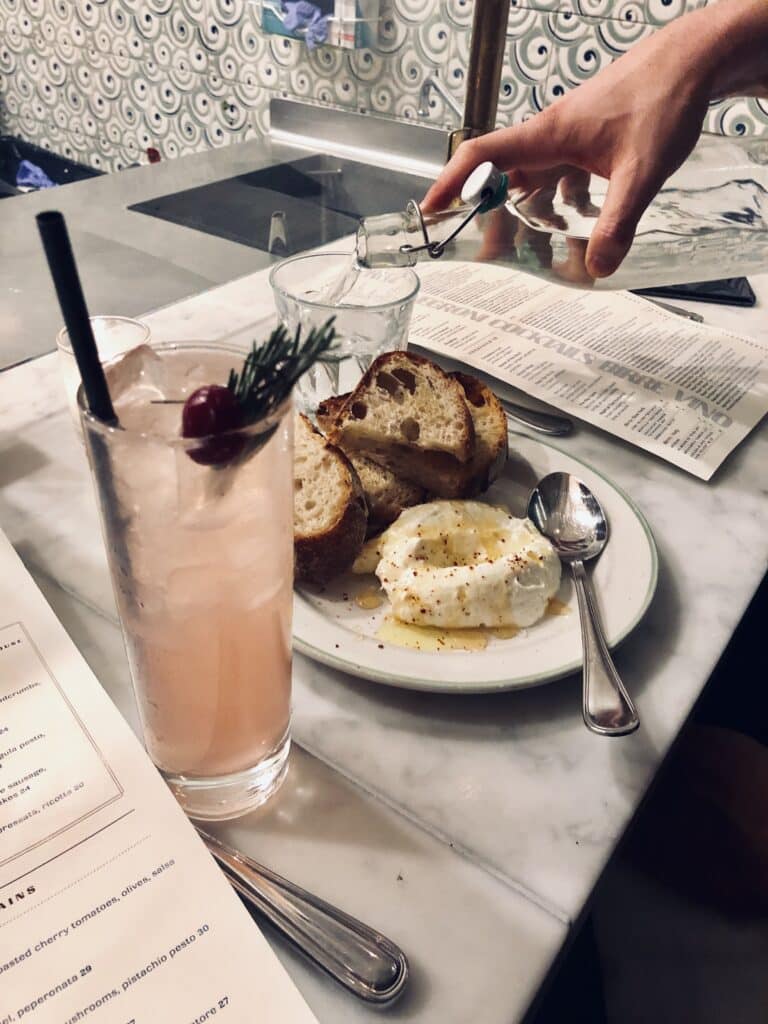 Other places we went that were SO good:
Momofuku NoodleBar for ramen! We also had their brussels for an appetizer!
Russ and Daughters – we had their bagels and lox and rugelach. Oh, and an amazing spicy pepper bloody mary.
Ferris: We went here for just a cocktail but ended up having their bread and butter too…life changing bread.
We explored Chelsea Market – tons of cute little places to stop and get a bite to eat for lunch or a snack. We stopped into Sarabeth's and I got breakfast muffin that had a hard boiled egg in the center. mmm. Speaking of Sarabeth's we went to the location right by Central Park as well one day and had an incredible breakfast. Little fancy – but delicious. Cameron had eggs benedict and I had short ribs with eggs!
DEZ: Fast Casual Middle Eastern food! They have really good vanilla soft serves too, they switch them up every month.
Eataly: So much to eat and buy here! Loved hanging out here one afternoon.
J.G. Melon: Burger. Nuff said.
Van Leeuwen Ice Cream – they have classic and vegan ice cream! I had coffee and Cam had the mint chip!
Speedy Romeo: Pizza place that does not disappoint. We stopped in here after walking through China Town and Little Italy.
The Standard, High Line: If you're looking for a cocktail, this is thee place.
The Wild Son: Bloody Mary and Mimosa/brunch food. So good!
The Butchers Daughter: Everything is good. Trust me!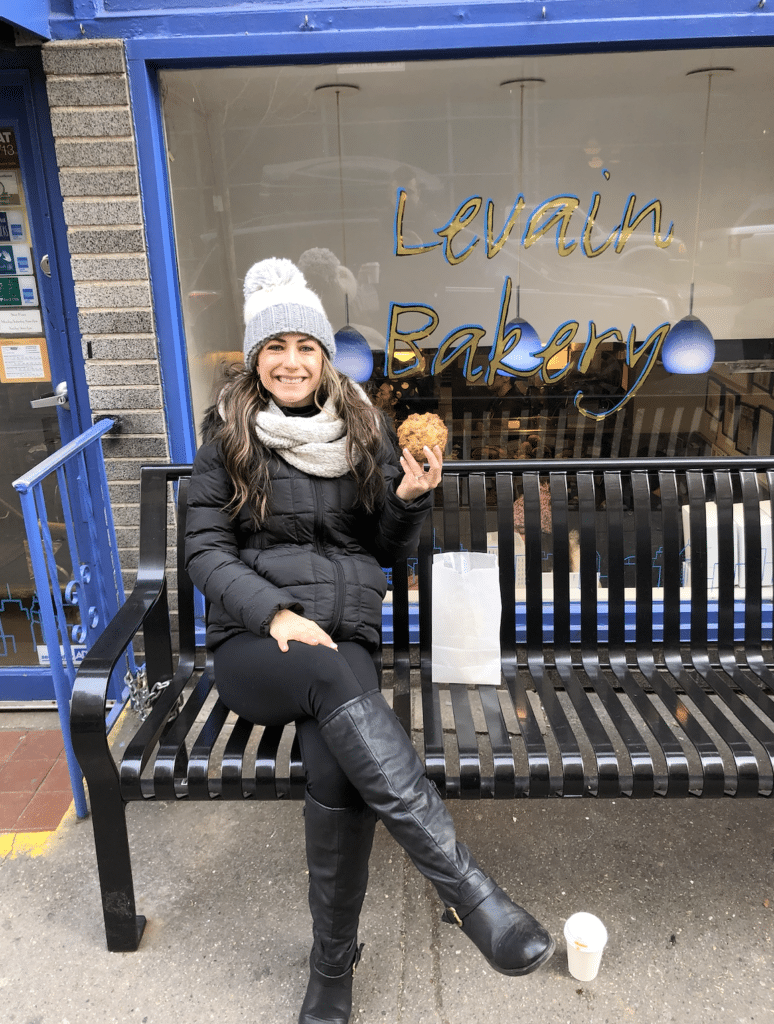 Places recommended to us but we didn't have a chance to go
BREAKFAST/BRUNCH/LUNCH:
Clinton Street Baking Co: Pancakes
Egg shop
Cha cha matcha
Black seed: BAGELS! Best bagel in Nolita they say.
Jack's Wife Freda: American-Mediterranean cooking
Gramercy Tavern
Mercer Kitchen
ABC Kitchen
Zabars for a real Jewish bagel!
Iuppudo Westside: ramen
Sweetgreen (simple & healthy)
Bluestone Lane
Grand Banks – great place for drinks and oysters! "boats on the water"
west~bourne: LA-inspired cafe with a charitable mission, serving breakfast, grain bowls, coffee, beer & wine.
12 Chairs Cafe: authentic Israeli cuisine ( lots of vegetarian and vegan options)
Two Hands
Quality Eats for brunch (but they also have great steak!)
Boulton and Watt
PIZZA:
L'Amico – Pizza
Lucali – pizza
Patsy's
Famiglia Pizza – Times Square
DINNER:
Lilia – Italian
Fraunces Tavern
L'Artusi
Red Farm
Dig Inn
Little Thai Kitchen
Blue Ribbon Brasserie (bone marrow appetizer)
Mimi – cute & small restaurant with French influences.
Marea – 2 Michelin stars, homemade pastas. Pretty fancy!
Please Don't Tell (P.D.T.) speakeasy bar. You can only make a reservation the day of at 3pm. It's hidden in an amazing hot dog place!
The Spotted Pig (get all the sides!!)
Locanda Verde (best whipped ricotta)
La Superior: Mexican food
Excuse my French: tapas bar
Bessou: Japanese
COFFEE/DESSERTS/ICE CREAM:
Morgenstern's – Ice Cream
Milk & Cream Cereal Bar (I've been before in DC but not to this one!!)
Tipsy Scoop: boozy ice cream treats!
Empire Cake
Coffee Project NY
Devoción (coffee)
Mah-Ze-Dahr Bakery
The ELK (coffee)
Joe & The Juice
As I travel more, or even hear from you all – I will continue to add to this list. Thank you for any recommendations!
Love this post? Be sure to PIN all of these great places to eat in New York City for when you make your trip!
I hope this is a helpful guide to all of you foodies out there! Enjoy NYC!