8 Ingredient To-Go Breakfast Bars
Bars and Brownies | Published Dec 21, 2016 | Updated Feb 27, 2023 | By Tawnie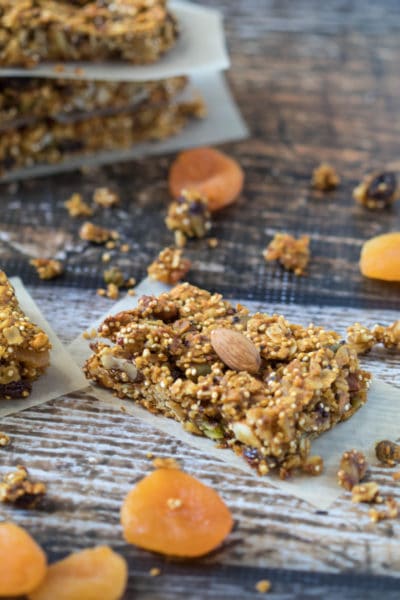 Easy, to-go 8 Ingredient breakfast bars are a must this time of year. These bars are high in protein and in fiber so they are a perfect way to kick start your day for sustained energy!
December 2016 – Theme
Grab a Book & Cook
We're playing a little party game at the end of 2016: Grab your nearest cookbook and ReDux the recipe on page 201, 16, 216 – or any combination of the number '2016.' (Of course, please don't forget to credit the original recipe and change enough of the recipe to make it your very own.)
This recipe was inspired by The Thug Kitchen Cookbook, I am sure most of you have heard of it. If not, I suggest buying it on Amazon like, right now! Hilarious. I have never laughed so much at a cookbook! To put a twist on their recipe, I added canned pumpkin (because pumpkin is amazing) and some different nuts and dried fruit. I found you really need to let the bars cool in the fridge before cutting into a bar shape because if not… they will just fall apart. I enjoyed the bars with pumpkin, but it is optional! Don't forget to click the link below under the recipe to see all of the other amazing recipes from this month!
[Tweet "Easy, to-go breakfast bars a perfect for this busy time of year! #TheRecipeRedux"]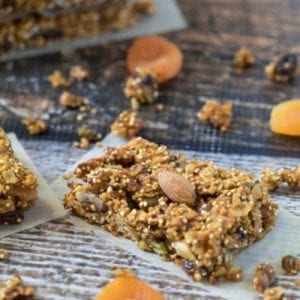 To-Go Breakfast Bars
Grab and go homemade breakfast bar - nutrient rich and goes great with your morning coffee!
Ingredients
2

cups

rolled oats

3/4

cup

uncooked quinoa

1 1/4

cup

chopped mixed nuts

I used almonds, chopped pistachios & pepitas

1/2

cup

dried fruit

I used raisins and diced up apricots

1/2

tsp.

salt

1/4

cup

honey

1/2

cup

peanut butter

1/4

cup

Olive oil

2

Tbsp.

dark brown sugar

1

tsp.

vanilla extract

optional: 1 cup pumpkin puree
Instructions
Preheat oven to 350 degrees F. Line a 9x13 inch baking dish with parchment paper (let some hang over the edge so you can lift easier when bars are done).

Heat a large skillet over medium heat and add the oats & quinoa, stir for 3 minutes or until lightly toasted. Meanwhile, combine the nuts/seeds & dried fruit in a large bowl. Pour in the oats & quinoa mixture + the salt and stir together.

In a small saucepan combine the honey, peanut butter (or any other nut butter you like), oil, sugar, vanilla and heat until everything is melted. (Optional to add the pumpkin puree also in this step). Pour this on the oat/nut mixture and stir until all ingredients are coated.

Pour this onto the prepared baking sheet and press down with a spoon to make sure it is even. Cook in the oven for 25-30 minutes. Let bars cool at room temp, and then cool further in the fridge. Once cold, cut into bars and keep in the fridge!
Notes
Adapted from Thug Kitchen
Hi, I'm 
Tawnie

!

Welcome to my tiny "korner" on the Internet! I am a Registered Dietitian Nutritionist who loves cookies as much as kale. (OK, maybe I like cookies a little bit more but shh, don't tell anyone). I am so glad you're here! Follow along for hassle free, realistic and approachable recipes.

More about Tawnie

I'd love to see what you made!!
Share it with me on Instagram or Facebook and tag me @krolls_korner or use the hashtag #KrollsKorner!