Rainbow Veggie Pizza {Savor The Flavor}
Main Dishes | Published Mar 16, 2016 | Updated Aug 20, 2019 | By Tawnie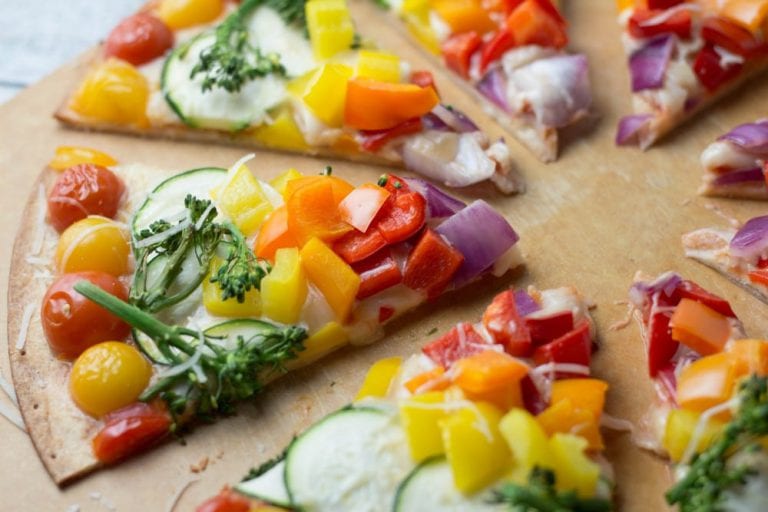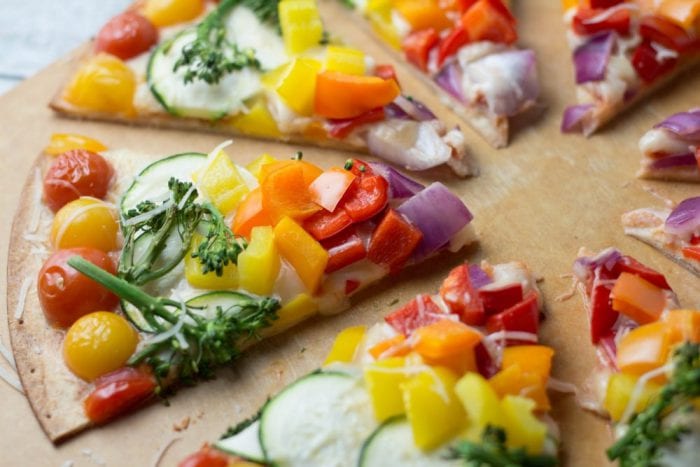 Savor the Flavor of Eating Right this month with this nutrient packed PIZZA! Who knew a pizza could be so healthy?! Not only was this pizza fun to make but it was super tasty as well. I do not have any kiddos of my own but I thought what a fun family night this could be to get kids involved in food prep. Children enjoy colorful foods and especially if they can make a design on a pizza out of the veggies – probably one of the few times you'll allow them to "play with their food!" 🙂 This veggie pizza can also be a great way to start introducing your kids to farmer's markets and choosing foods that are in season. Have them pick out the produce they are interested in and the farmers can explain how the produce is grown. When you get home you can all try it out together on your pizza. If you involve the kids in the process they are more likely to consume the veggies!

[Tweet "Savor the Flavor of Eating Right with this rainbow veggie pizza! #NNM2016"]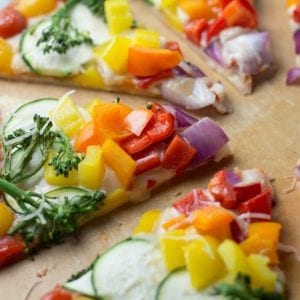 Rainbow Veggie Pizza
Ingredients
1/2

red onion

chopped

1/3

cup

broccolini

1/2

cup

cherry tomatoes

halved

1/2

large zucchini

thinly sliced

red

orange, and yellow bell pepper, diced

1

cup

shredded mozzarella

1/2-1

cup

pizza sauce

homemade or buy

Pre-made pizza dough or homemade

I purchased a thin crust

Fresh Parmesan for garnish
Instructions
Preheat oven to 350 degrees F.

Chop all of your veggies and place in separate bowls to keep organized.

Brush the pizza dough with a little olive oil (1-2 Tbsp). Then, using a ladle swirl the pizza sauce around the dough right up until you reach the edges of the pizza. Then sprinkle with cheese.

Next, carefully arrange your veggies on the pizza. I started with a small amount of onion in the middle, then made rings around the with the remaining veggies. Order: onion, red bell, orange bell, yellow bell, zucchini topped with broccolini, and layered the perimeter of the pizza with the halved tomatoes.

Cook in the oven for 8-10 minutes. Enjoy with fresh Parmesan on top!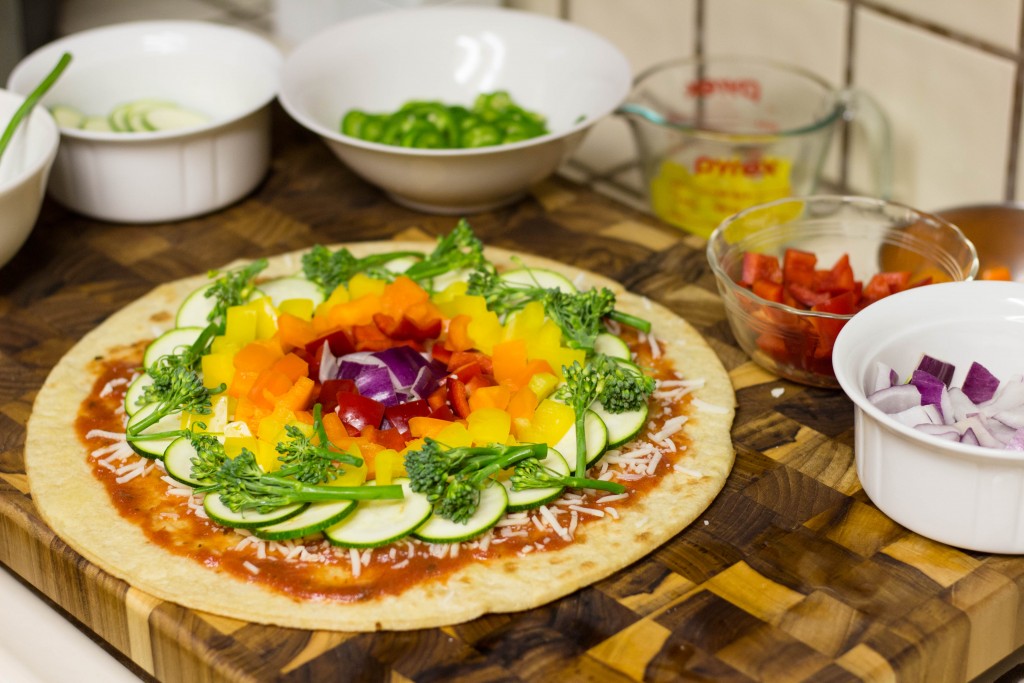 Hi, I'm 
Tawnie

!

Welcome to my tiny "korner" on the Internet! I am a Registered Dietitian Nutritionist who loves cookies as much as kale. (OK, maybe I like cookies a little bit more but shh, don't tell anyone). I am so glad you're here! Follow along for hassle free, realistic and approachable recipes.

More about Tawnie

I'd love to see what you made!!
Share it with me on Instagram or Facebook and tag me @krolls_korner or use the hashtag #KrollsKorner!