Pistachio Crusted Pork Medallions
Beef & Pork | Published Sep 29, 2016 | Updated Aug 20, 2019 | By Tawnie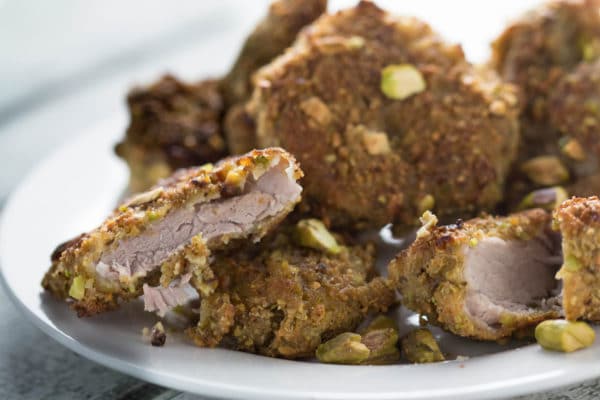 Pistachio crusted pork medallions are a great way to impress your family & friends. Baked to perfection with a hint of citrus that will make your taste buds happy!
Disclosure: I was not compensated for writing this post.
This is the last blog post for the Old Town Clovis Pistachio Party happening this Saturday, Sept. 30th! I hope you all have enjoyed following along this week with my pistachio filled recipes!
Click here to pin this recipe for later!

This was fun and super simple to make. Sometimes I feel myself getting caught up in the same routine of having chicken or ground turkey for dinner and this was suuuuch a nice change! My roomies and their significants all had a taste and they approved so that made me happy!
[Tweet "Pistachio Pork Medallions! Baked to perfection with a hint of citrus that will make your taste buds happy! Krollskorner.com"]
You can make these pistachio pork medallions Gluten Free recipe by simply using gluten free flour instead of all purpose & GF breadcrumbs! 🙂 I hope you can make it out to the Old Town Clovis Pistachio Party and thank you for following along with all of my pistachio filled recipes this week!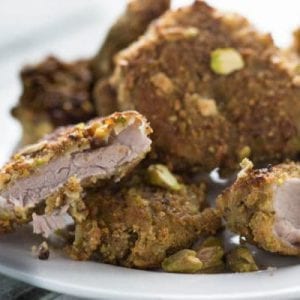 Pistachio Crusted Pork Medallions
Pistachio Pork Medallions! Baked to perfection with a hint of citrus that will make your taste buds happy!
Ingredients
1

Pork tenderloin

1

Cup

Italian breadcrumbs

1 1/3

cup

whole

unsalted pistachios

1

Tbsp.

lemon zest

1

Tbsp.

orange zest

1

Tbsp.

garlic

1

Tbsp.

fresh rosemary

1

cup

AP flour

1

tsp.

salt & pepper

3-4

large eggs

canola oil
Instructions
Preheat oven to 400 degrees F. Line a baking sheet with foil and set aside. Then, cut pork tenderloin in 1/2 inch thick slices and set aside. (These are your medallions, I formed mine with my hands to make a circular shape).

Grind pistachios in a food processor. Then add in breadcrumbs, zest, garlic, and rosemary and pulse until combined well. Set aside in a bowl.

Crack eggs in a medium bowl and whisk. Place flour (with the salt and pepper added) in a medium-large bowl. Line up your 3 bowls: egg wash, flour, and breadcrumb mixture.

Dip pork tenderloin slices in the egg wash, then in the flour, back in the egg and then in the breadcrumbs. Set on a plate.

Heat the canola oil in a frying pan until sizzling hot. The smoke point is 400 degrees for canola oil! Cook each medallion on each side for ~2 minutes, being sure not to burn the pistachio crust. You may need to work the pork in batches.

Place medallions on the prepared baking sheet and bake in oven for 8-10 minutes, or until fully cooked inside. Enjoy with your favorite side dishes!
Hi, I'm 
Tawnie

!

Welcome to my tiny "korner" on the Internet! I am a Registered Dietitian Nutritionist who loves cookies as much as kale. (OK, maybe I like cookies a little bit more but shh, don't tell anyone). I am so glad you're here! Follow along for hassle free, realistic and approachable recipes.

More about Tawnie

I'd love to see what you made!!
Share it with me on Instagram or Facebook and tag me @krolls_korner or use the hashtag #KrollsKorner!