What do you think of when you hear the word eggplant? Is it, "Eww, that big purple egg-like shape vegetable?" Or is it, "YUM! I love eggplant, I could eat it all day, every day!" Haha it is my hopes that if you are part of the population who is not a fan of eggplant, hopefully these mini bites will convince you to like them. To be honest it took me a while to enjoy eggplant but knowing how nutritious they are makes me like them even more. These bites are a perfect Super Bowl appetizer as well – fun for dipping, easy to eat, and healthy for you! 🙂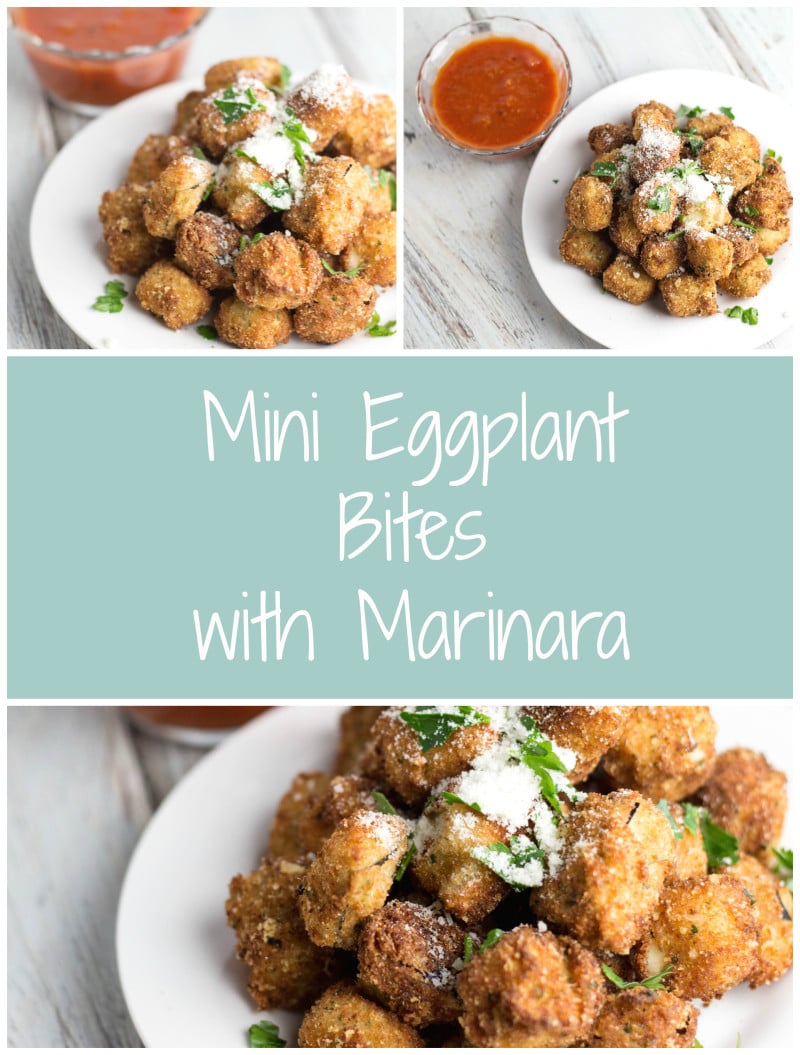 Nutrition on Eggplant! Eggplant is high in fiber, potassium Vitamin C, Vitamin B-6 and rich in phytonutrients to support heart health. One cup of raw eggplant contains 20 calories, 0.8 grams of protein, 4.82 grams of carbohydrate, 0.15 grams of fat and 2.5 grams of dietary fiber. A one-cup serving meets 10% of daily fiber needs, 5% potassium, 3% vitamin C, and 5% vitamin B-6.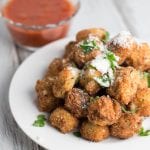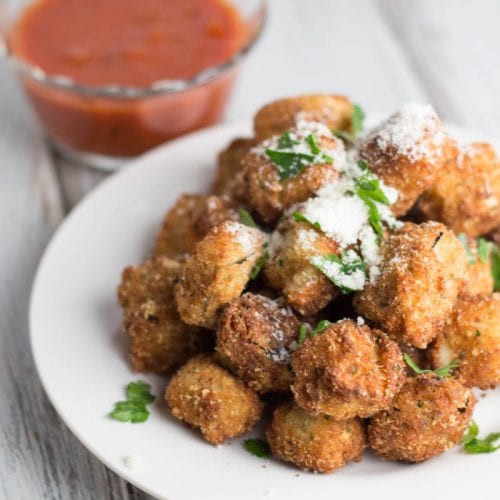 Mini Eggplant Bites w/ Marinara
Print
Ingredients
1

medium-large eggplant

2

cups

Italian breadcrumbs

1

cup

grated parmesan cheese

3

eggs

1

cup

AP flour

Vegetable oil

for frying

1

cup

marinara

I used store bought, low sodium - you can also make you own

Parsley

chopped - for garnish
Instructions
Wash and peel the eggplant. Slice eggplant and then dice into 1 inch cubes. Place eggplant cubes in a strainer in the sink and toss with salt. Let eggplant drain for 30-45 minutes. This helps excrete all the water in the eggplant.

In a medium size bowl, mix the breadcrumbs with Parm. In another medium bowl, whisk the 3 eggs and 2 Tbsp. water. Place flour in a third bowl. Bread the eggplant next - dip in flour, then egg mixture and then breadcrumbs!

Line a plate with 2 paper towels.

Pour about 1-2 cups of vegetable oil into a pot over medium heat. You want your oil to reach 360 degrees F for frying the eggplant bites. Cook the bites in batches, each batch taking ~2-3 minutes or until bites become golden brown. remove them from the pot with a slotted spoon and place on paper towels. Repeat process until finished. It is crucial to make sure the oil is hot enough!

Garnish with parsley and more parm if you would like! Dip in warm marinara sauce. Enjoy!
Recipe Notes
Recipe inspired from: http://www.justataste.com/eggplant-parmesan-bites-marinara-dipping-sauce-recipe/
Enjoy!
[Tweet "Mini Eggplant Bites w/ Marinara – perfect last minute Super Bowl Appetizer! | Krollskorner.com"]