Fresh Herb Pasta with California Green Ripe Olives
Dairy-Free | Published Nov 7, 2018 | Updated Aug 20, 2019 | By Tawnie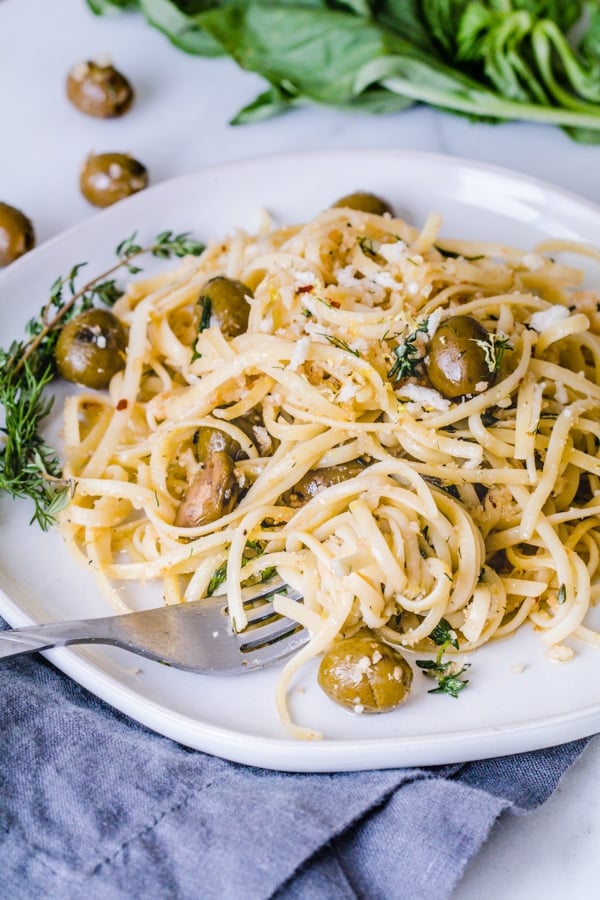 Add flavor to your weeknight pasta dishes with fresh herbs and California Green Ripe Olives!
Disclosure: This post was sponsored by California Ripe Olives. Although I was compensated to write this post, all opinions are my own. As always, thank you for supporting the brands who keep Kroll's Korner up and running!
Hi friends! If you have not already heard …I have some exciting news to share with you all…
I'M ENGAGED!
My best friend, Cameron Lee Graham, proposed to me Sunday, October 14th and I have been on cloud 9 ever since. We are so excited for this next chapter and for all of your continued love and support!
The day after the proposal, life continued to be a dream as I toured the Ricchiuti Family Olive Grove in Fresno, CA on behalf of California Ripe Olives. (Luckily for me, I live in Fresno so I did not have to travel far!)
What did we do on the Olive Grove tour?
The day started with a wonderful breakfast with several other bloggers from around the US. I met some lovely ladies and we had great conversation in the middle of the olive grove over warm coffee, yogurt, granola, fresh fruit and pastries. The air was crisp and it was a perfect fall morning.
Once our bellies were full we were ready to soak up all of the information in the California Ripe Olive grove with a tour led by Vincent Ricchiuti.
Vincent was extremely insightful and provided a plethora of knowledge on the tour.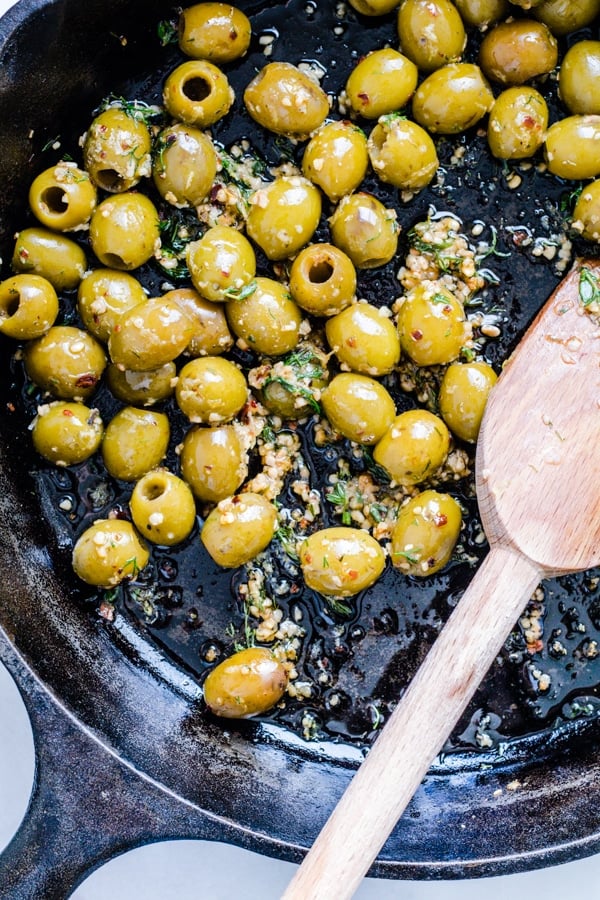 Some key points we learned include:
First things first – don't eat an olive straight from the tree! VERY bitter!
Olives are a FRUIT!
California produces over 95% of the olives grown in the US.
Vincent said there are two main varieties of trees that produce their olives: Manzanillo and Sevillano.
California Ripe Olive Harvest Season generally begins in September and goes through October.
The method of processing California Ripe Olives was invented by Freda Ehmann.
The process is fairly straightforward: it starts by putting the olives into a lye curing solution to leach the natural bitterness out. Then, a series of cold-water rinses to remove every trace of the curing solution.
Do you know how the green olive turns to black?! The California Black Ripe Olives have pure air constantly bubbled through to give the olives their natural, rich dark color.
The green olives don't get the pure air injected. This allows them to retain their gorgeous green color.
The California Ripe Olives are pitted and canned-whole, sliced, wedged or chopped-in a mild salt brine.
[Tweet "DYK California Black Ripe Olives have pure air constantly bubbled through to give the olives their natural, rich dark color. #sponsored #calripeolives #krollskorner"]
Once the tour was finished, we took some fun photos together surrounded by the bountiful groves of the Ricchiuti family farm! I took a picture by an olive tree showing off my shiny new RING! 🙂
Afterwards, we had a delicious California Ripe Olive tasting! We tasted a variety of olives, but my favorites by far were the California Green Ripe Olives and the Herbed California Ripe Olives! And if that wasn't delicious enough – we even had CANDIED California Ripe Olives. Yes, I said candied! YUM! I love the unique flavors of California Ripe Olives!
Speaking of flavor, one of my favorite things about California Ripe Olives are their smooth & buttery flavor. Plus – all of the different culinary uses for California Ripe Olives is so impressive & fun!
Hands on fun with California Ripe Olives
One of my favorite parts of the tour was getting the opportunity to make a Charcuterie board! Believe it or not, this was my first time ever making a charcuterie board! I loved seeing how everyone's board turned out and now I want to host a Charcuterie board party with California Ripe Olives, fancy cheese, crackers and fruit!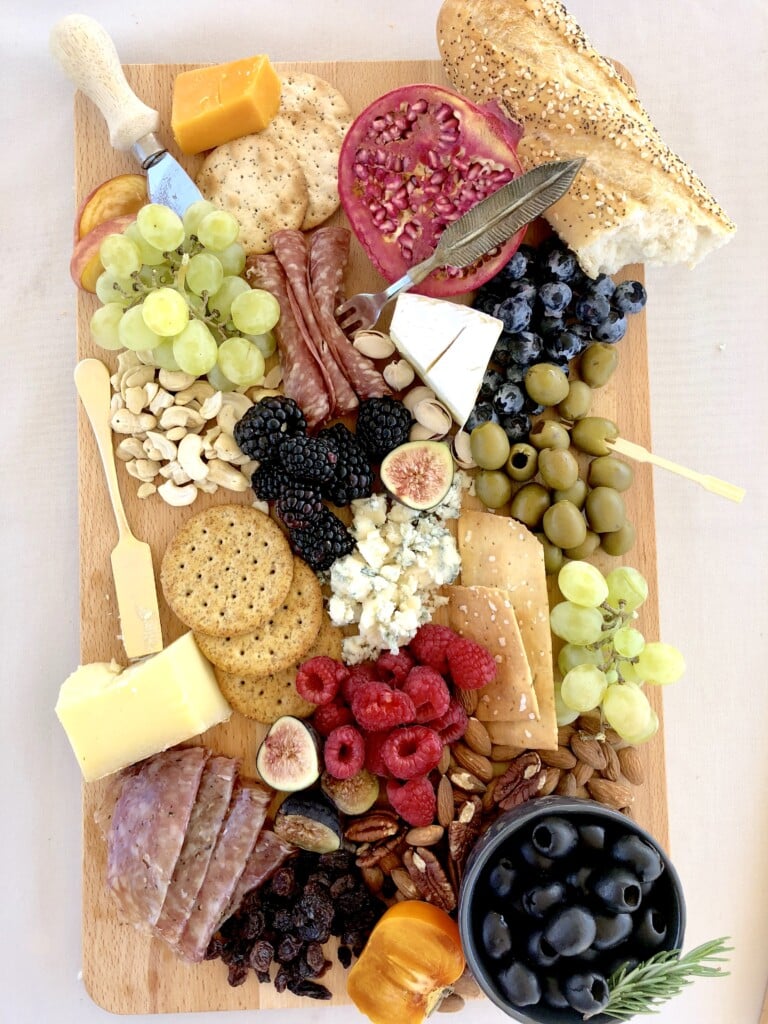 Now that I've learned how get California Ripe Olives from farm to table, I had to make anything other than a combination pizza with olives. Let's start doing these olives justice!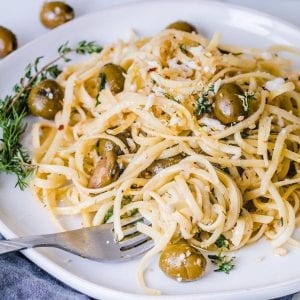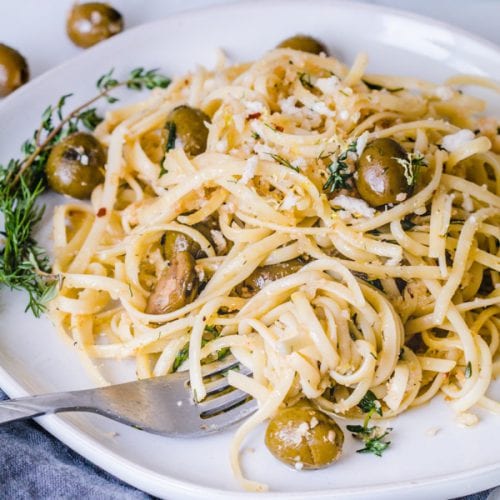 Fresh Herb Pasta with California Green Ripe Olives
This easy weeknight pasta is combined with fresh herbs, California Green Ripe Olives and good quality extra virgin olive oil. Pair with chicken or salmon for a balanced meal!
Ingredients
10

oz.

linguini (or other long shape pasta)

1/2

cup

Extra Virgin Olive Oil

1

cup

Panko Breadcrumbs

2

cloves

garlic, chopped

2

Tbsp.

fresh thyme

2

Tbsp.

fresh dill

2

Tbsp.

fresh basil

1

lemon, for juice and zest

1/4

tsp.

pepper

1

6 oz can

Medium California Green Ripe Olives

1.5

cups

pasta water
Instructions
In a large pot, bring water to boil to cook pasta.

Meanwhile, heat 1.5 Tbsp. olive oil in a medium skillet. Once warm, add in Panko and cook - stirring occasionally to prevent burning - until crumbs are brown. Remove from heat and place in a bowl. Add in 1 Tbsp. chopped thyme, dill, pepper and lemon zest.

Once the noodles are done, be sure to reserve 1.5 cups pasta water. Drain and rinse the rest. Toss noodles with 1-2 Tbsp. olive oil so they don't get sticky!

In the same skillet the Panko breadcrumbs were in, add 1 Tbsp. olive oil. Then add in garlic, lemon juice, California Green Ripe Olives, and remaining thyme and dill. Cook for about 5 minutes, or until olives are coated with herbs.

Add the olives into the pot with noodles, stir in fresh basil, remaining olive oil, and breadcrumb mixture. Serve immediately.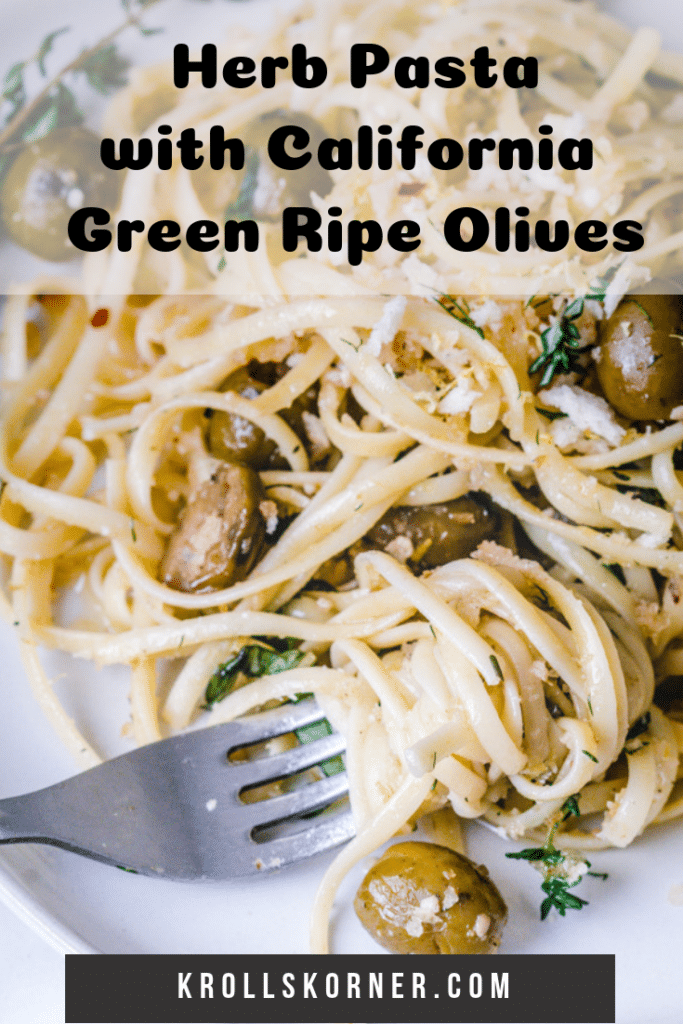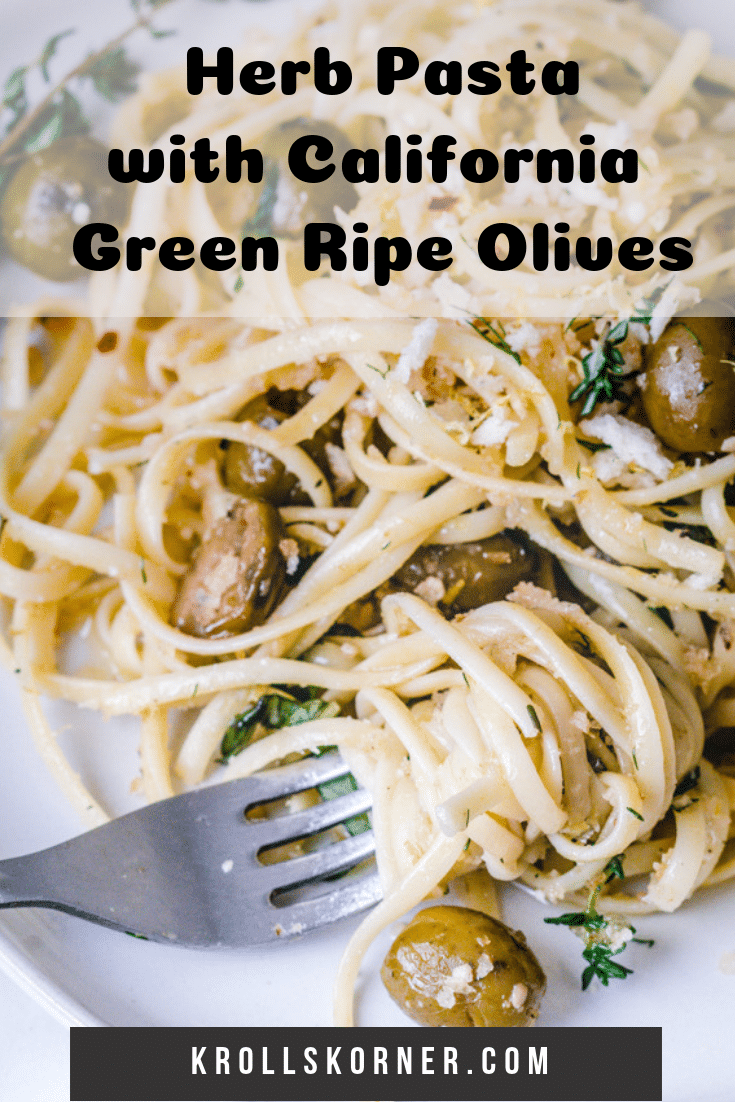 I hope you enjoy this recipe and learning a little more about California Ripe Olives!
What is your favorite way to enjoy California Ripe Olives? Let me know in the comments below!
Hi, I'm 
Tawnie

!

Welcome to my tiny "korner" on the Internet! I am a Registered Dietitian Nutritionist who loves cookies as much as kale. (OK, maybe I like cookies a little bit more but shh, don't tell anyone). I am so glad you're here! Follow along for hassle free, realistic and approachable recipes.

More about Tawnie

I'd love to see what you made!!
Share it with me on Instagram or Facebook and tag me @krolls_korner or use the hashtag #KrollsKorner!