Caramel Chocolate Bars
Bars and Brownies | Published Apr 15, 2022 | Updated Feb 27, 2023 | By Tawnie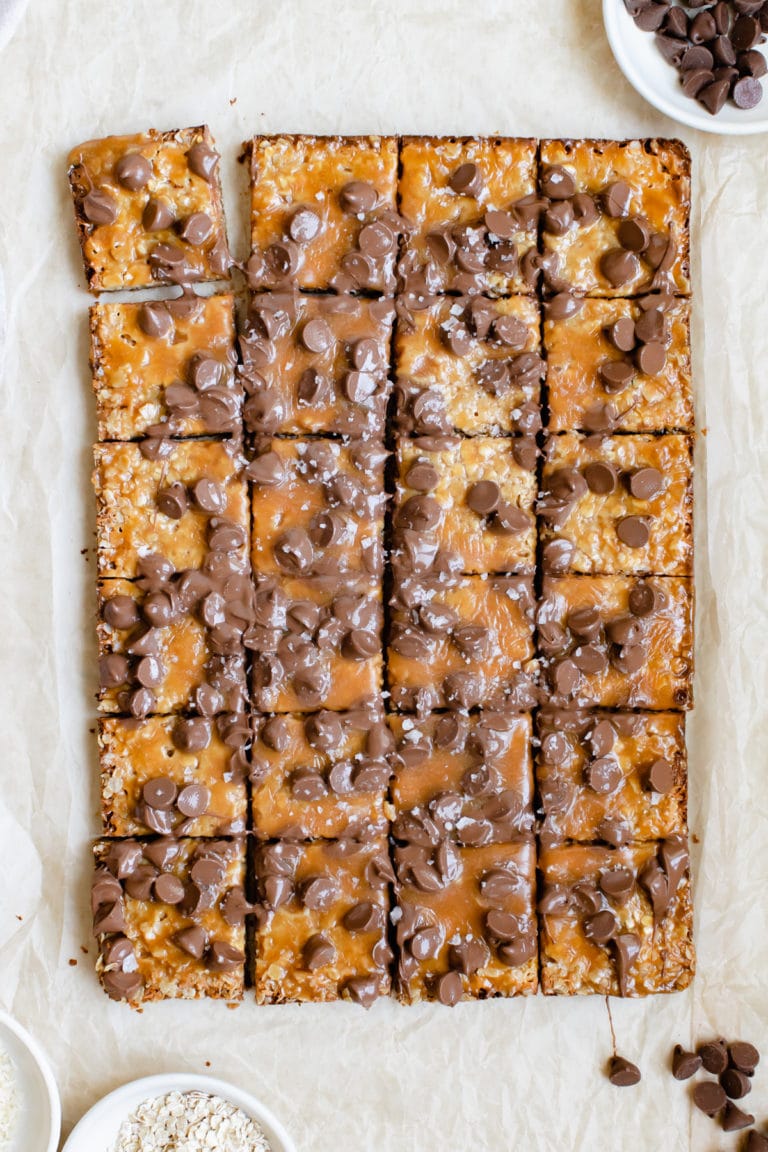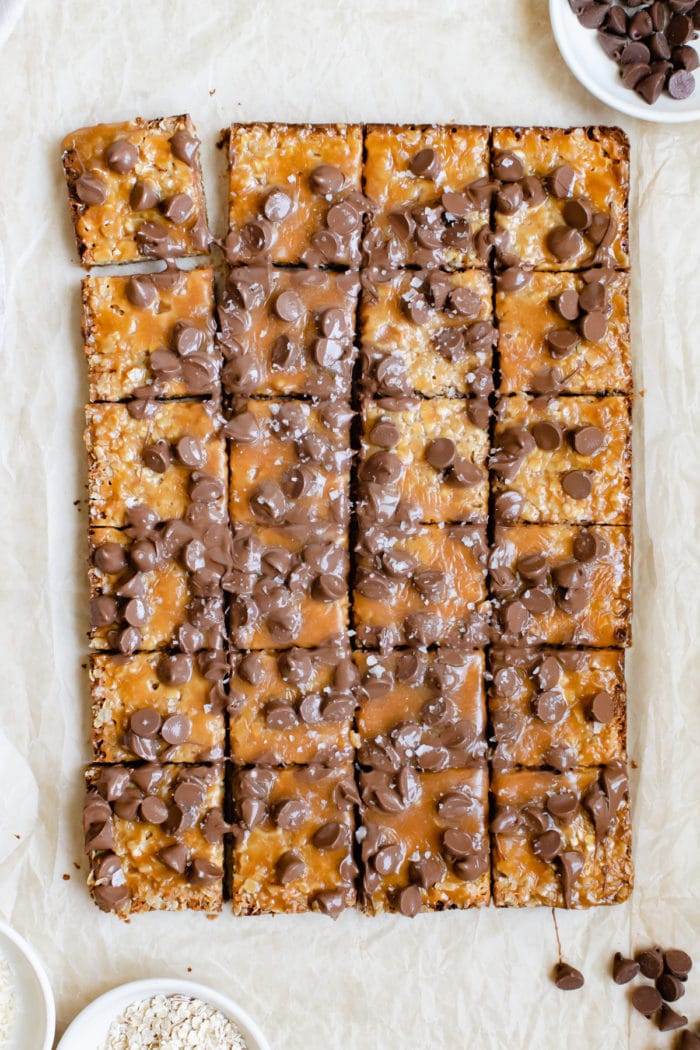 These caramel chocolate bars may bring back wonderful childhood memories of biting into your favorite Girl Scout Samoas Cookie, (although I did not set out to do a copy-cat recipe).
After making these salted caramel chocolate chip cookies I've been on a salted caramel kick. And I have to say…it's not a bad kick to be on! 😉
The surprise for me with these bars is that friends and family who are not coconut lovers, are enjoying these Caramel Chocolate Bar as much as coconut lovers do. My husband swears he isn't a coconut fan, but I saw him eat 2 of these bars within minutes. 😂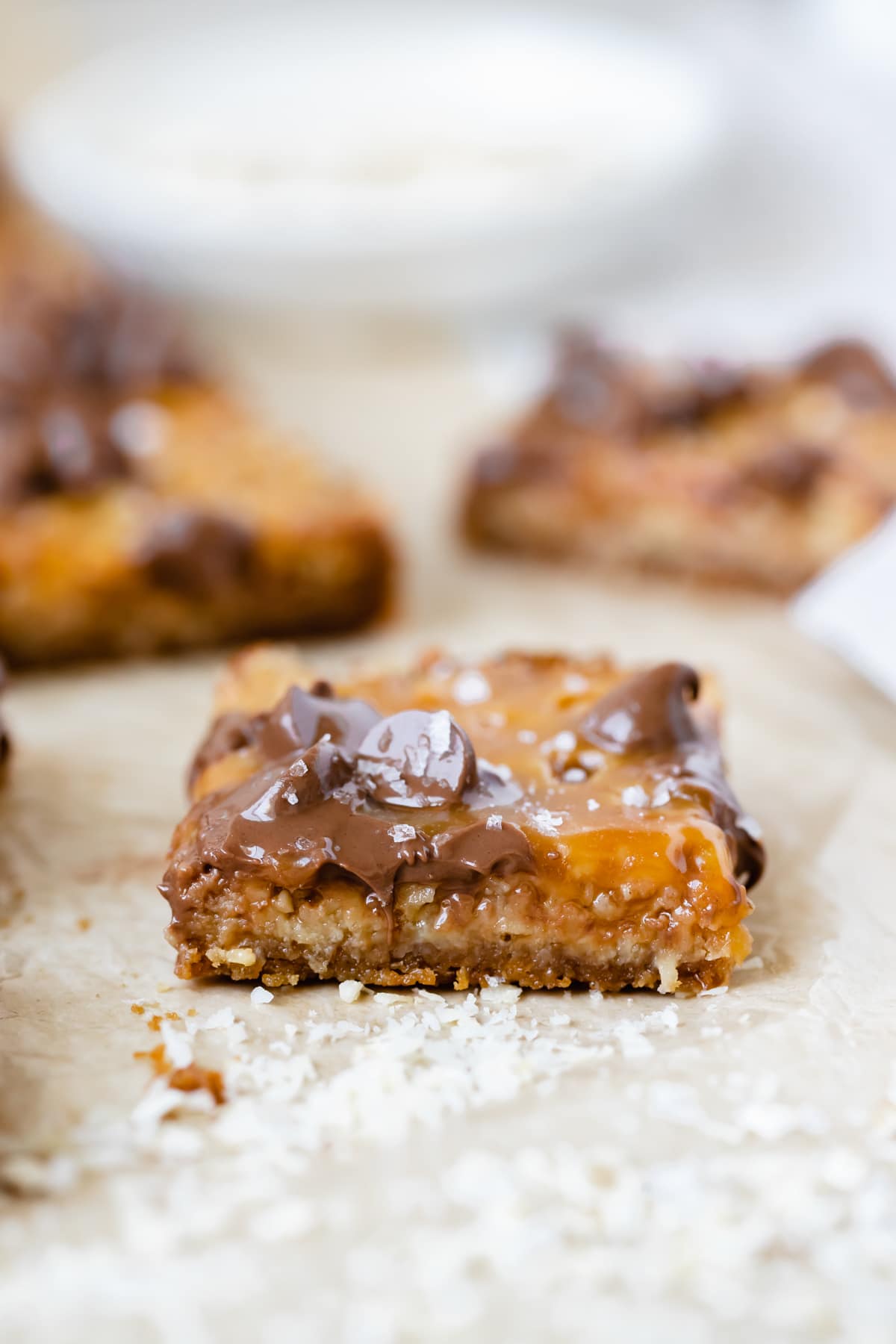 When you take your first bite your taste buds will initially explode with the buttery crispness of the brown sugar crust. Then, piled on top of that you'll enjoy the chewy goodness of coconut & oats. Lastly, creamy swirls of salted vanilla caramel wrapped around milk chocolate chips ooze through each layer and top this delightfully decadent bar in all of the best ways.
One bite and you will find yourself thinking about all the times throughout the day you can enjoy one; with a cold glass of milk, a steamy cappuccino, or with an after dinner glass of wine (my personal favorite option!)
And if you're not yet convinced, you'll love these caramel chocolate bars because…
They are quick and easy to make
You probably have most of the ingredients on hand already
Easily make them gluten free, if needed.
The flaky sea salt on top adds the perfect finishing touch because salted caramel is life.
They're simply amazing and you literally won't want to share!
Ingredient Notes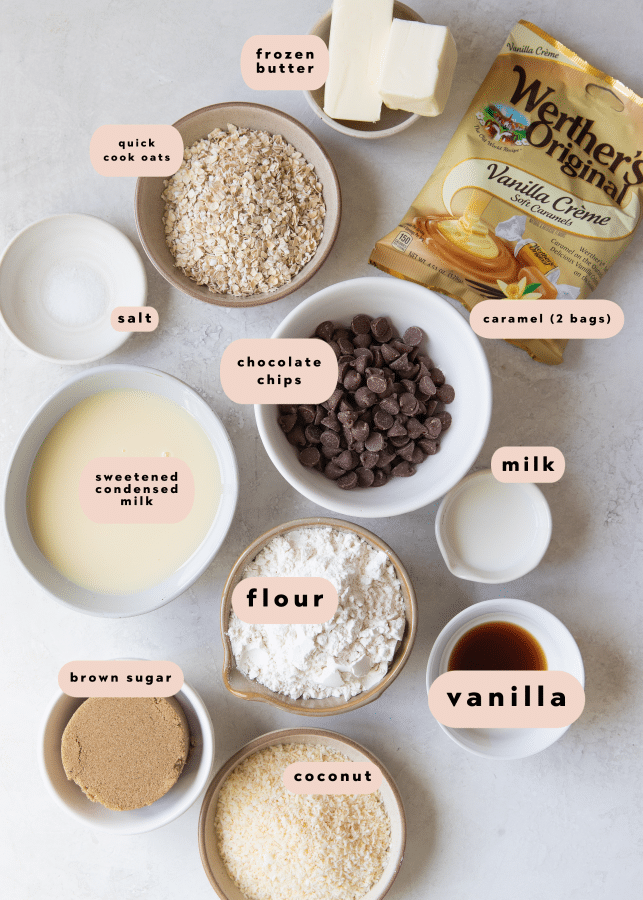 All-Purpose Flour- All-Purpose Flour is the most commonly used flour. For these bars it adds to the crispy-chewiness of the rich Caramel Chocolate Bars.
Brown Sugar- I prefer using light brown sugar for this recipe, but you can substitute dark brown sugar. Dark brown sugar will give the cookies a richer taste, slightly change the color of the crust, and possibly the texture.
Butter- By grating the frozen butter, the fluffy pieces mix quickly and evenly into the flour.
Condensed Milk- Sweetened condensed milk adds to the creaminess and depth of caramel flavor.
Quick Oats- Quick oats are preferred since they cook faster than Old Fashioned Oats.
Coconut- shredded coconut boosts the chewy bite of these Caramel Chocolate Bars. You can find the shredded coconut in the baking isle in the grocery store.
Vanilla Caramel- A hint of vanilla flavor adds to the deliciousness of these bars. You can use regular soft caramels if preferred.
Chocolate Chips- The milk chocolate chips compliment the sweetness of the caramel. Use your favorite chocolate (semi-sweet, dark, etc.)
Other Ingredients Needed- vanilla extract and milk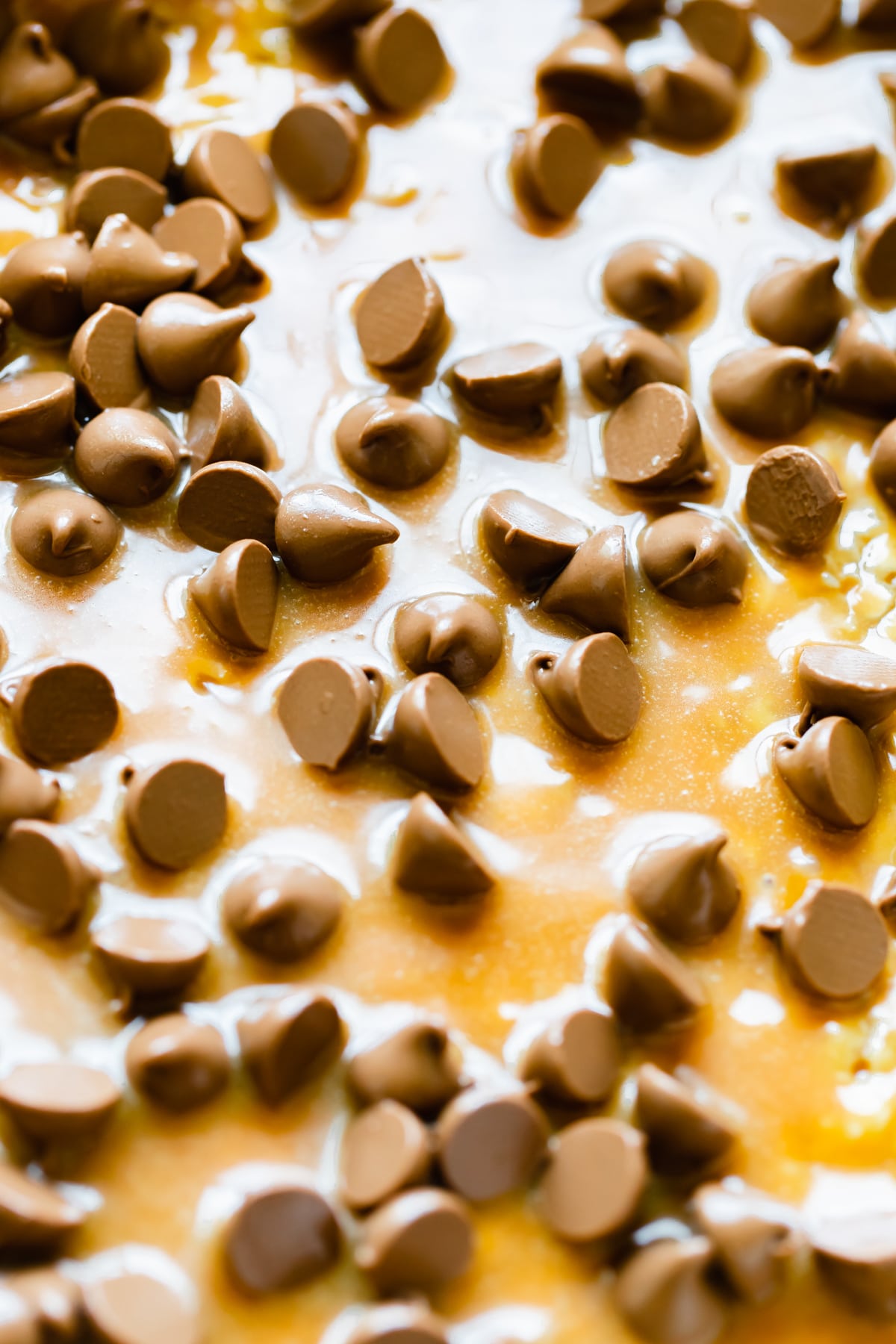 Step by Step Directions
Mix together brown sugar and flour. Grate the frozen butter and mix it in. Press into a 9×13 pan and bake @ 350°F for 15 min.
Combine the oats and coconut and pour over the partially baked crust.
Combine condensed milk and vanilla and pour over oats and coconut.
Bake 25 min. cool 10 min.
Melt caramels in milk in saucepan. Cook until melted then pour over the oat and coconut layer.
Top with chocolate chips and flaky sea salt.
Cool completely and then cut into bars.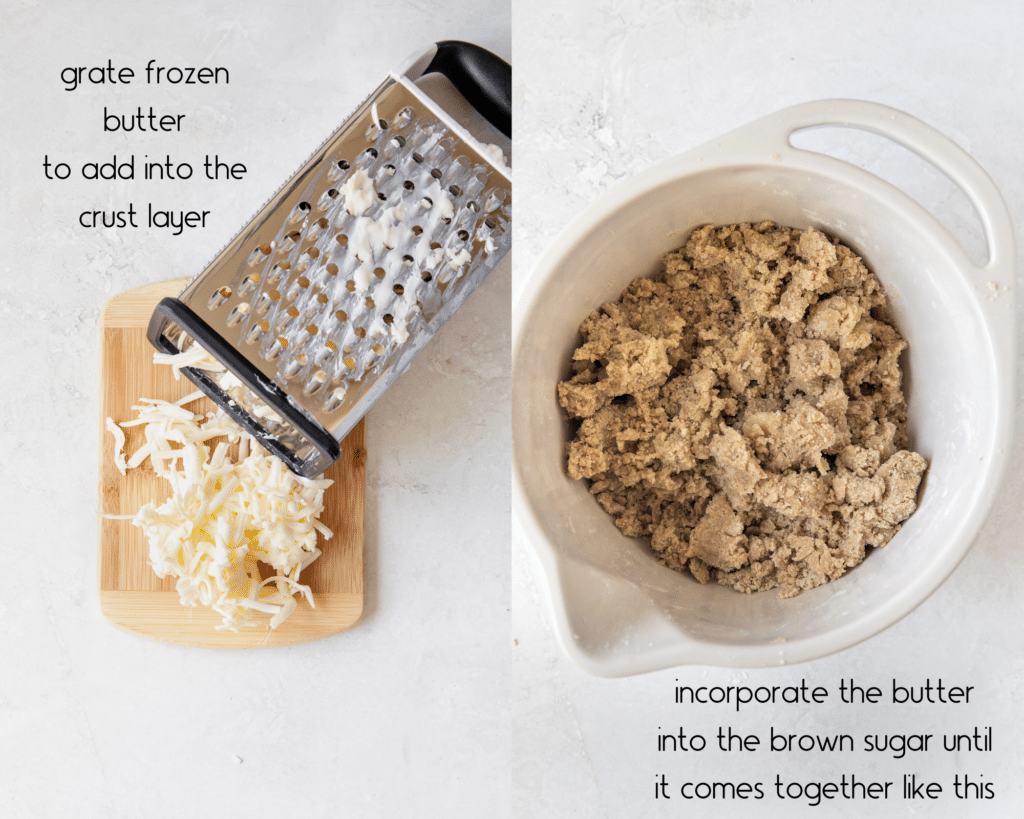 Tips and Variations
After cooling the bars, cut them into squares or diamonds. Simply run a sharp knife under hot water before slicing, then clean the knife between cutting the next slice.
If you aren't a coconut fan, you can substitute finely chopped nuts for the coconut. They will add the texture you are looking for along with some added flavor.
Light Brown and Dark Brown sugars can be used interchangeably, but you will see some differences with the dark brown sugar. The color of the bars may be darker, the flavor a bit more robust, and the texture may be different.
Freeze the butter before grating. Grating is a great way to evenly distribute the butter in the flour and brown sugar mix.
If you can not find vanilla caramels, use regular soft or chewy caramels.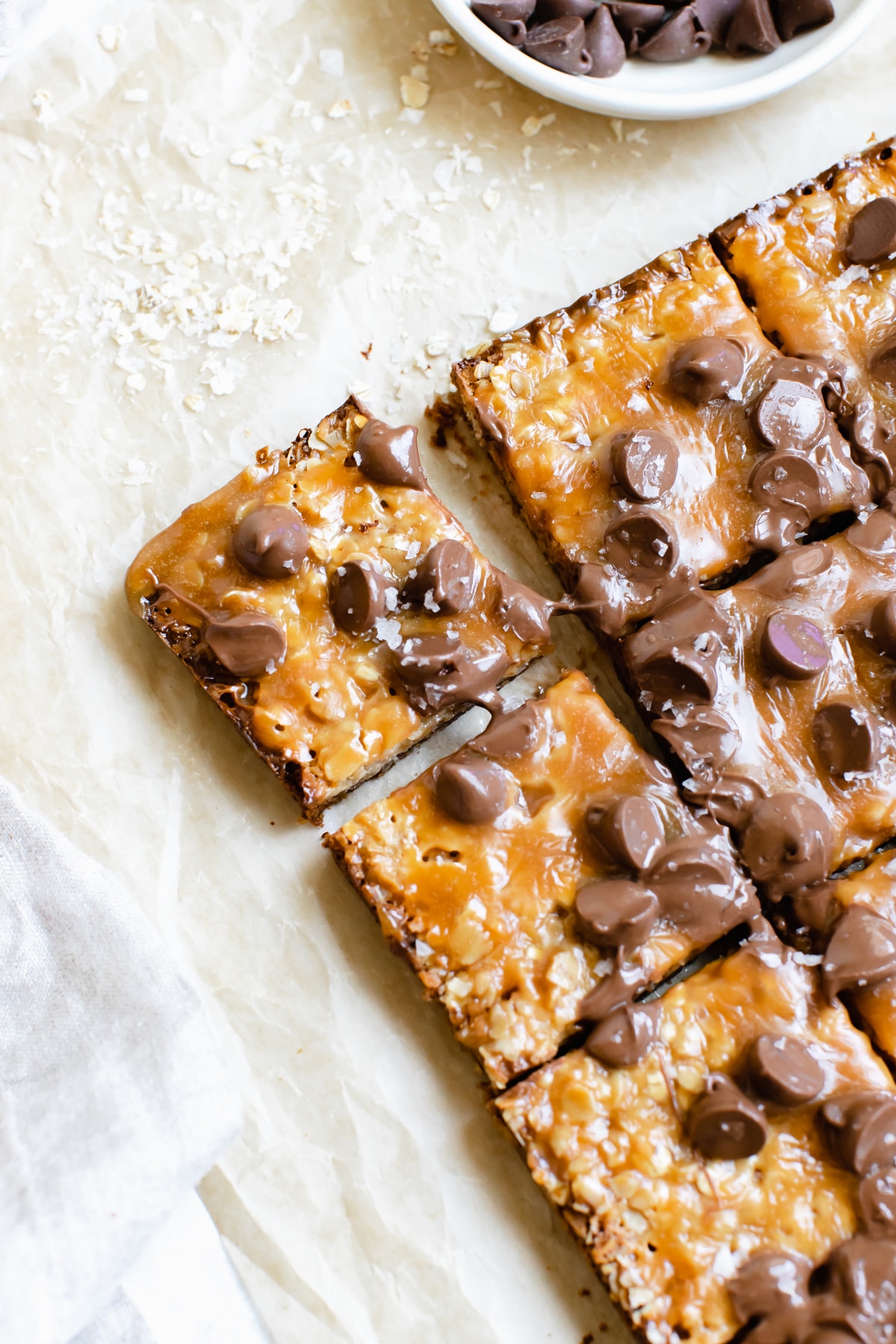 FAQ
How can you tell when the caramel chocolate bars are done?
The center will be set. 25-30 minutes will be plenty of time!
How many bars does a 9×13 pan make?
That depends on how you cut them, but typically you will get 24 bars from a 9 x 13 pan.
How long do these bars last?
Stored in an air tight container, they will last up to one week in the fridge and up to 3 months in the freezer.

How long should the bars cool before slicing?
The chocolate will be very melty. I recommend waiting at least an hour. (I know, it's hard to wait!!) I've made these in advance and placed in the fridge and cut once cooled that way too.
Can I make these gluten free?
Converting your favorite recipes to your gluten free lifestyle is easy. Substitute the all purpose flour for All Purpose gluten free flour. Oats are not a gluten containing grain, but are often contaminated by the way they are grown and stored. The best way to be sure your oats are not gluten contaminated is to buy certified gluten-free oats. With these two substitutions, you should be all set to bake.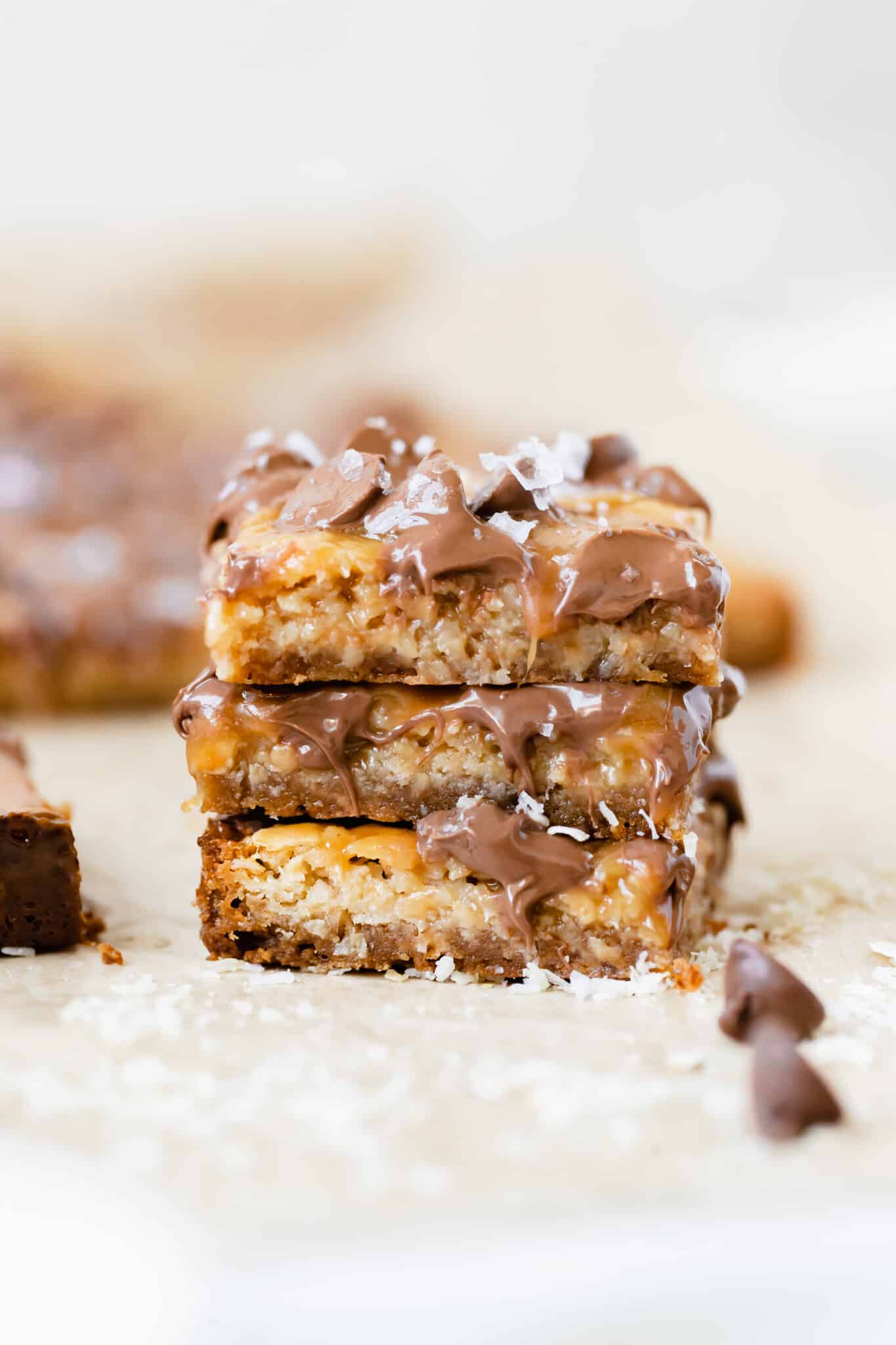 HUNGRY FOR MORE? If you try this recipe, why not leave a star rating in the recipe card right below and/or a review in the comment section further down the page? I always appreciate your feedback! You can also follow me on Pinterest or Instagram. Sign up for my email list, too!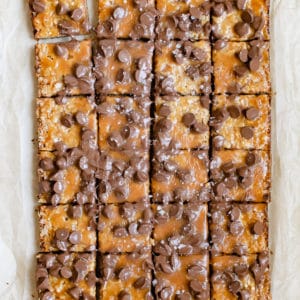 Caramel Chocolate Bars
These rich, caramel chocolate bars feature all kinds of goodies! Shredded coconut, oats, salted vanilla caramel and melty milk chocolate.
Ingredients
Crust
1 1/2

cups

all-purpose flour

1

cup

light brown sugar, packed

1/2

tsp.

salt

12

Tbsp.

unsalted butter, frozen
Filling
3/4

cup

quick 1-minute oats

3/4

cup

shredded coconut

14

oz. can

sweetened condensed milk (1 1/3 cups)

1

Tbsp.

vanilla extract
Instructions
Make the crust: In a medium size bowl mix together flour, brown sugar, and salt. Grate the frozen butter using a box grater and add the butter to the brown sugar and flour. Break up any larger shreds of butter into small pea sized pieces. Combine until mixture resumes coarse crumbs.

Evenly press the crumb mixture into the bottom of a 9×13 baking pan. (You can line with parchment paper first if you prefer). Bake for 15 minutes.

Combine the oats and coconut and pour over the partially baked crust.

Stir together the sweetened condensed milk and vanilla extract and pour over the oats and coconut, being sure to get all along the edges of the pan too.

Bake for ~25 minutes or until the filling is set. Cool for 10 minutes.

Meanwhile, melt caramels and milk in saucepan. Whisk and cook over medium-low heat until smooth and melted then pour on top. Sprinkle the top with chocolate chips and flaky sea salt. Cool completely and then cut into bars.
Notes
Storage: Store in an air tight container, they will last up to one week in the fridge and up to 3 months in the freezer.
Feel free to omit the coconut and add in chopped walnuts or pecans.
The vanilla caramels might look like they vanilla creme isn't melted at first – but it will. Just keep whisking 🙂
Hi, I'm 
Tawnie

!

Welcome to my tiny "korner" on the Internet! I am a Registered Dietitian Nutritionist who loves cookies as much as kale. (OK, maybe I like cookies a little bit more but shh, don't tell anyone). I am so glad you're here! Follow along for hassle free, realistic and approachable recipes.

More about Tawnie

I'd love to see what you made!!
Share it with me on Instagram or Facebook and tag me @krolls_korner or use the hashtag #KrollsKorner!