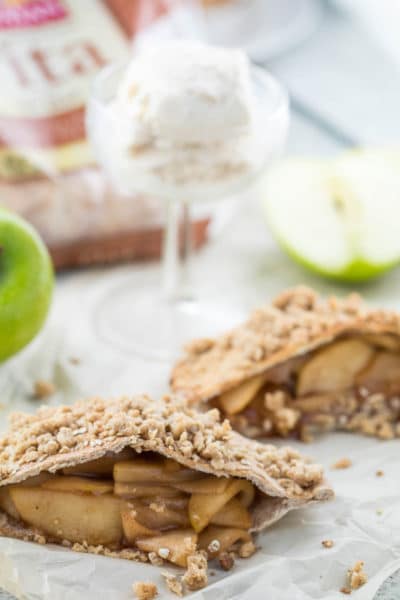 Apple Pie Stuffed Pitas are a satisfying and healthy dessert choice! Who knew pita bread could be used as a dessert?!
I received free samples of Toufayan Pita mentioned in this post. By posting this recipe I am entering a recipe contest sponsored by Toufayan Bakeries and am eligible to win prizes associated with the contest. I was not compensated for my time.
Often times after dinner I find myself wanting something sweet. I am sure many of you have had the same cravings! I usually reach for a small piece of extra dark chocolate to satisfy that craving…but that can get kind of boring. When I received the pitas for this contest a dessert recipe was not what came to mind. Let me tell you what I was thinking… at first I was going to do something with ceviche and pita chips…then I was playing around with the whole pita pizza/flatbread idea…then I started to get off track and thought about how I should make a pie for St. Patty's Day with cute shamrock cutouts on top…and BOOM. It hit me. PIE! I should make some type of pita pie! haha. I love apple pie…it is my all time fav, so I figured hey, Apple Pie Stuffed Pitas sounds pretty dang good to me!
These are kind of like a healthy version of hand pies. Of course the dietitian puts a healthy twist on a recipe, huge surprise! 😉 And I have a confession: I have never had a hand pie. (gasp). I'll have to stick with my healthy version of them! Anyways, I really liked working with these pitas – I chose to use the oat bran for this recipe but really you can choose any – although I wouldn't recommend using the garlic or onion for this recipe haha. Check out the Toufayan website to see more of their amazing products!


The company that sent the pita bread is Toufayan Bakeries. They have a plethora of products from this pita bread to chips, bagels and flatbreads! I think choosing to eat with pita bread – not only in this dessert – is a healthy choice because of their versatility. They give you the opportunity to stuff with veggies and plant based proteins, or make a healthy pita pizza out of them, make your own pita chips and dip in hummus, or instead of going out to a sandwich shop you can cut the sodium, fat, and calories in half by making a yummy sandwich at home.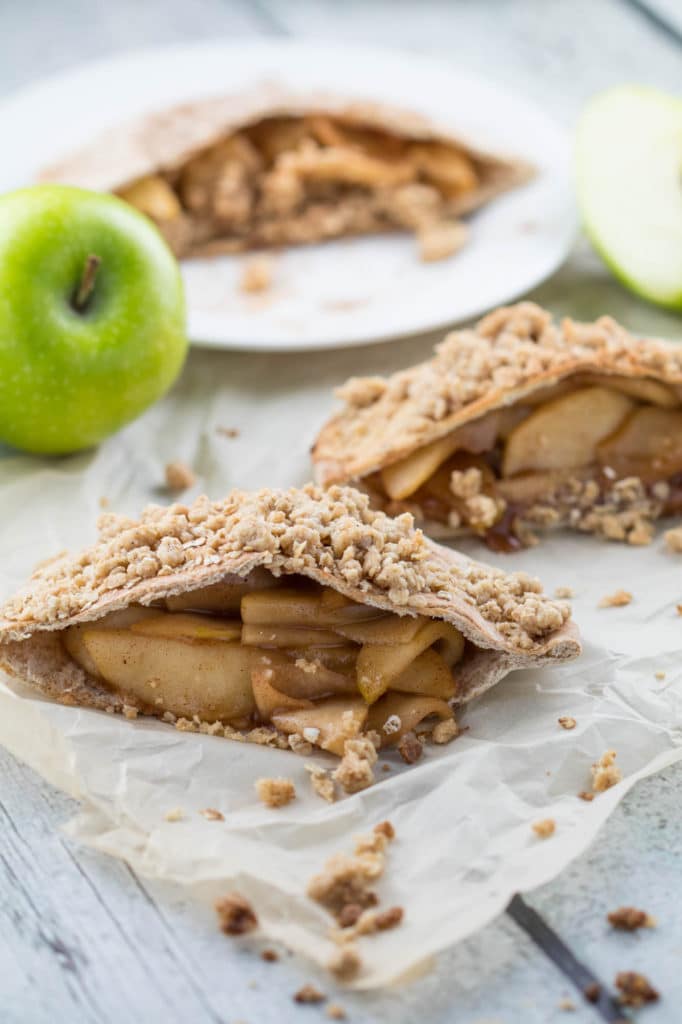 I also really like that fact that Toufayan Bakeries pita breads have 6-8 grams of protein in them! How awesome is that? Many people are fearful they are not getting enough protein in their diet so they spend a lot of money on protein powders or bars, when in reality awesome companies like this are sneaking protein in our bread. Win-win.
I hope you enjoy this recipe – I served it with a scoop of ice cream on top and paired with the warm apples it was amazing. Perfect night cap!
How do you all eat healthier with pita bread?! I'd love to hear your creative ways!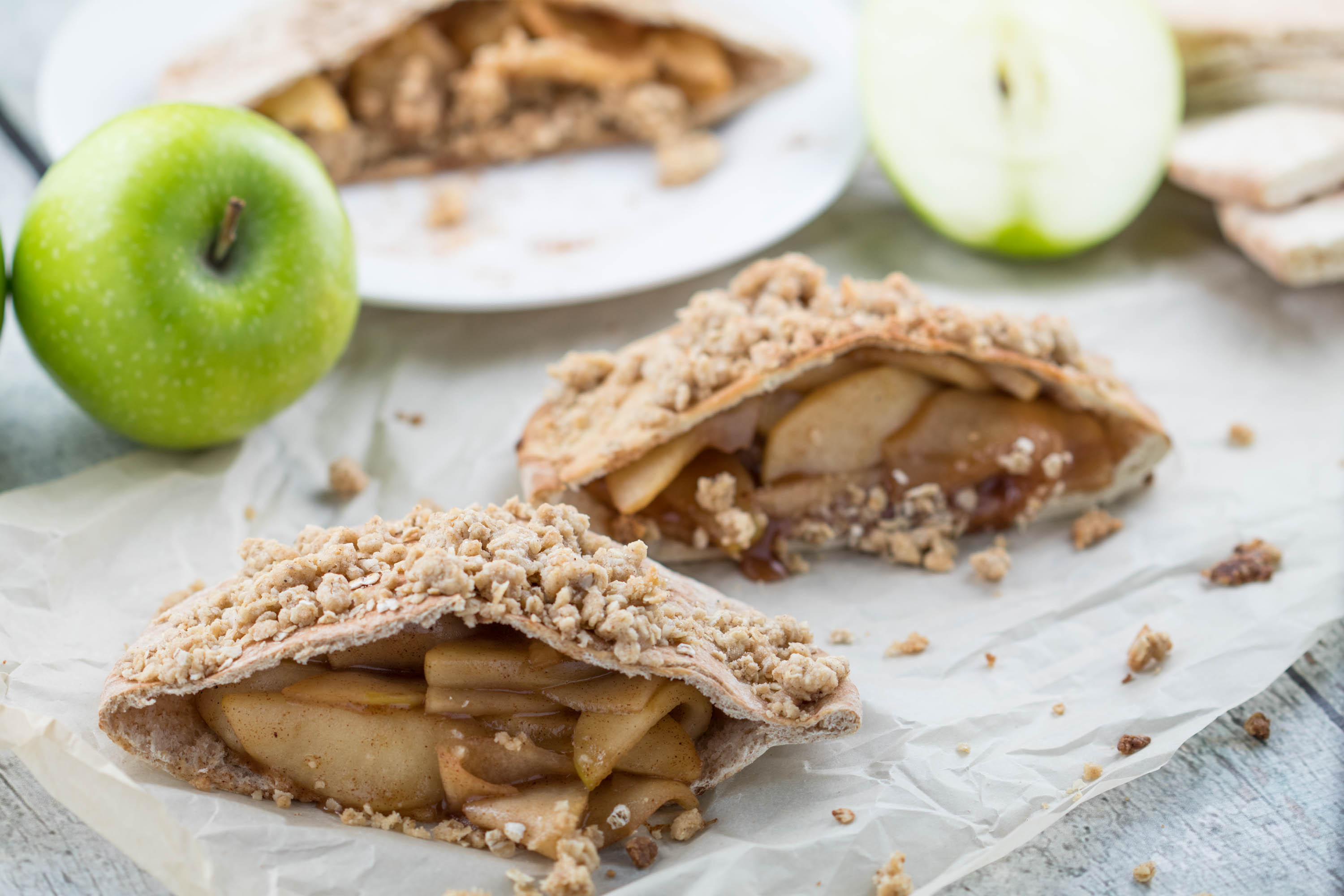 Before You Begin! If you make this, please leave a review and rating letting us know how you liked this recipe! This helps our business thrive & continue providing free recipes.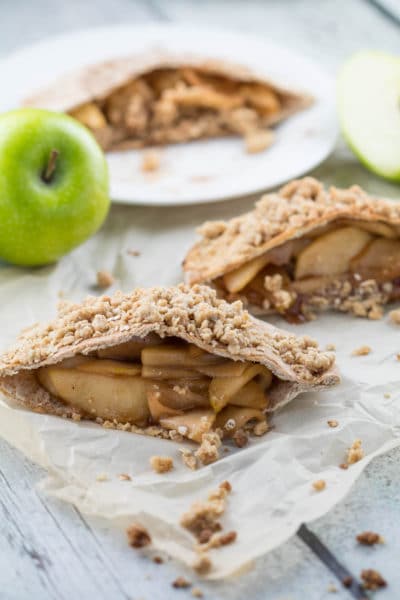 A healthy and satisfying dessert!
Ingredients
4

pita breads

(I used oat bran)
For the filling
4

green apples

(peeled, cored and thinly sliced)

1

tsp.

cinnamon

1/2

tsp.

nutmeg

2

Tbsp.

butter

1/3

cup

white sugar

3

Tbsp.

water

1

tsp.

cornstarch
For the oat crumble
1/2

cup

flour

1/2

cup

rolled oats

1/4

cup

brown sugar

1/2

tsp.

cinnamon

1

Tbsp.

orange juice

2

Tbsp.

butter

pinch

of salt
Last step! If you make this, please leave a review and rating letting us know how you liked this recipe! This helps our business thrive & continue providing free recipes.
Instructions
Preheat oven to 350 degrees F.

In a large saute pan, place apples and all other filling ingredients in over medium heat. You will cook the apples down, for about 10 minutes, until they begin to get nice and gooey. While this is cooking you can make the oat crumble topping.

For the oat crumble topping: mix all ingredients in a medium sized bowl, cut in the butter and mix until a crumb begins to form.

Cut pitas in half and line a baking sheet. Fill each pita halve with apple filling and lay pita on baking sheet on its side, being careful to not let apples fall out. Top with oat crumble. Repeat with remaining pitas.

Cook pitas in oven for about 6 minutes. You may also broil for 1 minute to get a nice color on the crumble if you wish! Serve immediately.
Notes
Serve warm with vanilla ice cream
Nutritional information is provided as a courtesy and is automatically calculated. It should only be construed as an estimate rather than a guarantee. Ingredients can vary and Kroll's Korner can't make any guarantees to the accuracy of this information.