2 Awesome Avocado Recipes: Avocado Ceviche & Avocado Cookies
Appetizers & Snacks | Published Feb 1, 2018 | Updated Aug 20, 2019 | By Tawnie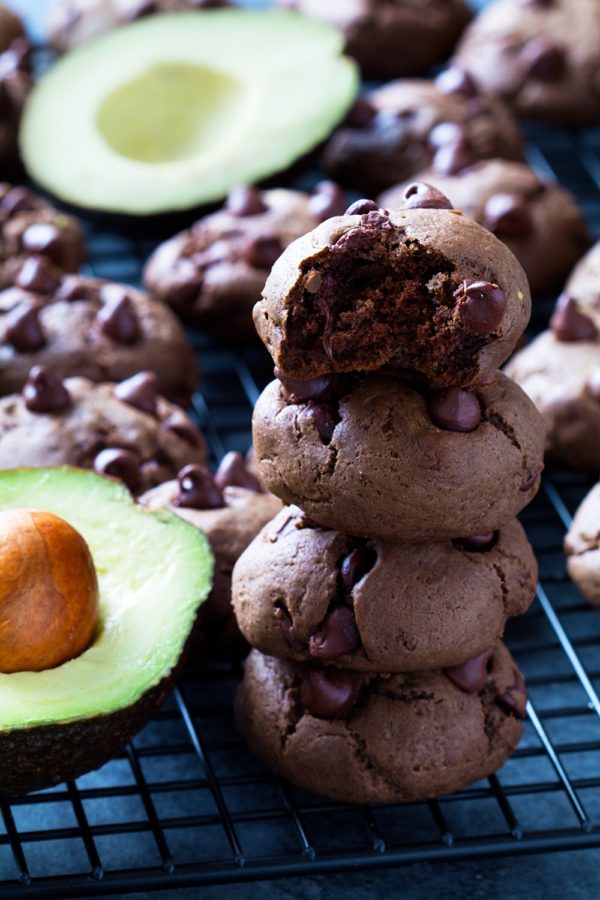 Not just one…but TWO crazy delicious & awesome avocado recipes! Start your evening with this Avocado Shrimp Ceviche appetizer and round out the night with heart-healthy Chocolate Avocado Cookies! Both using the best avocados from Mission Produce! #CheckMeOut
Disclosure: This post was sponsored by my friends over at Mission Produce. As always, I only work with brands whose products and missions I believe in. Thank you for supporting Kroll's Korner!
Goodbye January…Hello February!!
February is American Heart Month which means Mission Avocados have reason to show off this month…they're sporting some new ink in the form of the American Heart Association Heart-Check Mark announcing to consumers to #CheckMeOut.
To celebrate, I've made 2 heart healthy recipes for you all with the focus on avocado! Many people realize avocados contain the "good" kind of fat (unsaturated) and not the "bad" kind (saturated). But did you know by swapping out saturated fats with this healthy fat from avocados you may reduce your risk for heart disease? Studies have shown this reduction in sat. fat can help improve some health outcomes and have an overall positive effect on our health. Woo-hoo!
I always love finding ways to incorporate avocado into my diet. Whether it's on my salad at night or in a quesadilla…or secretly baked into chocolate chip cookies 😉 In all seriousness, using avocado in baking in pure magic. It adds not only nutrition but a great consistency to your baked goods as well!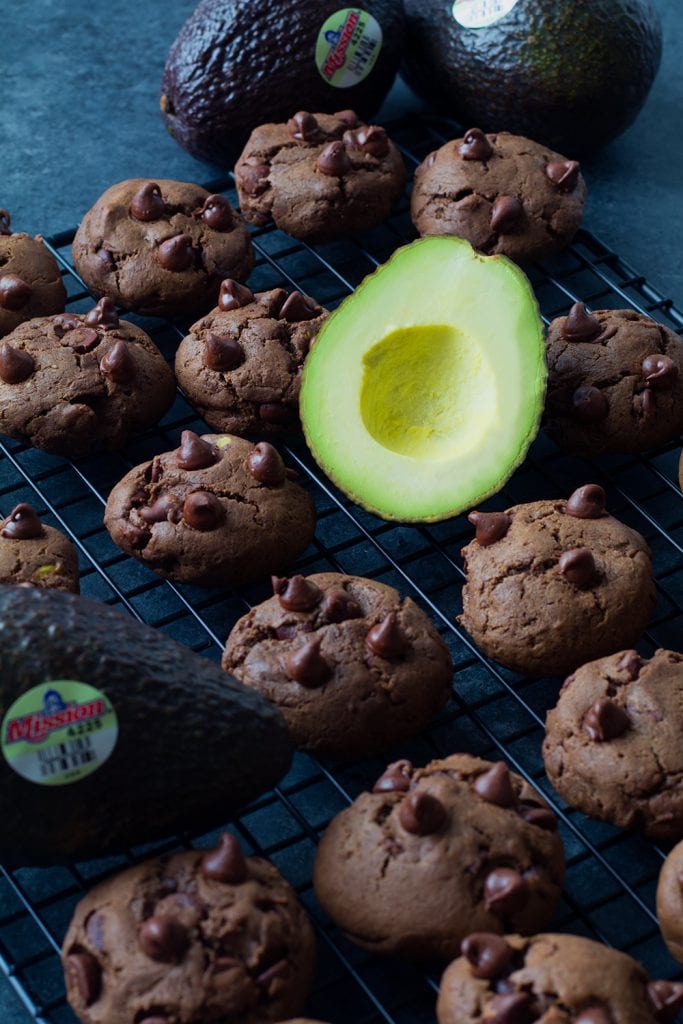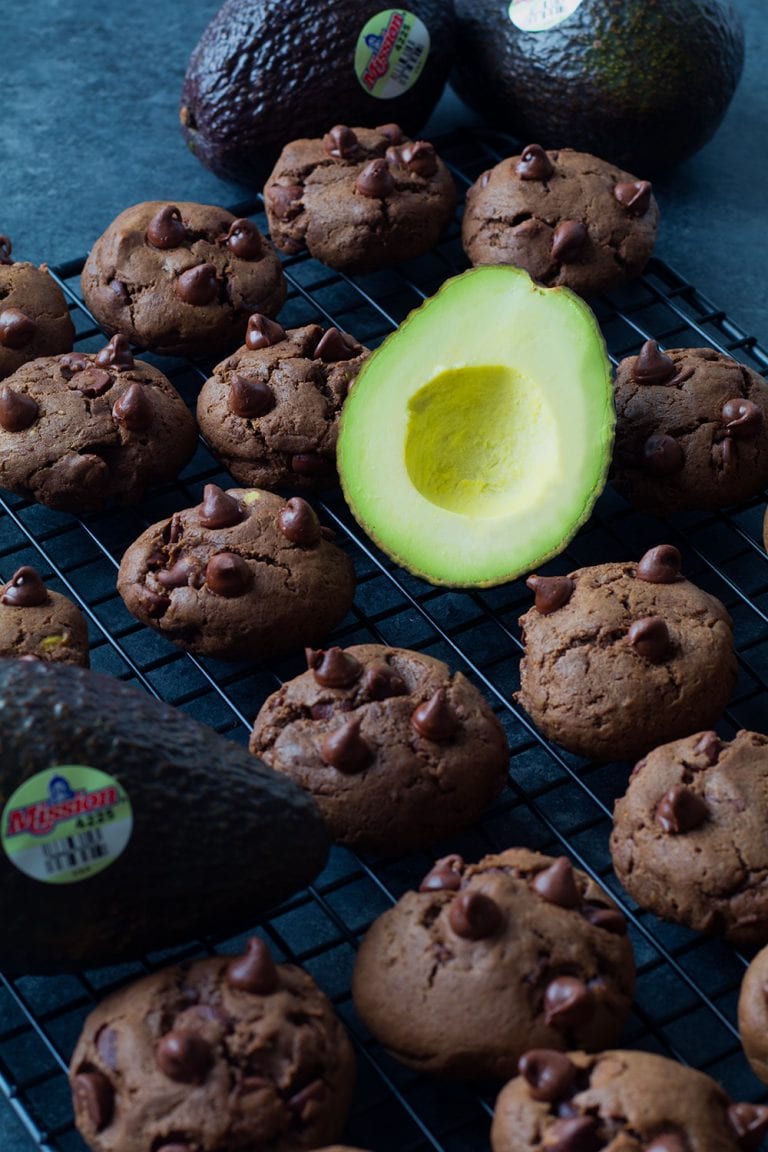 Avocados serve as a heart healthy ingredient in this recipe. Instead of using a full stick of butter, I used 4 Tbsp. and 1 avocado. OR you can use 2 avocados and omit the butter completely. It's up to you! The thing to know is avocado makes for a great substitute when baking!
Did you know…
The American Heart Association Heart-Check Food Certification Program uses the Heart-Check mark to make it easy for consumers to spot heart-healthy foods in the grocery store or when dining out.
Avocados recently earned this prestigious certification.

Avocados can be part of a heart-healthy lifestyle; they are low in saturated fat, and are cholesterol-free and sodium-free.
Avocados can help boost fruit intake and are considered nutrient-dense. Over 75 percent of the fat in avocados is unsaturated (good fats).
When purchasing avocados, look for these two stickers/logos: The AHA Heart-Check mark signifying it meets the American Heart Association nutrition requirements and the Mission sticker, so you know you are bringing home the world's finest avocado.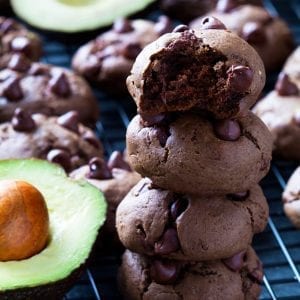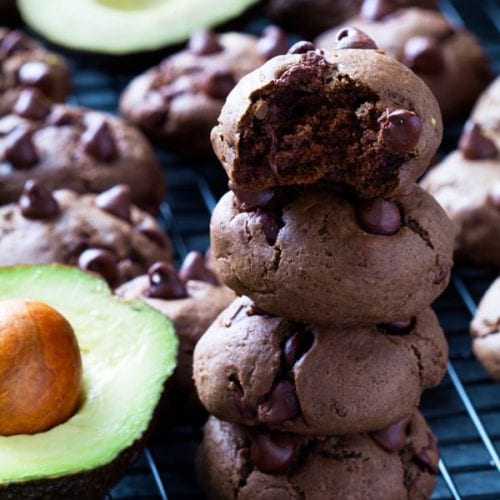 Avocado Chocolate Cookies
Celebrate American Heart Health Month with these gooey-chocolatey avocado cookies using Mission Produce Avocados! #CheckMeOut
Ingredients
2.5

cups

All-Purpose flour

1/2

cup

cacao powder

1

tsp.

baking soda

1

tsp.

salt

pinch of cinnamon

1/4

cup

canola oil

2

Tbsp.

butter, unsalted, room temperature

1

Mission Produce Avocado

1/2

cup

dark brown sugar, packed

1/2

cup

white sugar, granulated

2

cup

dark chocolate chips*

2

eggs, large

1

tsp.

vanilla extract

optional: chopped walnuts*
Instructions
Preheat oven to 350 degrees F. Line 2 baking sheets with parchment paper and set aside.

In a medium sized bowl, mix the flour, cacao powder baking soda, salt and cinnamon together.


Using a stand mixer, beat the avocado and butter until smooth. Add in the sugars and beat until combined/fluffy.


Next, add the eggs one at a time and then add the vanilla and the oil. Once it is all incorporated, slowly add in the flour mixture, be careful not to over mix. Stir in the chocolate chips.


Using a melon baller or clean hands, scoop out the dough (which should be pretty thick) and roll into mounds, place on baking sheet 2 inches apart from each other.


Bake for 16 minutes and enjoy immediately!

*Mix in 1.5 cups chocolate chips into batter, reserve ½ cup for sprinkling a few on top before baking in oven.

*Walnuts are an optional mix in when you mix in chocolate chips.


[Tweet "Celebrate American Heart Month with these Avocado Chocolate Cookies with Mission Produce Avocados! #CheckMeOut @MissionAvocados"]
Next up…Avocado Shrimp Ceviche! Ordering ceviche out at a restaurant is one thing…but making it homemade filled with fresh avocado is a total game changer. I shared this recipe with some coworkers to seek approval and they absolutely LOVED it! Plus, you can never top it with enough Mission Avocados!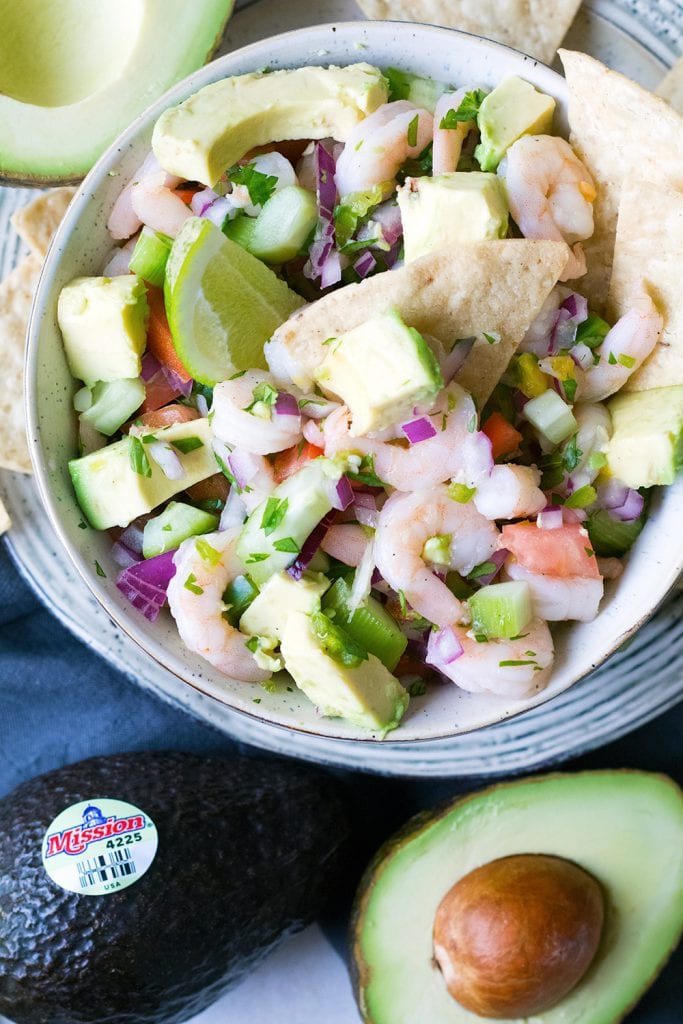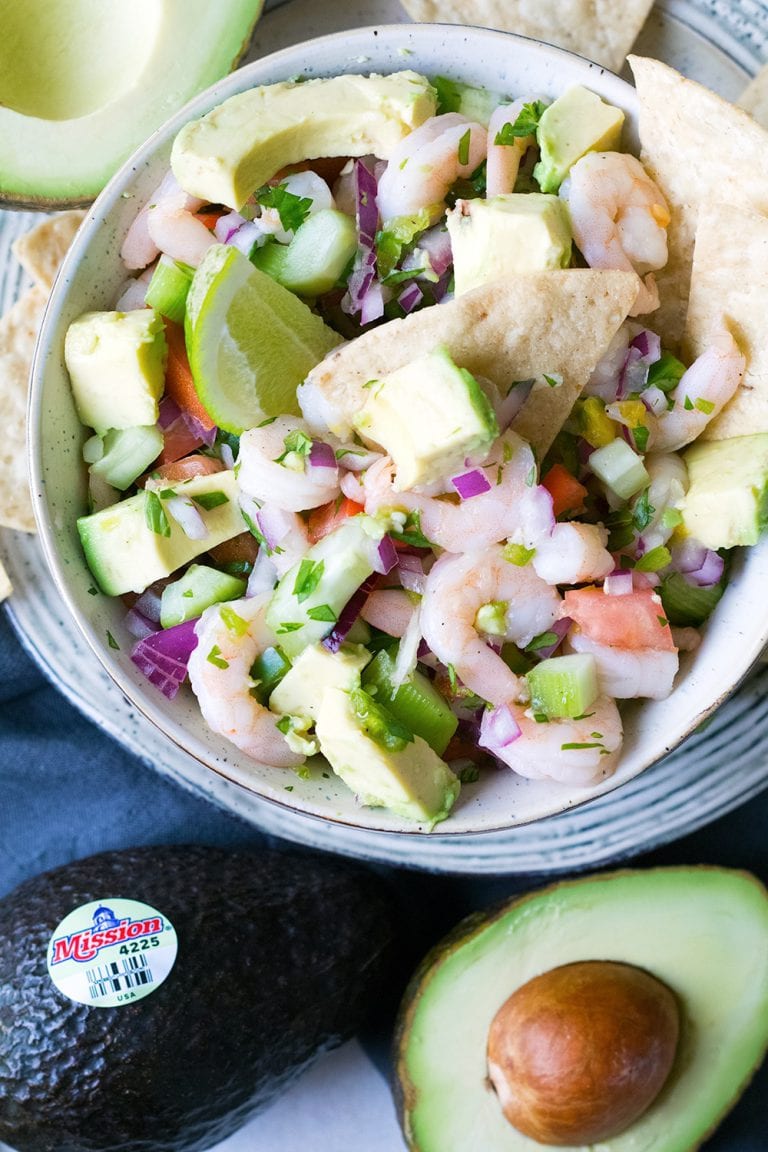 Grab the chips and amp up your Super Bowl party this weekend with this heart healthy ceviche!
I like to personally use the 91/110s for the shrimp size, but you can get larger and just cut them up into smaller pieces if preferred.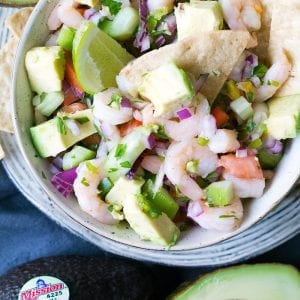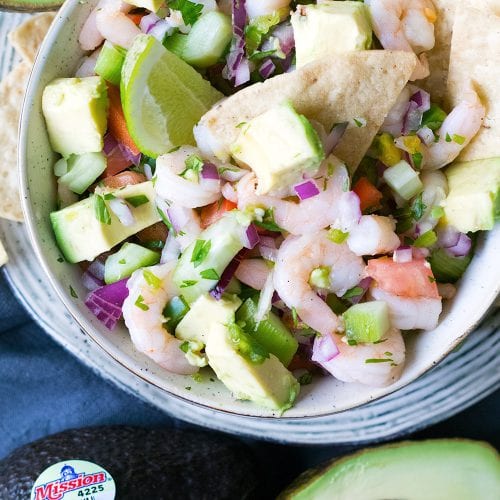 Avocado Shrimp Ceviche
Need a heart healthy appetizer for the Super Bowl? This Avocado Shrimp Ceviche is a crowd pleaser!
Ingredients
1

pound

shrimp, cooked and peeled

91/110s

2

tomatoes, seeded and diced

1

cucumber, peeled, seeded and diced

1/2

cup

red onion, chopped

2

limes, juiced

2

lemons, juiced

2

oranges, juiced

1

serrano, diced

1

jalapeno, diced

1/4

cup

cilantro, fresh, chopped

1

tsp.

garlic, chopped

1

tsp.

white wine vinegar

2

Mission Produce Avocados - 1 to cut and mix in, 1 to serve on top
Instructions
In a large glass bowl, mix together shrimp, onion, lime juice, lemon juice, orange juice, garlic, vinegar, hot sauce, serrano and jalapeno. Mix together and let marinate in fridge for 1.5 hours.




When ready to serve, mix in the tomatoes, cucumber, cilantro, and avocado. Then, top with more avocado and serve with tortilla chips.

*You may cut the shrimp in half, or use a smaller shrimp size.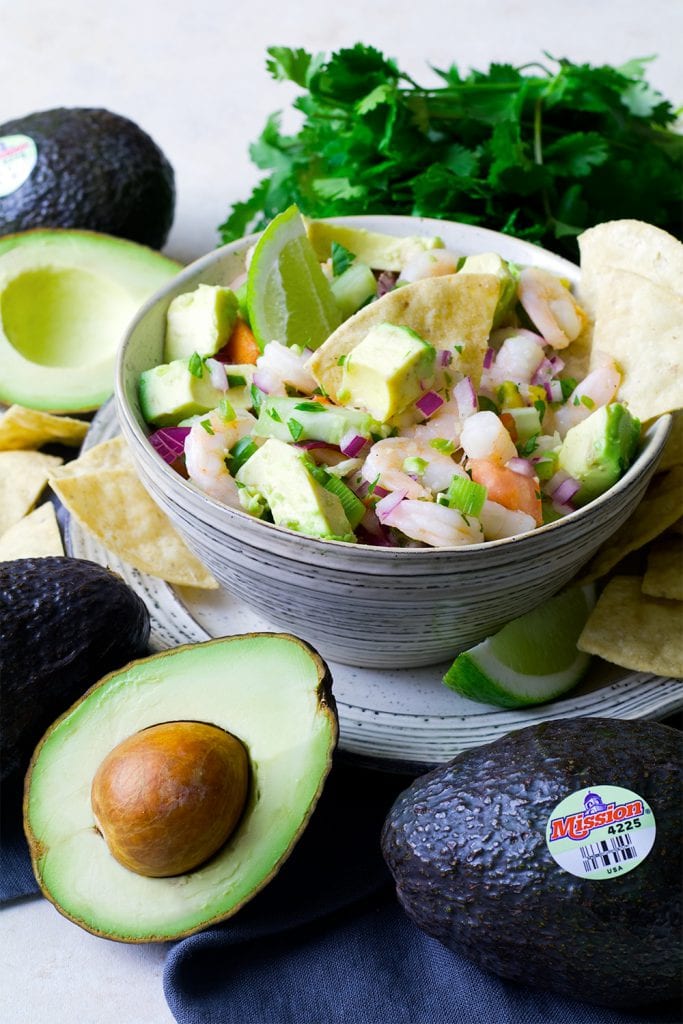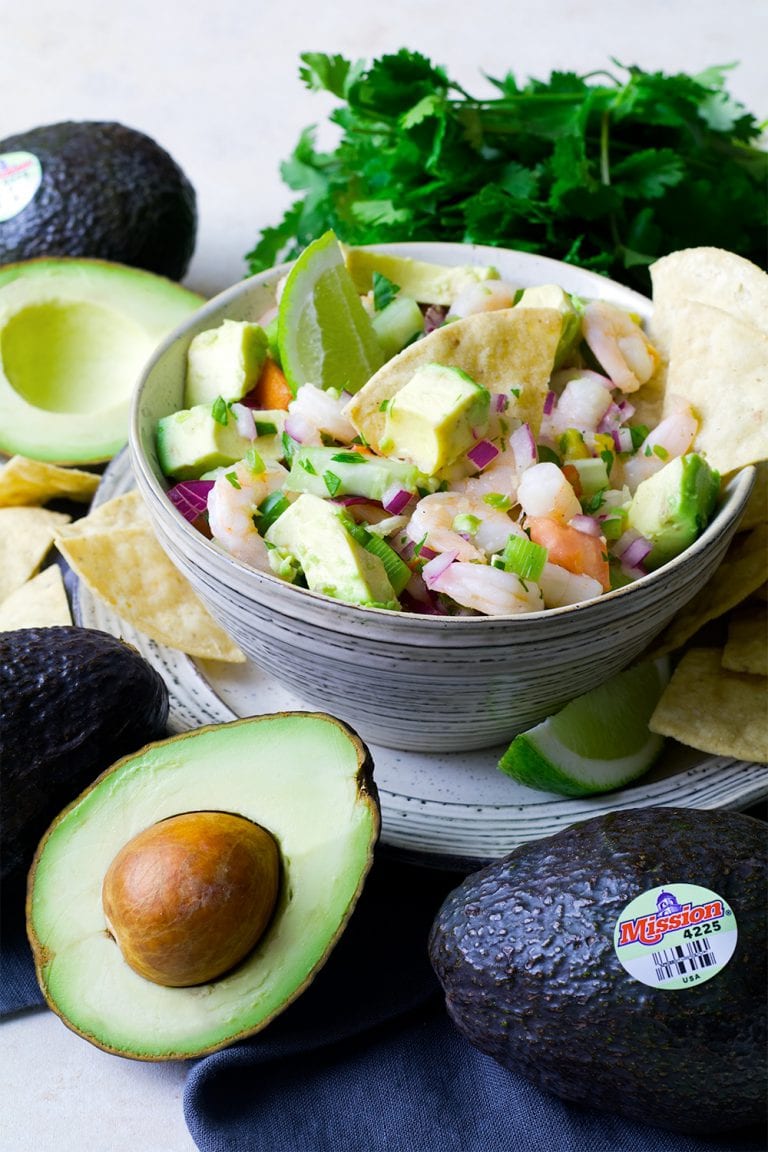 [Tweet "Celebrate American Heart Month with this Avocado Shrimp Ceviche! #CheckMeOut @MissionAvocados"]

How do you plan to enjoy Mission Avocados during American Heart Month? Let me know in the comments below!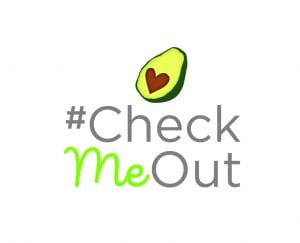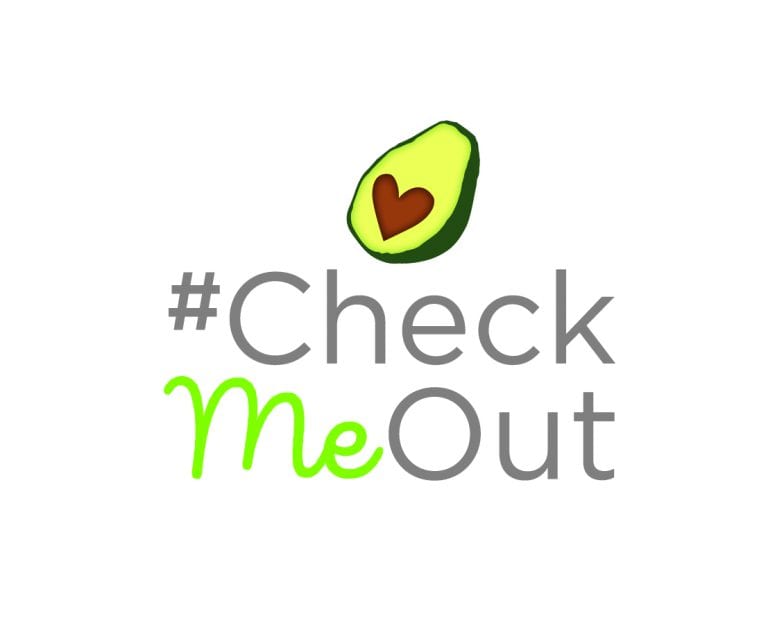 Hi, I'm 
Tawnie

!

Welcome to my tiny "korner" on the Internet! I am a Registered Dietitian Nutritionist who loves cookies as much as kale. (OK, maybe I like cookies a little bit more but shh, don't tell anyone). I am so glad you're here! Follow along for hassle free, realistic and approachable recipes.

More about Tawnie

I'd love to see what you made!!
Share it with me on Instagram or Facebook and tag me @krolls_korner or use the hashtag #KrollsKorner!