Dairy-Free
Skinny Lemon Chicken Piccata + Zoodles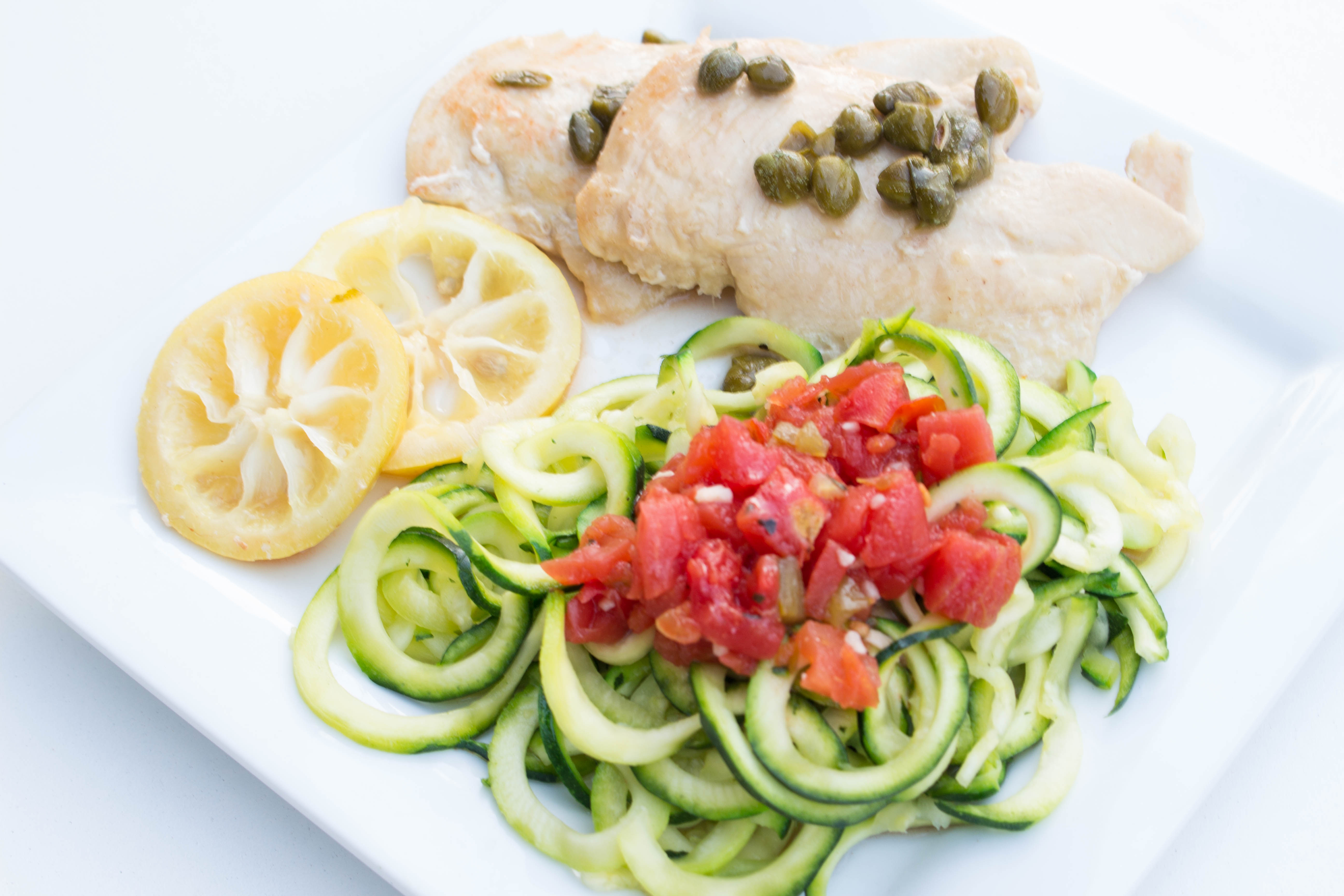 We are all fans of fast and healthy meals…but meals do not always have to be quick and easy. What ever happened to cooking actually being an experience in the kitchen and not just a chore? I think time spent in the kitchen, coming up with a beautiful masterpiece, taking time and paying attention to detail is really what it is all about.
I always have so much fun making zoodles!! Just like spaghetti squash, zoodles are a great alternative for a low-carb dish. Zoodles have only ~35 calories per cup, are high in potassium and vitamin C. And compared to spaghetti squash, zoodles have more protein per serving as well! So zoodles are not only fun to eat but are healthy for you too!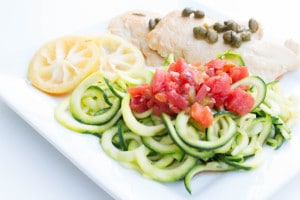 When making traditional lemon chicken piccata, you would bread the chicken. I chose to make a "low-carb" dish last night so I did without the breading. This chicken has the perfect balance of lemon, garlic and white wine that will be sure to make your taste buds do a happy dance! haha.
This is just one of the many ways to eat spiralized vegetables. Check out this cookbook if you are interested in more ways to spiralize food! http://www.inspiralized.com/cookbook/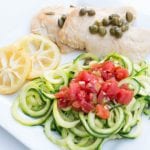 Skinny Lemon Chicken Piccata + Zoodles
Print
Ingredients
6

small zucchini

1

can diced tomatoes with chiles

1

package of chicken cutlets

3

fresh lemons

3

Tbsp.

capers

1/4

cup

white wine

2

cloves

garlic

salt and pepper

2

Tbsp.

butter

1

Tbsp.

EVOO

1

tsp.

fresh basil and garlic powder
Instructions
Spiralize the zucchini. Place all zoodles in a colander and toss with salt. Let zoodles strain for about 15-20 minutes.

Meanwhile, heat butter in frying pan over medium heat. Place chicken cutlets in pan and let both sides of chicken get a little colors. Then add in the capers, lemon juice of 1 lemon, white wine, and garlic. Slice 2-4 lemon slices and place in pan with chicken for more flavor. Cook until chicken no longer pink.

For the sauce: Empty can of diced tomatoes in a small saucepan. Add in basil, salt & pepper and EVOO. Bring to slight boil, or hot enough to top on zoodles.

For the zoodles: Make sure all excess water is removed from zoodles. You do not want you zoodles becoming soggy. In a large frying pan, spray cooking spray and heat for 1 minute. Add in zoodles and cook for 2-3 minutes, or just until zoodles become warm. Do not overcook zoodles! Place tomato mixture on top of zoodles and enjoy!

I'd love to see what you made!!
Share it with me on Instagram or Facebook and tag me @krolls_korner or use the hashtag #KrollsKorner!