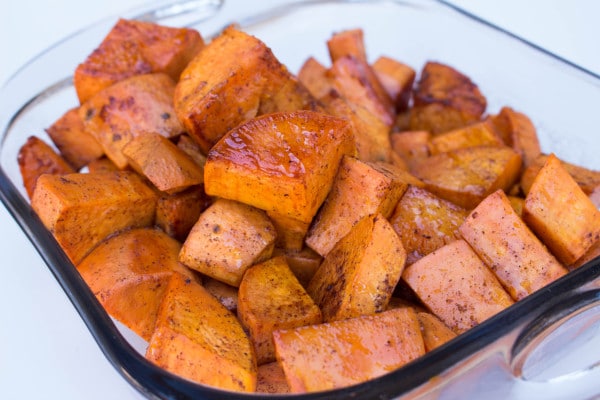 With Thanksgiving upon us this week, I have decided to show you all one way to make some wise decisions when it comes for cooking for your loved ones this year. Before I jump in to that…have you all heard of the 1st Quality Produce Farm to Families Produce Boxes?! They are absolutely incredible. Each week the box is packed with the freshest produce from California that reflects each season. You can also find a great video the company produced here.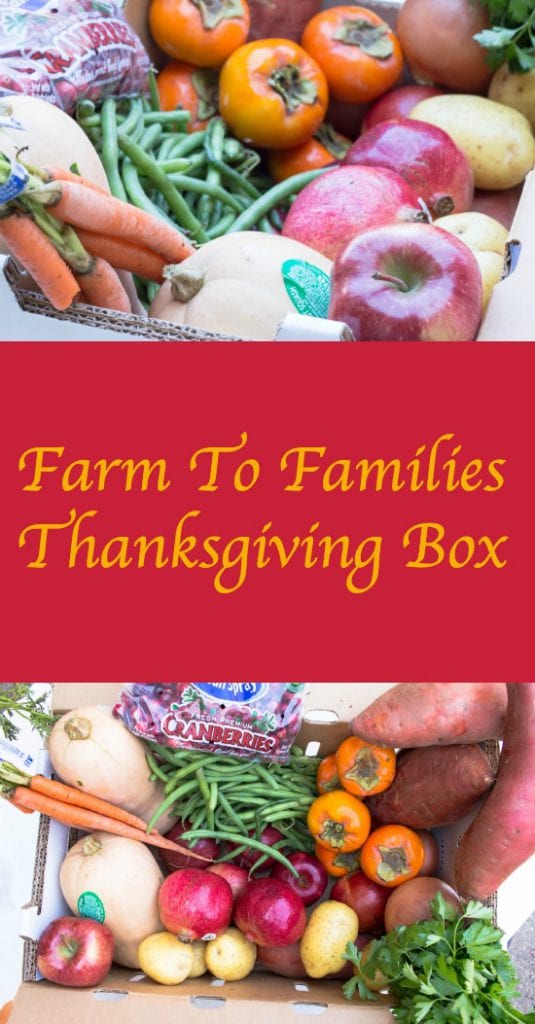 This box is the Farm to Families Special Edition Thanksgiving Box! As you can see in the photo below, it includes apples, butternut squash, carrots with tops, fresh cranberries, Fuyu persimmons, fresh green bans, parsley, pomegranates, yams, yellow onions, and Yukon potatoes! This box is wonderful for a family of 4-5 and will save you a TON of money on your grocery bill.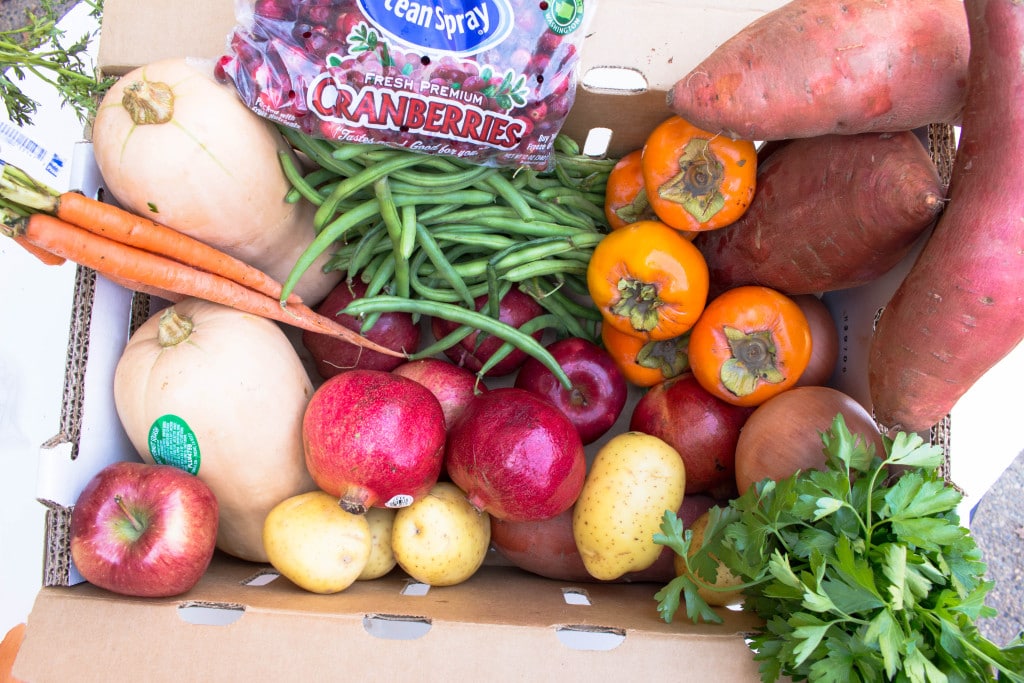 One of the great things about the Farm to Families program is that it is NOT a subscription. Each week, a new pre-selected box with fresh and seasonal ingredients becomes available. There are no ties to this program – you can enjoy one at a time at your leisure or purchase a box each week – it is entirely up to you and fitting your needs. How awesome is that?
So – back to the recipes! Today I am going to show you the comparison between 2 popular Thanksgiving side dishes and how you can make more mindful decisions this year! I have a recipe for healthier version of Sweet Potato Casserole up against a traditional sweet potato casserole, and the same for Green Bean Casserole: A healthier version and a high caloric version! You will be amazed at the nutritional differences.
As you can see in the nutritional information, you can make some big changes both with macronutrients and micronutrients when it comes to planning your Thanksgiving meals. The sodium difference in the Green Bean Casseroles is crazy!! I hope you enjoy these healthy revised recipes! 🙂 Please read below to find out how you can order your 1st Quality Farm to Families box and make yummy recipes like this!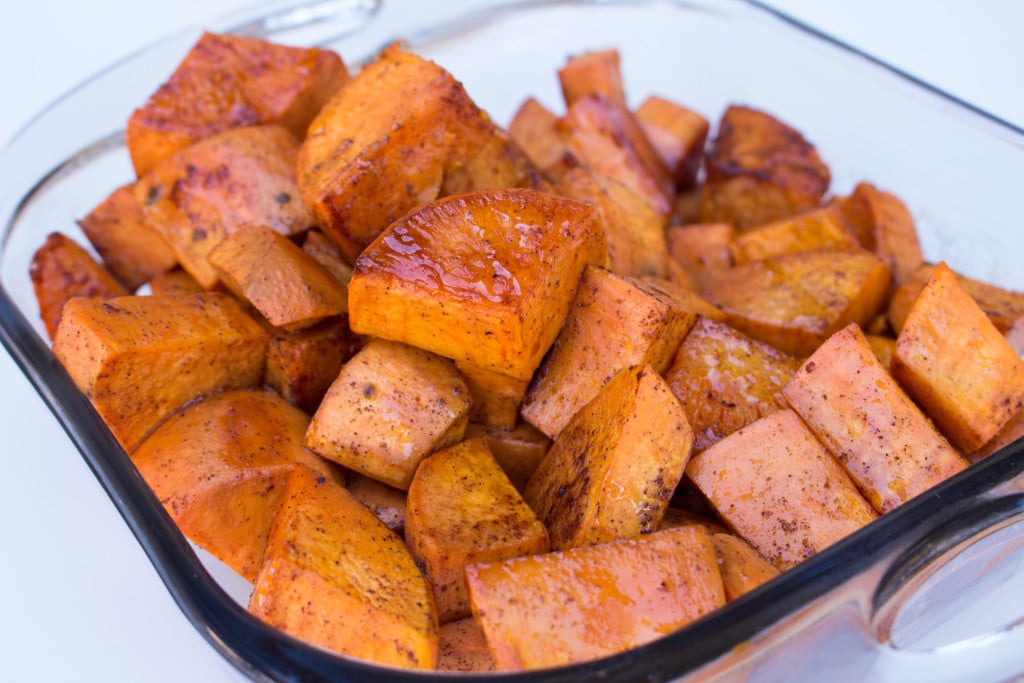 Roasted Yams with Honey & Cinnamon
2015-11-21 18:30:45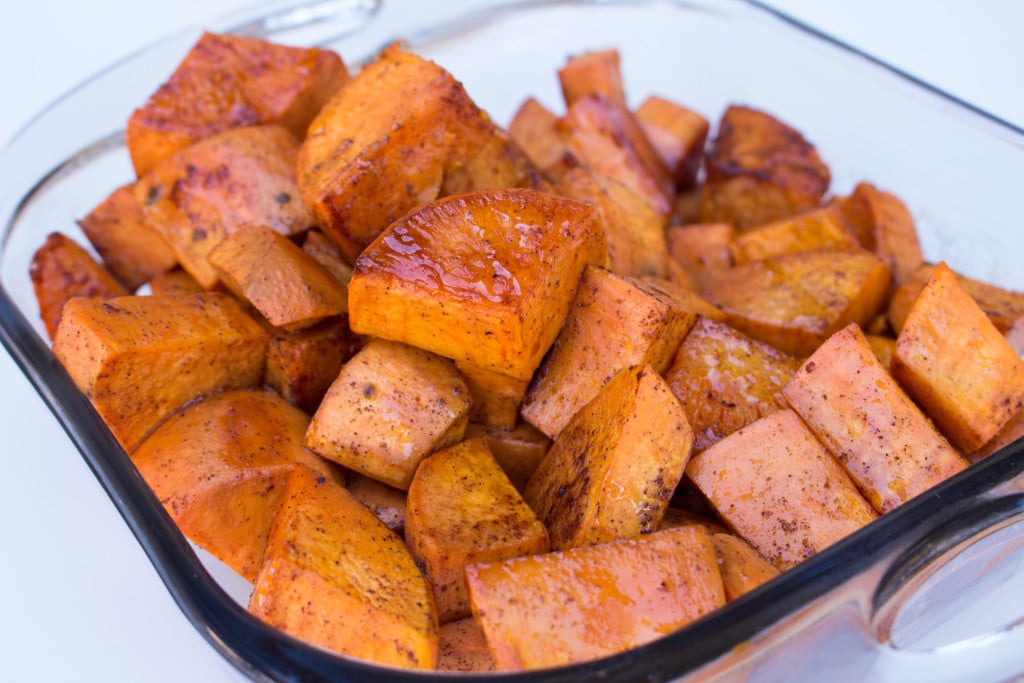 Serves 10
Ingredients
3 Yams, washed, peeled and cubed
1/4 cup honey
1/4 cup Extra Virgin Olive Oil (EVOO)
2 tsp. ground cinnamon
Pumpkin Pie Spice and Nutmeg (optional)
salt and pepper TT (to taste)
Directions
Preheat the oven to 375 degrees F. Evenly spread the yams on a rimmed cookie sheet and drizzle with the honey, cinnamon, salt and pepper. With clean hands, or using a spoon, make sure the yams are coated with the seasoning and honey.
Bake in the oven for 25-30 minutes, until yams are tender. Place in serving bowl, and drizzle with a little more EVOO for a finishing look.
Krolls Korner https://krollskorner.com/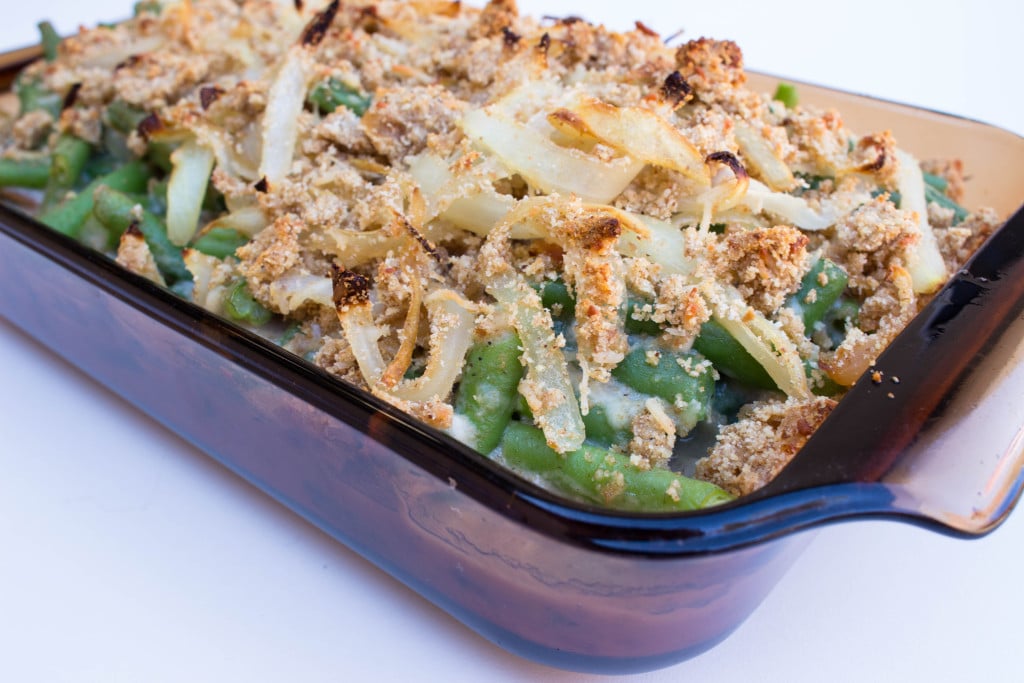 Clean Green Bean Casserole
2015-11-22 20:38:04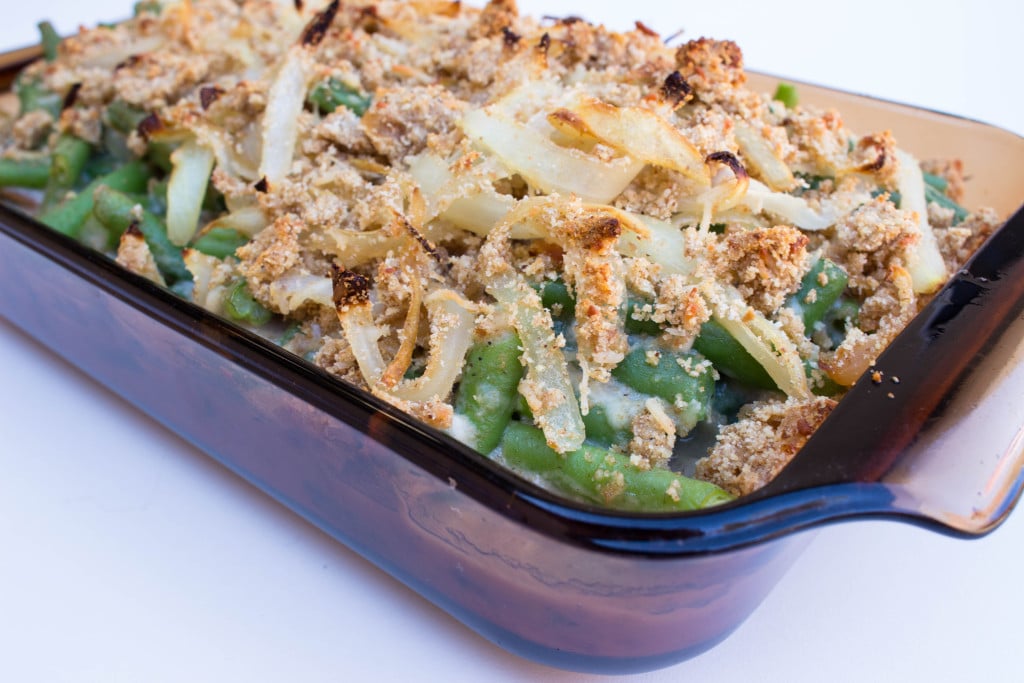 Serves 8
Ingredients
2 lbs green beans, trimmed and cut into 2" pieces
Cooking spray
For Creamy Sauce
10 small white mushrooms, sliced
3 tbsp whole wheat flour
1 cup 2% milk
1 cup water
2 tbsp low-fat cottage cheese
1/4 cup Parmesan cheese, grated (not packed)
1/2 tsp salt
1/4 tsp ground black pepper
For Parmesan Topping
1 Tbsp. extra virgin olive oil
1 white onion, thinly sliced
1/2 cup Panko breadcrumbs
1/3 cup Parmesan cheese, grated (not packed)
3 tbsp water
Instructions
Preheat oven to 375 degrees F. Spray medium sized baking dish with PAM and set aside.
Bring water to a boil in a large pot. Add in clean & cut green beans and bring to a boil, reduce heat to medium and cook for 5-6 minutes. Green beans should be firm and not too soft. Drain and set aside.
Using a large skillet on medium, heat olive oil and add onions. Cook until golden brown/almost charred, stirring occasionally. Transfer to a medium bowl. Set aside.
Return skillet to heat, spray with PAM and add sliced mushrooms. Cook until mushrooms soften, about 3-5 minutes.
Reduce heat to low and add in whole wheat flour. Stir enough to coat the mushrooms. Slowly pour 2% milk and whisk while you pour, until no lumps are left. Add water, cottage cheese, Parmesan cheese, salt and pepper and whisk again. Bring to a boil and let simmer to thicken, for about 3-5 minutes.
Meanwhile, make the onion/breadcrumb topping. Add breadcrumbs, Parmesan cheese and water to a bowl with onions that you set aside earlier and mix with your hands until crumbs appear.
Transfer green beans back to the pot you boiled them in and add in mushroom cream mixture. Stir well. Lastly transfer the green beans to the prepared baking dish and sprinkle with onion topping. Bake uncovered for 25 minutes. Serve warm.
Krolls Korner https://krollskorner.com/
The Farm to Families box program has several pick up locations – but one of their NEWEST locations is at St. Agnes Medical Center in NE Fresno on the corner of Herndon and Millbrook. Other pick up locations in Fresno include 1st Quality Produce, The Bar Method Fresno and LuluLemon in Fig Garden Village. For more specific locations click
here
.
One box per week is ONLY $24.99! I know of no other place where you can find the quantity and quality of produce for this price – such a steal! You can place your order by calling 1st Quality Produce at 559.442.1932 or by e-mail info@firstqualityproduce.com. Boxes may be ordered Monday – Thursday by 3PM. Order must simply be placed by Thursday because the boxes are ready for pick-up between 8am-5pm every Friday. For other FAQ follow this link.
Twitter: @1stQualityProduce
Disclosure: I was compensated for my time by 1st Quality Produce to write this post. All opinions of content are my own. Thank you for supporting the brands and companies I collaborate with through Kroll's Korner.