Sriracha Popcorn
Desserts | Published on Apr 7, 2015 | Last modified on Apr 2, 2018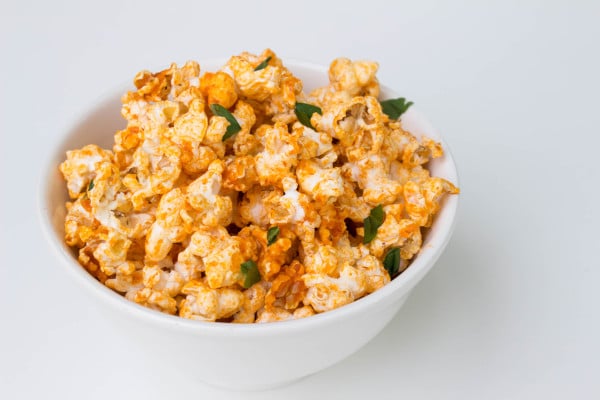 It is no doubt Sriracha has been a big hit for quite a while now. They are coming out with Sriracha everything…Sriracha flavored potato chips, Pringles, Beef jerky, Hummus, you name and it is probably out there. I recently had a request from some friends to make something with Sriracha so I thought popcorn would make a perfect snack/dessert.
With many sauces you need to be mindful of the sodium content, which is why this recipe only calls for such a little amount. The reason I chose popcorn is because it really can be a healthy snack option. And no, I am not talking about the movie popcorn that is loaded with butter and salt. Popcorn is considered a whole grain and is naturally low in fat and calories. To top it off, it tastes good too! There are so many ways to make your popcorn fun besides the Sriracha recipe here. You can use cinnamon, nutmeg, dried fruits, dark chocolate, and other toppings to 'spice' up your popcorn too.
Fun fact: According to popcorn.org, the average American consumes 204 cups of popcorn annually. (Crazy!!)
I hope you will enjoy this yummy (and easy) snack with your friends and family!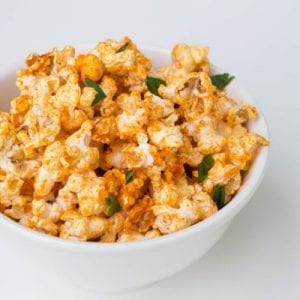 Sriracha Popcorn
Print Recipe
Pin Recipe
Rate
Ingredients
1-2

Tbsp.

Sriracha

2

Tbsp.

EVOO

2

Tbsp.

Kerrygold butter

Fresh basil

Just for flavor
Instructions
In a small saucepan over medium heat mix Sriracha, EVOO, and butter. Stir until nicely mixed together. Remove from heat.

Pop 1 bag of unsalted, light butter popcorn and pour into a bowl. Pour the butter Sriracha mixture onto the popcorn and mix together so all kernel pieces are coated. Sprinkle basil in and season with salt if desired.

I'd love to see what you made!!
Share it with me on Instagram or Facebook and tag me @krolls_korner or use the hashtag #KrollsKorner!