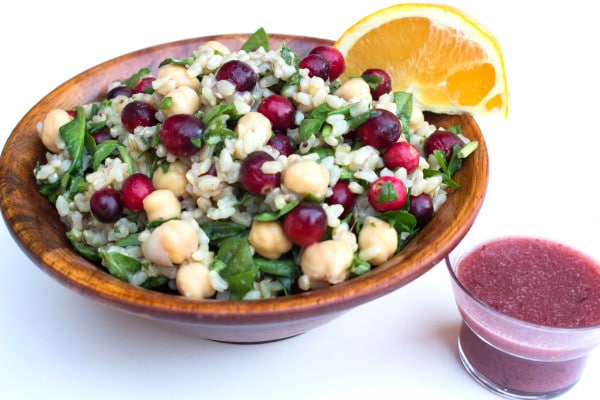 This is my first blog post as a Cranberry Bog Blogger for the Cranberry Institute! YAY! 🙂 For this month we were challenged to create a main dish, side dish, or a dessert with the following ingredients: Brown rice, ground ginger, canned cranberries, and chickpeas. Interesting combination right?! I was thinking of making a rice pudding…but thought at a Friendsgiving it might not be a popular dessert choice. So in addition to all of the mashed potatoes and stuffing, I wanted to add on one more side dish with this recipe!
Here are some fun tips provided by the Cranberry Institute!
Research has shown the

cranberry

may improve blood cholesterol levels, lower blood pressure, and reduce inflammation, oxidative stress and the incidence of certain infections
During harvest season, most

cranberry

bogs are filled with water and the

cranberries

float to the top to be scooped up—like the traditional flooded bogs often featured. However, other

cranberries

are actually picked off the vines; this is called dry harvest

Cranberries

are one of three fruits native to North America that are cultivated and sold in the USA
The Pilgrims called the

cranberry

a "crane berry" because the flower looked like the head and neck of a crane

And some heath tips also from the Cranberry Institute:
Researchers uncovered a potent dose-dependent relationship between cranberry juice and improved vascular function.
Because vascular dysfunction or limitations in blood flow are a central feature in the development of atherosclerosis – improving vascular function can have a powerful, beneficial effect on a person's cardiovascular health.
Cranberries and type 2 diabetes: Novel and promising horizons
Presented by Arpita Basu, PhD, RD, Oklahoma State University
Recent trials with clinical outcomes associated with cranberry juice intervention hold promise in the management of diabetic high blood glucose, dyslipidemia, oxidative stress and inflammation.
Studies in experimental animals and in vitro models have further shown that polyphenols, the most abundant category of phytochemicals in cranberries, can influence carbohydrate metabolism in many ways, such as helping to control postprandial and fasting blood glucose for those with diabetes.
[Tweet "Enjoy this Cranberry Side Dish this year for Friendsgiving! #FriendsgivingCranberryContest"]
Effects of cranberry proanthocyanidins on gram negative bacteria: Implications for gut health and chronic inflammatory disease
Presented by Jess Reed, PhD, University of Wisconsin-Madison
Research shows that a high fat diet can contribute to gut dysfunction that can cause inflammation and increase susceptibility to bacterial invasions. Together, this can have a negative impact on gut health and lower the body's natural gut protection.
Recent research has shown that the polyphenols in cranberries may help protect against the negative effects of a high fat diet and help maintain gut health.
I hope you all enjoy this dish!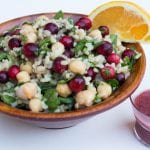 Brown Rice w/ Cranberry Ginger Sauce
Print
Ingredients
Ingredients
1

cup

brown rice

uncooked

1

can low-sodium chicken broth

approx. 2 cups

1

tsp.

ground ginger

1

can chickpeas

drained

1/4

cup

canned cranberry

1/2

cup

fresh cranberries

see notes

1

cup

fresh baby spinach

chopped

1/2

cup

orange juice

salt and pepper
Instructions
Directions
Cook 1 cup rice according to package. While rice is cooking, make the sauce. Using a blender (I used a Nutribullet) blend together the canned cranberry, ginger, and orange juice. Set aside.

When rice is finished, stir in drained chickpeas, spinach, and salt + pepper. You may eat warm, or let rice cool in the fridge and enjoy as a cold rice salad with the cranberry ginger dressing poured over just before you serve.
Recipe Notes
Fresh cranberries have a very bitter taste, you may omit or cut in half. I simply left them whole in this recipe for eye appeal.