Quinoa Crusted Chicken Bites With Honey Mustard Dipping Sauce
Appetizers & Snacks | Published on Apr 23, 2015 | Last modified on Apr 2, 2018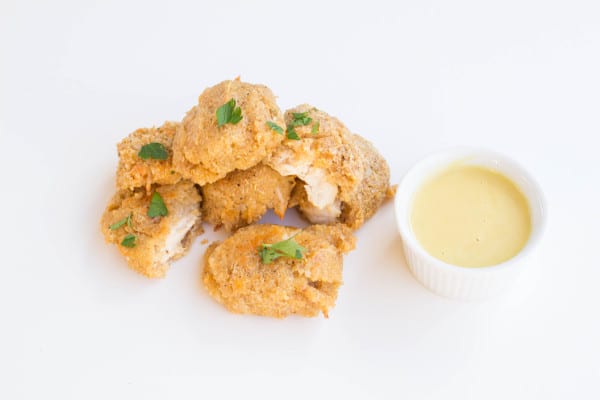 Just popping in to share this delicious recipe I created the other day! On Instagram, I follow: KeenWah_au, and they posted a picture of quinoa chicken nuggets a few weeks ago. I had never thought about using quinoa as the breading and I thought it was so creative! I was playing around in the kitchen and came up with this yummy recipe and dipping sauce for these little protein packed bites.
I was in the grocery store, one I usually do not go to, and I could not find their quinoa. So I asked one of the workers where I could find their quinoa, and he looked at me and said…qui—whaaa?? (haha) Being in the health and nutrition world I feel like everyone should know what I know. But sometimes I really think we need to take a step back and recognize that is why we have jobs! To teach others about this plethora of knowledge we obtain. This was my opportunity to teach him a little about the grain and what it is. I felt happy to even be spreading nutrition information in my local grocery store.
This recipe is is a great way to pack in more nutrients and they are super filling!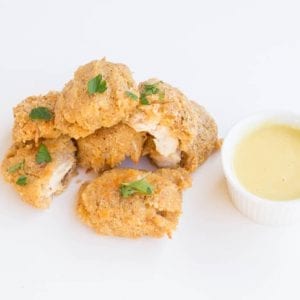 Quinoa Crusted Chicken Bites
Print Recipe
Pin Recipe
Rate
Ingredients
3

boneless chicken breasts

2

eggs

beaten

1

cup

cooked quinoa

1/2

cup

cheddar

shredded

1

tsp

garlic powder

dash of dried basil

1/2

cup

Panko bread crumbs

1/3

cup

whole wheat flour

salt and pepper to taste

For the Honey Mustard

1/2

cup

Dijon mustard

1/3

cup

honey

1/4

cup

mayonnaise

2

Tbsp.

creamy horseradish

1

Tbsp.

lemon juice

salt and pepper
Instructions
Preheat oven to 350 degrees F. Line a baking sheet, spray with non-stick, and set aside.

Cut your chicken into cubed, bite size pieces and then slightly pat pieces dry.

In a large bowl, combine cooked quinoa, cheddar, Panko, dried basil, garlic powder, and salt and pepper.

Place your beaten eggs in one small bowl, and your flour in another bowl. You are going to dip each chicken bite into the flour until lightly coated. Then dip in the egg wash, and then in the quinoa cheese mixture. You may have to form quinoa around chicken into a ball to get it to stick, and then flatten. Quinoa should stick nicely.

Repeat with remainder chicken pieces and then arrange chicken bites on the prepared baking sheet. Cook in oven for 30-40 minutes, until chicken no longer pink.

While chicken is in the oven, prepare your honey mustard sauce. Mix all ingredients together and refrigerate until chicken is done.

Enjoy!

I'd love to see what you made!!
Share it with me on Instagram or Facebook and tag me @krolls_korner or use the hashtag #KrollsKorner!